By Greggy V. Vera Cruz
Living in a quick-fix society may get a patient instant results. However, upon "consulting" this medical specialist, it turns out that, indeed, there is no better cosmetic for beauty than happiness.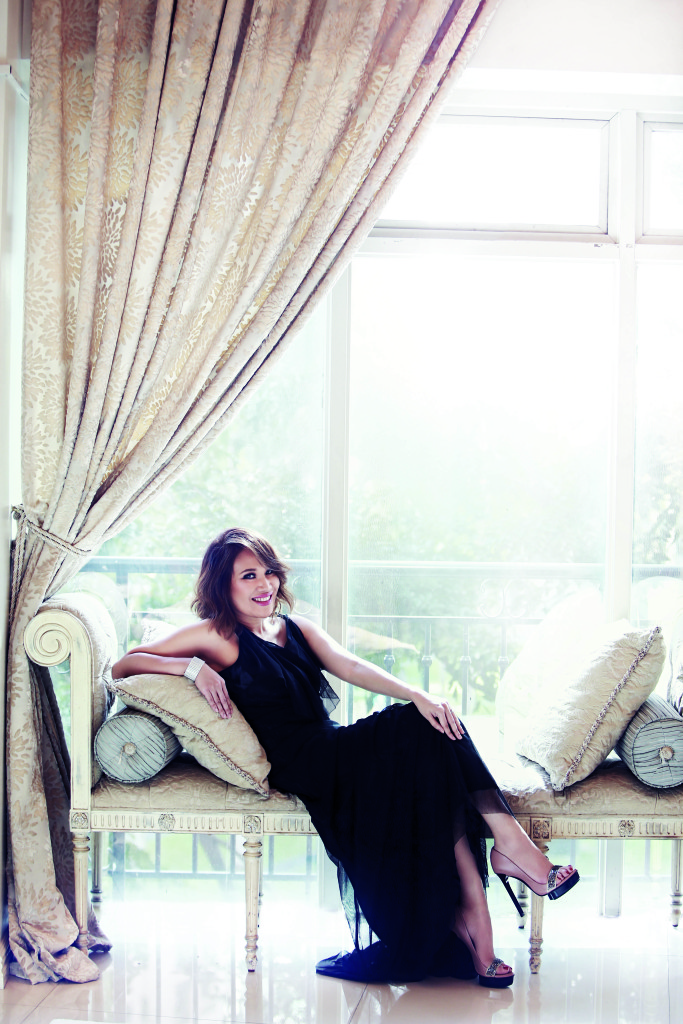 (Black gown by JOHN GALIANO from UNIVERSE DE HOMME ET FEMME; jewelry by JENNIPEARLS)
Fashion. Art. Beauty. Interior Design. Proportion. Symmetry. And… Medicine?
Seven fundamental factors that may be related in nature but are distinctively unique in their own right. Destiny, it seems, has an uncanny way of intertwining these elements and simply bringing out the best as far as the medical profession of one dynamic lady is concerned. Simply ask dermatologist Aivee Aguilar-Teo.
Gone are the days when those in need would fear and loathe going to the doctor, whether it be for consultation purposes or for medical treatments. With Aivee's sharp diagnostic skills, effervescent personality, kind-hearted nature and genuine show of concern (plus an infectious laughter to boot), it is no wonder that hordes of patients would flock continuously; nay, in droves even, to her three clinics all over the metro. Surely, it is to continually undergo the rejuvenation they get in any of The Aivee Clinics.
The doctor is in
Initially, however, Aivee was not at all bent on pursuing a career in Medicine; much less, in her now chosen field of specialty. It is, after all, a fact that the Aguilars are primarily engaged in business, politics and public service.
Yet her father (Nene Aguilar, Las Piñas City mayor for 16 years) asked her kindly if she would like to try taking up Medicine; the patriarch wanted one of his daughters to be a doctor.
"Being the obedient child that I was, I said 'Okay, there's no harm.' After my Pre-Med course (at the University of Santo Tomas), it was but evident that I go into Medicine proper (because all of my friends went into that, too). I didn't know what to specialize in; it was a toss between Endocrinolgy or Pediatrics.
"Back then, however, I've always had this innate interest in the Arts — I like to dress up, I love the interiors of houses and things that are basically beautiful. I thus feel that my work brings out the artistic side of me. It comes out naturally; it's a whole new different field altogether. It's a perfect match for my personality and myself," the vivacious cosmetic dermatologist fondly reminisces.
Having graduated in 2001, Aivee's very impressive curriculum vitae includes a year of Internal Medicine in St. Luke's Hospital and residency training in Dermatology (also in UST). She passed the board exams, got her diploma and scholarship, and eventually went to the National Skin Center in Singapore (where she eventually crossed paths with her husband Dr. Z. Teo).
Equipped with the necessary skills, knowledge and, I must say, tons of zest and enthusiasm, Aivee headed full throttle into practicing her profession at the Las Piñas Doctor's Hospital in 2002, and at the Asian Hospital and Medical Center in Muntinlupa City as well. An opportunity to open her own clinic (in partnership with another dermatologist) came in the nick of time in 2007, just after Aivee gave birth to her eldest son Ken-Z.
The sudden turn of events came as a welcome surprise. Just like a face that has been newly toned and oxygenated, Aivee's clinics mushroomed with its own burst of quality and stability all over the metro — at the Bonifacio Global City (BGC) in Taguig City in 2008, a second clinic at the Bellevue Hotel in Alabang, Muntinlupa City in 2011 (after giving birth to her second son Kenzo), and a third one at the Fashion Hall of SM Megamall in Mandaluyong City in 2014 (after baby Keli).
By 2015, however, Aivee had moved her second clinic from the Bellevue Hotel to the Commerce Center (also in Alabang). This time around, the new venue is breezier, more spacious and has a picturesque view of the entire area. The Aivee Clinics, likewise, all exude that feminine, French look, what with their cozy interiors and homey ambience uniquely on their own.
"I love each of the clinics; each one gives me a different feel. But the most important thing is that every clinic I go to, it feels like it's me. I put a lot of myself in the clinics. They're like our children, our babies. The clinics are not just my business; they're my life.
"Basically, we also just give our patients what they want and what comfort they deserve. When you go to a clinic, you don't want to feel sick or lethargic; you want a place where you can stay for hours. We also get to know the patients in a more personal way so we could address their concerns," she relates good-naturedly.
In the eyes of the beholder
The rapport between subject and interviewer was evidently very candid and spontaneous. In between both our bites of sumptuous rib-eye steak, the doctor and I freely exchanged banter and girlish laughter.
"I've been in the industry for 13 years. But when it comes to starting my own clinics, it's been six years (since 2009). You see, it's not just about having a business or doing treatments; the most important thing is that they (the patients) see that you're really sincere. It's getting to know them in a deeper level.
"First and foremost, your patients have to trust you. Building relationships with your patients and getting to know them is very important. I spend most of my days in the clinics. Being true and honest with your work is very essential; you sincerely want to do things and treatments that are good for them," this PeopleAsia "Woman of Style & Substance" 2010 awardee reveals.
All the while during this exclusive pictorial and interview for PeopleAsia, Aivee's husband, Dr. Z Teo, was also in the clinic's premises, even joining us for lunch. By late afternoon, the hushed tones of Kenzo (4) and Keli's (3) childish laughter delightfully filled the air. Aivee's heartfelt statements, undoubtedly, reflect her love and devotion to her family as well.
"It's really a matter of prioritizing your career, your marriage and your family. I'm just fortunate enough that my husband understands my work, and that I understand his work as well. You don't sacrifice one for the other; everything is a work in progress. It's not easy, it's an effort, so it's totally a matter of balancing things," she states matter-of-factly.
Having been married for 10 years and making a name in the cosmetic dermatology industry for the past 13 years, Aivee couldn't be more successful and fulfilled.
"There's no secret formula in general. Passion, dedication, hard work, being focused on what you really want — all these are essential. It's not just about the glamor of my job description; it's really working and learning about your craft and accepting the challenges.
"You never rest; you always try to think of new things. Just follow your heart and go where life leads you. Live each day as it comes; there are so many other things you have to be thankful for. The most important thing is that you really love what you do. Because that, you simply cannot fake," Aivee concludes with a glint in her expressive eyes.
Sans her medical outfits, cosmetic dermatology machines and high-tech devices, Aivee Aguilar-Teo speaks with all honesty, transparency and sincerity. All woman, all heart, indeed, just what a "People of the Year" female awardee should be.