In September, music aficionados all over the world celebrate National Piano Month. This time, we give tribute to the ladies and gentlemen whose nimble fingers, sharp ears for rhythm and melody and hearts ablaze with passion bring to life beautiful musical maestros — one of whom is internationally recognized Filipino musician and PeopleAsia 2015 People of the Year awardee Cecile Licad.
For her, the pulchritude of sound begins when her hands dive into a sea of black and white. She plunges into such depths that her soul soars out of sight the moment she closes her eyes.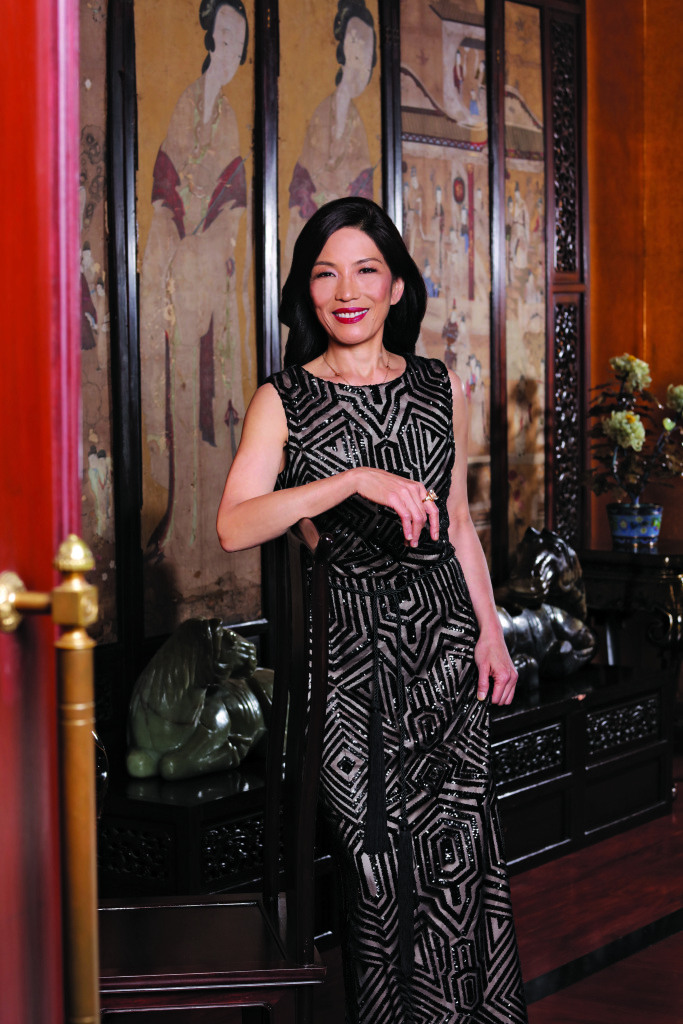 By DENISE ROCO 
Whether it was jet lag, or the exhaustion from the previous night's performance, Cecile Buencamino Licad's deep husky voice was alluringly captivating. "Last night I played at the APEC Summit reception. I didn't know who I was playing for until a week ago. Then they said I was playing for these 19 heads of economies. I got excited. I was actually crying before I got onstage. I was playing this piece called the "Revolutionary Etude" (by Chopin). I would relate it to what I read or perceive and how Chopin felt. I would emotionally relate it to what's happening in the world. Like what happened in France. I would put it inside me and it would boil and come out," she says.
A palpable aura of stillness surrounds her as she talks. "I felt proud that I could offer something even if the piece was just for about two-and-a-half minutes. But with these two-and-a-half minutes you have to pour everything. It's a very intense piece. There are many levels. It's not just passion and emotion," Cecile shares.
This woman is filled with the complexity of an artistic brilliance she herself can't fathom, but the whole world praises. Like when she became one of the youngest musicians to ever receive the gold medal for the Leventritt Competition in 1981 or when she was awarded the Grand Prix du Disque Frédéric Chopin in 1985 in the Piano and Orchestra Works category by the Fryderyk Chopin Society.
When asked if she has ever thought of quitting, Cecile answers "every day," but is quick to say mostly it was when she was in her thirties. "With pianists there's no peak in career. My Polish teacher (Mieczysław Horszowski) died at 101 years old; his mom studied with Fryderyk Chopin and his mentor studied with a pupil of Beethoven."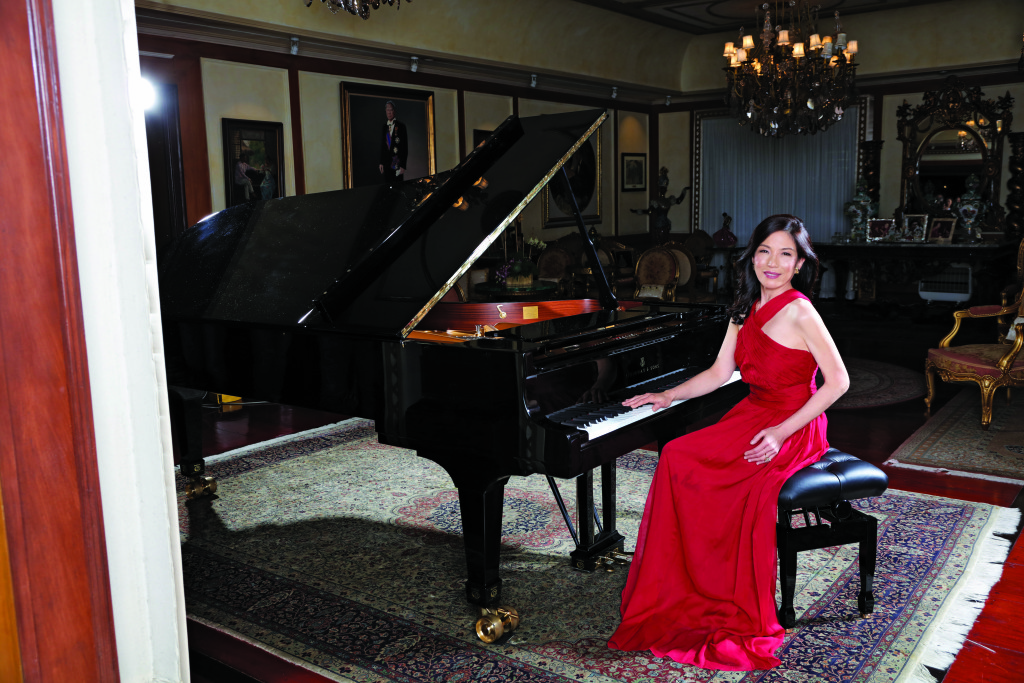 This Taurus-born lady explains her disdain for routine. Creativity is lost and the challenge is dead. To her, notes aren't lined up like a marching band perfunctorily finishing a marching tune. Even if she's played the same piece more than a dozen times, she points out that, "I don't like playing things the same way. Even if it's a little twist like…" Cecile lifts her hands in the air tickling imaginary piano keys. "I always look at different angles or different rhythms. I play around a lot. I'm not like in a box. I don't believe that everything is written in the music."
One thing's for sure, her fate was written in the stars. After her performance as a soloist with the Philippine Philharmonic Orchestra when she was just seven, she knew this was going to be endless, and the piano, her immortal beloved.
Name the continent. To no surprise, she has displayed her talent with all the great orchestras. In North America, she performed with the Chicago Symphony Orchestra, Los Angeles Philharmonic, Philadelphia Orchestra and the New York Philharmonic among others. She appeared with the London Symphony, London Philharmonic, Bayerisches Rundfunk Orchester, Orchestre de la Suisse Romande and Moscow State Academy Symphony in Europe. While in Asia, she guested with the Hong Kong Philharmonic, New Japan Philharmonic, Tokyo's NHK Symphony and Philippine Philharmonic.
When she stands up from the piano, taking her cue to bow after one of innumerable performances, what kind of natural high could she be experiencing? With all honesty she replies, "Nothing. I'm totally blank. I space out a lot. I have a lot of blank thoughts. People tell me, well, you're in this world to think. But maybe not. You kind of have to float or flow. I always feel I have to say something but…" She struggles to pin down words she can't cough out.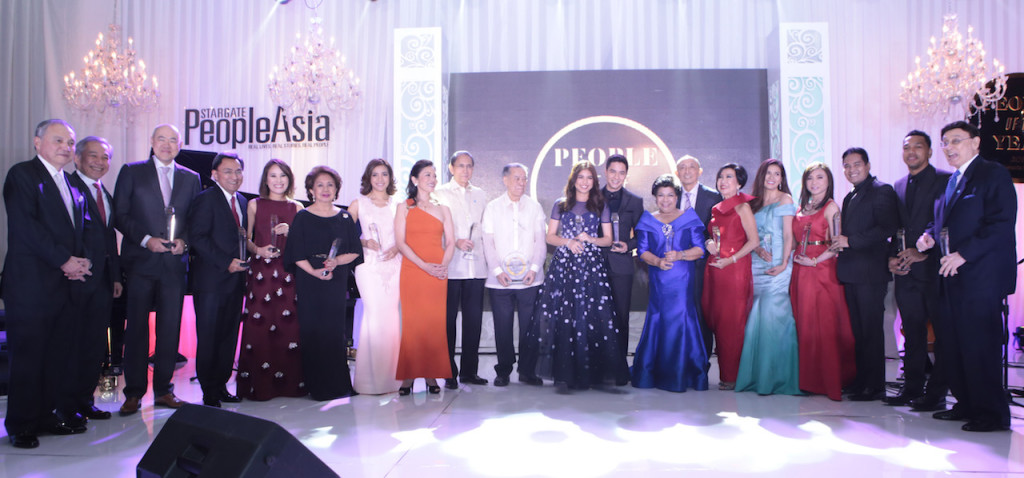 (PeopleAsia publisher Jose Manuel Romualdez and PeopleAsia chairman Ray Espinosa with PeopleAsia 2015 People of the Year awardees Felix Ang, Rico Hizon, Dr. Aivee Teo – Aguilar, Ombudsman Conchita Carpio Morales, Vicky Morales, Cecile Licad, Jorge Araneta, Lucio Tan, Maine Mendoza, Alden Richards, Lilia De Lima, Napoleon Nazareno, Jean Goulbourn, Zsa Zsa Padilla, Vicki Belo, John Arcilla, Jayson Castro and Johnny Litton)
And boy, how those uninsured hands have made such marvelous music that many ears from many countries have been blessed to hear. She sticks to practicing from 9 a.m. to 6 p.m. daily. "I'd be practicing at home then a neighbor would ask 'What's that?' I'd get embarrassed. I don't like people hearing me practice." The irony of it all.
To punctuate this, Cecile practices on out-of-tune instruments. Strangely, this makes perfect sense to figure out what sound she could do with an instrument that makes her struggle a bit. She carefully explains, "I guess I see a lot of masochistic qualities in work. I remember my ex, I don't want to say ex-husband. He used to say why I make things so much of a problem, when I work on something I try to dissect it." It's like undoing the arrangement of a neat bouquet, throwing all the flowers and leaves up in the air and watching how many beautiful permutations could land on the floor. She seems to thrive in an undertone of tragic beauty and a penchant for a dramatic backdrop living in emotional crescendos and decrescendos.
There are moments of splendor that can't be confined by words. Some things are meant to be felt, not to be uttered. They could be expressed by a tear or a smile or even a long pause of divine silence. The same is true with the music emanating from Cecile Licad's fingertips.
(Photography by RAYMUND ISAAC | Art direction by CHINO CORRALES | Styling by ROKO ARCEO | Makeup by MARK KINGSON QUA  for Laura Mercier | Hair by ROEL PAPA | PeopleAsia December 2015 – January 2016)