Happy Easter, everybody! Remember that on this special day that symbolizes new hope and renewal, there is always something to look forward to and be thankful for, even during the most challenging of times.
As the anointed "people's pope" Pope Francis celebrates his fourth anniversary as the leader of some 1.2 billion Catholics this year, PeopleAsia commemorates his spiritually captivating visit to the Philippines from Jan.15 to 19, 2015, and reminds us all that despite any difficulties we may be facing today as individuals, families and even as a nation, our faith will continue to burn bright.
Here are some of 'Lolo Kiko's' most heartwarming moments from his historic visit to the Philippines.
(The Pope rides the popemobile on Philippine soil for the first time. Also shown is Luis Antonio Cardinal Tagle | Malacañang Photo Bureau)
"A child is born to us, a son is given us (Is 9:5)… In these days, throughout my visit, I have listened to you sing the song: "We are all God's children." That is what the Santo Niño tells us. He reminds us of our deepest identity. All of us are God's children, members of God's family. Today Saint Paul has told us that in Christ we have become God's adopted children, brothers and sisters in Christ. This is who we are. This is our identity. We saw a beautiful expression of this when Filipinos rallied around our brothers and sisters affected by the typhoon," said Pope Francis during his visit.
(Pope Francis celebrates the Holy Mass at the Tacloban Airport amid strong winds and heavy rains | Benhur Arcayan)
(Pope Francis unexpectedly visits typhoon survivors in their hut in Palo, Leyte | Malacañang Photo Bureau)
(The faithful youth walking in the rain to line up on the papal route to have a glimpse of the Pope | Val Rodriguez)
(Pope Francis visits typhoon Yolanda survivors in Palo, Leyte |Malacañang Photo Bureau)
(Pope Francis celebrates Mass for the Yolanda survivors at Tacloban Airport under the driving rain | Malacañang Photo Bureau)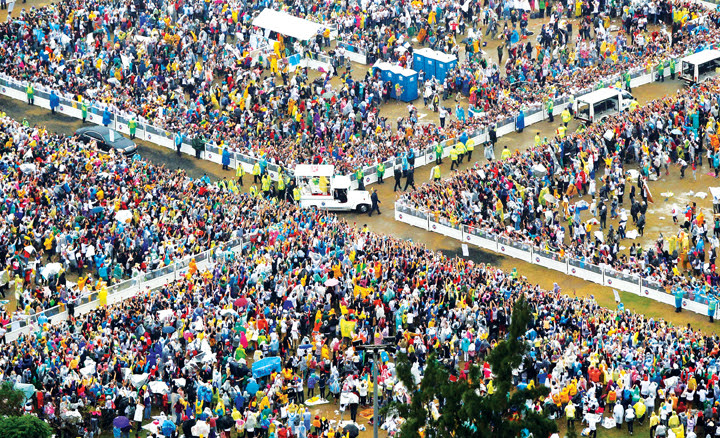 (Pope Francis blesses the six to seven million pilgrims as he makes rounds on Luneta grounds | Edd Gumban)
(Pilgrims with their Sto. Niños are all smiles while waiting for Pope Francis at the Luneta. The event coincided with the Feast of the Sto. Niño, which also happens on Jan. 18 | Walter Bollozos)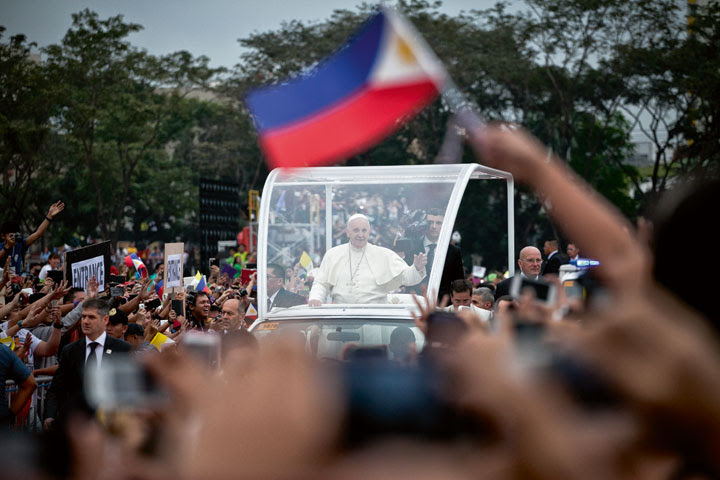 (The Pope from his jeep-type popemobile | Paul Quiambao)
"It was a frail child, in need of protection, who brought God's goodness, mercy and justice into the world. He resisted the dishonesty and corruption which are the legacy of sin, and he triumphed over them by the power of his cross. Now, at the end of my visit to the Philippines, I commend you to him, to Jesus who came among us as a child. May he enable all the beloved people of this country to work together, protect one another, beginning with your families and communities, in building a world of justice, integrity and peace. Please don't forget to pray for me! God bless you!"
– Taken from Pope Francis' Homily at the Quirino Grandstand in Manila on Jan. 19, 2015 
(Pope Francis, carrying his own bag, boards the "Shepherd One" that will bring him from Manila to Rome)
(Pope Francis at the University of Sto. Tomas; as he blesses two underprivileged children from the Tulay ng Kabataan Foundation| Marc Henrich Go)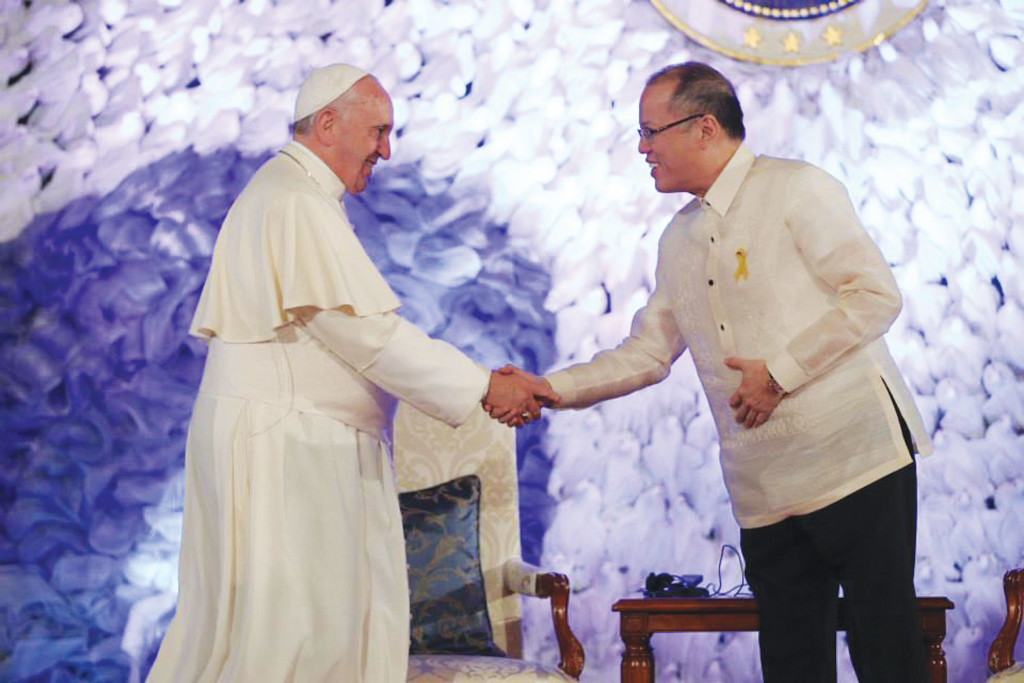 (President Aquino welcomes Pope Francis during the general audience of senior government officials and members of the Diplomatic Corps at the Rizal Hall of the Malacañang Palace | Malacañang Photo Bureau)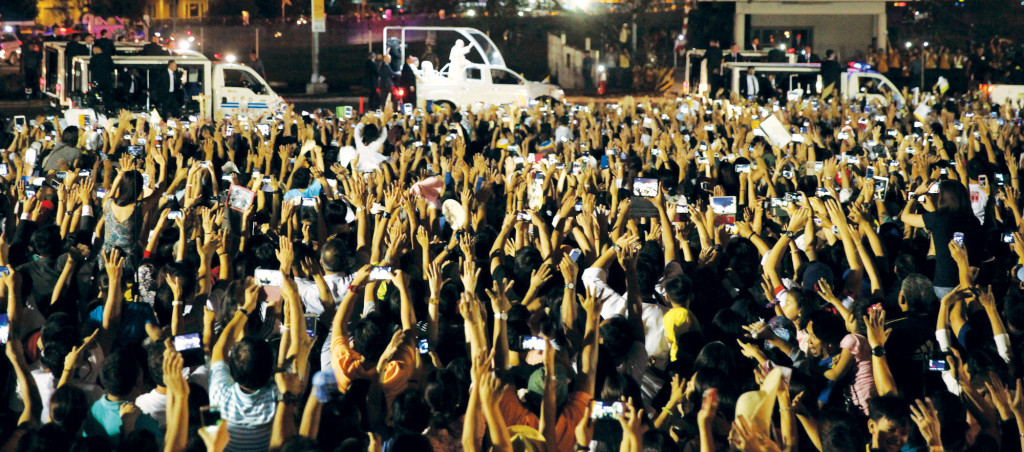 (Huge crowds line the papal motorcade route from Villamor Air Base to the Apostolic Nunciature | Joven Cagande)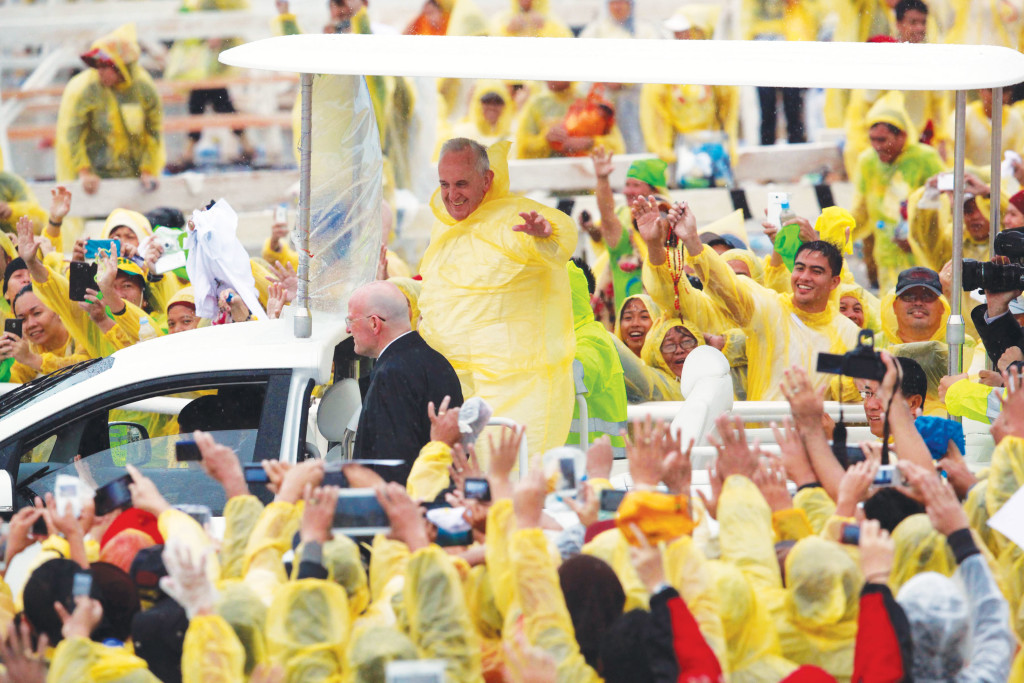 (Wearing a plastic yellow raincoat, Pope Francis waves at the crowd that gathered at the Tacloban Airport | Val Rodriguez)
(PeopleAsia editor-in-chief Joanne Rae Ramirez kisses the ring of Pope Francis during the general Papal audience at the Rizal Hall of the Malacañang | Mary Ann Calma)
PeopleAsia's Papal Power Issue is still available. Please call (02) 892 1857 or text Bong at (0922) 877 6556 for more information.