What's it going to be this month, Nero black, rich chestnut or silvery ash brown?
Barrel brush and rat tail comb at the ready in one hand with a hair dryer in the other, your hair stylist is ready to section, brush, tousle and blast unforgiving amounts of heat and chemicals to hair that's silently begging for mercy.
Hair can't talk (and you stylish citizens that change hairstyles like you do handbags likely prefer it stay that way), so it communicates through other ways. Hair fall, split ends, and knots that just won't get undone no matter how many times you brush through your hair – that's your hair telling you it's close to having the last of it.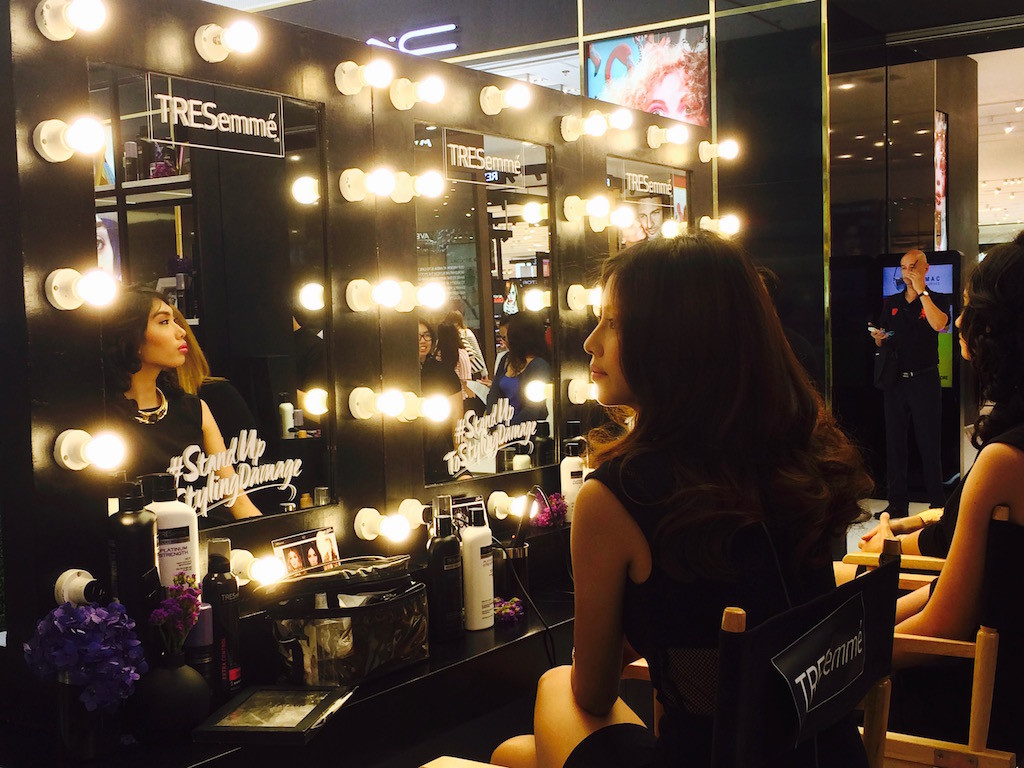 (Models at a TRESemmé styling station)
Unless you've found the Natalie Portman and the Emma Watson in you, you better watch out for signs of hair that's out for vengeance in the form of an inevitable pixie cut.
But this doesn't have to be a losing battle. It doesn't have to be a battle at all. You and your crowning glory were born to be the best of friends. Constant styling and coloring without the right tools is the real enemy!
Thankfully, trusted hair care brand TRESemmé has found the motivation for you and misbehaving hair to call it a truce.
Ladies and gentlemen, stand up to styling damage and welcome the TRESemmé Platinum Strength Range that's got you covered throughout the entire styling – and restyling – process. Unlike other products formulated to take care of styled and colored hair, this collection is both restorative and preventative. The collection was launched recently with trendsetter Georgina Wilson and hair expert Lourd Ramos.
"Hair ages too! Continuous using of flat and curling irons, coloring and bleaching ages the hair. With the new range we have in Platinum Strength, it repairs and prevents hair from breaking from styling," Lourd said with confidence.
Remember that bad perm you got last summer? Worry not, Platinum Strength Range products can repair up to two year's worth of damage. Thinking about giving highlights another try? Go for it. The collection shields your hair (and your relationship with it) from further damage, letting you try out any styles you wish.
The Platinum Strength Range offers shampoo, conditioner, a treatment mask and a leave in treatment.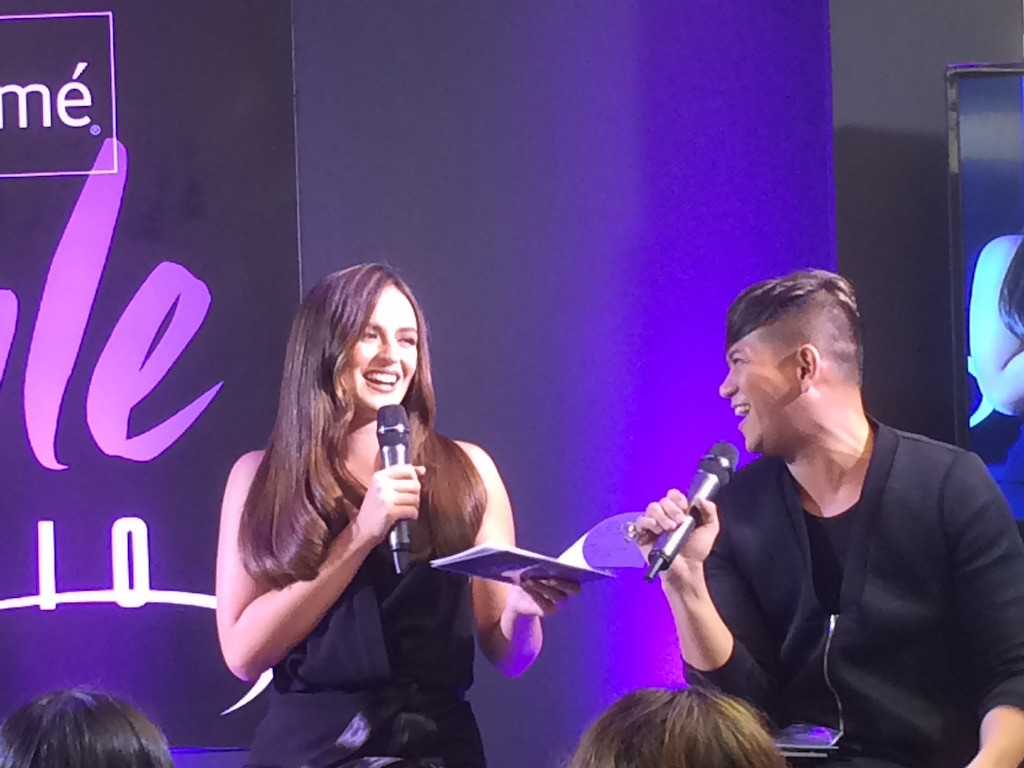 (Georgina Wilson and Lourd Ramos)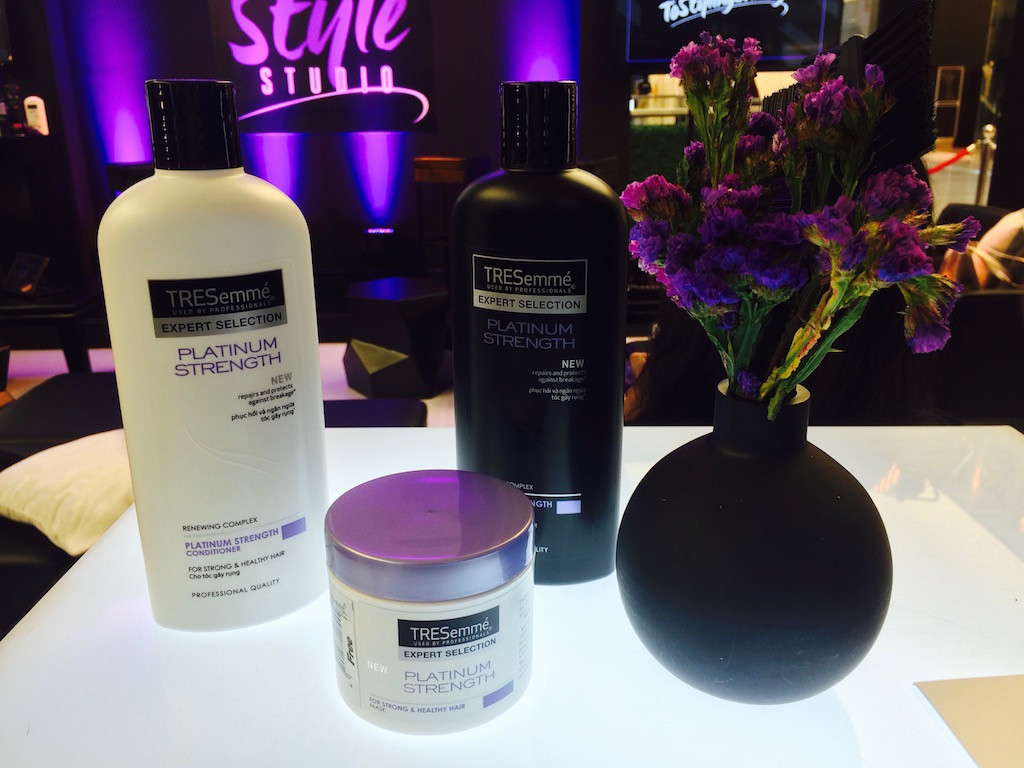 (Platinum Strength Range shampoo, conditioner and treatment mask)
With these products, TRESemmé encourages you to try three of this season's most coveted trends seen straight from New York Fashion Week. With TRESemmé, runway styles can now be everyday looks for you.
1) Uptown sleek
Similar to the "lob" (the long bob), Uptown sleek demands no pesky fly-aways. It ends at the chin and shows off a blunt cut with no layers.
Products and tools: Platinum Strength shampoo, conditioner, treatment mask and flat iron.
Tip: Towel dry hair first, apply the treatment mask then leave it in for about five minutes before styling. Do not blow dry or iron hair right after product application.
2) Copper waves
Bronze curls are another version of a Filipina favorite. It's a natural look and bouncy look that's suitable for almost every occasion. Waviness starts towards the lower half of hair and spreads out on the shoulders, making hair look thick and full.
Products and tools: Platinum Strength shampoo, conditioner and leave in treatment, skeleton brush to blow dry with and velcro rollers for setting.
Tip: To set waves and make sure they stay all day, don't spritz hairspray directly on hair. Spray it on a skeleton brush instead, and then brush through hair from root to tip to spread out waves.
3) Diane curls
They're named after Diane von Furstenberg herself, the lady known for her iconic wrap dress. A quick online search will reveal why. More daring than soft waves, these curls are tight and full of va-va-voom volume.
Products and tools: Platinum Strength shampoo, conditioner, treatment mask and curling iron.
Tip: Apply product in a "scrunching" motion; don't rub it in hair with palms. Because this style is usually accompanied by a lot of bleaching and coloring, be generous with product application. Also take smaller sections of hair when you curl to get more volume.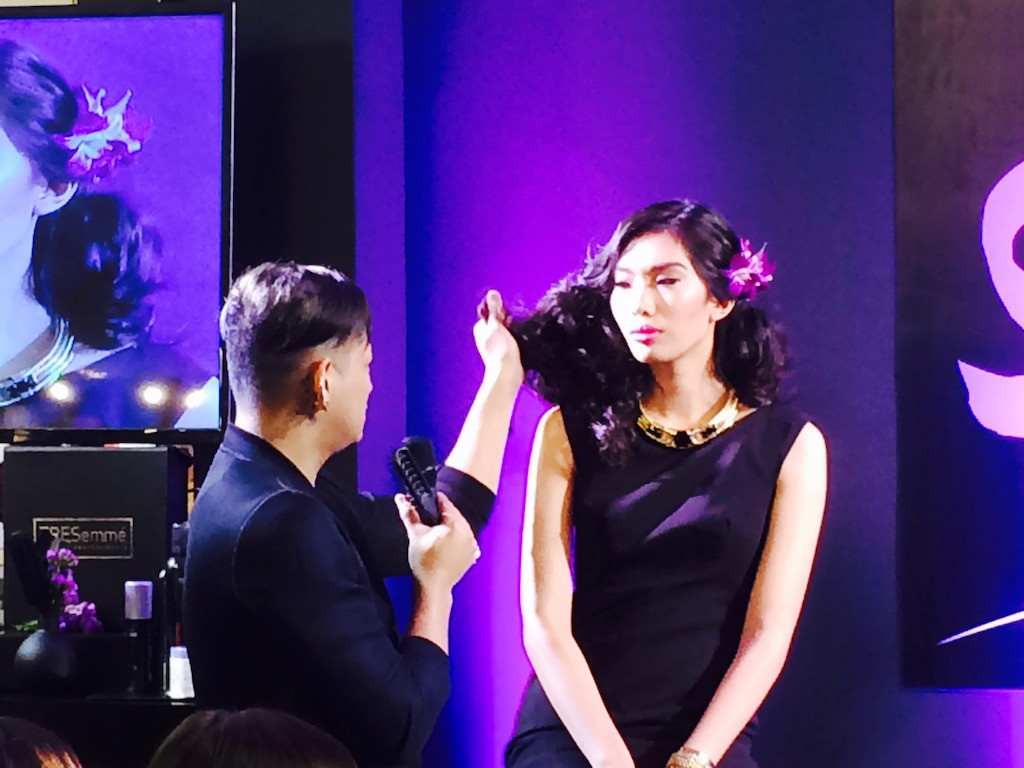 (Lord Ramous demonstrating how to achieve Diane curls)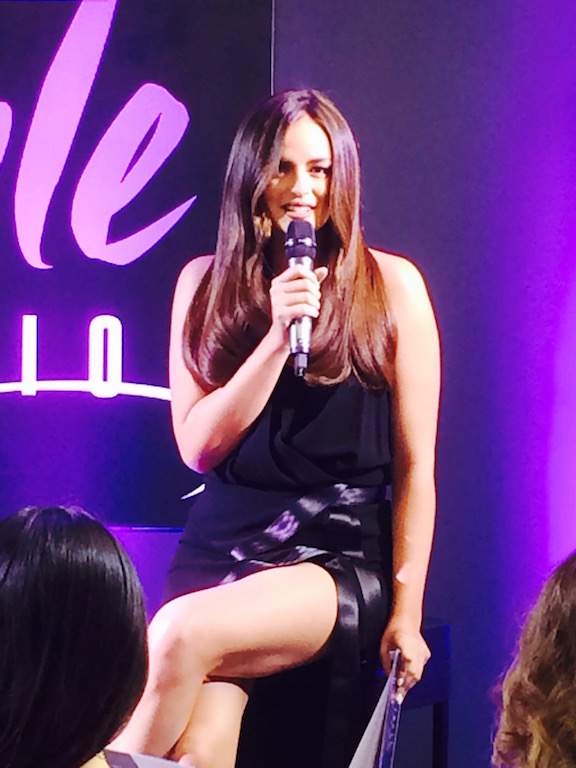 (Georgina Wilson herself with Copper waves)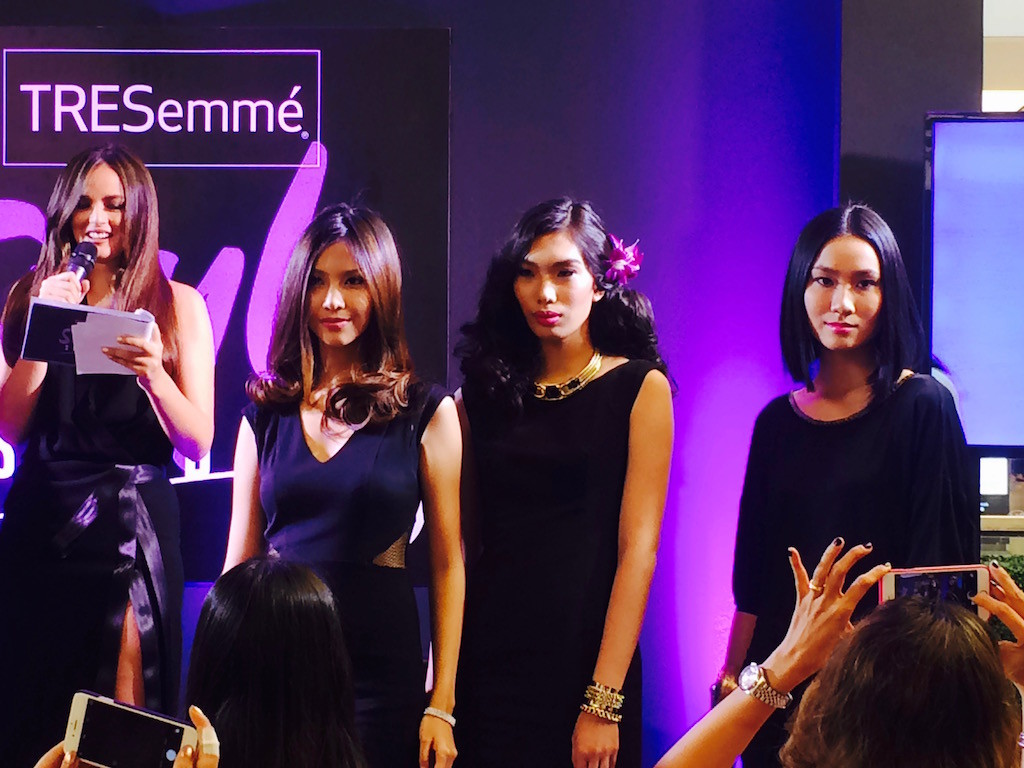 (Georgina Wilson introducing models showing off Copper waves, Diane curls and Uptown sleek styles)