She's gone full circle; from the passing of her mother just last wee to introducing daughter Scarlet Snow to the world today, Dr. Vicki Belo must be in a whirlwind of emotions. With her story showing the undeniable strength of a multi-faceted woman, she truly is deserving to be a PeopleAsia People of the Year awardee.
By RIONE PALACIOS
Life may have taken a quieter turn for this celebrity doctor, but that doesn't mean she isn't working as hard, or that she doesn't have anything new up her sleeve.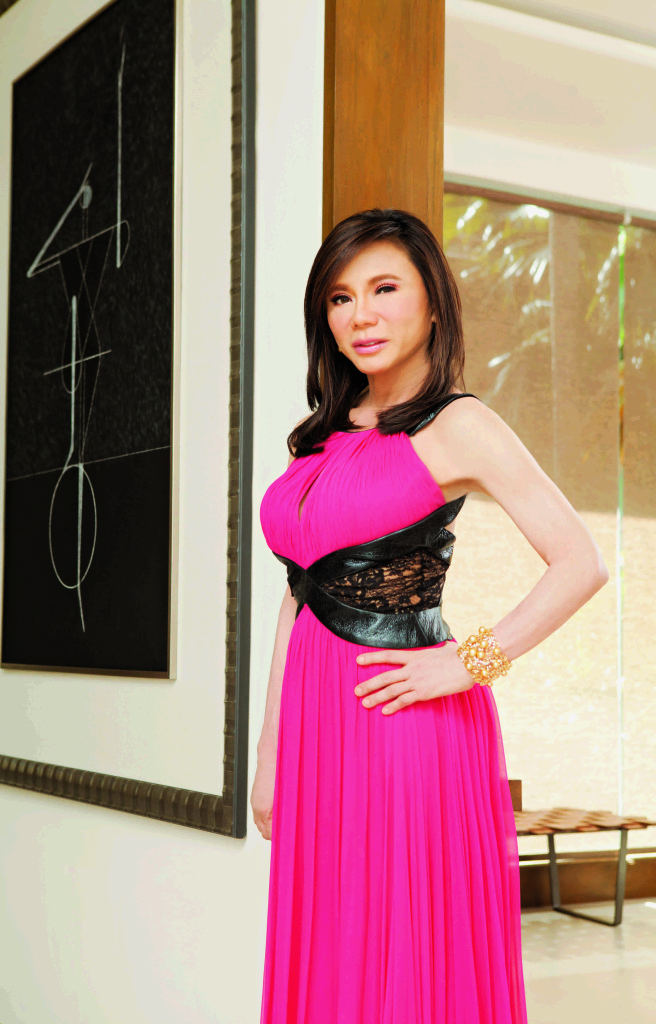 Dr. Victoria Belo tears up twice in our almost hour-long chat at her stately home's sunlit study.
First, when she remembers her happy but different childhood as she grew to be a rather rotund, homely, adopted child; and how this realization changed and shaped her persona. She recounts how her desire to be beautiful dawned at an early age. "At the age of five, I decided I would really devote my life to making people beautiful. That was already my goal. I just didn't know how, but that was what I was going to do. My conclusion was that if you're beautiful and you're not fat, people will not give you away and they will love you. That was my thing."
Her teen years were of the same, problematic mold — beset with a serious acne problem that drove the smart lady to become more consciously introspective. It was during her routine weekly visits to the dermatologist that, in her heart, her plans firmed up and unfolded the way she saw them in her mind's eye.
As early as 11, she would ponder and plan on her future in the beauty industry, especially as she waited in one of the few dermatological clinics of that time. "I would take notes. Even sitting there, I would think, 'It should be by appointment. Why is it not first-come-first-served? Why is this place unattractive? Why are the magazines old? How come they don't have fresh flowers?' So I'd write all these down in my notebook. 'When I have my own practice, I'm going to do this, I'm going to do that!'"
A self-made woman
Fast-track to her years in medical school that saw her specializing in Thailand's Institute of Dermatology and then to Harvard University to gain further experience. She would recall how she got enamored with lasers on her last month in Bangkok and all the advanced cosmetic surgery they were doing there, and then the subsequent exposure to the progressive manner of practice of Medicine in the US.
"When I came back to the Philippines in 1990, I was the first person who was a dermatologist who used lasers. I was also the first to introduce Botox in 1993. And for everyone, it was so controversial."
Controversial she stayed when she found two disparate but rewarding kinds of patients: socialites and stars. But she's not all glitz. This public figure is also a no-nonsense businesswoman. In keeping with her vision to keep Belo Medical Group at the forefront of cutting-edge technology in the beauty business, she would ask distributors to give her company first and exclusive dibs for the use of machines for new procedures.
She is first to admit she had her fair share of detractors then, before intimating, "I got tired. I decided at that point that I'd be a horse with blinders — that I'll put myself out there and keep going forward. Whatever my critics threw at me, I learned to look forward and not keep on looking around. Because if I kept on looking around and feeling, I'd lose focus. That was how Belo Medical Group came about."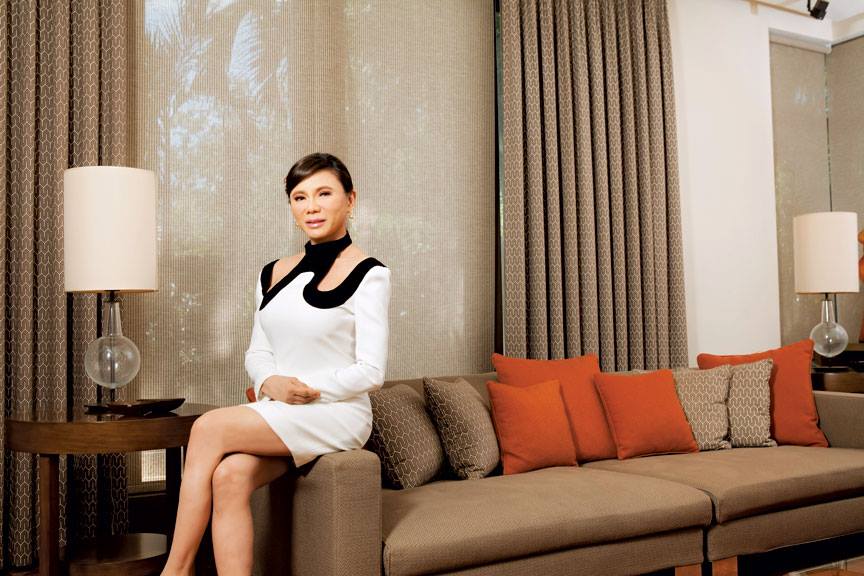 The future is now
"If there's anything that defines my life — when you're given lemons, make lemonade. All the negatives in my life — finding out I was adopted, being fat, being pimply, being not so pretty — I translated all of it to 'What can I do about it?' It's not anymore about the sobbing. I'd say, 'Let's just figure out a way to make it better.' So that's what I've built my life on."
When we ask her to sum up the past quarter of a century for her, she readily says, "I'm all about making people look good because I feel, in my personal experience — when I was ugly and fat and pimply — my self-confidence was down to the ground. I could not do an interview. Even up to now, one can see that I have a hard time with having my picture taken."
She states further, "If other people feel more confident, then I'm so happy. Of course, business is more than flourishing. But more than that, it's the happiness that you see in them. The patients become more positive — just because they feel prettier. These make me feel happy."
Vicki doesn't hold back on her next step. "Now, if you watch CNN, Belo Medical Group has an ad there. People have asked me why we are there. I say it's because I am building medical tourism in the Philippines!"
The woman behind the name
The second time she tears up is when we ask her about her biggest achievement in life. Vicki says surprisingly, "It's not work. It's that I brought up two good kids — and that they're fine; they're humanitarian. They care about the world." She adds, "I am so fulfilled as a woman. My life is fulfilling in the sense that I touch many people's lives in a positive way and these people affirm this for me every single day."
With endearing candor, Vicki reveals, "That's why I'm all about happy moments. When I think of my happiest memories, they always involve my family. These are what make a happy life."
For someone who has seen it all — from triumph to trial, from career highs to personal lows — Dr. Belo hasn't lost her smile, her heart, her verve. "What I want is at the end of my life, when I look back, I don't have any what-ifs. I don't want to have regrets, the 'I shouldn't have done that.' But you'll never know unless you try. I don't like the 'I should haves.' I never entertain the 'should have.'"
Beyond the exterior of her freshly blown-out hair, her expertly made-up face, her dramatic, black-and-white Tom Ford dress, is a woman who knows her worth. "One of my slogans is I want to make the Philippines the most beautiful country in the world — one person at a time," she closes with pride.
(Photography by SHAIRA LUNAÂ / Art direction by RAMON JOSEPH RUIZ /Â Styling by MIKE DE GUZMAN and GEORGE PALMIANO of MGPÂ Makeup by MARIFE MORDIDO / Hair by LIZA BABARAN)