By GRACE C. DIEZ
As Philippine Airlines continues to expand its reach and business, its passion to serve people also grows and rises.
Through the Philippine Airlines Foundation (PALF), Philippine Airlines (PAL) is able to earmark efforts and activities that would help uplift the state of Filipinos around the world, especially those who are in need.
Established in 1992, PALF serves as the community relations arm of Asia's first airline. PAL Medical Travel Grants are at the center of the foundation's program to provide humanitarian and social development assistance to indigent Filipinos who wish to avail of tickets to places where patients get sponsored surgery for life-threatening diseases. PALF also provides assistance to disaster-stricken communities, where they airlift donations and supplies. It also conducts other community outreach activities, including visitations to different charitable insitutions such as orphanages, homes for the elderly, indigent patients, among others.
More so, the organization  also goes beyond responding to the needs of the underprivileged members of society. Recently, PALF's advocacy to spread "Pinoy Pride" also took flight with #RPRSNTPINOY (Rprsnt Pinoy).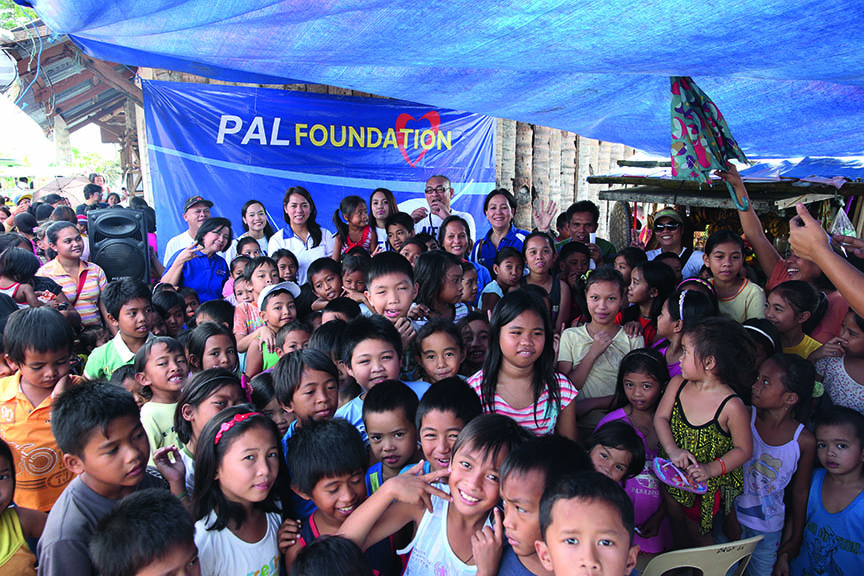 (PAL takes the lead in a disaster relief effort with victims of natural calamities)
#RPRSNTPINOYÂ 
On its 75th year, PAL, with its vision of becoming a source of pride for Filipinos, is launching "Rprsnt Pinoy" as its flagship corporate social responsibility project. Through this, the national carrier will fly underprivileged Filipino talents to represent the "best of the Philippines" to the world.
The program also supports the digital campaign with the same title, launched in 2015, which aims to celebrate Filipinos who represent Philippine culture to the world. It also gives netizens an online platform, wherein they can share what makes us Filipino.
Among those cited by the #RPRSNTPINOY campaign are personalities like Johann Manas, a Filipino fashion designer in Japan; Nash Ang, a filmmaker in South Korea; Nicole Ponseca, a restaurateur in New York; and Michael Carandang, a former TV producer in LA. The premise is that whenever you display what Filipinos can do, you become an ambassador of your country to a world that notices and embraces who you are.
Apart from celebrating the finest things the Philippines has to offer, PAL's #RPRSNTPINOY also serves as the bridge to new opportunities.
PAL is always on the lookout for Filipinos they can support and enable to shine their brightest on the international stage.
In line with this, PALF flew five students from the University of the Philippines-Iloilo who represented the country in the Enactus World Cup 2015 at Johannesburg, South Africa as part of its #RPRSNTPINOY efforts. The Enactus World Cup is an event that brings together an international network of students and the academe to showcase entrepreneurial excellence and shared innovation to transform lives and create a better and more sustainable world.
The team's winning project promotes a comprehensive training program for farmers, particularly former members of a rebel group. It aims to equip them with skills ranging from advanced farming techniques to basic business skills, from packaging and marketing to increasing their income to help uplift their lives. The program also helped reintegrate the former rebels into society. It introduced productive farming techniques without the use of chemicals, making a positive and significant impact to the environment.
The UP students placed third in the field of entrepreneurship for underprivileged communities.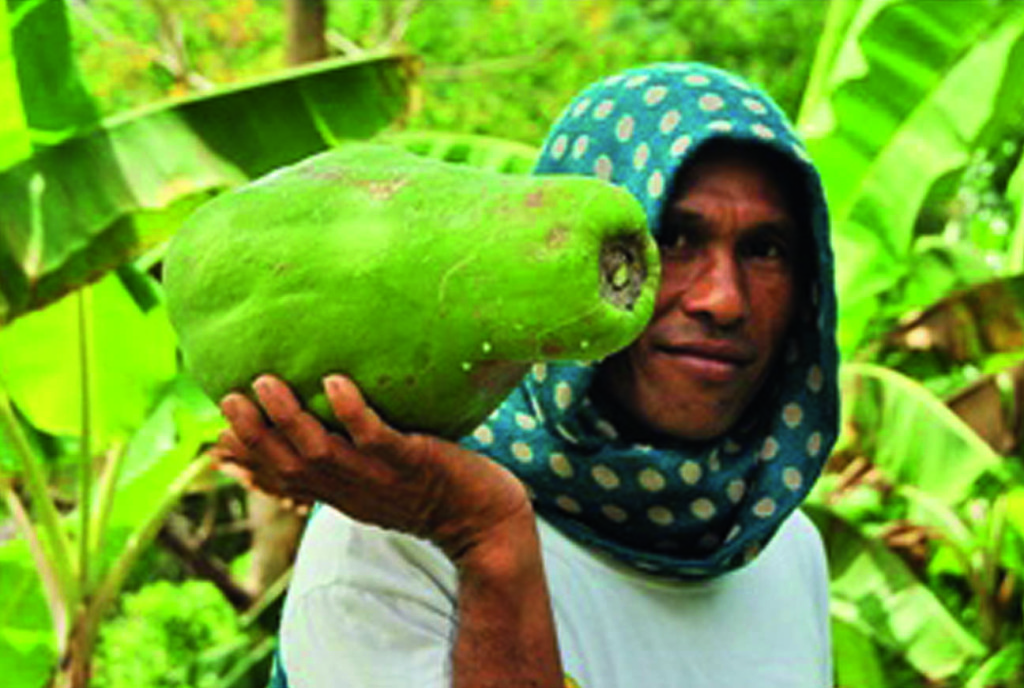 (A farmer carries a fruit he has nurtured under UP Iloilo students' "Arms to Farms" CSR project)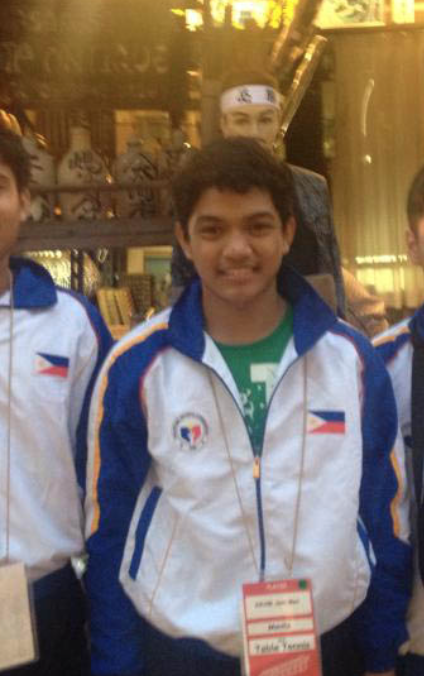 (CENTER: Table tennis player Jann Mari Nayre will be flown to Hong Kong this April for the Asian Table Tennis Olympic Qualification Tournament)
PAL medical travel grants
PAL Medical Travel Grants support underprivileged Filipinos and members of society—the children, the disabled and the elderly—who suffer from serious and life-threatening medical conditions and enable them to avail of treatments within and outside the country.
John Rey Yabut, a six-year-old from Davao, and Princess Poblete, a nine-year-old from Bacolod, who were born with craniofacial anomalies or facial clefts, were also beneficiaries of the PAL Medical Travel Grants. Both John Rey and Princess come from impoverished families that could not afford the series of medical evaluations and surgeries recommended. The Noordhof Craniofacial Foundation Philippines, Inc. (NCFPI) decided to take care of the surgeries of the children.
When the two kids were endorsed to PALF since they couldn't afford to travel to and from Manila, PAL wasted no time. The two kids found themselves flying from their hometowns for their surgeries and series of check-ups in Manila. Because of these kind acts, both John Rey and Princess now have undergone primary surgeries and are up for full correction of the deformities.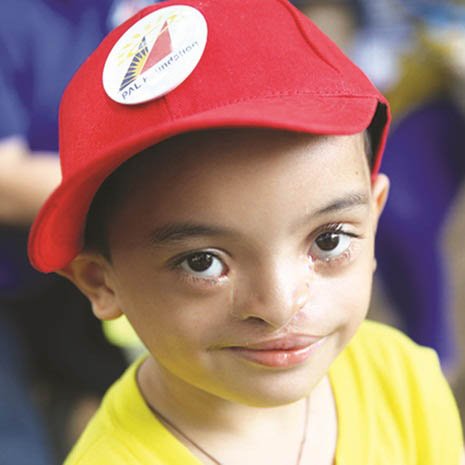 (John Rey Yabut)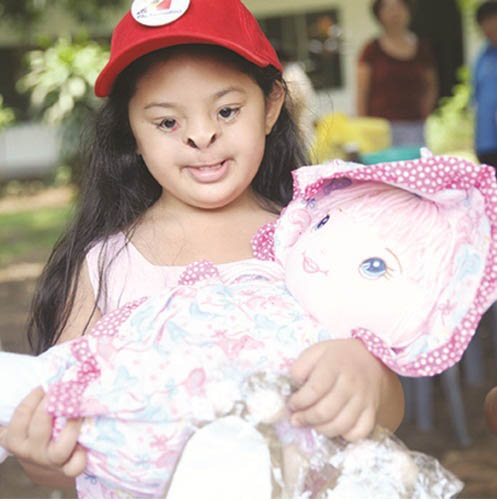 (Princess Poblete)
(PAL President Jaime Bautista turns over a  donation to the officials of Anawim Lay Missionaries Foundation which houses abandoned elderly)
Eco-conscious airline
PAL has also made it a mission to be more eco-conscious and to contribute to environmental efforts that would ultimately help improve the nation's environmental state.
In its effort to contribute to the protection of the environment,  PAL, through the foundation and its safety department, has been participating in the annual international Coastal Clean-Up Day. This year, PAL employee-volunteers were able to collect 166 sacks or 2,080 kilos of garbage from the Las Piñas-Parañaque Critical Habit Eco-Tourism Area. Likewise, the airline company has taken an active role in taking care of the wildlife. PAL, through the PALF and Mabuhay Miles, adopted a baby Philippine eagle.
Under the program "Miles with a Mission," the airlines donated one million miles to the Philippine Eagle Foundation, exclusively for the care of the eaglet.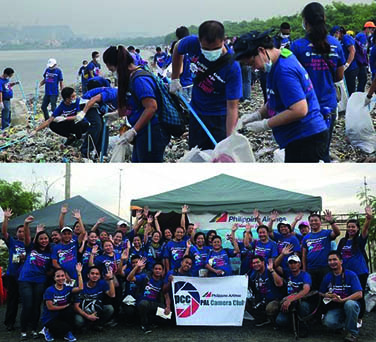 (PAL employees helping out during the International Coastal cleanup at the Las Piñas Parañaque Critical Ecotourism Habitat Area)
Disaster relief operations
With the Philippines being highly vulnerable to typhoon-related natural disasters, help should already be a "push button" away at any given time that a storm hits the country. And PALF's track record proves it.
In fact, PAL was the very first airline to fly to Typhoon Yolanda-stricken Tacloban to fly in aid to them and to other affected areas. The airline assisted government agencies and non-government organizations in the airlift of relief goods, equipment, as well as the medical, rescue and security volunteers from in and out of the Philippines.
PALF was able to facilitate the airlifting of about 300 tons of supplies and 2,000 volunteers to aid those who were affected by Typhoon Yolanda.
Aside from airlift support, PALF was also at the forefront of distributing relief packs to about 400 families in Nueva Ecija, when Typhoon Lando struck. Most of the beneficiaries were farmers whose livelihood was deeply affected by Typhoon Lando, the strongest storm to hit the country in 2015.
PAL is a service organization that takes its role as the country's national flag carrier with responsibility, wisdom, and heart. The accountability, as well as the commitment to aid fellow Filipinos is strong as it consistently values people over profit.
As PAL soars higher and widens its scope and reach worldwide, it beautifully connects people, services, and the Filipino spirit to build a network of communities that care and help one another, and, through the PALF, keep the bayanihan culture alive.
(PAL employees actively give back to the communities they serve)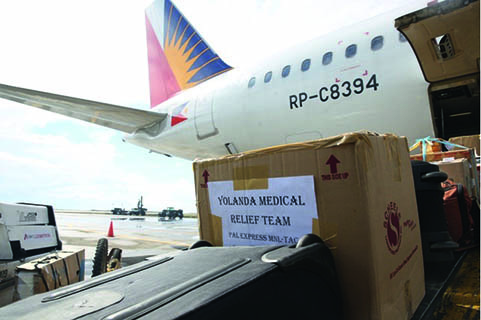 (A PAL flight bound for Tacloban carrying relief goods for the victims of Typhoon Yolanda)
Editor's note: The full article can be read in PeopleAsia's special Philippine Airlines 75th Anniversary issue available in newsstands today.