On this date more than 65 years ago, Superman made his debut in what is considered to be the first "true" superhero comic. Just as Clark Kent remained hidden from the world, there are many, many real life heroes who have done miraculous, wondrous deeds. They don't need headlines or masses of followers; these everyday Supermans live only to make their loved feel cared for, protected and loved.
Margie Espina, in the ordeal of her life, definitely found her Superman in her beloved husband Chet.
By KRISTEL DACUMOS-LAGORZA
He tenderly traced his fingers across her brow and cupped her limp hands into his. Her mouth was a thin, dry line, while her eyes that used to hold a sparkle of mischief now stared blankly at him, through him. When Chet Espino married Margie Quimpo on May 10, 1991, he vowed to be with her "in good times and in bad, in sickness and in health." But little did he know what it would mean to truly fulfill that promise, a promise that only true love could keep.
The day was Nov. 29, 2008. Margie, the business features editor of the Philippine Daily Inquirer, was sent to Faridabad, just an hour away from New Delhi, to cover a leading cement manufacturer's corporate social responsibility awards ceremony. It would have been a quick trip that would see her back in Manila after four days. That was before Margie suffered an aneurysm.
Fear gripped him because it was also aneurysm that took away his sister-in-law in 2002. She was only 47. According to the doctors, Margie was stricken with Grade 4 aneurysm, with only a 20 percent chance of recovery.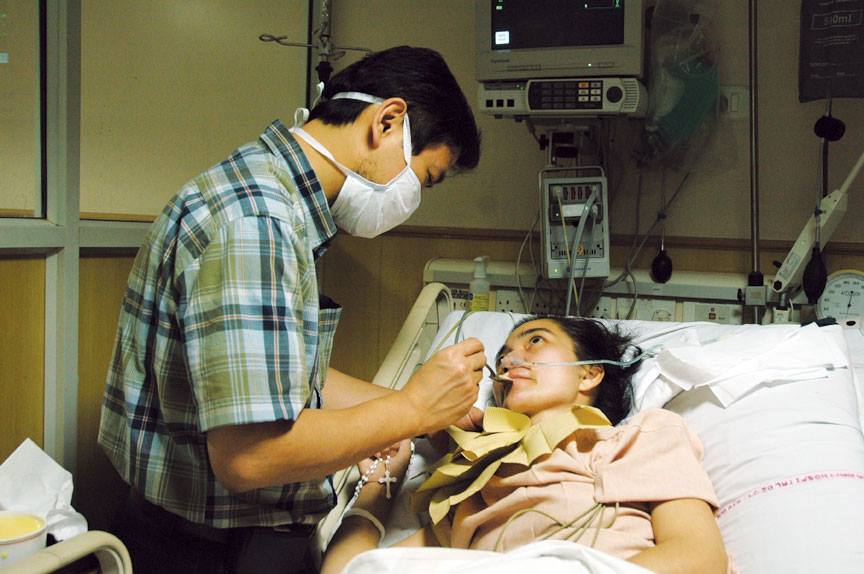 Chet stayed by his wife's bedside for 20 days, praying relentlessly like a loving husband would, until the doctor advised him that it was urgent that Margie be moved to Sir Ganga Ram Hospital in New Delhi; there, they had better facilities to treat her critical condition. Anxious that a transfer would put her in more danger, Chet asked the doctor, "Husband to husband, if your wife were in my wife's place, would you transfer her to this other hospital?" The doctor nodded and Margie was immediately sent in an ambulance.
Under the best medical care in Sir Ganga Ram Hospital, Margie suffered yet another aneurysm attack and brought further complications like meningitis, hydrocephalus, bedsores and bouts of infection. She bravely fought each one and came out victorious, though not totally unscathed.
Recovery was slow and painful. There were days when she showed great progress — she would open her eyes and ask for water and would oblige Chet with a kiss when he asked for it — only to be rushed back to the ICU, to be treated again for infection and bleeding in her brain.
There were days when she was lucid one moment, and then barely able to focus her eyes in the next. Her memory was so ravaged by the brain scarring that in one instance, when Chet leaned over for a kiss, she looked up at him aghast, exclaiming, "Excuse me, I'm a married woman!"
Love will keep us together
"I stayed close to her, looking into her eyes and talking to her; mostly about the kids and our great memories together," Chet shares. He also reveals that he would often hide behind the curtains when the guards came by so that he wouldn't be forced to leave her bedside. The monologues lasted for hours and Chet relished every minute of it. "Never mind that she made no response," he reminisces. When there was nothing else to talk about, he started singing songs to her, one of which was "Bridge Over Troubled Waters." This was the same song Chet first sang to Margie when she walked down the aisle as a blooming bride in San Agustin Church, Intramuros, Manila, almost two decades ago.
"I'll take your part when darkness comes, and pain is all around, like a bridge over troubled water," as the lyrics would vividly tell. "How prophetic," he would often think to himself later when he was alone in his hotel room. In what could be described as a miracle, Margie painfully and slowly recovered. She was brought home back to Manila on Feb. 26, 2009.
All of this is a blank wall in Margie's memory. Fortunately, Chet had collated the emails he had sent during her battle and recovery (now all compiled into a book 88 Days in India: A Pilgrimage of Faith, Hope and Love) and gave it to her. Upon reading her husband's account, Margie, in a state of confusion and with eyebrows in a knot, remarked, "Chet, all of this happened to me? I want to cry, but I can't remember." And perhaps it was for the better, Chet thought. She didn't need to be burdened. It was enough that he remembered the thousand times that death had tried to snatch her away from him.
But Chet hints at a more serious condition. "It's that part of the brain (that's affected). She's uninhibited so she speaks her mind a lot. The fact that she's always happy, she's not able to cry or get angry; that's not normal. But what's wrong with that?"
Full circle
Margie talks of the darker days as if it were a bad dream, a fleeting second in a black and white film she watched in a previous life. She points to her chin-length hair. "I'm okay, I guess… except that my hair is kind of thinning," she chuckles. But the cause of that is a symptom of a new disease all together.
Three years after India, in 2012, Margie felt a lump in her breast. After a trip to St. Luke's Hospital, they were given a dire diagnosis. It was breast cancer, malignant. The ride home was quiet, the silence deafening. "As soon as the car stopped in front of our house, Margie told me, 'Can you accompany me on my walk'?" Chet quietly obliged and took her by the elbow, as they made their way around the block for her daily exercise. They had not told the kids yet.
It seemed like she was very uncomfortable to tell Chet. Then Margie said, "I'm okay, I'm okay with it. I'm ready to go." The moment was sealed in a blanket of calm. "It was an easy feeling at the time, despite finding out she had cancer," Chet reveals. "I guess it's probably because, in our 20 years of marriage, we have gone through so much. Other couples have never had the blessing and opportunity (to grow together as we have). After all that we've been through, we've come full circle."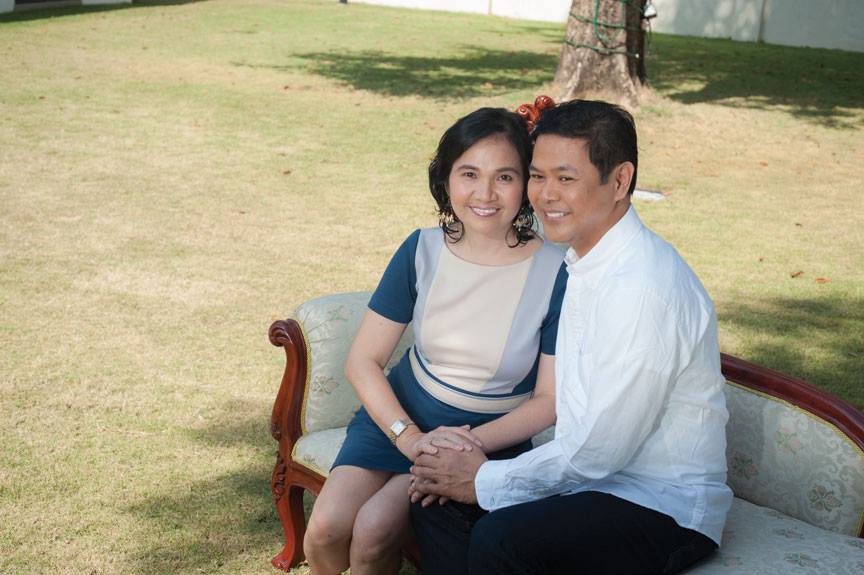 In unity, there is strength
Despite accepting the cancer, they were not about to surrender. They would fight it with the same quiet courage, faith and prayer that they did her aneurysm. Margie showed incredible strength too, even finding peace and humor in the new situation.
"She started joking about it; she was telling the whole world she had cancer. She was saying, 'Don't pray that I get well, pray that I go to heaven.' It was really amazing, but it also became too much," admits Chet.
"At some point, I said, 'Marge, huwag naman ganyan. Para naman mamatay ka na (Don't act that way; it's as if you're going to die). We're prepared, but we will fight this together. Don't leave the fighting to us. Don't feel so comfortable about leaving us and dying on us. You may be prepared, but we are not.' I wasn't ready to lose her and I don't think I ever will," he trails off.
Chet replies with his own ponderings about the future. "I sometimes grapple with that question too, about the future because I don't have long term plans. I don't know how much time we have. I try to very carefully and delicately tell the kids that. But what's more important now is making the most of everyday. I have never treated each day the same since." And he has kept that promise. Not a day goes by that Chet doesn't remind her, " I love you Pangga ("Honey" in Ilonggo)." These words are often interchanged with "Have you taken your medicine today?" and "Be careful."
While Margie is fighting her new battle with cancer well (her hair is growing again after months of radiation and chemotherapy), Chet has streamlined his business. From three previous ventures, he now manages just one to ensure that he gets home by 6 p.m. to be with his wife. The family has also moved in with Chet's brother Boyet and his (Boyet's) family after Chet's own home burned down a year ago — another test of faith!
It has become a joke of sorts on how Chet has become such an exemplary (if not saintly) husband. "If I don't end up getting married Papa, it's going to be your fault!" exclaims his eldest daughter Patricia at the family table.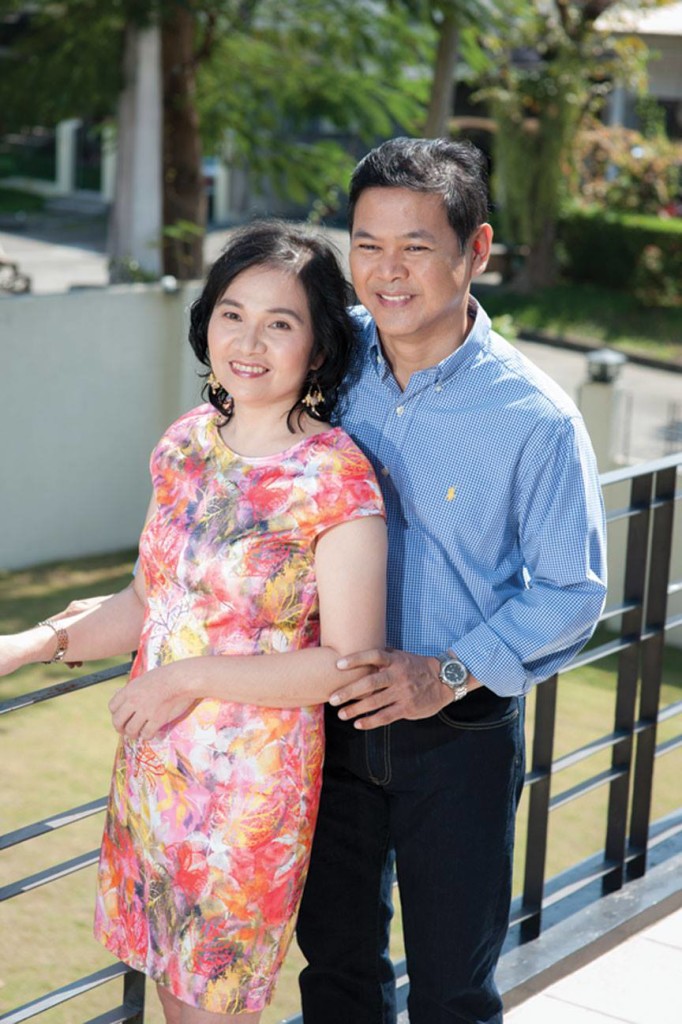 The light of the home
Margie is living today a life of normalcy, and is reconnecting with family friends. But Chet keeps a close eye on her social life, laying down the law that she cannot attend any event without a chaperone. "He's super protective to the point that I feel so claustrophobic. It's because of too much love and caring." She offers him a forgiving smile. "He loves me, doesn't he?
"But you know, this has been the happiest time in my life. Aneurysm, cancer, a burning house… it really is the happiest period. When I was young, my brother would call me 'Lady D' for Lady Depressed. I was always depressed. Even after marriage, I wasn't happy; I don't know why. But now, everything just clicked. I am profoundly happy as well."
Chet, who has been considered the spiritual core from whom everyone derives strength, refutes the idea that it is he who is giving them strength. While God has always been the center and bedrock of their faith, "Margie is the light of our home. She brings so much joy and happiness," he says."
The past five years have been undoubtedly tiring, a rollercoaster ride of emotions, but Chet would not have it any other way. "When you're married, you don't think what are you going to get out of this. It's, 'What can I give?' And that's where your happiness lies. Caring for Margie gives a lot of meaning to my life. That's something that cancer cannot take away; that losing your house cannot take away." He looks up from our interview and his eyes seek out his wife in the other room, amongst the flurry of people. His heart is relieved when he sees her, "She's beautiful isn't she? In every which way, in every sense of the word."
Editor's note: This article was first published in PeopleAsia's February – March 2014 issue.