Juan Miguel Zubiri, or simply Migz Zubiri, seems headed back in the Senate. It has been five years since his controversial resignation from the Senate, but the people have spoken. As of this writing, Migz is at number six on the senatorial poll, proving that nothing can ever eclipse staunchness and sincerity in fighting for a noble cause.
By JOSE PAOLO DELA CRUZ
Editor's note: The article featuring these excerpts was originally published in PeopleAsia's December 2012 – January 2013 issue.
While some politicians would stop after gaining a good following, Zubiri knew that much work had to be done. With a Bachelor of Science degree in Agribusiness from the University from the Philippines (UP) Los Baños and a Master's degree of Environment and Natural Resources Management from UP Open University, his passion for environmental protection soon swelled, inspiring him to take the battle for nature to the legislative front.
"In all the Ulat ng Bayan surveys of PulseAsia and Social Weather Station, people always list environment as the ninth out of 10 concerns," he states, saddened by his countrymen's defined priorities. Zubiri further relates that for Filipinos, livelihood, job security, health, food and education comprise our major concerns as a people. "What we don't realize is that the environment is actually responsible for these top priorities. Solve that problem first and you get a better chance in addressing all those other issues. "
A testament to how change should start in one's own backyard, Zubiri's home province is now a poster boy for green locales. It became the first in the country to totally ban logging and has also successfully closed all of its open dumpsites. What's more, it has evolved into a province of "not just eco-friendly, but eco-vigilant people," as Zubiri puts it.
And then, the storm came.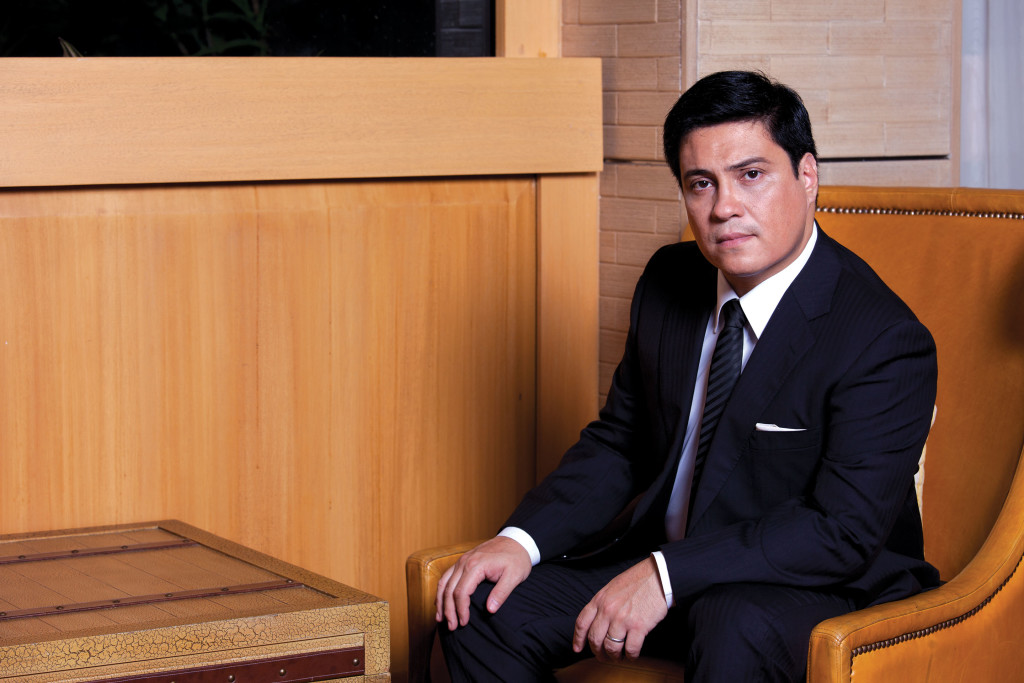 Plight of the pedigree
Not even pedigree saved him in 2011, when the former Maguindanao election supervisor Lintang Bedol finally surfaced and testified before the Commission on Elections that poll fraud took place in the province during the 2007 senatorial elections. Zubiri did what he thought was the most honorable thing, but without admitting to any wrongdoing on his part.
In an unprecedented — and unannounced move — Zubiri took to the hallowed halls of the Senate and said: "Without admitting any fault, and with my vehement denial of the alleged electoral fraud hurled against me, I am submitting my resignation as a duly elected Senator of the Republic of the Philippines, in the election for which I am falsely accused without mercy and compassion." A true gentleman, he even raised the hand of his political rival Aquilino "Koko" Pimentel III, who assumed his position as senator.
No surrender 
If there was one thing Zubiri learned from this ordeal, it's that a real warrior may retreat — but a great one never surrenders. Even when stripped of the political titles that he has carried for the past 13 years, Zubiri soldiers on with his good works.
In 2011, he established Pilipinas Eco-Warriors, an organization that aims to make more vigilant advocates for nature. "It's not enough to know anymore. If you see an illegal logger or a smoke belcher, report it. Take the fight to the next level," he urges. "Our anonymity measures encourage our eco-warriors to report without fear of being compromised. That way we can follow through their complaints with the authorities, and come up with solutions, without putting anyone in danger," he explains.
Like many harbingers of change though, Zubiri admits that he, too, has problems explaining the intricacies of environmental awareness, especially when it involves the livelihood of the underprivileged. "You don't protect nature just to make a statement. You don't just tell someone, 'Stop doing this,' and then leave their families to starve. A lot of people can be abrasive and brash about this matter and even I don't support that," he reiterates.
Solution is key
Zubiri cites the bird-watching boom and how it has helped uplift the livelihood of the people of Kitanglad. Instead of hunting (whether to eat or to sell) the rare Philippine eagles, the residents of the locale now serve as tour guides to foreigners who are willing to pay top buck for the sight of the endemic birds in their natural habitat. To further ensure the prolonged sustainability of the project, Zubiri and his allies also installed a cooperative model that promotes camaraderie (instead of competition) among local tour guides. That way sabotage is avoided, and progress, promoted.
While much of his battles as a civilian environmentalist seem uphill, Zubiri claims that he's never one to back off — even if his stance usually pits him against large mining firms, as well as players in the wood and paper industry. Popularity, according to him, is a small price to pay.
(Photography by RAYMUND ISAAC / Grooming by PATRICK ROSAS / Styling by LUIS ESPIRITU JR. Â / Associate Styling by MIKKA VELASQUEZ and RUDOLPH LEONOR)Â