… you're a bride all your life.
The month of June has long been thought of as an auspicious time for weddings. Named after Juno, the Greek goddess of love and marriage, June brides are thought to be the luckiest of them all.
This of course is only a saying easily pushed aside, and brides wed at any other time of the year are just as likely to find enduring happiness.
By KRISTEL DACUMOS – LAGORZAÂ 
June, February or December, marriage is a celebration of two hearts, the union of distinct and separate personalities who have chosen to be joined as one. And what is even more beautiful about a wedding is when you see these two personalities meld into a celebration that is unique and unforgettable. PeopleAsia gathers some of society's favorite couples and takes a look back on the day they said "Yes," "I do" and "I do again."
Model of Perfection: Paolo & Rissa Mananquil-Trillo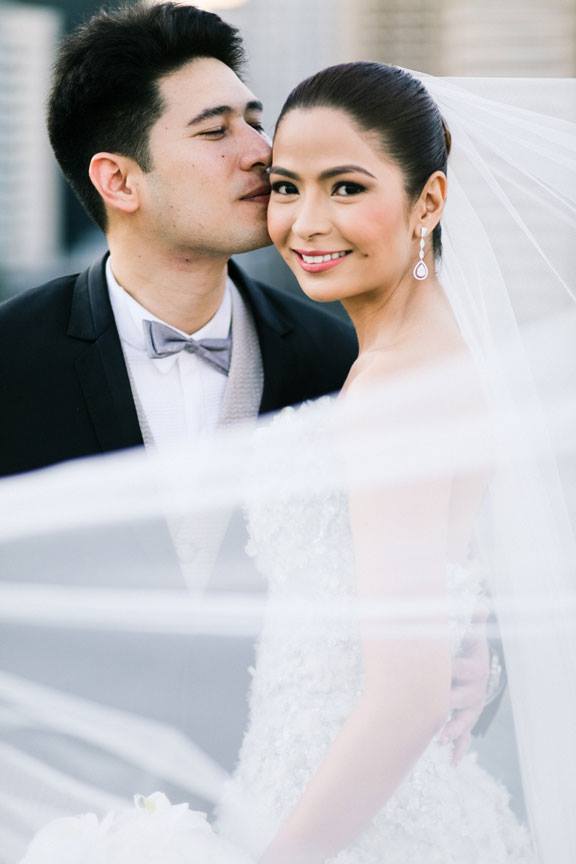 On Dec. 28, 2010, just before they would welcome another new year together in Osaka, Japan, Ateneo Men's Basketball team manager and Fiamma bar-owner Paolo asked his girlfriend of four years, Professional Models Association of the Philippines (PMAP), Pond's brand ambassador and fashion and beauty columnist Rissa Mananquil for her hand in marriage. "We were walking in Nakanoshima Park, it was serene and beautiful," Rissa recalls. "While hand-in-hand, he suddenly paused and got down on one knee at the steps beside the river. He said, 'I've been waiting for this moment my whole life so I'm going to take my time doing this… Will you marry me?' I said, 'Yes, of course'!" recounts Rissa. Overwhelmed and overjoyed, the two sealed the moment with a kiss and an emotional embrace. On Oct. 29, 2011, Paolo and Rissa Mananquil tied the knot in an elegant ceremony at The Conservatory of The Peninsula Manila, which was stylishly decorated in the couple's preferred palette of black, white and pewter gray. Surrounded by family and friends, the bride looked radiant in her tulle and chantily lace gown by Randy Ortiz, while the handsome groom awaited his beautiful bride dressed in a slim fit tuxedo also designed by Ortiz.
Wave of Love: Dennis & Tessa Prieto-Valdes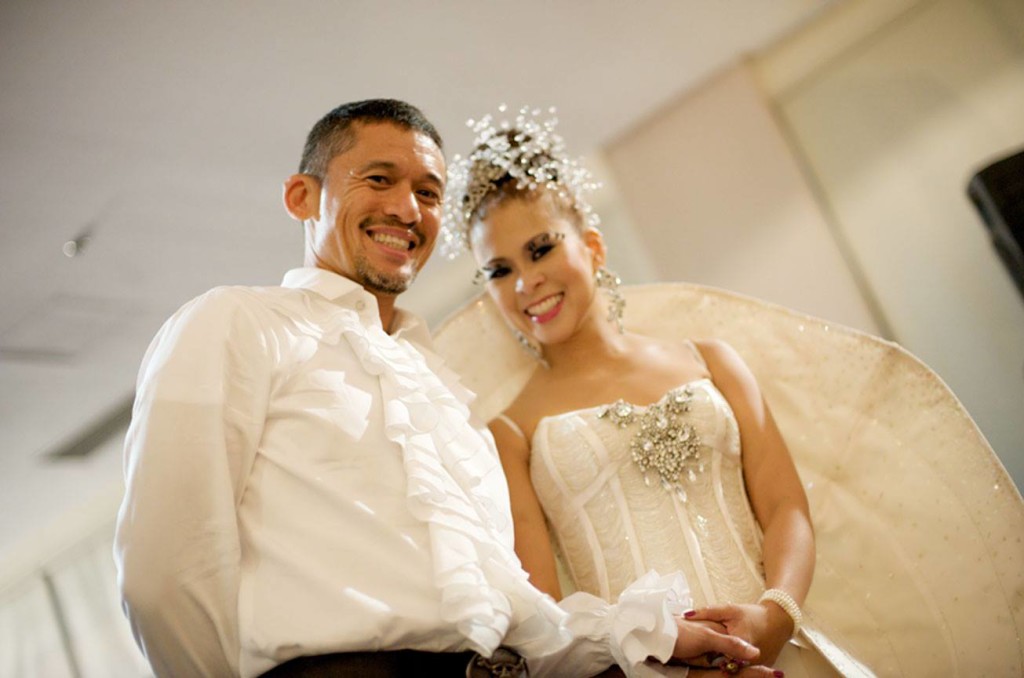 On their first date, he surprised her with tickets to watch The Phantom of the Opera and two tickets to Hong Kong, where they would fly to watch it. As usual, Tessa was late and they missed the first act. Still, Dennis didn't miss the opportunity to ask for her hand in marriage months later in December 1993. When they were married on June 24, 1994, the more introverted Dennis had wanted a more quiet and solemn ceremony. Tessa would have none of it. But like a man truly in love, Dennis gave in to Tessa's wishes and they celebrated their glorious day together in true Tessa fashion — with a Medieval-themed wedding! This same over-the-top and whimsical fun was to be expected as well for their 15th wedding anniversary held at Manila Ocean Park. Themed "Under the Sea" (the couple are avid scuba divers), Tessa and Dennis' renewal of vows became the talk of the town. Guests were entertained with a night of fun and games, prizes, karaoke and even scantily clad mermaids and mermen! Close friend Tim Yap hosted the festivities while Rajo Laurel created the inspired sea princess gown. Dennis came dressed in costume too, but as a dashing pirate.
Love & Laughter: RJ & Vanessa Pastor-Ledesma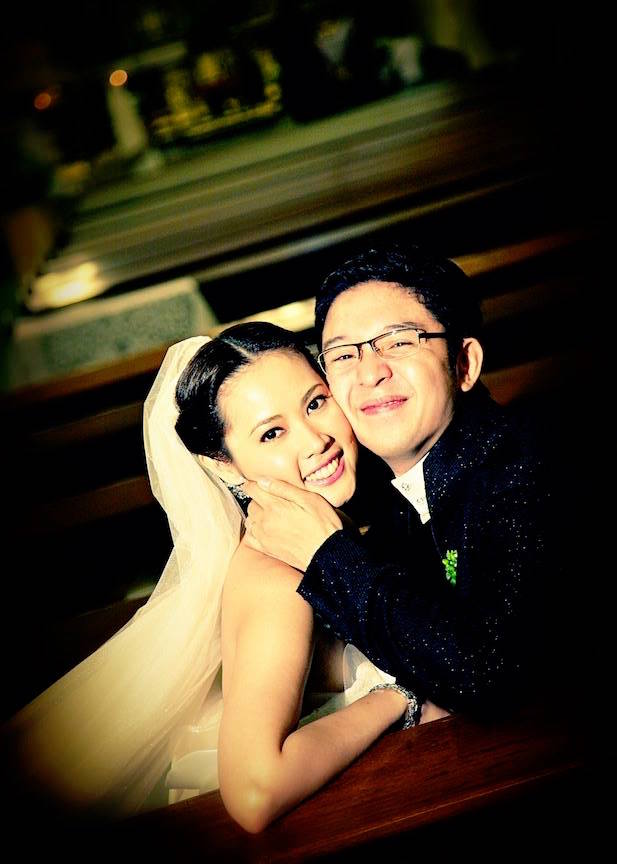 Funny man host RJ Ledesma found his match and total opposite in Vanessa Pastor. Their romance became the epitome of the beauty and the geek comedy. He was the debate team captain, while Vanessa was the commercial model. They switched roles later, when Vanessa anchored herself in law school and RJ came to the spotlight as a host, author and commercial model as well. Known for going out of his way to delight and amuse, RJ would not have been true to himself if he did not orchestrate the wedding that would reflect his larger than life personality. On their wedding day, on March 7, 2008, Santuario de San Antonio was filled to the brim with over 1,000 guests, a bridal entourage of 67, and nine priests officiating the ceremony. Laughter overflowed like the wine and love that filtered through the NBC Tent where they held their reception. One highlight of their evening — seeing former President Joseph Estrada unabashedly kiss his wife, former Sen. Loi, like newlyweds themselves during one of the games.
Waiting to Exhale: Lloyd & Shamcey Supsup-Lee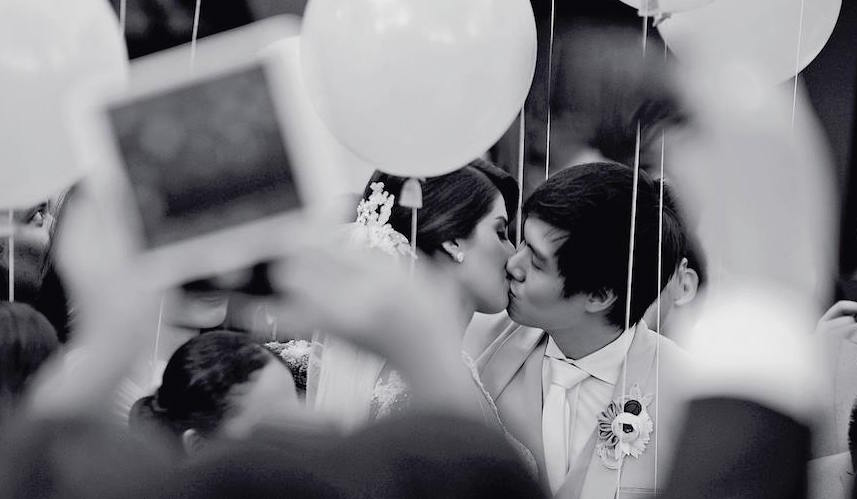 They had met Monday, were texting each other by Wednesday, had their first date on Saturday, and by Sunday, were already talking about a serious relationship. It was fast, they admit, but it felt right. "She was beautiful, humble and had a strong faith in God. She was perfect in every way! I was so curious as to why she was still single. When I asked her why, the conversation got intense," Lloyd continues. There was never a dull moment for the two intellectuals, as they relished conversations about anything and everything under the sun. Theirs was the perfect meeting of minds as well as hearts. By the time they celebrated their fifth "monthsary," both were seriously considering marriage. Shamcey would often tease him, "Sinasabi mo na ako na 'yung The One, pero wala ka namang singsing! (You keep telling that I am the one for you, but where is the ring to prove it?)" Lloyd took it as a challenge and secretly bought an engagement ring during an out-of-town trip sometime late 2011. When the topic of marriage and wedding rings came up again, Lloyd took her window shopping. While Shamcey timidly pointed to designs in a posh jewelry store, little did she know that Lloyd already had a ring in his pocket. When they returned to the car, he surprised her with a proposal. Needless to say, she said, "Yes!" (Photography by SARA BLACK)