It's easy to feel discouraged by the many forms of negativity our world seems to have a surplus of these days. This week (and for all the weeks to follow), rid yourself of gloomy thoughts and see life in a new light. Know that good still exists and hope is very much alive — all it takes is a little 'push' for them to come to light.
By KRISTEL DACUMOS – LAGORZA
Refusing to allow his circumstances to define him, CNN Hero for 2009 Efren Peñaflorida is writing his own future and helping the children of the Cavite City slums do the same.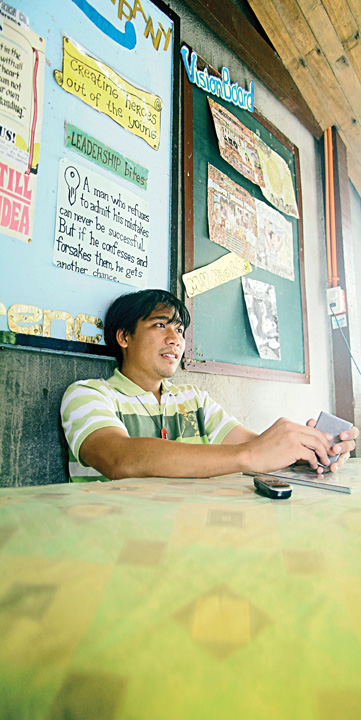 As a child, children's rights advocate Efren Peñaflorida had already proved himself a smart, industrious boy traveling to Baclaran and Cavite selling fish crackers to help his family. But as driven as he was to excel in his studies, Ef, now 35, found himself wanting to drop out of high school. He recalls that fateful day in the dark alleys on his way home from school, when bullies, comprised of gang members and out of school youth, thought it would be fun to pelt the little boy with stones.
"Nagulat na lang ako na may lumipad na bato sa harapan ko. 'Tas maya-maya tinamaan na ako. (I was shocked when a stone suddenly flew past me. Then later I was hit.)"  Scared and outnumbered, the young Ef, who was only in grade six then, could do nothing but run away, more worried about protecting the school project under his arm than his safety.
Speaking in the vernacular, Ef says: "My mentor, a pastor from Club 8586, made me realize that you'll end up in only two places if you join a gang: either the cemetery or jail." It was then that Ef and his three high school friends decided to take matters into their own hands and formed the Dynamic Teen Company (DTC). Since its birth in 1997, the DTC has made a difference to more than 10,000 children by teaching basic education and hygiene as well as providing a sanctuary for children.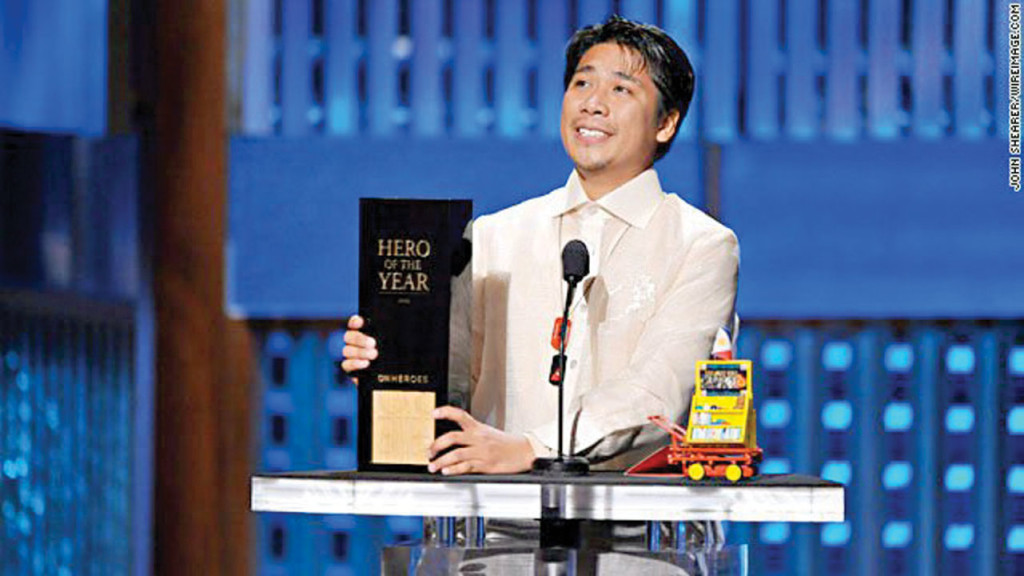 The main goal of DTC is to introduce concepts like youth importance, self-understanding and moral values. We want children to enjoy learning," says Ef. But what makes Ef's program stand out among other outreach programs is their ingenious use of the poor man's pushcart called the kariton. The four DTC karitons fondly named "Kari, Toni, Trio and Nic" are decked with all of the classroom necessities such as chairs, a blackboard, books and school supplies, which make it possible to replicate a classroom setting anywhere they go. The karitons, which make up the Kariton Klasrum, act as stations for learning: Kari for values formation and canteen, Toni for play and hygiene, Trio for literacy class and computer lab, and Nic, short for clinic, is the extension of the hygiene station. Initially, DTC transported their books and equipment in plastic bags, then it evolved to backpacks, a pedicab and then the iconic kariton.
Ef, a trained educator and graduate of Computer Technology in San Sebastian College-Recoletos, was inspired by his mentor who also taught them in unconventional settings such as the back of jeepneys or under the shade of trees. "I am a product of that education," Ef proudly proclaims. Like his mentor, Ef wants to bring education to places where it is most needed, which is why Ef sometimes holds classes in the nearby cemetery and dumpsite every Saturday.
Numerous awards followed, the most notable of which was when Ef was declared CNN Hero of the Year and was given $100,000 to continue his advocacy. With the prize money, Ef plans to expand the Kariton Klasrum and have satellite offices in other regions like Manila. "On our part, we don't want to stay as kariton. We dream of having our own center."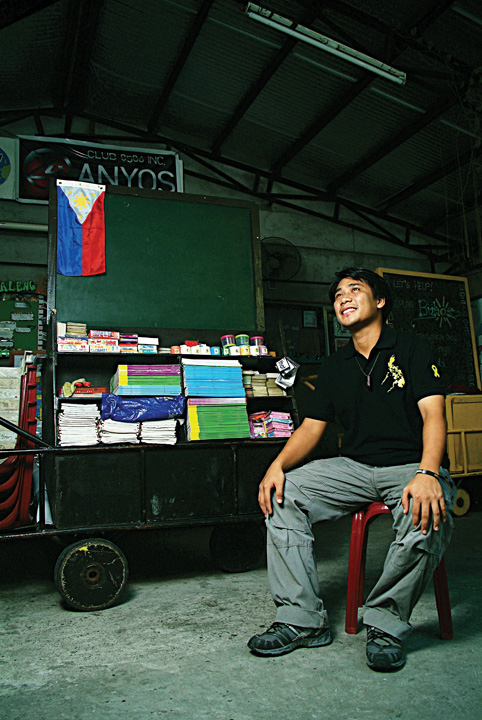 But the success that DTC enjoys now was not without its challenges. Aside from the typical financial troubles, it was the emotional blows that took heavier weight on their egos. Ef recalls the first months of their program where bystanders would ridicule and belittle them. "They laughed at us because we use a pushcart. They threw stuff at us, shouting: "Ayan! Ayan na yung mga basurero!" (Here come the garbage collectors!) Our volunteers just walked with their heads down but we pushed forward. We are thankful to God that we were able to overcome that."
"One thing our mentor told us that I kept in mind was, if I won't (be the change) then somebody else will be if it's destined to happen. Don't pass up the opportunity to make a difference in the lives of these kids. I was the exact lesson my mentor taught me. How I was changed is proof in itself that he was right all along."
(Photography by NIKKORLAI TAPAN | Grooming by EDDIE MAR CABILTES | Taken from PeopleAsia's December 2009 – January 2010 issue)