It's easy to lose yourself in the daily grind and hustle and bustle of 21st century life. Maybe you lose sight of what's most important to you, maybe you've forgotten what it is that gets you out of bed every morning. If we asked you now, would you be able to tell us what it is with much gusto and really, really mean it?
July 12 is World Simplicity Day and it's the day when everyone from all corners of our little green and blue planet are encouraged to strip back to basics and look inwards, rediscovering the things that truly matter.
Find inspiration for the unique holiday for heart and mind in these places to visit, people to learn about and cooking to sample.
Place to visit: The Farm at San Benito, Lipa City, Batangas
What makes it special: It's a retreat x spa x healthy food tripping x alternative medicine clinic all in one. This is where you go when you're feeling sluggish, down in the dumps and in need of a meaningful pick me upper.
The Farm at San Benito attracts not only Hippie tree-huggers and New Age people like me. It also appeals to other people from around the world, so much so that as I perambulated, I noticed that the foreigners outnumbered the locals.
A close-knit community of guests amicably know how to modulate their voices when talking in this 43-hectare property. Here, even noise pollution is eliminated. There's no cheesy lounge or spa music on repeat mode, just the sounds of nature, of water and wind mingling with leaves, plants, pebbles and soil. If that's not what you hear, then it could be cicadas, crickets, birds or geckos, or even the call of peacocks freely roaming and exposing their feathers during mating season. If that's not it either, it could be the voices in your head striking a conversation with you. The Farm, with its comfortable silence, is just the place to do that.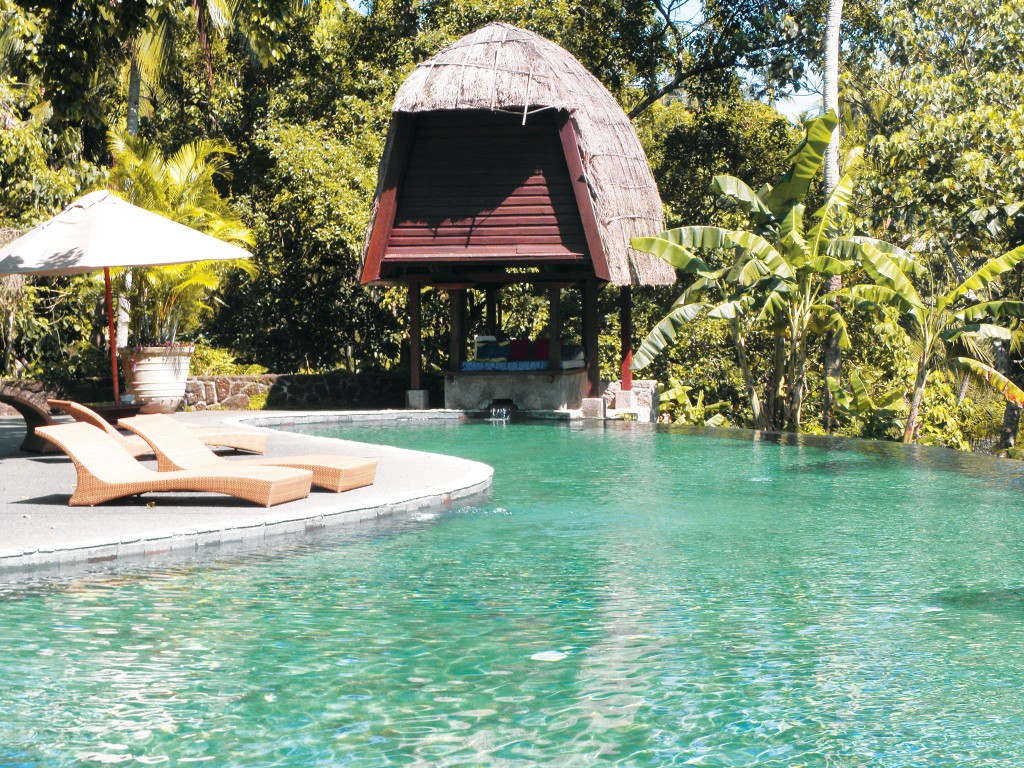 (Go back to basics and find time to reflect at The Farm)
By the Southpark lagoon, white ducks gather for a swim and sit idly by rocks until they fall asleep.  Every now and then, there will be a man or a woman in the meditation sala. There's an organic field past the jungle gym where herbs like peppermint, tarragon and lemongrass grow next to spices like green peppers and even star anise. Bitter gourd, cherry tomatoes and eggplants and all types of lettuce from romaine to arugula are ubiquitous. Endemic trees such as kamagong, balete and ylang-ylang are present. A solution of water and siling labuyo are sprayed to repel pests from the vegetation, while a solution of water with the leaves of the aklang parang are sprayed throughout the vicinity to ward off mosquitoes.
At The Farm, the solution is literally and figuratively all-natural.
The original owner of The Farm, German Ekhard Rempe, envisioned the land to center upon the majestic mango tree near the main lagoon that stands over a hundred years old. In full-view, it seems that James Cameron used this tree as a peg for the sacred Tree of Souls in his film, Avatar.
The Farm has won at least 20 prestigious awards and seven of them are due to their excellent cuisine. Everything in the menu is organically raised and vegan. Under the roof of Alive! Restaurant, five-course meals are prepared with excellent plating, explosive flavors and appropriate proportions. It is food stolen from God's kitchen, satisfying the tummies of carnivores and vegans alike — despite the fact that The Farm does only serve vegetable dishes.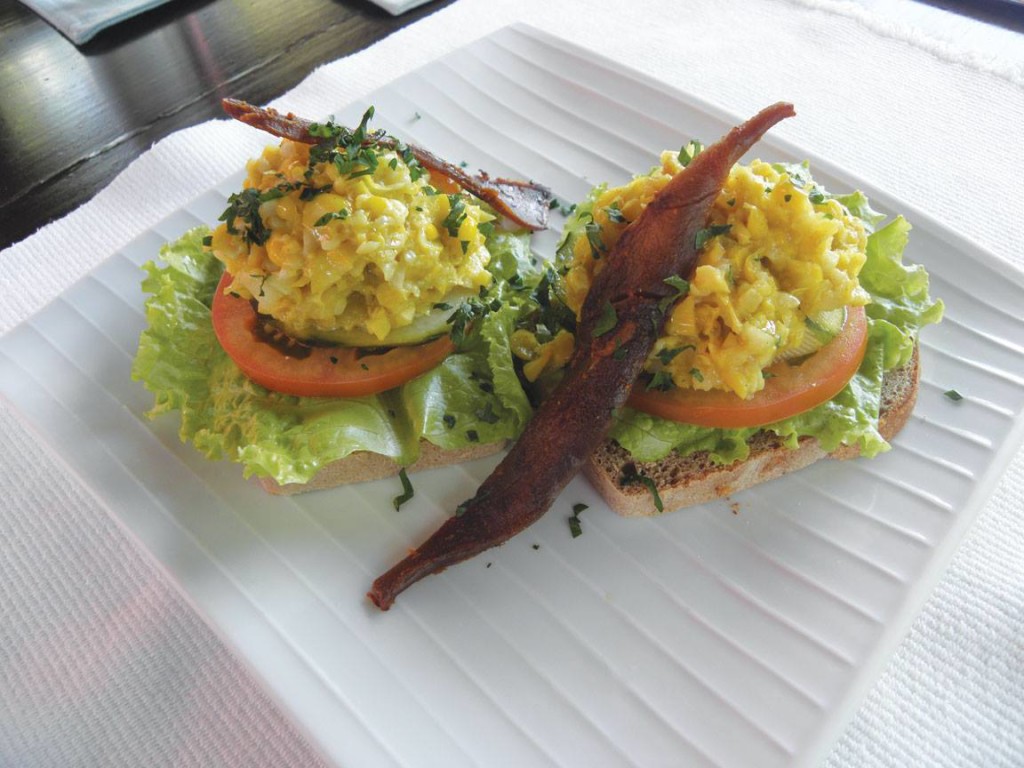 (Fresh and unprocessed are the way to go for a genuine detox)
I highly recommend that you join the Farm's activities. Follow my footsteps and wake up early to do gentle flow yoga, which focuses more on pranayama (breathing), and follow it up with aqua aerobics. Wind down with afternoon tea in the tranquil anahaw tree-hut and cap the night with a reflexology massage and a sleep most blissful.
"(Ekhard Rempe) literally created a heaven in the middle of a jungle," puts business development manager Anku Chibb in her mellifluous British accent.
At The Farm in San Benito, the clutter of the mind is lost in nature's splendor, the clutter of the heart is gone with solitude for introspection, and the clutter of the body is gone with food that truly nourishes. And then you go back home with a clean slate, truly rejuvenated and reborn.
For more information, visit www.thefarm.com.ph. (By DENISE ROCO)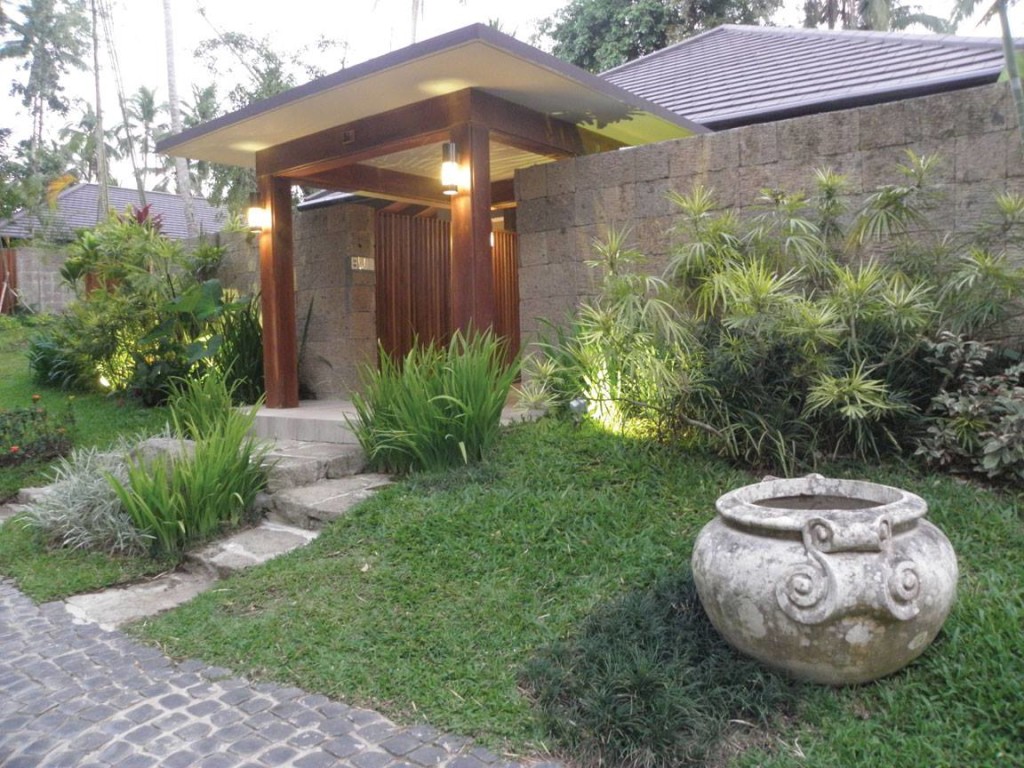 (At The Farm, the solution is literally and figuratively all-natural)
People to learn about: National Bookstore's Socorro Cancio Ramos a.k.a Nanay Coring
What makes her special: She's the embodiment of lessons on life and love in times of hardship. Love the biography and romance aisles at National Bookstore? Look no further, Nanay Coring's story is all the "chicken soup for the soul" you'll need on this day.
From its first "mom and pop" shop in the 1940s, National Book Store has since raised a generation of children; and their children's children are now filling up the aisles of National Book Store. Today, as evidence of Nanay Coring's hard work and determination, National Book Store boasts over 150 branches and 4,500 employees.
Days of summer
"When I was young, growing up in Sta. Cruz, Laguna and Manila, we were very poor," begins Nanay Coring, born on Sept. 23, 1923, "which is why I worked very hard."
As the fifth in a brood of six, Nanay Coring had to settle with hand-me-downs, wearing them over and over again. Her mother Emilia worked as a shopkeeper, while her father Jose passed away before Nanay Coring turned 10. He left behind a widow to make ends meet for the family of six. " There were many days when we did not even have enough, not even for lunch," she recalls.
Even as a child, Coring was very enterprising and often thought of ways to help her earn an extra centavo or two. She found ways of buying them despite her family's meager income by taking up small jobs during the summer.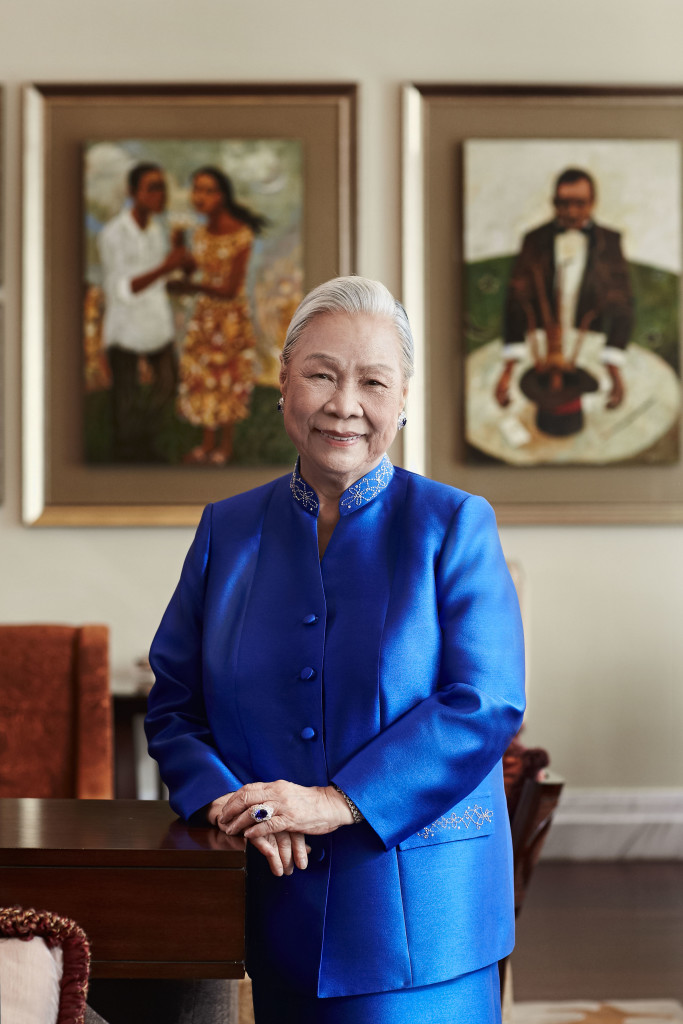 A love for the books 
At 18, Nanay Coring fell in love and it was a love story for the books. While working at Goodwill Bookstore, the shop owned by her older brother Manuel and his wife Doña Juana, Coring met the love of her life.
Quiet and 14 years her senior, Jose T. Ramos, the brother of Doña Juana, took one good look at her and was perfectly smitten. Ling (as she would fondly call him, short for "darling"), wooed her with little gifts and made her laugh. She returned his affections with a full-hearted "Yes!" when he proposed in 1942.
Against the wishes of her family (they had thought she was too young), the two lovebirds eloped at the height of World War II.
Armed with the 1-2-3s and ABCs of business (which Nanay Coring learned from working at Goodwill Bookstore), the newlyweds started a new chapter together by putting up their very first bookstore on Escolta that measured a meager 4×15 meters. The shop was named the National Book Store, after the brand of the cash register they were using at that time.
Three trials
But like the plots of the world's most famous bestsellers – and even our beloved fairy tales – happily ever after only comes after much hardship; a worthy protagonist must first prove her mettle.
The first trial came during the Japanese Occupation, when the Japanese banned, ripped from their bindings and even burned many of the books that were sold in Nanay Coring's book store. Nanay and Jose thought, was better off shut down, and the couple hid the valuable books from view.
The second trial came when the Americans arrived. During the 1945 Battle of Manila, bombs filled the air and smoke and fire darkened the skies. Unfortunately, their little store went up in flames, too — soap, slippers pencils and all. "We lost it again!" she gasps with an animated shake of her head.
As if testing their resolve, the universe challenged the couple once again in a third trial when the roof of their beloved book store, which was then temporarily rebuilt, was blown off its hinges during a powerful typhoon in 1948.  "I looked up and it was just sky," she recalls. "My business was paper and everything was soaked. We weren't able to save anything."
Ordinary people would have taken such events as glaring signs to pursue another direction in life, but Nanay proved herself resilient; also, a bit stubborn. More than anything, it made her wiser. "People often forget, the road to success is paved with patience and hard work. Hard times are inevitable. There will be failures. But if you fall down, get back up. Never give up," she reminds.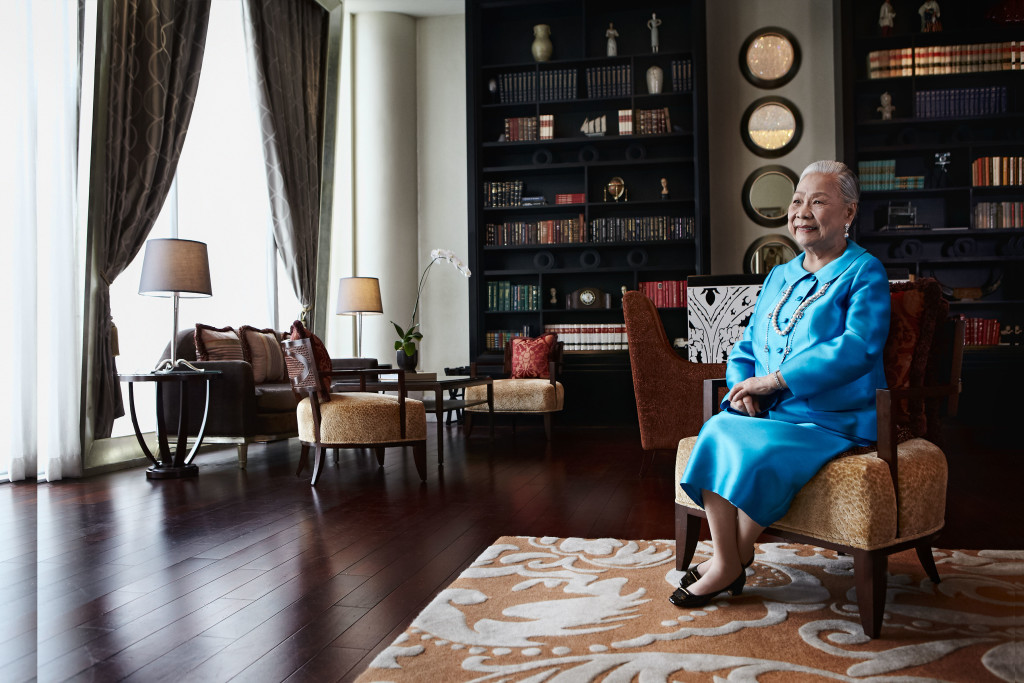 Honor from the most high
Strangers who consider her family have come up to her, sharing their gratitude and well wishes: "I couldn't have finished college without you or National Book Store." "I wrote my first love letter to my wife on a Hallmark card I bought from National Book Store." "My best childhood memories were shopping for new books and pencils."
And with all the stories shared and praises received, Nanay can only reply humbly, "Nakakataba ng puso. Sino ba ako kundi isang tindera lamang? (It really fills my heart. Who am I but an ordinary salesgirl?)"
"When I pray at night, I thank God," shares the St. Joseph devotee and owner of over 268 statues of saints. "If He were to call me now, I'd be willing to go. But I hope (He doesn't come for me) just yet. I have so many things to do. Like, I want to see my great grandchildren (all 11 of them) grow up and see how they will fare. I want to open up more branches in every corner of the Philippines. Children still need that."
(By KRISTEL DACUMOS LAGORZA | Photography by MAU MAURICIO | Styling by PAUL CABRAL | Makeup by BERN DUEÑAS | Shot on location at THE WRITER'S BAR of RAFFLES MAKATI)
Cooking to sample: Gusto Trattoria Siciliana
What makes it special: We're used to Italian (and generally European) cuisine having a lot going on with foreign ingredients undergoing relatively complicated cooking processes. This restaurant completely opposes that by being known to be a simple Italian carinderia that hits the right spot, minus the frills.
Gusto is meant to be a "trattoria," the Italian counterpart of a carinderia – no gimmicks, no frills. So here, the food is at front and center of the experience. Gerlando Guilliana, proprietor of the restaurant, explains that Sicily produces some of the best seafood in all of Italy. He decided to move to the Philippines just after a few weeks of vacationing here, bringing all the flavors of Sicily straight to the Metro.
Gusto Trattoria Siciliana is located in 215 Aguirre Avenue, BF Homes, Parañaque City. For inquiries, please call (02) 621 3522.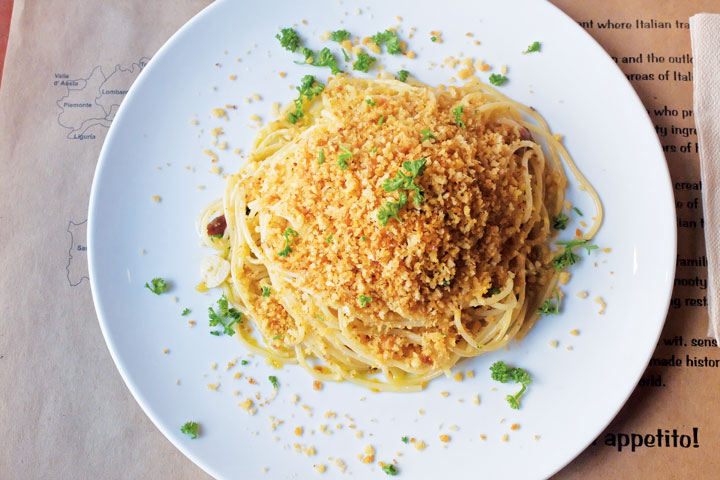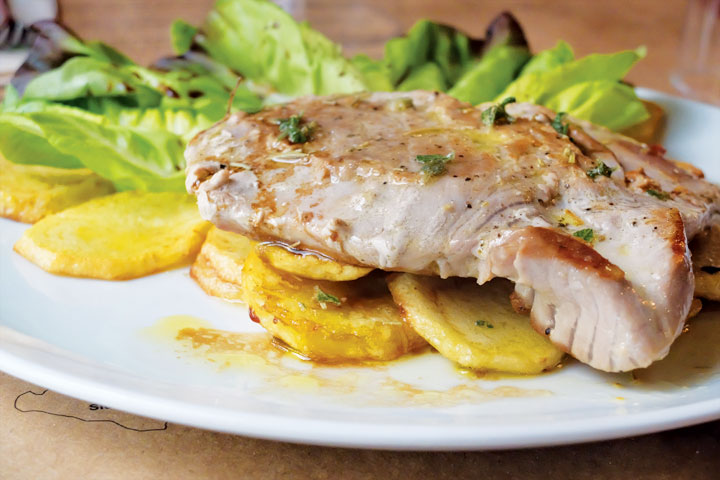 Cooking to sample: Century Seafood Restaurant
What makes it special: The kind of Chinese cooking most of us are familiar with are cooked to better suit the taste of Filipino palates (i.e.: drowning in soy sauce, therefore drowning out other flavors). Chinese cuisine at this restaurant is much closer to how the Chinese truly enjoy their food — simple yet tasty enough to perfectly complement the time spent with the company surrounding you at mealtime.
The concept of making simple, home-cooked Chinese meals and transforming them into culinary masterpieces has always been a Century Seafood Restaurant trademark. The taste has always been consistent and savory, refining people that good food is not complex; just using the best ingredients and bringing out the flavor would suffice.
Visit Century Seafood Restaurant at Century Park Hotel, 599 Pablo Ocampo Street, Malate, Manila or call (02) 528 8888/524 1821 for inquiries.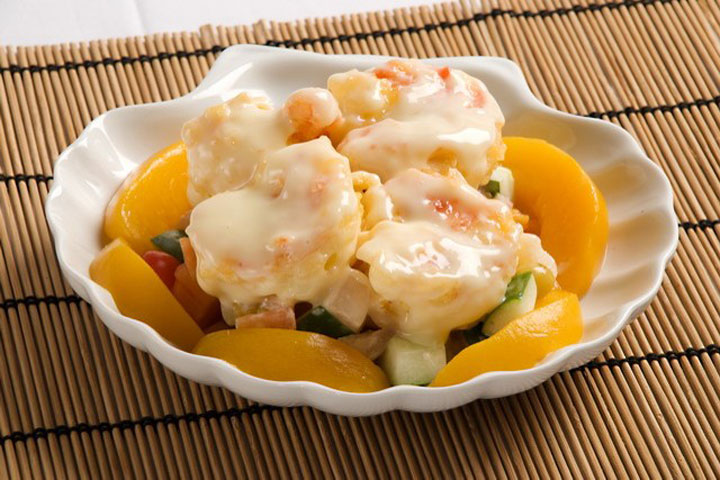 Cooking to sample: Mesa
What makes it special: Although it does level up Filipino food by artfully presenting dishes on pretty plates, the food itself will remind you of Sunday lunches after mass when lolo, lola, the cousins along with your many titas and titos would come over for the weekly clan get together. It's food that's both nourishing and nostalgic.
Only a few years in the restaurant business, Mesa is now a go-to place when one craves for authentic, delectable Filipino dishes. It's not only popular among local dwellers but it's also the place to bring balikbayan relatives and expat friends or colleagues for a dose of Pinoy favorites. For instance, Mesa's Joey Mantupar and Gene Padua did Southern folks a favor by bringing in bestsellers like laing two ways, an unusual yet tasty twist to a Bicolano dish that's served wet and dry, both ways rich in the goodness of creamy coconut milk.
The crispchon is also a runaway winner among the gourmands as a bite or two of the crispy pork tenders dipped in Rikki's choice sauce, oyster sauce or sweet liver sauce, gives a rush of satisfaction to the palates.
Perfect breakfast staple tinapa rolls, paired with tinapa rice, is available all day to satiate one's craving for something salty yet tasty. Also available are crowd-drawers crispy boneless tilapia and tilapia fillet with choices of spicy vinegar, vinegar and soy sauce, honey bagoong and chili sauces to enjoy them with.
In a previous conversation with La Mesa Grille operations director Alex Zuzon, who belongs to the group responsible for the Mesa concept, says the restaurant "aims to provide the dining crowd with authentic Filipino dishes served at their best."
For inquiries, contact (0917) 852-MESA or visit www.mesa.ph for store locations.