Miguel "Mike" Enriquez has been recently quoted saying "Iba siya (He's different)" when asked about his thoughts on President Duterte. People pay full attention when this news giant speaks his mind for good reason. Mike Enriquez has conquered both the airwaves as and the boob tube in his outstanding career as a news anchor. One of his many accolades is a PeopleAsia "People of the Year" award given to him in 2010 and a "Men Who Matter" award in 2009.
Even before he comes into the room, his commanding presence can be felt and his booming voice already announces his arrival. GMA's Mike Enriquez whose voice has made "Excuse me po!" and "Di ka naming tatantanan!" such iconic phrases, shares with People Asia how why, despite his face being on TV, his heart still belongs to radio.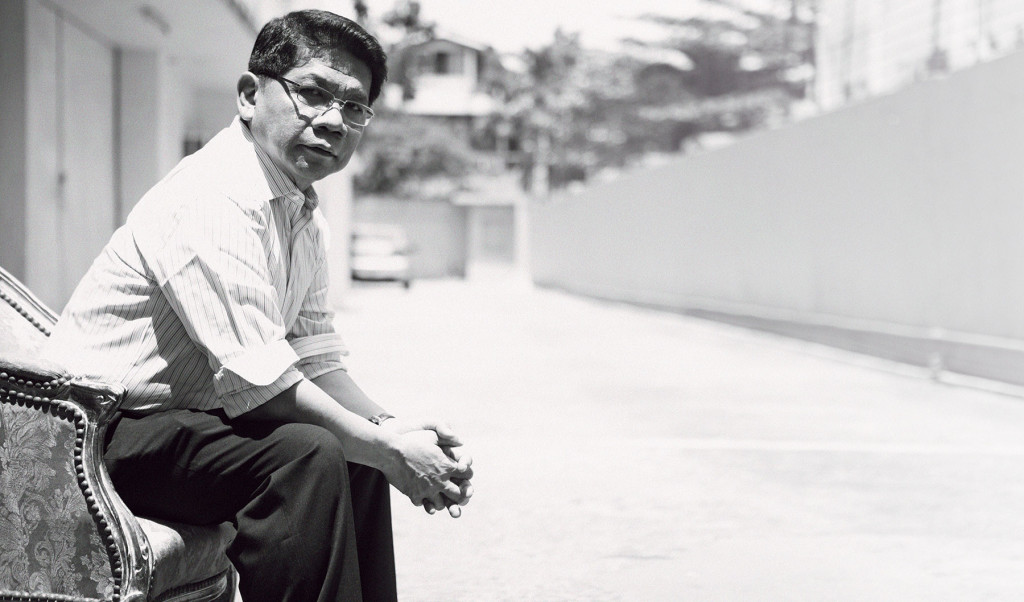 This is the face not made for television," jests Miguel "Mike" Castro Enriquez, then 59. "You think someone would bump into me in the corridor and look at me and would say, 'Hoy pwede ka sa TV?' Of course not!" He belts out with a rough laugh. "Don't worry," says this 24 Oras anchor, "My own mother and my own wife tell me that." He laughs in a boisterous baritone.  He continues on with a slew of well-rehearsed jokes about how in the newsroom his makeup artists don't use concealer, but liha (sandpaper).  His self-deprecating humor is a bit harsh but it softens his intimidating persona.
On a dare
Mike fondly remembers his accidental drop into radio in 1969. While enjoying a free-cut class from De La Salle University where he was studying Liberal Arts in Commerce, he joined his friend who worked as a disc jockey at the Manila Broadcasting Network. Coincidentally, the station manager was looking for another staff announcer to come aboard. Mike's friend jested that he (Mike) was looking for a job. Though Mike had no initial intentions to join, in a bold and daring whim, Mike took up the offer.
But like any other employee, he started from the very bottom. "When I was only a trainee announcer I couldn't even talk on the air," he shares with a smile. "The only thing I could do was give the time. Anything more than that – if you played music – you were out!" he chuckles. Though he finds it amusing now, during those times it was no laughing matter. "There was no labor code so you couldn't complain. Either you toed the line, which was part of the training, or you're out!"As a newbie staff, he would often get the long shifts as the prime slots were given to senior announcers. Instead of complaining, Mike had the wisdom to realize that, "I'm gonna learn from these people. Instead of sulking in a corner, I'm gonna learn how to do things and what things not to do just in case one day I'll walk in their shoes and have people entrusted to my care." At the time of this writing, he was managing a staff of more than 500.
Radio vs. TV
Radio trumps TV in his life, Mike shares, because it is in radio where he feels he fulfills his greater calling. "In radio, you know you are making a mark on somebody's life every day. It is not always necessarily positive, especially on AM radio. Mga nagte-text minsan natutuwa, nagagalit o naiinis sa akin (Listeners respond through text. Sometimes they're happy, angry or annoyed.) But at least, from the millions of human beings in the entire world, I am one who can rightfully claim that I made a mark on somebody' life that day. That is everyday without fail," he declares proudly.
Another reason why he loves radio more is because he finds it exhilarating to have that element of unpredictability test his wits, plus the power to control "chaos" at his fingertips. "With TV, you have teleprompters. Every word is the product of dozens – from the time it's gathered on the field to the time it's written and edited. It goes through a battery of editors, producers before anything goes on the air. But in radio, it's you who triggers everything. It starts and ends at your command.You are the one."
Life after the news
Mike's life is on extreme overdrive and he wouldn't have it any other way. "At the end of the day I am tired but excited.  I realized early on that I could do this every day. This is not a job; this is my vocation."
After 40 years in the industry covering a gamut of stories from celebrations to crises, Mike is still as passionate and as driven as the first day he walked into the sound booth in the Manila Broadcasting Network. How has his love lasted for so long? Mike relays an anecdote from Barbara Walters he heard when she accepted an award from the National Association of Broadcasters in the US. "(Walters) overheard her daughter talking on the phone to a friend: 'You know, my mom, she doesn't know how to cook, she doesn't know how to do the laundry, she doesn't know how to do the chores. She knows only to do ONE thing and she does it well, and that's television."
Mike follows up with his own proud declaration, "For me, it's radio."
(By KRISTEL DACUMOS-LAGORZA / Photography by SARA BLACK / PeopleAsia December 2010 – January 2011)Â