With Filipinos' intense love for food, it's a wonder why this special day of celebrating all things gastronomic isn't more well known. In July, we celebrate National Culinarians Day, a day where we celebrate chefs, cooks, pastry makers and anyone and everyone with a talent and taste for cooking up wonderful culinary delights of all kinds.
Whether it's a home cooked meal that makes you happiest, or it's an extra fine dish made of painfully rare ingredients you live for, these chefs can whip up all of the above and more.
'Irasshai!' : Nobu Matsuhisa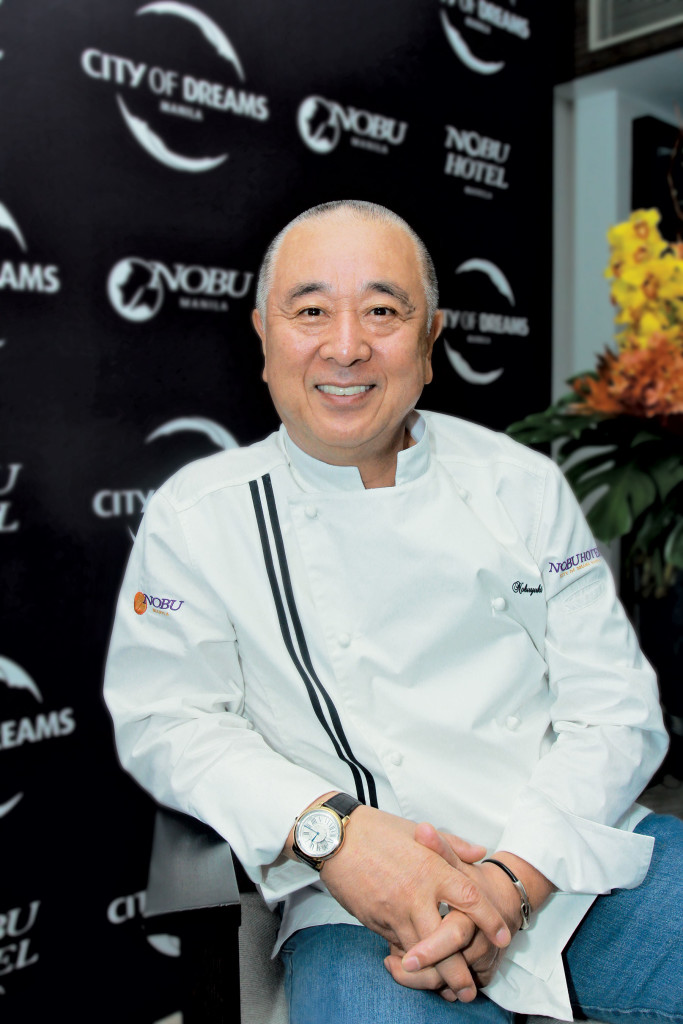 "My life, I am here because a lot of people supported me. My grandmother taught me how to live…cannot be two-faced; have to be one-faced, straight. There is no easy way and to try my best. She taught me how to live: with passion," he recalls.
Nobu earned his stripes the old-fashioned way.  After high school, he took on a full-time job in a sushi restaurant clearing tables and washing plates. He also had to clean the entire place. Every morning, he would go to the fish market with his boss and carry the purchase in a basket. For three years, this was his routine, day in and day out, until finally, a slot opened up.
"I like to introduce the best food and the best service. These are two of Nobu's philosophies. My vision is for people to come to my restaurants and for the customers to be smiling. I'm not looking at how much they're going to spend or how much we can make. Everyone should be able to enjoy. This is Nobu," he says.
At the recommendation of a friend, his next big move would be to Alaska to put up his own establishment. He worked non-stop, burning the midnight oil. The only time he took a break was to celebrate Thanksgiving. And then, the unthinkable happened: a fire! Nobu's dream went up in smoke and he was left with nothing; worse than nothing, because he was in debt.
"Young people need to make mistakes. Small mistakes are good for you. Smart people learn from their mistakes," he remarks. "Even if it's for one millimeter, go forward and don't rush. Just go. This is life. And you cannot give up on life. In mathematics, 1+1=2, but in life, sometimes 1+1 is a hundred or -100."
Hollywood stars started to frequent Matsuhisa, including Robert de Niro, who invited him to open a restaurant in New York. Still very careful, Nobu turned him down, but the actor would ask him each time he stopped by the restaurant for four years. In 1994, Nobu New York opened and the rest, as they say, is history.
"I trust all my teams like family. I'm getting old, but the family is growing. I like to give them their chance. People learn from experience and then they take the next step. Success means people under my care will one day, say, 'Nobu, thank you, I did it.' This is success.
(By MONICA ARANETA TIOSEJO  | Photos by  RAMON JOSEPH J. RUIZ | PeopleAsia April – May 2016)
Cooking up a Storm: Tony Boy Escalante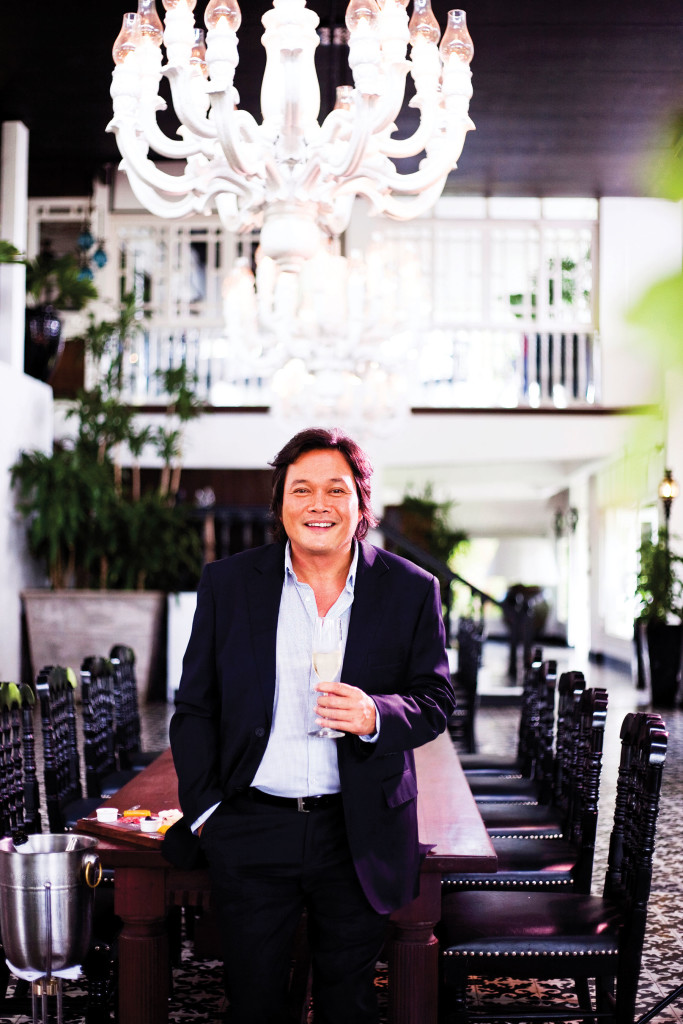 Tony Boy, chef and owner of Antonio's, arguably one of the Philippines' best restaurants (and worst-kept secret), savors the isolation that his restaurant affords him. "In this place," he says, gesturing to the gorgeous surroundings, "you can't help but create beautiful things."
"I was taken to a similar establishment before, also here in Tagaytay City, with a prix fixe menu and organic produce and I said to the proprietress, 'I like the way you live your life.' And here I am!" beams Escalante, when asked about what prompted him to put up Antonio's.
The path to success and fulfillment is rarely straightforward. Escalante was urged by his family to become a doctor, then agreed on a compromise: dentistry. He was in his third year when all of a sudden, he decided he wanted something different.
Instead of buckling down during exam week, he escaped to the beach. Knowing full well that an exam week lost meant that his dentistry career was likely over, Escalante hopped on the next plane out, literally, by becoming a flight attendant for Philippine Airlines.
"I was able to travel the world and eat in the best places; eventually, I cultivated favorite hot spots in every city that we flew to. Every time a new member joined the team, it was tradition that I'd bring them around and show them the food. They were warned it would be expensive!"
But do not be fooled by his easy-going manner: under his chef jacket beats the heart of a survivor. "Pressure makes good people. Without a modicum of stress, you'll become complacent. Why change what you're already content with? But when you've got something pushing you to be better, it's what differentiates you from the rest," he shares.
This perhaps is what makes him such a marvelous chef, what the World Gourmet Summit was looking for when he was named as the Manitowoc Restaurateur of the Year in 2014.
(By IZZY WARREN GONZALEZ | Photography by PAUL MONDOK | Grooming by SARI CAMPOS | Shot on location at Antonio's, Tagaytay City | PeopleAsia June – July 2014) 
In her Toque: Margarita "Gaita" Fores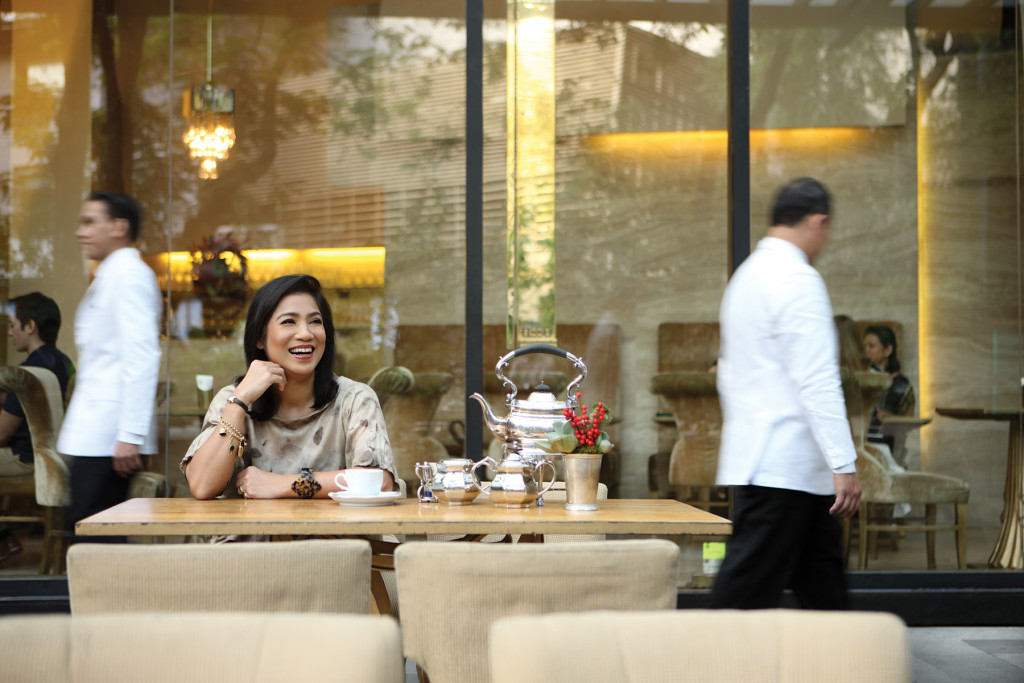 Instead of going to culinary school, Margarita Fores chose to learn about the nitty-gritty and the glories of the kitchen from the most authentic teachers of all: three Italian signoras who taught cooking right out of their own homes.
It was a scene right out of an artsy Nora Ephron movie. After six memorable months of immersing herself in the rich culture of Florence, Milan and Rome, the romance ended and the real work had to begin. It was a long journey of trials and misses, and years of dedication and hard work before Fores could finally make a name for herself in Manila.
It was only fitting that the celebration of her silver anniversary in the business coincided with her jubilant return to the Westin Excelsior Hotel in Rome, 41 years after she first set foot in Italy as an impressionable little girl.
This time, Margarita was not a mere guest. She came as a celebrated chef, invited by no less than the Italian Ambassador himself at the time (Luca Fornari) to take part in the hotel's Kulinarya food festival that promoted Filipino cuisine.
"The food – our food was received very well in both occasions. These foreigners don't know much about our cuisine, they don't know much about our culture and they don't know how beautiful our country is. So it was also a blessing that they let us become part of an effort that shared that with them.
"I think that it's the next big thing, Filipino food. I know here in the Philippines, I'm known to cook Italian but now I realize that part of my mission is to cook Filipino when I'm out of the Philippines. We were happy to be doing it under the logo of the Department of Tourism and under the logo of 'It's More Fun in the Philippines'."
Margarita also believes that as a country, the Philippines is very close to the pinnacle of culinary glory. "We Filipino chefs just need to continue this kind of effort and continue to be focused so that we get our cuisine out there."
She is no stranger to honors, awards and accolades, having been in the business for 25 years. But when asked about being on the "People of the Year" list, she still answers in a somewhat flustered and gushing manner — testament to how grounded this kitchen diva still is despite her many successes. "It makes you reevaluate what you've done. It also makes you realize the hugeness and the effect of your actions, the things you create, the things you work on. It forces you to go full circle and evaluate what you've gone through, through the years."
(By DIANNE CARLA SIBAL |Â  Photography by SARA BLACK | Makeup by FLOE TAPAYAN | Hair by EDDIEMAR CABILTES | PeopleAsia December 2012 – January 2013)
Compliments to the Cook: Claude Tayag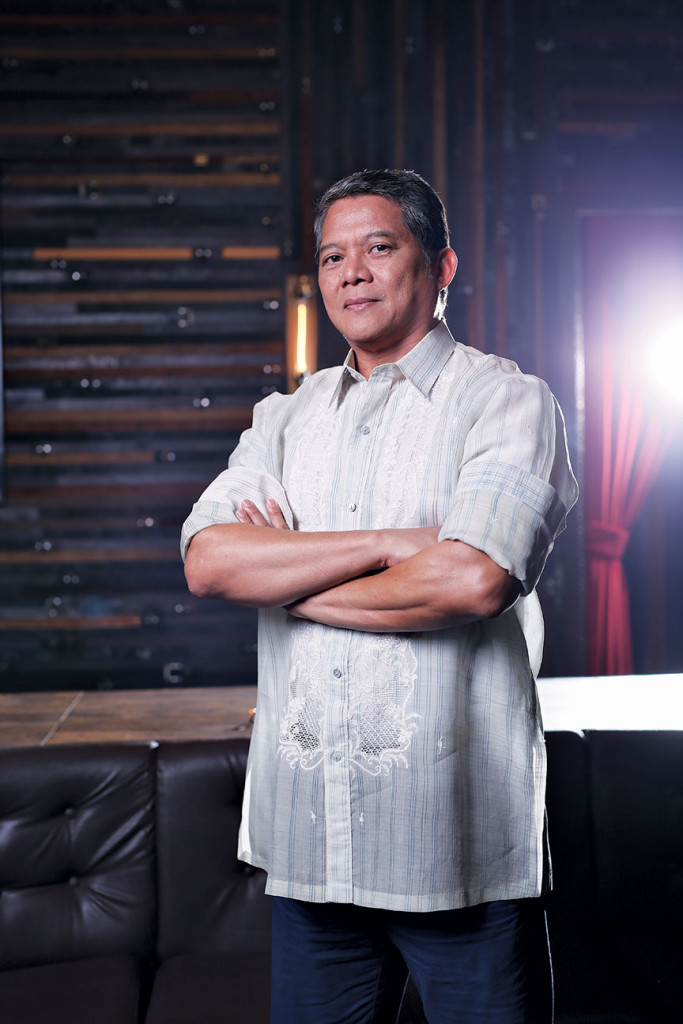 Although The Philippine STAR columnist Claude Tayag would undoubtedly be mentioned in any discussion about contemporary Filipino cuisine, it is surprising to learn about his unease at considering himself a chef. Claude mentions that he prefers to call himself a kusinero, or cook, instead.
Over the past decades, Claude has earned a reputation for being a master of Filipino cuisine, both in terms of culinary skill and knowledge. While primarily cooking out of Bale Dutung, his legendary Angeles home, which also doubles as a reservations only restaurant, he has managed to impress such world renowned gourmets. Among them were frequent Iron Chef America judge Simon Majumdar and Anthony Bourdain, who made Claude his primary fixer during the acclaimed chef's first visit to the country in 2008 for his No Reservations show.
There is a palpable sense of nostalgia in Claude's recollections of his university days, especially as he speaks about bringing his college friends home with him during long weekends and holidays, where he would always be the designated cook. More than the nostalgia, though, these memories give a sense of the famed Kapampangan pride in their highly esteemed cuisine, and the willingness to share this with others.
The increasing public awareness in Claude's food led to the opening of part of his house as a restaurant in 2000. Named after the Kapampangan words for wooden house, Bale Dutung represents a synthesis of Claude's experiences and passions.
Putting his architectural background to good use, Claude designed and oversaw the construction of Bale Dutung through seven years, painstakingly poring over the details of his dream home and studio. Influenced by Pampanga's distinct camaligs (barns) and built using reclaimed and scrap wood pieces while featuring Claude's different artistic creations, the house is also equipped with several kitchens that act as vehicles for Claude's renditions of Kapampangan and Filipino classics, such as seafood kare-kare, sinigang sa bayabas, and his signature lechon five ways .
Although Bale Dutung is definitely a labor of love resulting from Claude's various passions, by no means does it constitute the supreme expression of his spirit. In this sense, Claude muses over the possibility of writing, producing and directing a Filipino food film in the same mould as Babette's Feast, Eat Drink, Men, Women and Chocolat.
Such a project would be the ultimate synthesis of his passions, from art and design, to writing and food, while at the same time working with a new medium that allows him to communicate his Filipino cuisine advocacy to a wide, diverse audience.
(By DOUGLAS CANDADO | Photography by MARK CHESTER ANG | Styling by ROKO ARCEO | Grooming by ERWIN ONING | Shot on location at Pangaea, City of Dreams Manila | PeopleAsia June – July 2016)
Delicioso! : Jill Busuego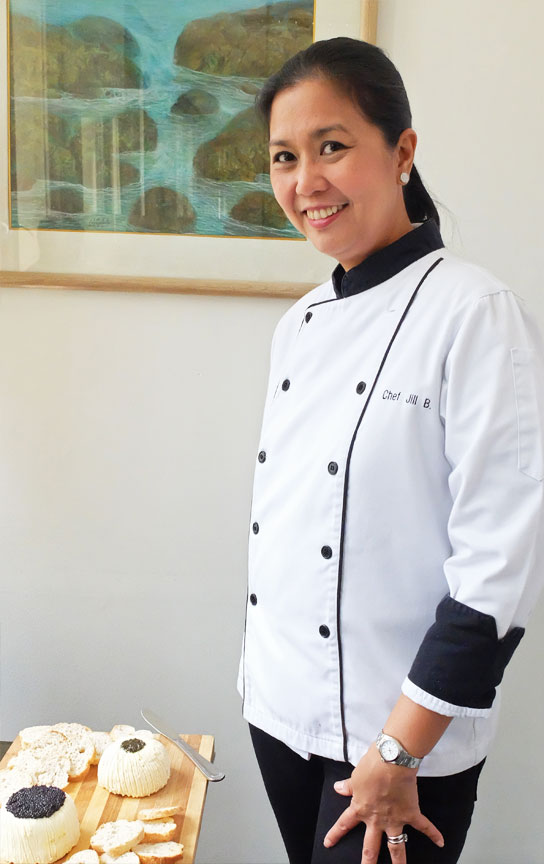 When a chef claims to be underprepared for dessert — which is often the jewel of specially crafted meals — yet serves you a platter of not one, but three different flavors of the finest mini crêpe cakes, you know that she's the real deal.
The name to remember is Jill Busuego, owner and head chef at expert caterer and healthy meal delivery service Delicioso.
"I didn't actually want to become a chef, but I knew I wanted to cook. I knew I wanted to do things, I knew I wanted to be an entrepreneur. I knew I wanted to be a businesswoman," Chef Jill clarifies.
Her undergraduate degree Hotel and Restaurant Administration that she finished the University of the Philippines and her three-month course at the Culinary Institute of America (CIA) in New York taught her different sets of lessons, but it was the value of discipline drilled into her by the CIA that plopped the Maraschino cherry on the cake.
"When we were in school, it wasn't just cooking. It wasn't just learning 'how to cook.' It was complete, more detailed and more specialized," she elaborates.
After more than a decade in the business, Chef Jill's recipe for making it and staying on top of the game is simple and frill-free. "Because people are more exposed to travel, they want to try new things. And seemingly, they think this is an easy way to earn a living. A lot of people also like to eat. And because they like to eat, they think they want to get into it. They think it's easy, but you have to study this, you have to learn it and you need to love it. If you don't love it, you don't last," she says.
(By SARA DE LOS REYES | Photography by RAMON JOSEPH J. RUIZ)Â