When The Ascott Limited Philippines & Thailand's regional general manager Arthur Gindap said that they were spending 1.1 billion pesos on the Ascott Makati's major renovation, beautifying rooms and adding amenities that were already luxurious to begin with, the only question to ask him was, "When can we check in?"
Previously known as the Oakwood Premier Ayala Center, the two tower property that's comfortably nestled in Makati's premier shopping centers is going through its biggest reincarnation by far since the buildings were constructed 32 years ago.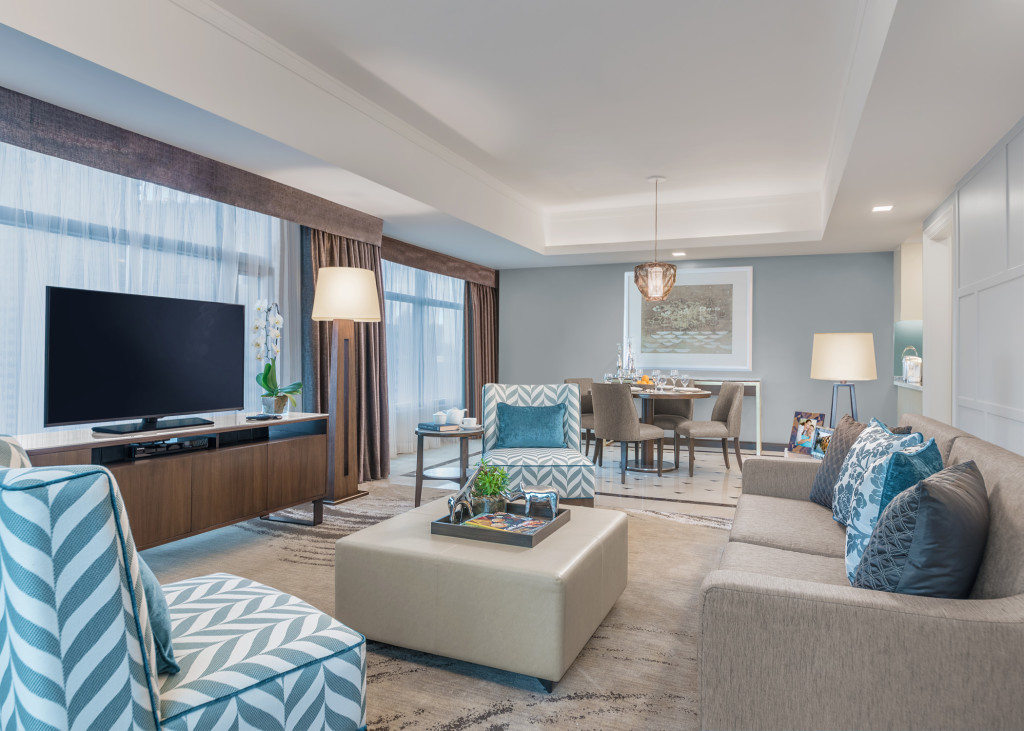 (Ascott Makati Premiere Bedroom)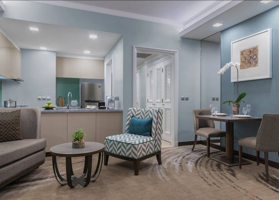 (Ascott Makati Studio Bedroom)
In a conversation with Arthur, he explained that the billion peso budget mostly covers the interiors of the structure and its amenities. Room configurations as well as the façade were kept as is. "We also kept the chairs, they're still here. Do you want to sit on them? Maybe you'll be a senator!" he joked, making a reference to the infamous mutiny that — literally — shook the hotel to its core back in 2003.
Furthermore, Arthur explains that The Ascott Makati was the first of its kind to open in the central business district. He clarifies that although Ascott is essentially still a hotel, "it is actually designed to be a serviced residence that caters to long staying guests … We have a lot of families, expats, corporate guests, even Filipinos from other cities." Guests are considered "long staying" if they are checked in for 30 days or more.
As a serviced residence, Ascott treats guests to all the perks of staying at a hotel — housekeeping that tidies up rooms and bathrooms, delicious snacks and meals that can be brought up by room service at any hour, knowledgeable concierges that are a phone call away — while maintaining the homeyness of an apartment. For instance, every room type, from premier suites to studio units, is equipped with a kitchenette, a washing machine as well as sizable receiving areas and dining rooms.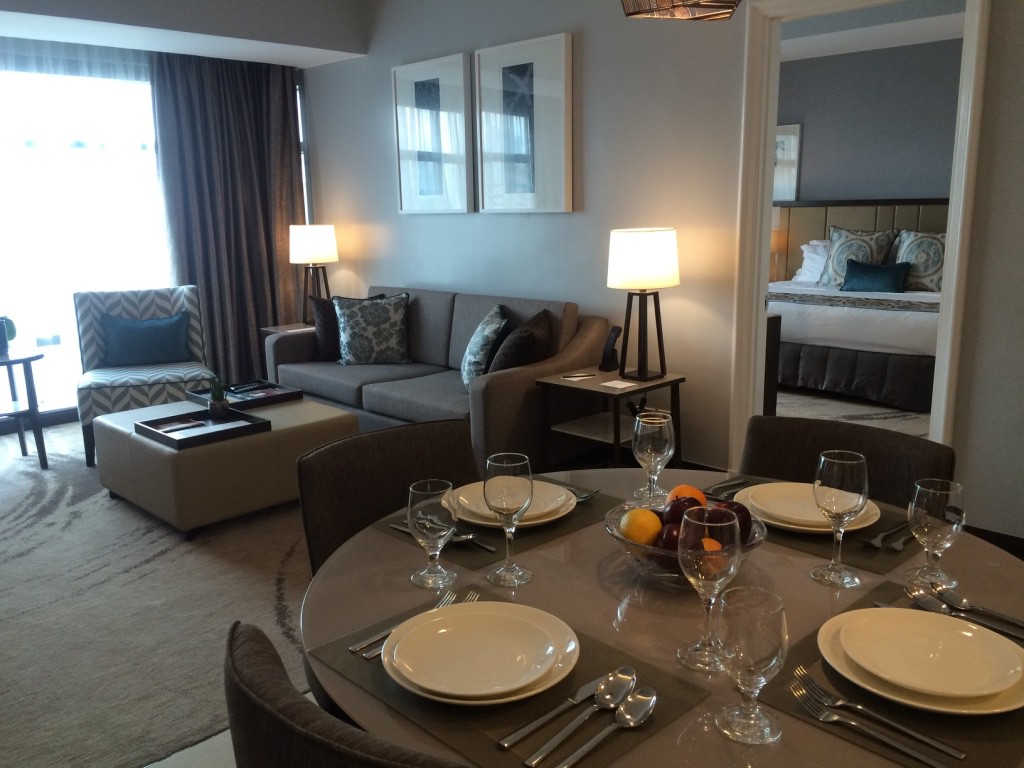 (A view of the living room, dining area and bedroom of Ascott Makati's 83 square meter one bedroom premier suite)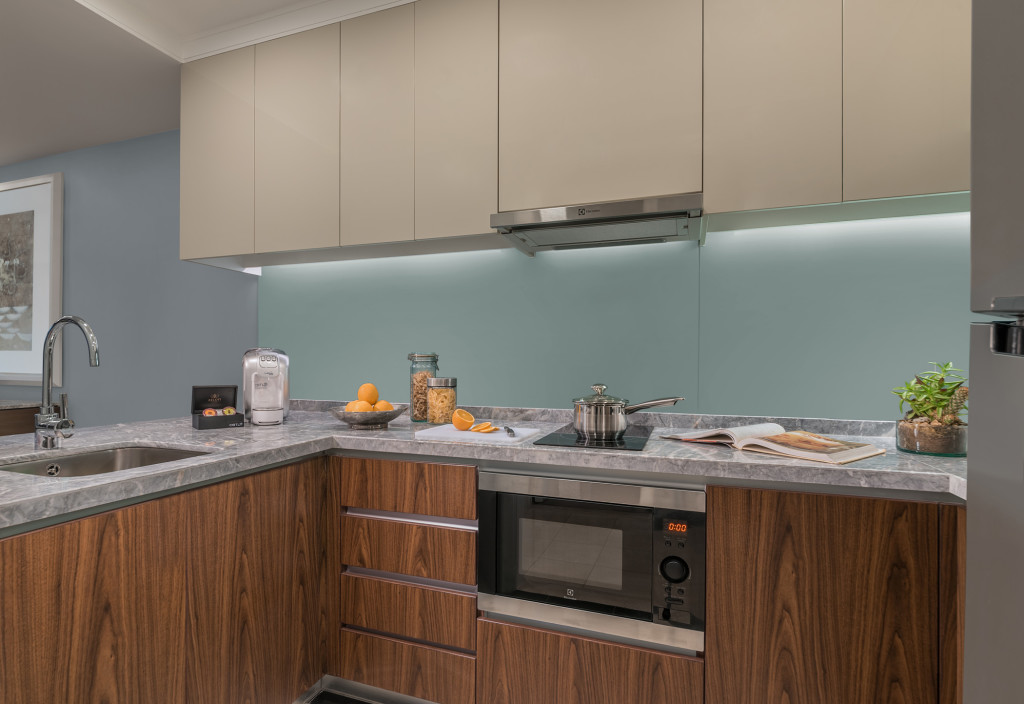 (Ascott Makati Premiere Bedroom's kitchen)
More impressively, Ascott's most basic accommodations are at a spacious 50 square meters. Noticing the room's reaction to the generous room size, Arthur explains "most of our rooms are suites. In other hotels, only 10% of rooms are suites." On the other hand, their largest room — the Penthouse — is at a massive 260 square meters. Each tower has three penthouses, all of which have wrap around balconies that give a panoramic view of the cityscape. It's not hard to understand that at a reasonable P15,000 +++ per night (during lean season), their penthouses sell like the proverbial hotcakes. In total, Ascott has 181 rooms in Tower 1 and 179 in Tower 2.
When asked what the most notable improvements from this renovation are, Arthur points out that it really is the interiors that got all the attention. Reimagined by interior designer Manny Samson, every single detail from the paintings, light fixtures, kitchen countertops and equipment and even washing machines all got a makeover. "Contemporary and modern" were the inspirations of his choices, resulting in fluid spaces, uncluttered set ups and palettes that seamlessly blend interiors with Makati's steely blue skyline.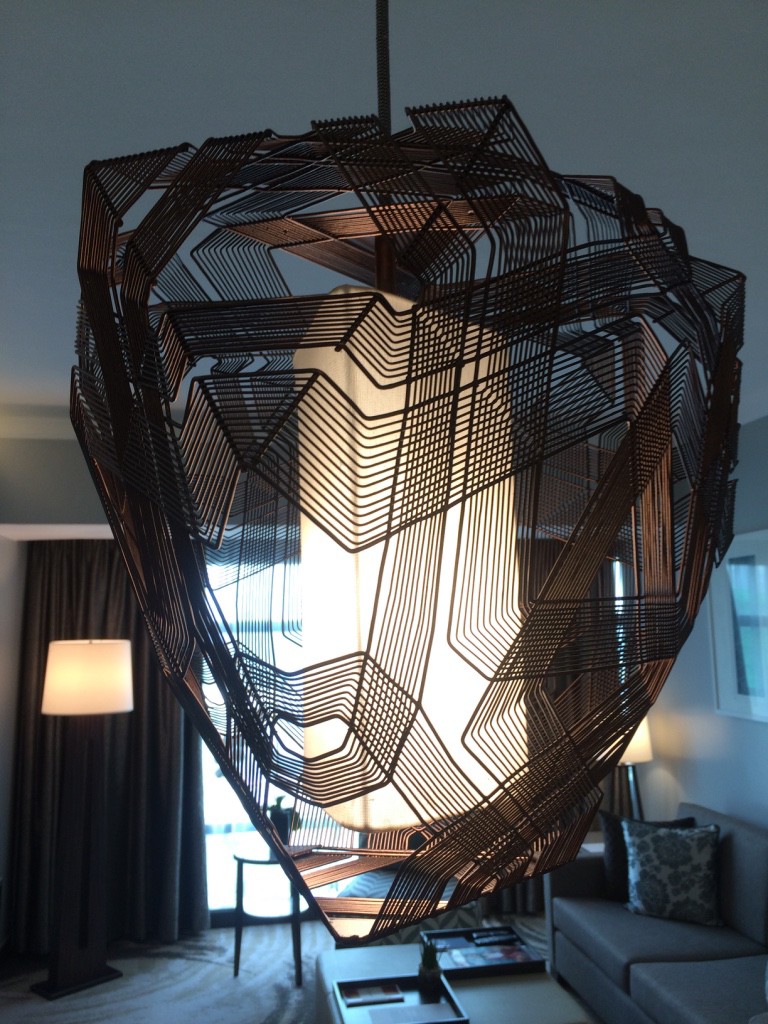 (A modern light accessory chosen by  interior designer Manny Samson)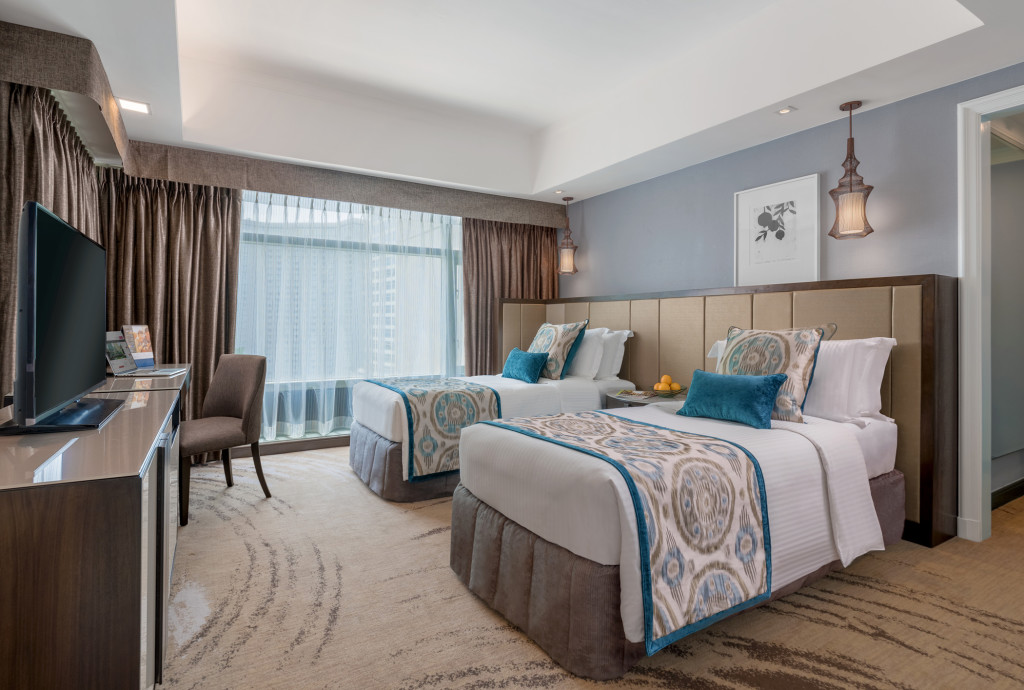 (Ascott Makati's Studio Premier Twin)
Attention was also given to what Arthur referred to as "what's going on behind the walls." That includes plumbing, electrical connections and especially air conditioning. The property wasn't just given a superficial facelift, but the whole project really was a "start from scratch" rejuvenation of the Singaporean owned brand from in and out, ensuring that guests get the full value of their money.
The pool and pool bar Que that have newly opened, tennis courts, a ballroom and functions rooms, a completely new and cozy multi-purpose executive lounge for guests' use, a cubby room for children's playtime and the transfer of the steakhouse Myron's from Greenbelt 5 to the Ascott are also many things guests can be excited about.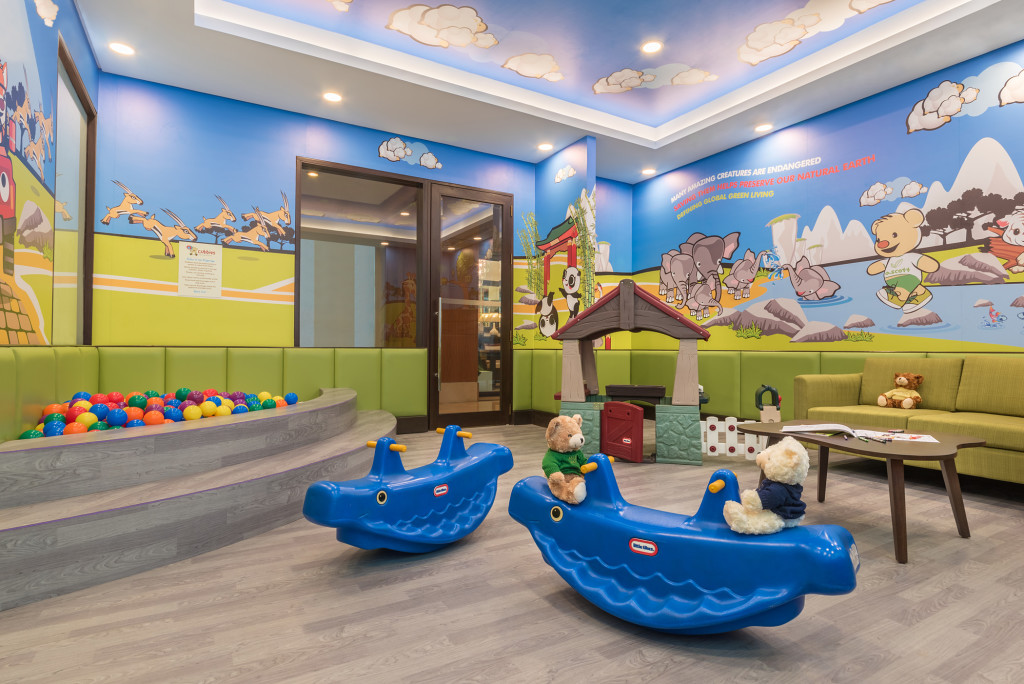 (Ascott Makati Cubbies Room)
Set to finish all renovations by the second quarter of next year, Arthur says that what truly helped them succeed is simple, yet invaluable and timeless — patience, and having an endless supply of it.
He recounts the story of how hotels were previously uninterested in investing in the Philippines in the early 2000s, yet Ascott persevered and stayed put. "We were here when no one wanted to be here," Arthur reminisces. "These brands weren't even here. Now they're all lining up to come to the Philippines," he adds. Clearly reaping the benefits of their decision, the Ascott and its sister properties Citadines and Somerset, business has indeed been going strong and customer trust and loyalty are intact, so much so that they are looking to put up twenty to twenty-five new properties in the country by 2025.
Definitely a home away from home for all kinds of guests, the Ascott is bound to enjoy the benefits of a major makeover in no time.
For more information, contact (02) 550 3200 or send an email to enquiry.manila@the-ascott.com. Guests may also get in touch with marketing manager Niza Forschler through (02) 755 8829, (0977) 819 1225 or marinisa.forschler@the-ascott.com.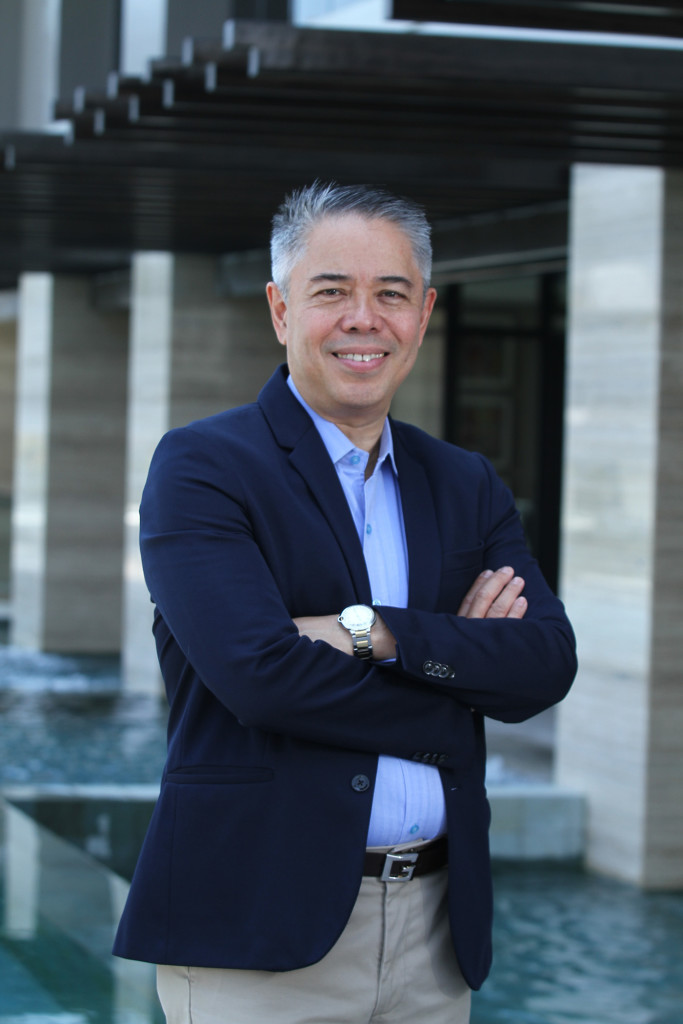 (Arthur Gindap, regional general manager, The Ascott Limited, Philippines & Thailand)