Running a family business is complicated. For parents, it's a challenge to straddle the fine line between parenthood and mentorship, and for children — the heirs and heiresses of the family empire — they'll find that growing up and coming of age go way beyond the typical range of adolescent and young adult experiences.
Think it's hard to follow your mom's footsteps or become a success story like your dad? Gather words of wisdom and a dose of motivation from these scions who figured things out, stuck it out and made it big.
Bienvenido Sr., Bienvenido Jr. & Donnie Tantoco
Apparently, life is a riot in the Tantoco household, filled with much laughter and warmth—even until today. Which is refreshing and admirable, to say the least. While the typical heirs may easily feel entitled and are easily swayed by the lure of power and riches, the three men have been kept grounded by the memories of their youth. This is perhaps how they've learned how to dream. As long as they keep at least one foot on the ground, the sky's the limit. And Rustan's is not aiming for anything less. As a luxury empire, strengthened by family leaders who share the same passion for excellence, Rustan's is constantly finding newer ways to deliver, to innovate and redefine the retail landscape. Mixing family with business is a tricky enterprise. Thus, for the two scions (Benny is enjoying the fruits of his well-deserved retirement) their professional careers are a daily effort to maintain balance, carefully making sure to always respect that fine line of family duty with professional responsibilities.
(Photography by MAU MARICIO of At East Jed Root)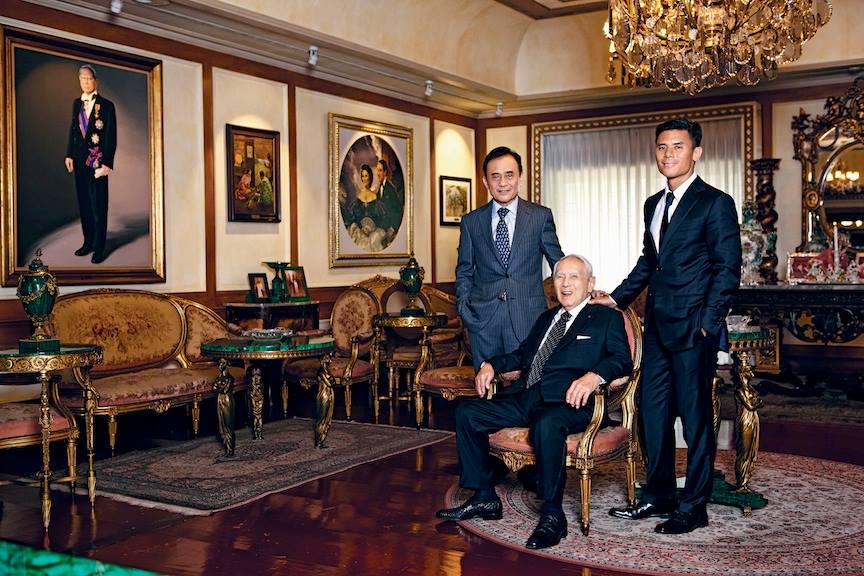 "One of the most important lessons I learned from my grandfather was that you should never compromise your values for short term-gain. No amount of money in the world can buy a good reputation and a clean conscience. Your values are the most important legacy that you will leave your children. They will learn how to become decent human beings from your example. Your reputation will follow you for your entire lifetime" – Donnie Tantoco in his commencement speech delivered to the graduating high school students of Malolos Integrated public school
Dr. Henry, Anna Lissa, Alfonso, Karl and Christina Chusuey
With the passing of the years, the family's vision of achieving excellence in the tourism industry has trickled down to the young (but very able) shoulders of the Chusuey children. With college degrees neatly tucked under their belts, Alfonso and Karl have definitely gotten their feet wet when it comes to work. And while their surnames may lead many to assume that they are treated like princes in their own little paradise, the reality couldn't be farther from the truth. Patriarch Henry adds that while blood may run thicker than water, nothing ever beats the value of good, old-fashioned hard work. It's a rule that applies to all — even his children. "I treat my family and children, in the same manner as my officers. If you judge based on feelings, you can never be fair." True enough, the grounded Chusuey children are sterling byproducts of their parents' upbringing.
(Photography by MAU MARICIO of At East Jed Root)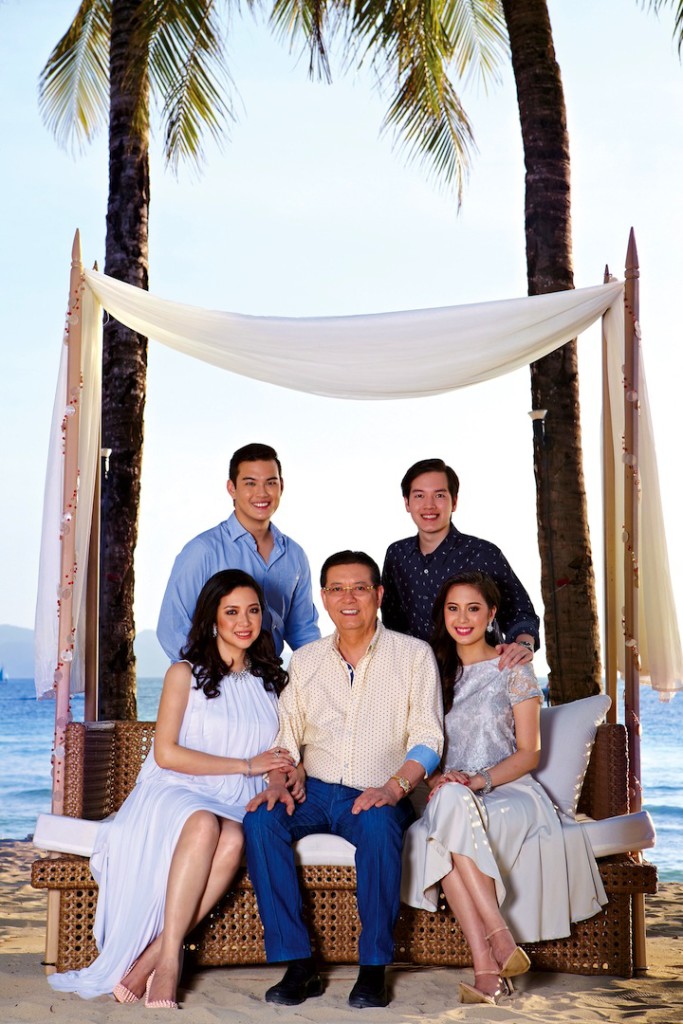 "I have always believed that we've made it this far in business because I've been fair. I am fair in giving back the value of our investors, and our customers' money, by making sure that our facilities and services are in top condition all year round"- Dr. Henry Chusuey
Mellie &Â Junjun Ablaza
Behind every successful man is a woman. In Jun Jun Ablaza's case, the woman is his mother, Mellie. Ask any certified party animal from the diplomatic, business, social and lifestyle circles if he has made it to the exclusive guest list of any of the red-letter, high society bashes and events of the Ablaza family. If his name has been etched in the social firmament and his standing has garnered for himself a special notch in the industry, then, chances are, he, indeed, has "arrived." As evidenced by the countless themed parties and specially conceptualized gigs the Ablazas have staged, any of their VIP guests must have, in one way or another, been enthralled and overwhelmed by the well-conceived concepts, majestic production designs, and strategic lightings and color schemes, down to the last intricate details that make every one of their events worth attending.
(Photography by JAR CONCENGCO)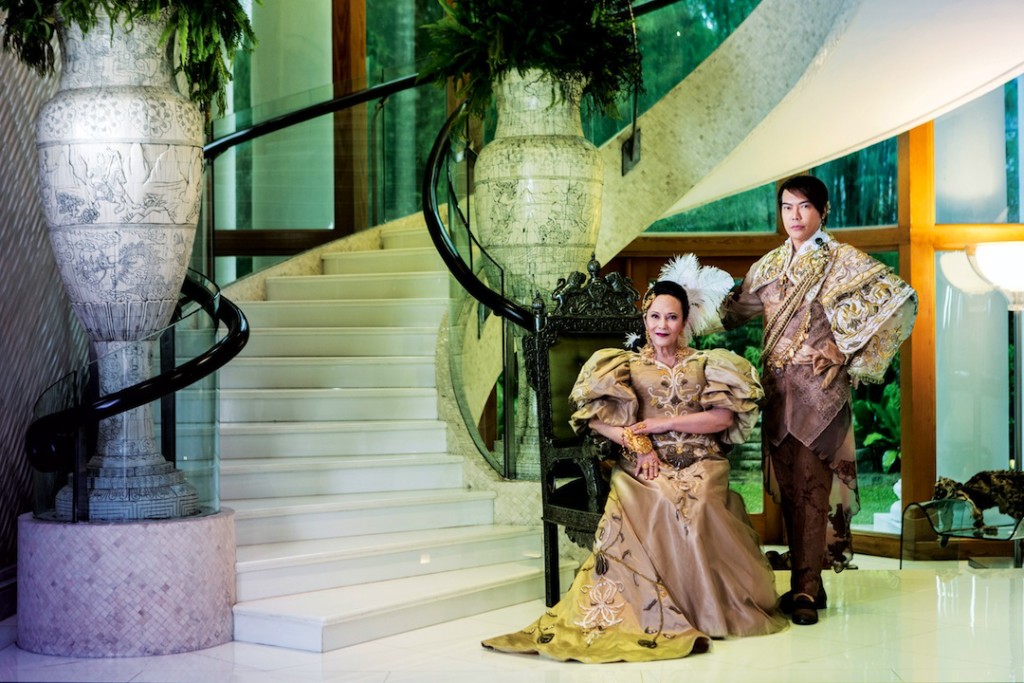 "I want to be remembered as an artist who is creative and puts his heart and statement into everything he does, whether he decorates places with his masterpieces or adorns people with his jewelry and accessories. You just have to follow your heart, do what your heart desires and what makes you happy." – Junjun Ablaza
Malu and Letlet Veloso
It has been said that certain remarkable traits and talents can be passed down through generations by means of genetics. Design doyenne Malu Veloso's family definitely fits into this category. Patriarch Pablo Antonio Sr. is a National Artist for Design, and three of his sons—Pablo Jr., Chito and Ramon ended up as thriving architects in their own right. Malu's mother, Marina, had a successful business creating wonderful handmade ternos with intricate beading for society mavens and maidens during her time. With all the influences drawn from an esteemed family tree, the latest generation will have large shoes to fill and footsteps to follow. The youngest members of the Veloso clan certainly have the right tools by which to step up, as they have the benefit of both genetics and the osmosis that have paved Malu, and her children's paths to success.
(Photography by SHAIRA LUNA)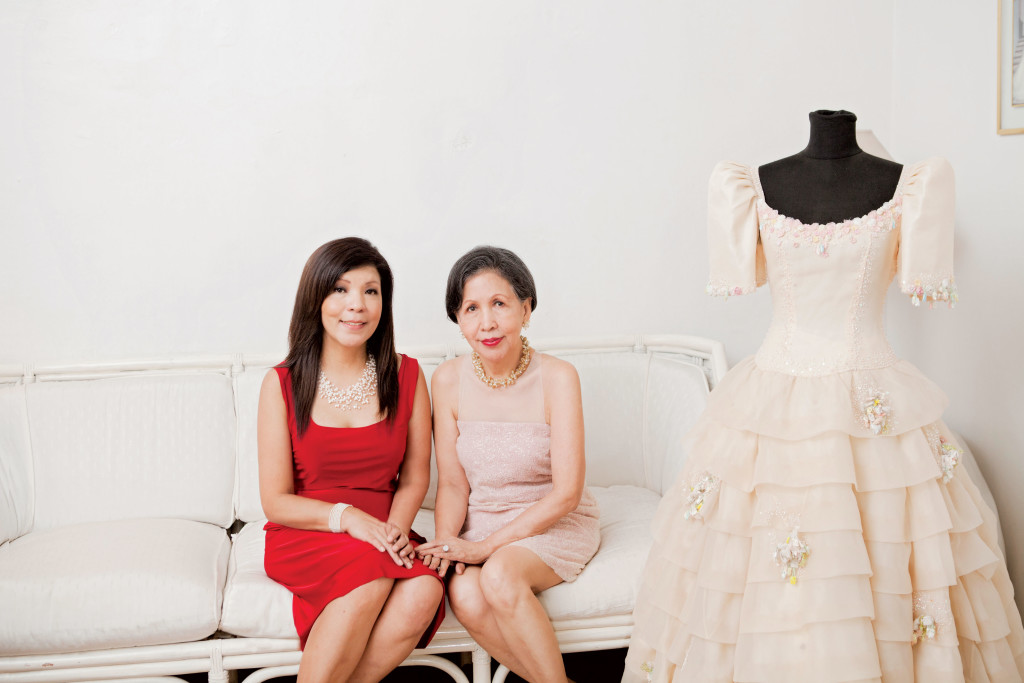 "Understand your own body and find what fits you. I have been wearing a basic cut throughout the years, because I know that this is what works for me. In this aspect, I see more and more women beginning to adapt; we don't follow trends as fanatically as before. If there is a new trend, women find ways to incorporate it into what suits them best." – Malu Veloso
George and Kenneth Yang
The Yangs have undertaken the serious business of bringing the world's number one fastfood chain to a Filipino market—a country whose cuisine is well-recognized by its unmistakable sweetness. We're a sweet people, so is our spaghetti. George T. Yang is the chairman and the founder of Golden Arches Development Corp. His son, Kenneth S. Yang, functions as the group's president and CEO. The group is one of the country's biggest employers, with a staff of over 30,000 interspersed over 400 restaurants scattered across the country. Bellies are satisfied not just with food; they are likewise warmed by laughter that comes from the gut. Watch a McDonald's TV commercial. The brand values of McDonald's pour like a fizzy Coke float all throughout each commercial. Each and every advertisement features family, hard work, concern for others, and a warm sense of humor. Values have emanated from the hearts and souls of the Yang family and radiated to the Filipinos, helping form a country that is warm at heart, loving, caring, industrious and happy, too.
(Photography by HAROLD TAPAN)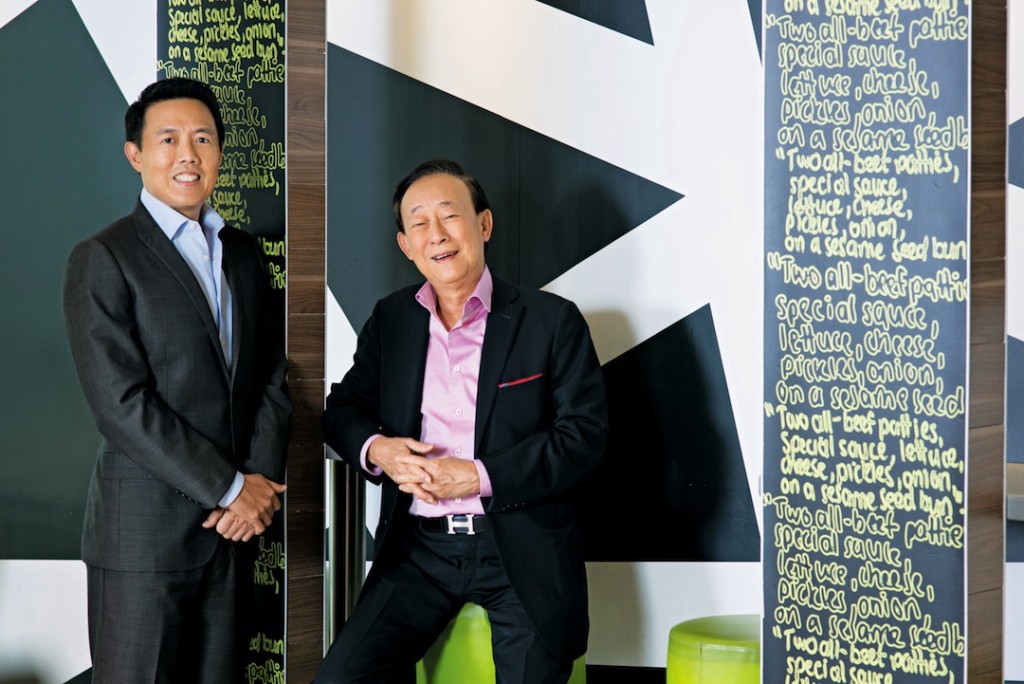 " 'It is still a challenge not to get into too much detail on the business decisions made by my children,' George admits. Nevertheless, 'working towards one goal' seems to ease the way—both father and son strive passionately for the success of the company. Kenneth agrees that 'openness and honesty' in communication are massive perks in working with someone so close to his heart." – Ana Warren Gonzalez, on George and Kenneth Yang