Going on food trips is surely one of the most exciting and rewarding things to do in Manila; it's a city dotted with awesome dining spots and restaurants featuring international cuisines. And while it's always fun to go restaurant hopping in the metro, there are times when all we want is to go to one place, comfortably get seated, take our time and have all the world's flavors conveniently laid out before us — enter, buffets.
So for big buffet fans and food lovers in general, here are our top picks for the metro's buffets that are worth trying out.
The Pantry, Dusit Thani
 
Dusit Thani Manila recently opened the doors of its new all-day dining restaurant, The Pantry. Sprung from the concept of farm-to-fork dining, The Pantry makes use of locally sourced fair trade goods and organic ingredients to craft culinary creations.
The likes of House Smoked Salmon Flat Bread Pizza, Adobo of Soya & Vinegar Braised Pork Belly, Piri Piri Rotisserie Chicken, BBQ Lechon Cubano Sandwich and Hot Spanish Churros with Rich Silky Chocolate Sauce infuses the 280-seater restaurant with an assortment of inviting aromas.
With an emphasis on the regional tastes of Mediterranean, Spanish, Filipino and Asian cuisines, The Pantry is a delicious melting pot of flavors that are all but ordinary.
Much like every authentic Filipino celebration, situated at the center of The Pantry is a live lechon pit and carving station. The Pantry is home to nine global food stations — a seafood station, brick oven Italian pizza, a Chinese bao bar, Indian tandoor oven, beverage studio and a sinfully divine dessert section. A first of its kind, The Pantry also features the Grab & Go, a takeaway counter for people on-the-go.
The Pantry is open for breakfast, lunch and dinner. For reservations and other inquiries, call (02)  238 8888.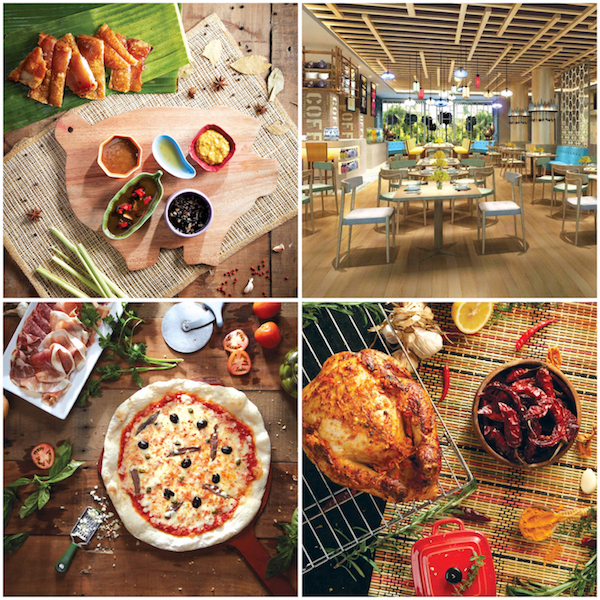 Inagiku, Shangri-La Makati
With its prompt service and Zen ambience, Inagiku is a desirable escape from the hustle and bustle of city living. Making reservations is advised.
The Kani Salad with Japanese mayonnaise, a refreshing combination of salty and sweet, will tickle your taste buds. The Wagyu Steak is a crowd pleaser, showcasing the chef's talent by bringing the freshness and purity of ingredients and combining these with a balanced and clean flavor. The Ebi Tempura is a gastronomical delight, with each bite comforting without the heaviness in usual meals. Sushi enthusiasts will like to try Makati Maki, which puts a creative twist to California Maki by wrapping it in salmon.
For dessert, the Coffee Jelly is a clear favorite, an indulgence of vanilla ice cream with coffee jelly that is made from freshly grinded espresso. Built with the desire to offer guests simple and delicious meals with a comfortable dining experience, Inagiku is authentic, well-loved and has plenty of reasons to woo you for return visits. With the famous Utage Lunch Buffet served every weekend, a hungry diner will get to enjoy the best selection of Japanese cuisine.
Inagiku is located at Makati Shangri-La, Manila, Ayala corner Makati Ave. Interested guests can call them at (02) 813 8888.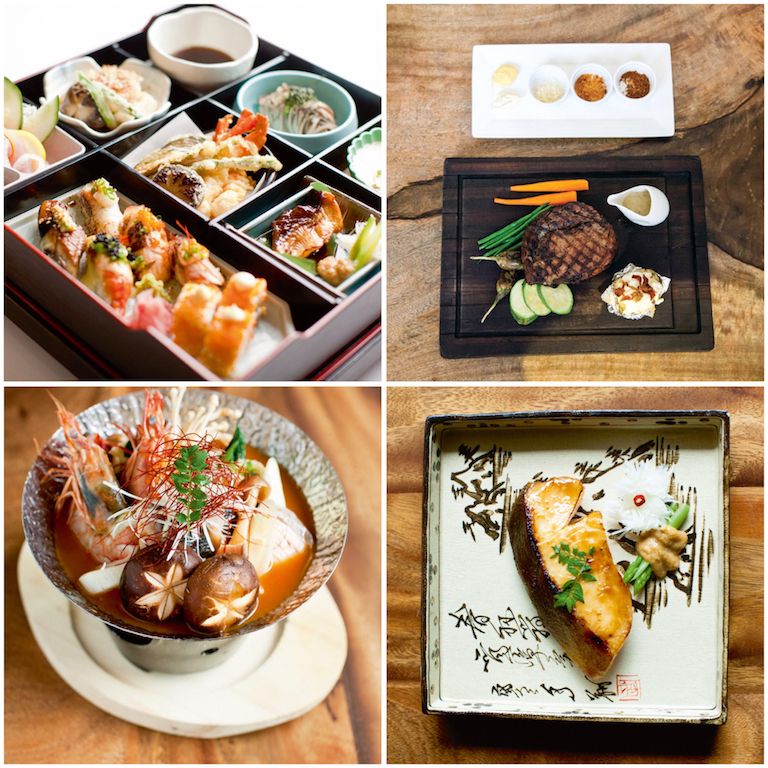 Xin Tian Di, Crowne Plaza Manila Galleria
Crowne Plaza Manila Galleria's premier Chinese restaurant, Xin Tian Di, is among the first establishments that introduced the dim sum buffet concept. "Dim Sum Unlimited" allows diners to enjoy unlimited orders of more than 50 dim sum selections. Available for lunch, the menu offers extensive treats—appetizers, soups, dumplings, rice, vegetarian dishes, noodles and desserts. Xin Tian Di also offers various Asian specialties, and cozy and spacious private rooms for intimate gatherings.
Xin Tian Di is at the 4F of Crowne Plaza Manila Galleria, Ortigas Avenue corner ADB Avenue, Quezon City; (02) 633 7222 or email fandb.reservations@ihg.com

Bonus: The following restaurants below aren't buffet restaurants per se, but are all nicely located next to each other along the same street. One strategy to have when visiting them is to to go for starters in one, mains and dessert in the next, then finish up with drinks and bar chow in the last. Do this in any order you like! 
The Great BF Buffet, Aguirre Street
Bamba: Gourmet Go-To!
The name of this quaint, little restaurant was basically derived from the popular upbeat ditty of Ritchie Valens, what with "La Bamba" being the favorite song of the restaurant's patriarch.
As food connoisseurs and discerning gourmands pinpoint, however, Bamba has always been in their bucket list as far as must-try restaurants in this famous suburban strip in the Southern part of the metro is concerned. "Bamba, after all, serves delectable gourmet comfort food, brimming all over with 'happiness' to satisfy its discerning clientele to the hilt, and to keep them coming back for more. Bamba's inspiration is it's love for food, our love for food. Our specialties have a little bit of everything; all are different from each other," states Tina Legarda, owner and executive chef of the resto.
Delectable treats in the menu include a wide array of appetizers, soups, salads, hot and cold main courses and desserts. Special requests may also be arranged, such as food choices and catering services. Homey interiors, down to the intricate details as meticulously displayed on its various fixtures, table tops, frames, wall decors and knick-knacks, are also conversation pieces for its throngs of diners, who usually fill every square inch of the area.
Find baba at 55 Aguirre Avenue, corner Arsenio Luz Street, B.F. Homes, Parañaque City, or reach them through (02)
 519 7079.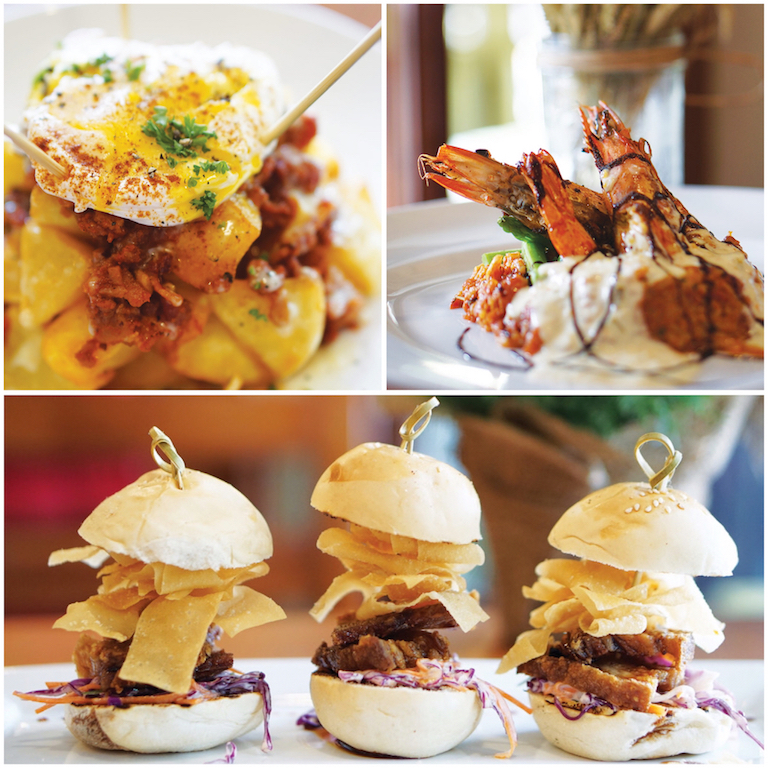 Mulligan's: More than bar chow
The Irish pub themed sports bar has become such a fixture on Aguirre that when one hears it has only been around for eight years, one always thinks to himself, "that couldn't be right. It must have been around for longer."
The bar is kept dim and the sports matches—usually football games—that play on the many TVs that line the walls are played at lower volumes. The yellow lights and the kitschy multi-colored lampshades that cover some of them, paired with the dark wooden interiors create an ambience of subtlety and relaxation. Mulligan's is such a popular bar, in fact, that it has three separate branches all along Aguirre Street alone. Still, it's serious about food.
The wings and the pizza remain perennial fan favorites and show that the comfortable ambience is accompanied, if not augmented, by comfort food. However, the most surprising item on the menu is the Curry Platter. One would think that spicy Indian Curry and amazingly good Basmati Rice would be misplaced at Mulligan's, yet it takes top billing. The curry at Mulligan's is so good that the bar had to extend its all-you-can-eat curry lunch buffet by an entire day.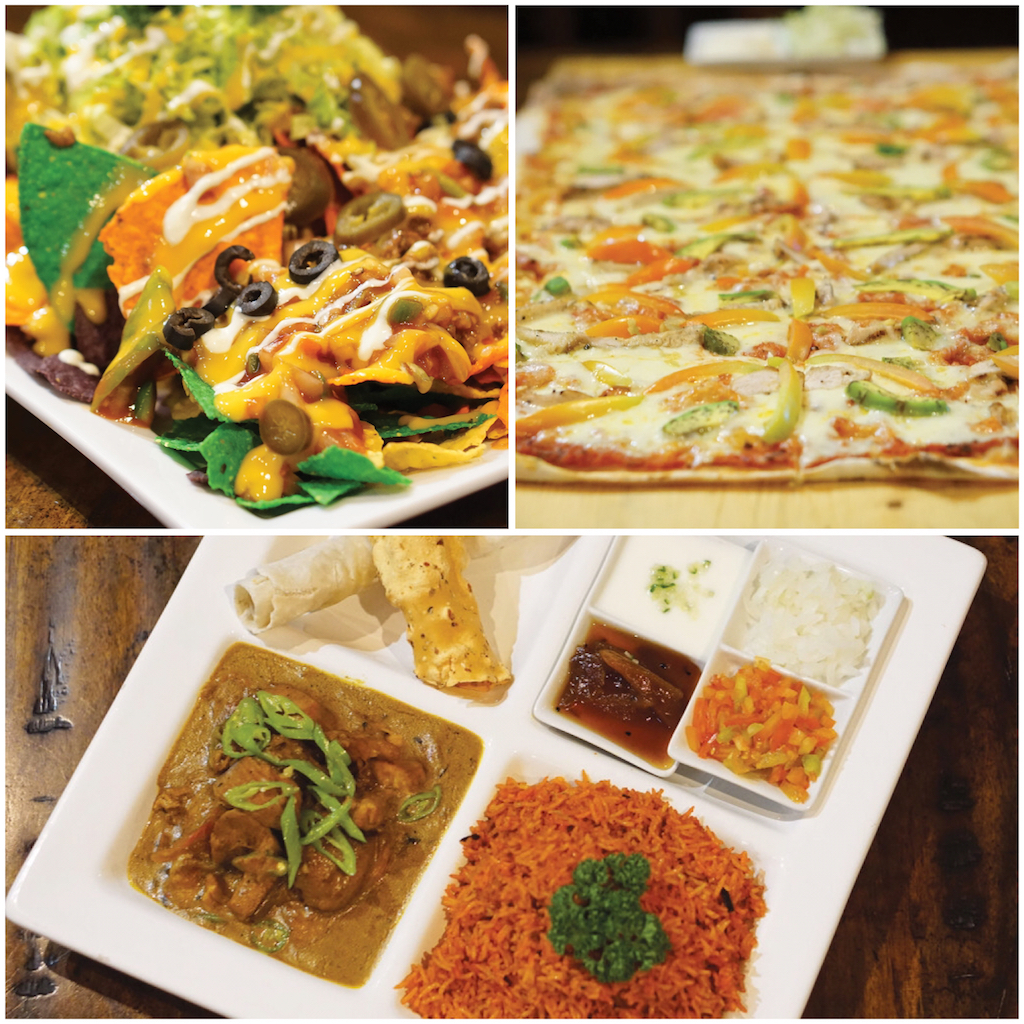 Gusto Trattoria Siciliana: Home-cooked haven
Gusto on Aguirre Ave. in BF Homes Parañaque City is quaint and unassuming. Long curtains keep the summer sun out and a small air-conditioner keeps the restaurant cool. Expect Gerlando Guiliana, the establishment's proprietor, to bring out a bottle of imported Sicilian red wine brought to the table.
When a sampler platter of Gusto's appetizers arrives at the table, he'll begin to describe each one with the vigor of a man who is hungry. His eyes light up and he waves his hands animatedly as he explains each morsel of food on the wooden tray: quail eggs in truffle oil, pumpkin with sweet and sour sauce, eggplant parmigiana and a few others. He takes a pause when he's done and announces that the pasta he highly recommends is coming next.
Gusto is meant to be a trattoria, the Italian equivalent of a Carinderia— no gimmicks, no frills. So here, the food is at front and center of the experience.
Three heaping plates of pasta arrive at the table. Each one has swirls of regular spaghetti on it but on each mound of pasta is a different type of seafood: mussels, shrimp, squid and ink. Each dish is dressed in fine olive oil, and occasionally, truffle oil; cooked simply using classic Sicilian recipes and ingredients. Gerlando explains that Sicily produces some of the best seafood in all of Italy.
Gerlando, a native Sicilian, decided to move to the Philippines after just a few weeks of vacationing here. And in so doing has brought so much of the food and flavor of Sicily right to Aguirre street.
This restaurant is on 215 Aguirre Avenue, BF Homes, Paranaque City. For reservations and other inquiries, call (02) 621 3522.