ONE is the number to remember this October.
Novotel Manila Araneta Center celebrates its first year of 'ONE-drous' moments and invites you all to be a part of it. Nestled in the pulsing heart of Quezon City directly beside the SMART Araneta Coliseum, Novotel has been welcoming guests from all walks of life since it first opened its doors 12 months ago. Business travelers, the big and small families, groups of friends and even concert-goers (and their main acts, too!) have all found reasons to love and revisit Novotel.
In the spirit of celebrating this milestone, Novotel excitedly announces its special P1.00 anniversary rates for its guest rooms and outlets. Inquiries about this special rate can be made from Oct. 12 to 16. This promotion cannot be used in conjunction with other offers.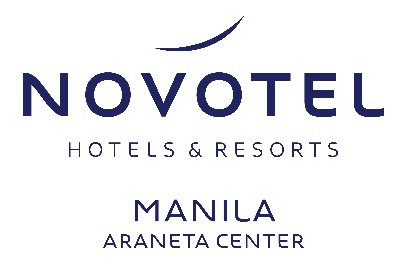 Interested guests vying for an overnight stay can book a room and enjoy the second consecutive night at just P1.00.Function room reservations for groups of ten or more people will also be adjusted to include this special rate.
Those looking to experience Novotel's buffet restaurant, Food Exchange Manila, can book a table for three; regular buffet rates apply for the first two guests, while the third guest can dine for P1.00. On the other hand, a reservation at The 6th Pool Bar and Lounge offers a view of Quezon City's skyline and lets guests enjoy their third drink at P1.00, while the same P1.00 rate can also be enjoyed at the Gourmet Bar where guests can order tapas selections and match them with Novotel's signature drinks.
Truly, turning ONE is just the beginning of better things to come!
For inquiries about what else is in store for Novotel Manila Araneta Center's 1st anniversary, please call (02) 990 7888 or email H7090 @accor.com. More information about the hotel, its facilities and services are available via www.novotel.com or www.accorhotels.com.