Celebrate Christmas in style, comfort and lavishness at the Sofitel Philippine Plaza. Adults and children alike will find reasons to believe that Christmas is, indeed, the most wonderful time of the year with Sofitel's unending Yuletide activities.
For the whole family
Staycation 
Make the last few moments of the year count and welcome 2017 with the company of loved ones with this special staycation package.
Sofitel presents special Christmas rates for bookings made on Dec. 1 to 29, beginning from P7,000+++ for superior rooms, and P9,800+++ for bookings made on Dec. 30 – Jan. 1.
A feast to remember 
There are two things that Filipinos truly live for when the Christmas season comes around: being around family, and celebrating the holidays over a delicious spread! Families can have both at Sofitel's luxurious buffet restaurant, Spiral.
21 dining ateliers that boast of cuisines from around the world await Filipino families coming to visit, with the addition of Sofitel's Christmas selections like their, French style turkey with jellied apple & cranberry sauce, Pomegranate glazed Christmas ham, Roasted duck Hong Kong Style, Deep fried prawn with wasabi sauce, Prime Rib with peppercorn sauce, Yorkshire pudding, herb crust lamb, beef wellington, a succulent selection of different caviars and Filipino all-time favorites Lechon, Beef morcon and Chicken relleno.
Happy hampers 
Share the gift of giving this festive season with Spiral 2 Go's signature Christmas hampers. Featuring six different varieties, these goodies present the perfect gift sets for the holidays.
Voices of angels 
Sofitel's very own hotel choir along with the Virlanie Choir and Sisters of Mary Boystown Choir will enchant visitors and guests with their renditions of heartwarming Christmas jingles, carols and serenades this December. Catch their enchanting performances at Sofitel's lobby from Dec. 18 to 24, 2016 at 6:30 p.m. to 7:30 p.m. Guests dining at Sofitel's outlets can also expect to be serenaded by the Manila String Machine.

For the kids
Storytime
On Dec. 4, 11, 18 and 25, Sunday brunch at Sofitel's La Veranda will have an extra special guest for the little ones. An animated storyteller with a talent for bringing Christmas tales to life and unlocking the imagination is set to enchant the hearts of children with stories of love and cheer, teaching them the true meaning of the season.
Santa's sleigh 
At least for this evening, and this moment, Santa Claus is real, and he's coming to Manila! Children are sure to be delighted by a real life Santa Claus stepping off of his sled and telling them that they've been good — not naughty! All around Santa will also be activities that include a balloon-twisting showcase, a holiday arts and crafts corner and a child-friendly Christmas cookie Give the kids in your life these memories that are sure to last a lifetime on Dec. 24 from 7 p.m. to 12:30 a.m.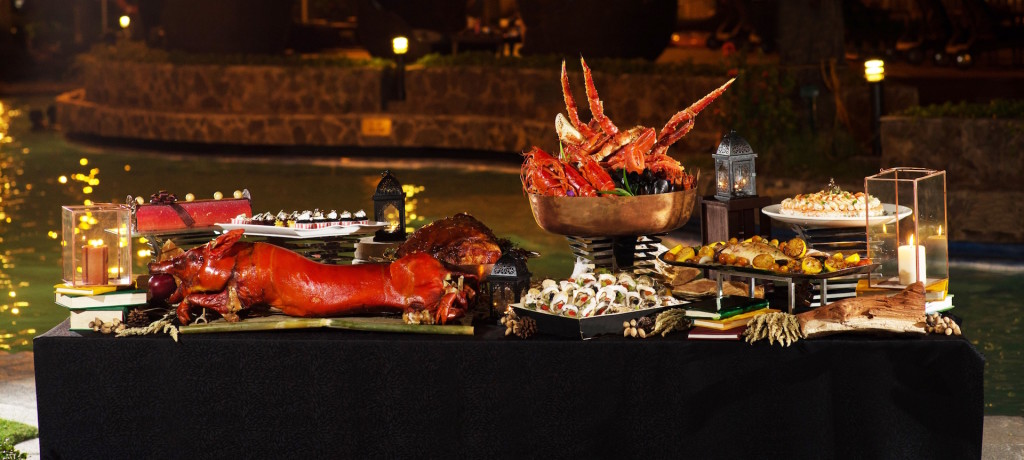 For mom and dad, and everyone deserving of a restful holiday season
Christmas at Sunset Bar 
Manila might not have a snowy Christmas, but it's one of the few countries that can hold barbecues even in December! Sofitel's rilled selections, live music, free flowing drinks are only some and a captivating shadow theater performances slated on Dec. 3, 10, 17 and  24 from 7:30 p.m. to 8:00 p.m. are some of the awesome stuff aa tropical Christmas has in store for guests.
A toast to a year well spent
For guests wishing to celebrate Christmas in a setting reminiscent of  a cozy winter cabin getaway, Sofitel invites them to Le Bar. Here, they can enjoy a variety of desserts and allow their inner sommelier in them to pair their selected dishes with fine wines from Le Bar's extensive wine selection.
Relax, rejuvenate and recharge for the year to come 
A stay a hotel isn't complete without a visit to their Spa. Sofitel's Le Spa offers a special Christmas package composed of a one hour massage, one hour hydrating facial, one hour mango delight body scrub and a classic manicure and pedicure combo.
For inquiries about Sofitel's Christmas offerings, rates and packages, call (02) 551 5555 or email H6308@sofitel.com.