Nothing makes us feel quite as warm and fuzzy on Christmas than watching beautifully decorated Christmas trees come to life. PeopleAsia invites you to come to see some of the splendid Christmas trees and attractions in hotels around Manila in this gallery, but trust us — visiting them and seeing them for yourself is the only way to do them justice.
Conrad Manila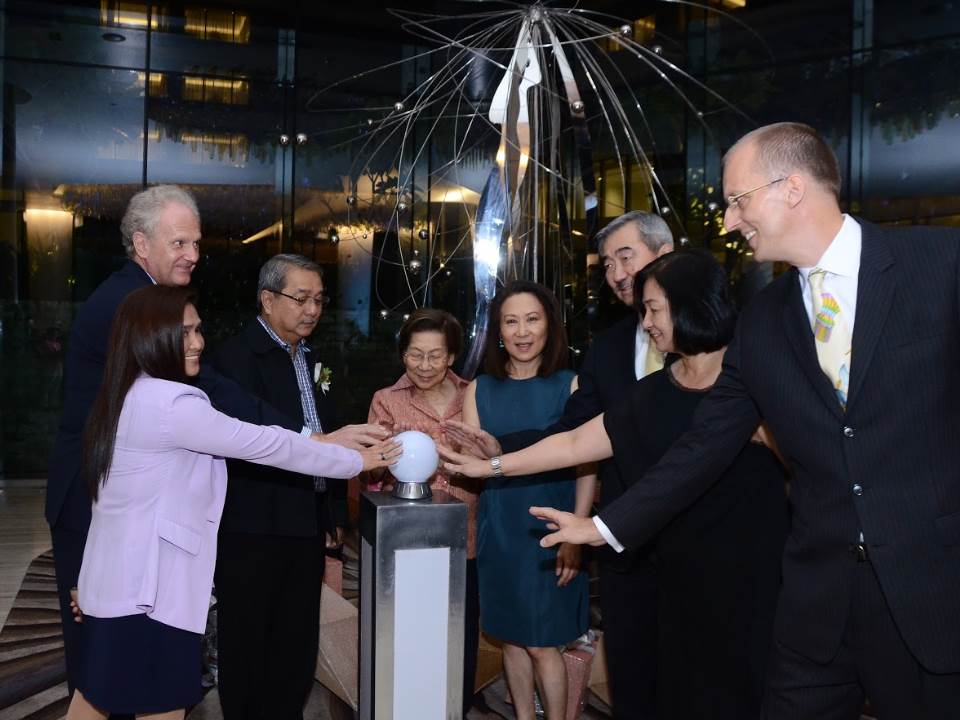 (Department of Tourism Assistant Secretary Ma. Lourdes Japson; Austrian Ambassador Dr. Josef Mullner; Pasay City Mayor Antonino Calixto; SM Foundation Mrs. Felicidad Sy; SM Hotels & Conventions Corporation president Ms. Elizabeth Sy; SM Prime Investment president Hans Sy; SM Hotels Conventions Corporation executive vice president Peggy Angeles; and general Manager harald Feurstein.)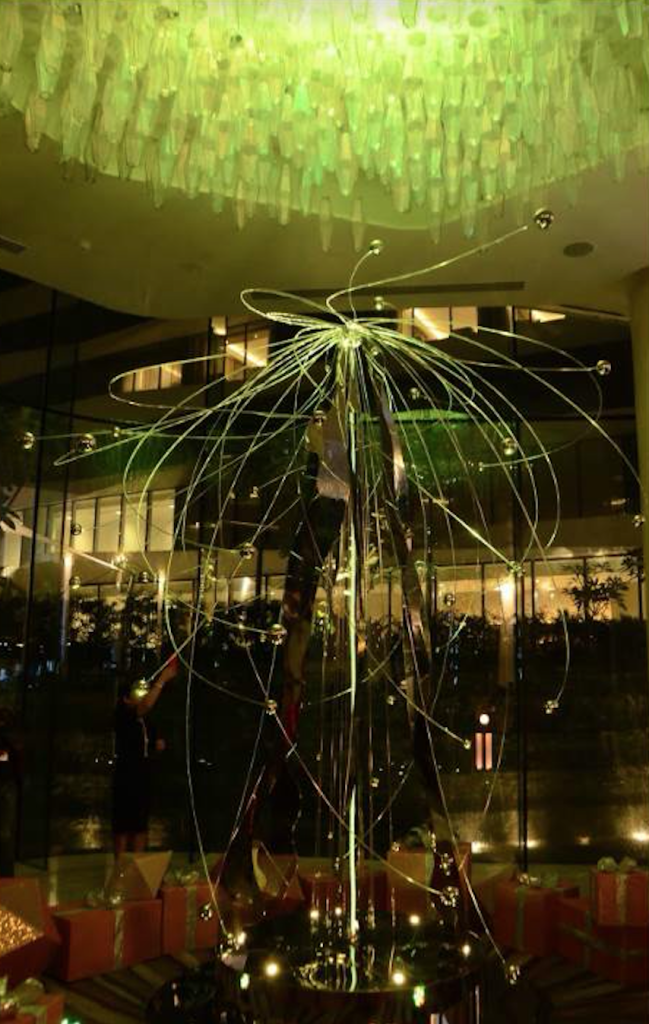 (Filipino artist Impy Pilapil's Christmas tree design)
Conrad Manila celebrated its first ever Christmas season in the Philippines in a tree lighting ceremony held last Nov. 17. Prominent Filipino artist Impy Pilapil conceptualized their industrial Christmas tree sculpture made of glass and steel whose materials and design take inspiration from the hotel's unique ship-inspired architecture. Performances by the Hail Mary the Queen Choir as well as the the world-renowned Vienna Boys Choir set the tone of the ceremony at the majestic lobby of Conrad Manila that was filled to capacity with guests.
Crimson Hotel Filinvest City Manila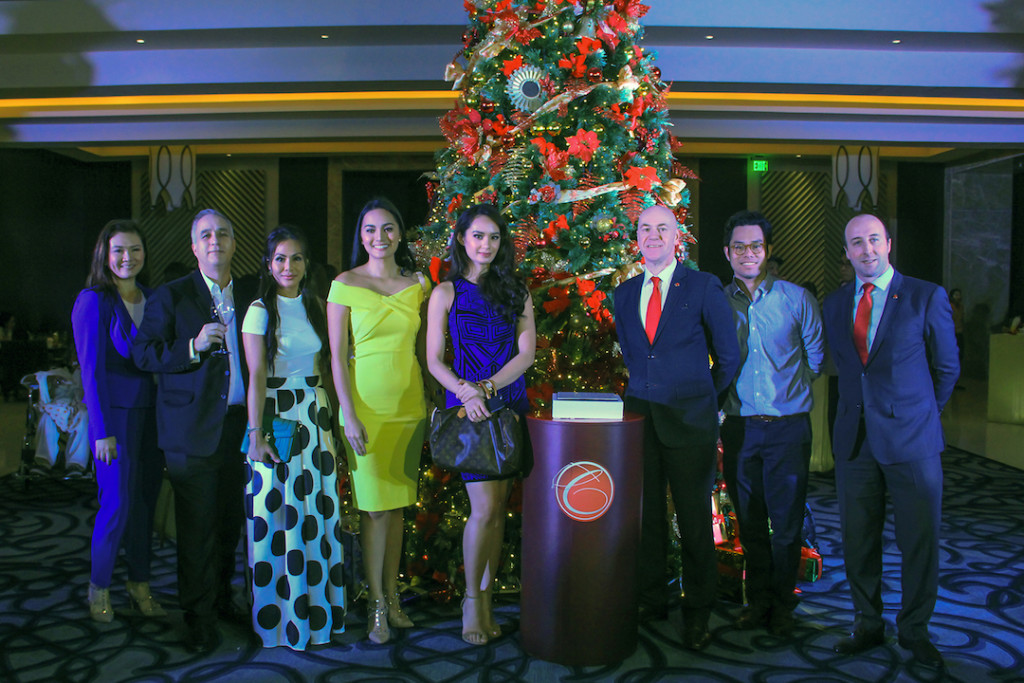 (Chroma Hospitality corporate director operations Ria Jareno, Chroma Hospitality country manager James Montenegro,  Kitty Doll, Bb. Pilipinas Supranational Rogelie Catacutan, Bb. Pilipinas Intercontinental Kris Tiffany Janson, CFCM general manager Gerhard Doll, Filinvest Hospitality vice president Francis Gotianun and CFCM executive assistant manager Michael Gapin)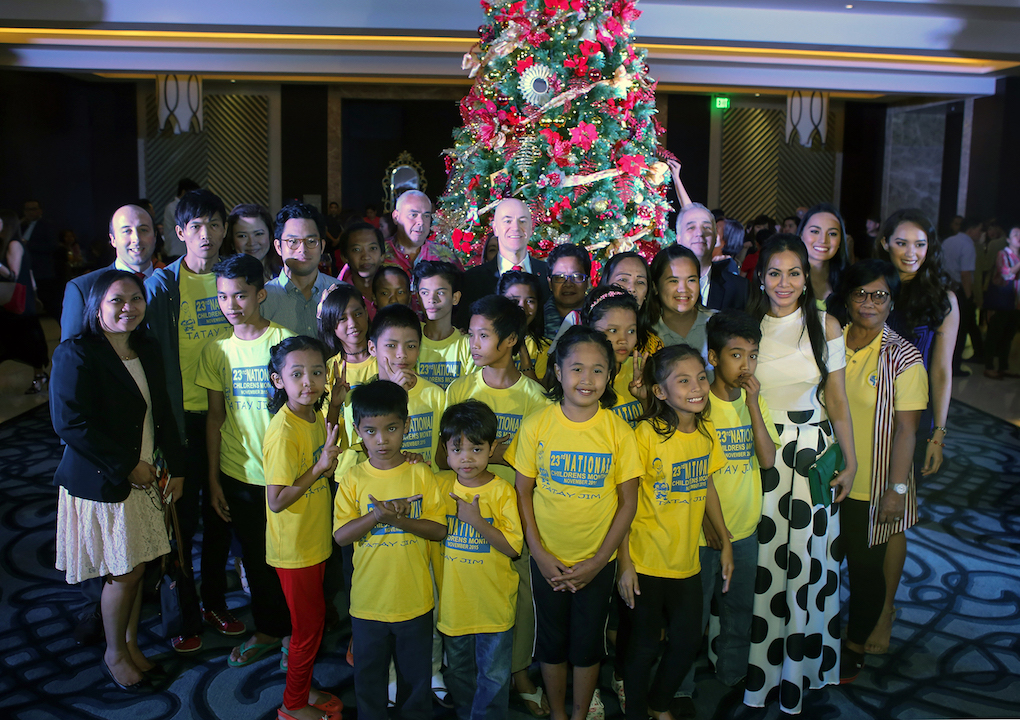 (With the children from Social Service Department of Muntinlupa)
If one Christmas tree can warm our hearts, imagine what lighting up a whole Christmas village can do. Crimson Hotel Filinvest City Manila invites guests to step into their very own holiday haven decorated with a snow-covered  landscape dotted with miniature village house figurines and in the process, make the holidays more meaningful. This year, the hotel has partnered up with Starlight Training School for the Special Youth and will make donations raised from guests booking special deluxe room packages or dining at Café Eight.
Diamond Hotel Philippines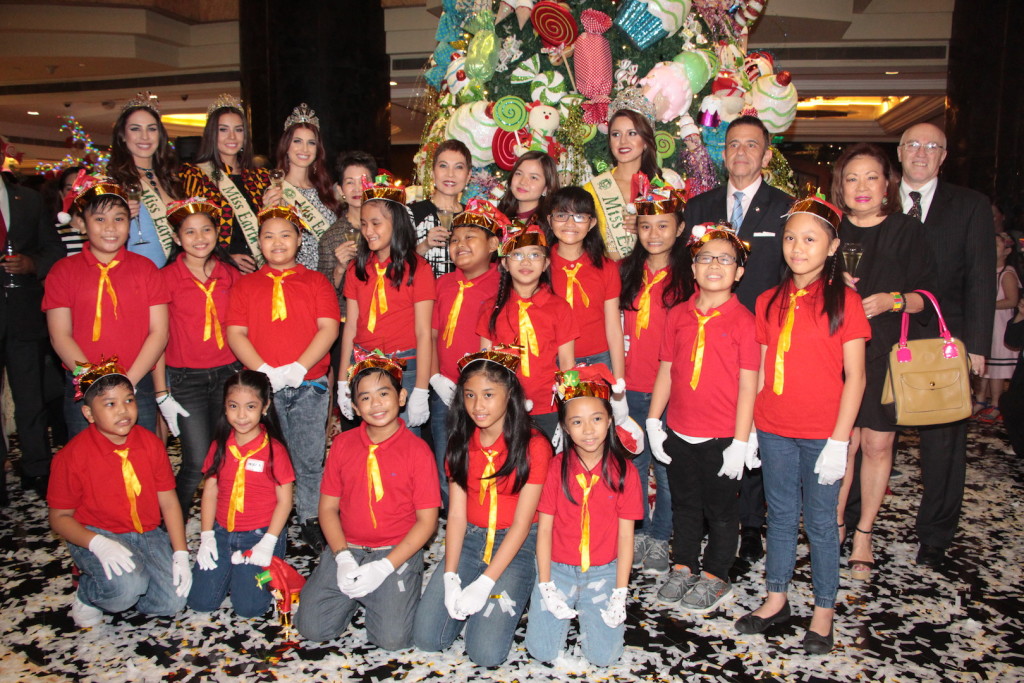 (First row: Miss Earth Fire Bruna Zenardo, Miss Earth Air Michelle Gomez, Miss Earth Water Stephanie De Zorsi, Zonta Club Area 5 vice director Baby Doble, Diamond Hotel Philippines general manager Vanessa Ledesma-Suatengco, Carmela Ang, Miss Earth 2016 Katherine Espin, Ambassador Julio Camarena Villaseñor of the Embassy of Mexico,  Zonta Club of Makati-Ayala president Rita Dy and Deputy Chief of Mission Michael Klecheski of the US Embassy together with children from the CENTEX Children Choir of Children's Hour Organization)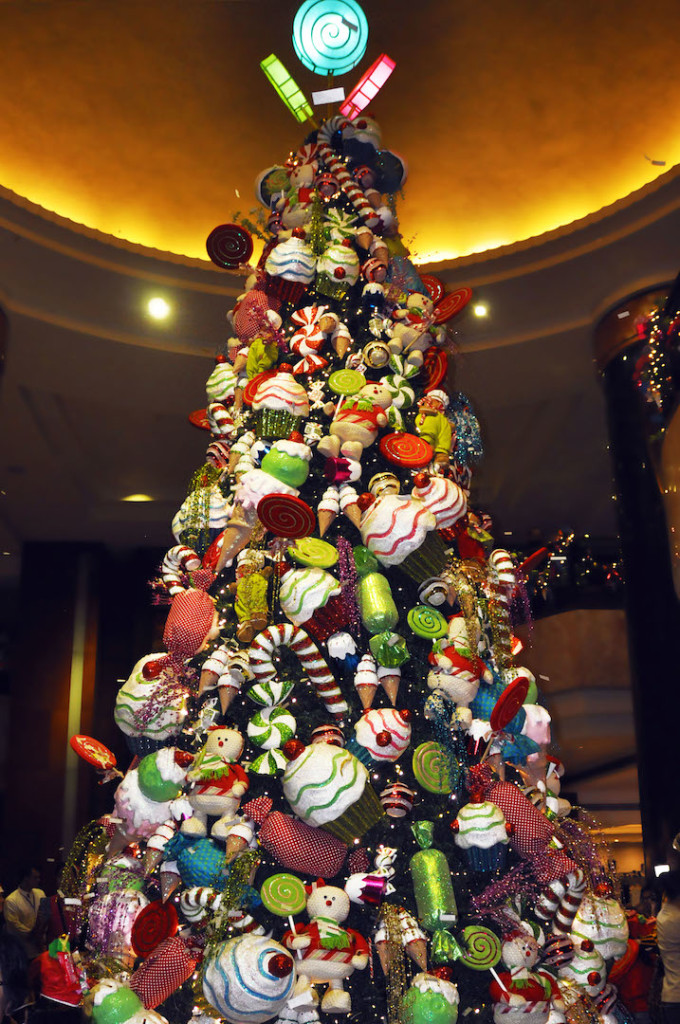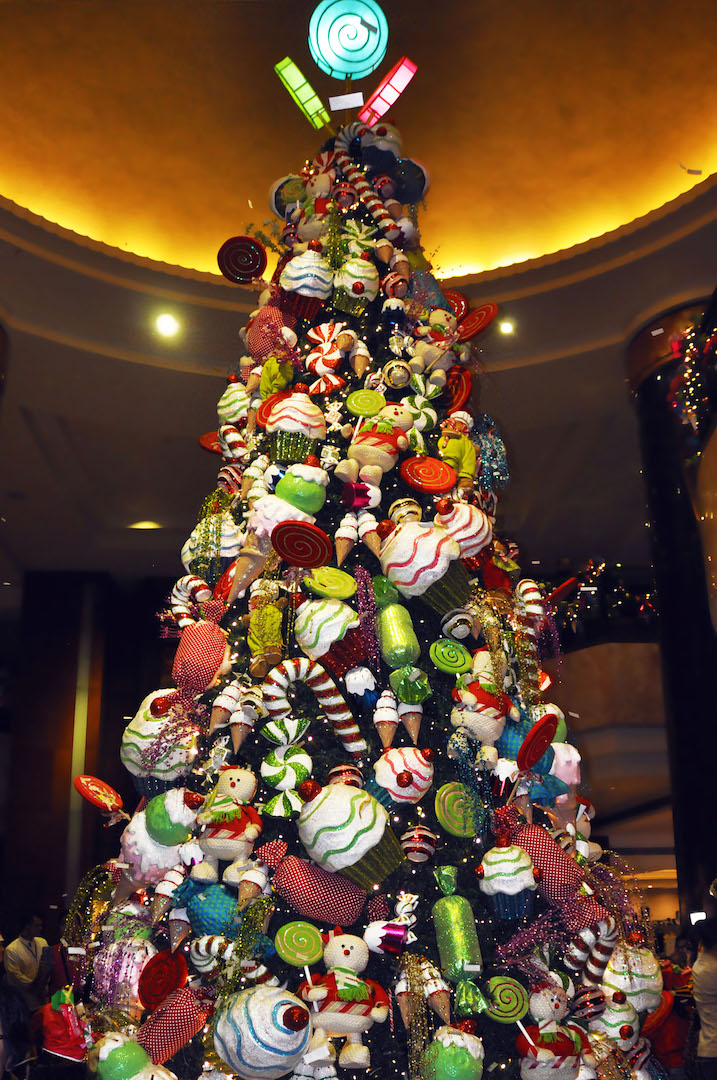 (Their 25-foot tall Christmas tree decorated with only the sweetest treats)
Diamond hotel shined brighter than ever when they transformed the hotel lobby into a candy wonderland that even Willy Wonka himself would marvel at. Adorning their magnificent 25-foot tall Christmas tree are candy canes, peppermint candies as well as colorful ice cream and giant cupcakes ornaments. The hotel also formally began its tradition of giving the gifts of hope and opportunity to the children of Center of Excellence in Public Elementary Education of Children's Hour Organization by supporting their scholarship programs. Guests can donate to the foundation by purchasing holiday ornaments for P200 or by making purchases in the Lobby Goodie Shop.
New World Manila Bay Hotel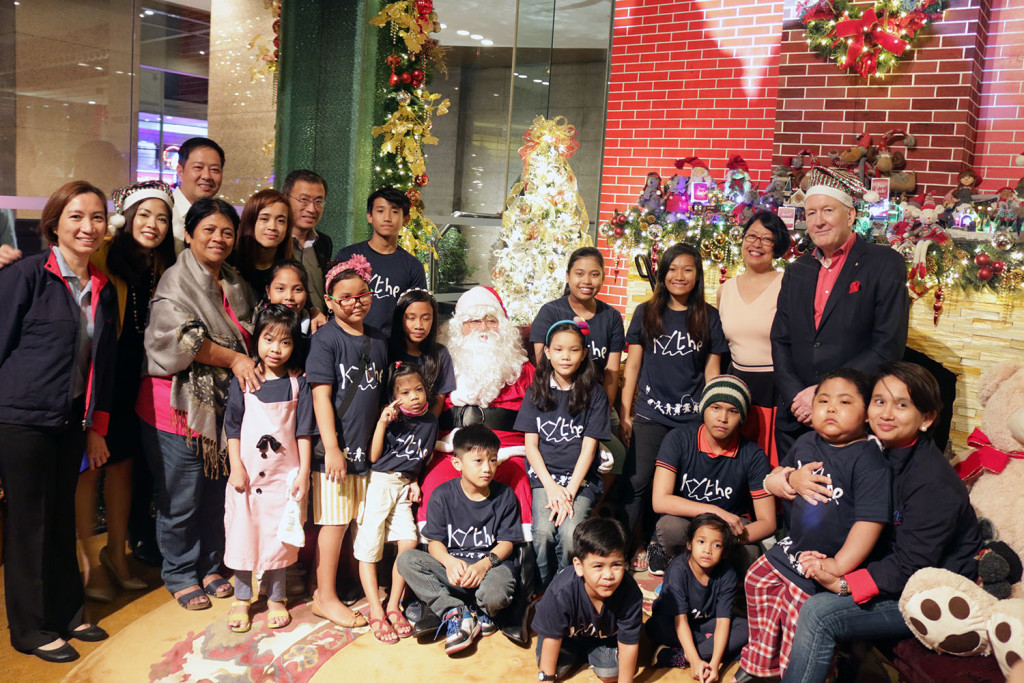 (Kythe Foundation Executive Committee and Kids with New World Manila Bay Hotel's general manager Mark Heywood)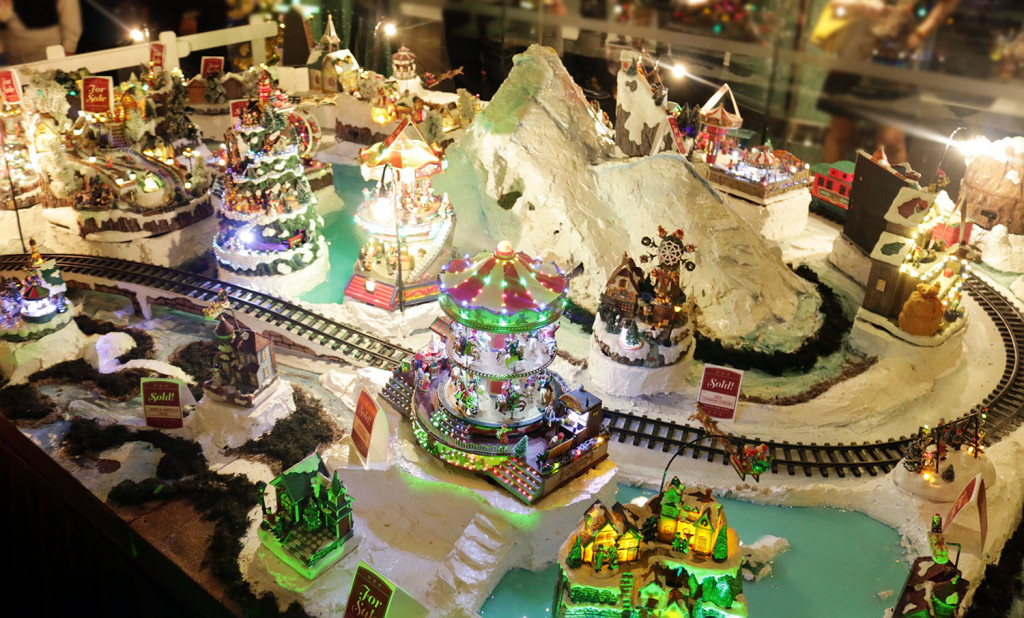 (Kythe Foundation – Christmas Village for a Cause)
While Christmas is already a special time of the year for us that live comfortable and happy lives, the season becomes the most important time of the year for those that face more challenges than the average person. New Word Manila Bay Hotel acknowledged this when they lit their tree, symbolically also lighting hope in the hearts of children and families supported by the Kythe Foundation. The Kythe Foundation is a non-governmental organization that specializes in psychosocial and pediatric care for children with cancer and other long-term illnesses. Guests that want to help Kythe can purchase a mini Christmas house at the Kythe Foundation Christmas Village for a Cause and drop their donation at the holiday wishing well at the hotel lobby.
City of Dreams Manila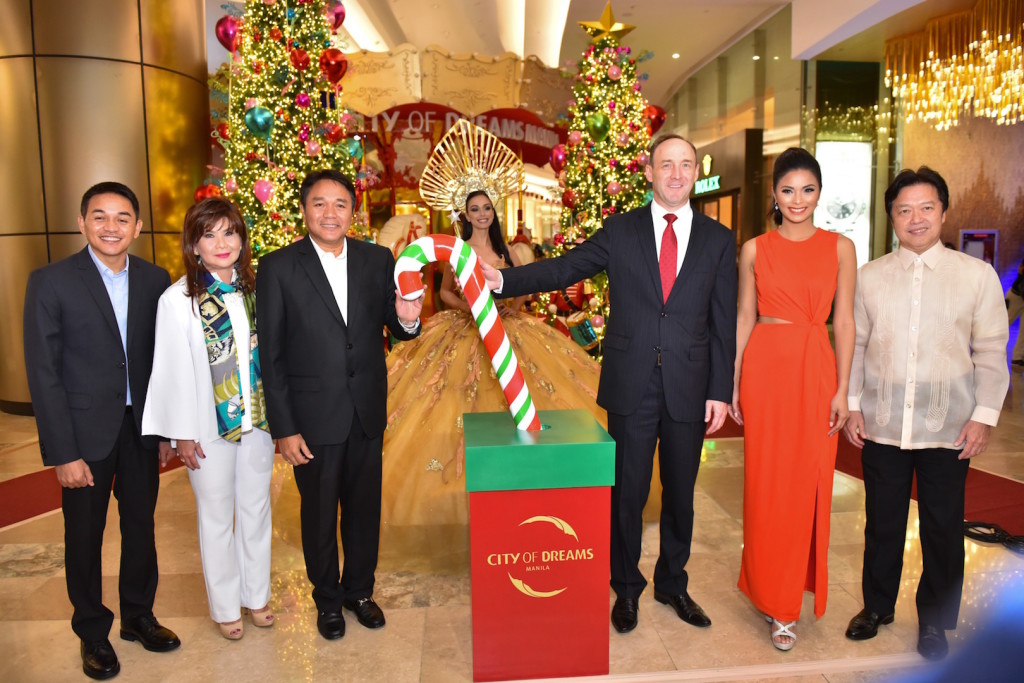 (Paranaque First District Rep. Eric Olivarez, Paranaque Mayor's spouse, Mrs. Janet Olivarez, Paranaque Mayor Edwin Olivarez, City of Dreams Manila Property President Geoff Andres, Bb. Pilipinas-Universe Maxine Medina and Belle Corporation Vice Chairman Willy Ocier)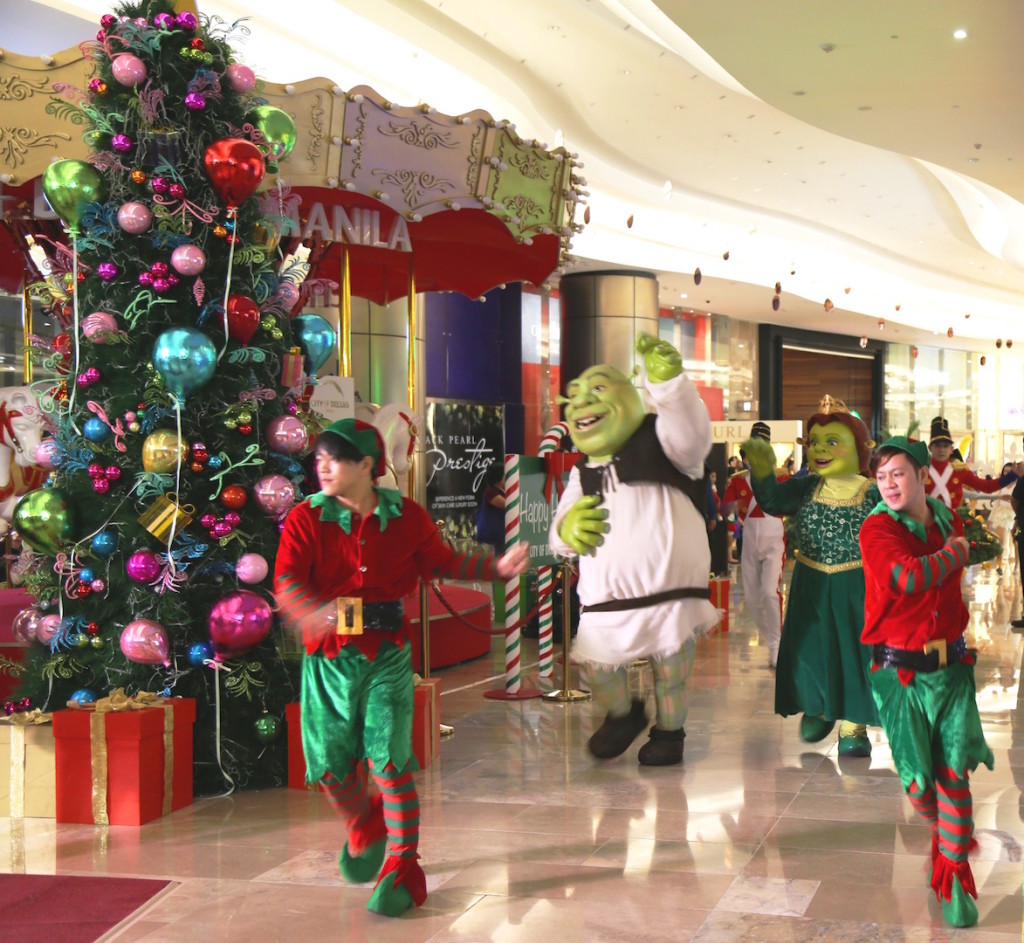 (DreamWorks characters strut around City of Dreams Manila)
When you put Christmas and animation powerhouse DreamWorks together, you know it's going to be awesome! At City of Dreams Manila's tree lighting ceremony, a parade of DreamWorks' most beloved characters like Shrek, Princess Fiona, Puss in Boots, Po of Kung Fu Panda, Alex the lion and King Julien the lemur of Madagascar strutted along the property's luxury retail avenue. The hotel was also personified in a majestic Queen-like character that sauntered around the holiday display, lighting up two Christmas trees with a wave of her wand and allowing guests to light up the rest of the trees when she let them have their turn at her wand. As if that wasn't great enough, the hotel also has a merry-go-round holiday carousel. Need we say more?
Sofitel Philippine Plaza Manila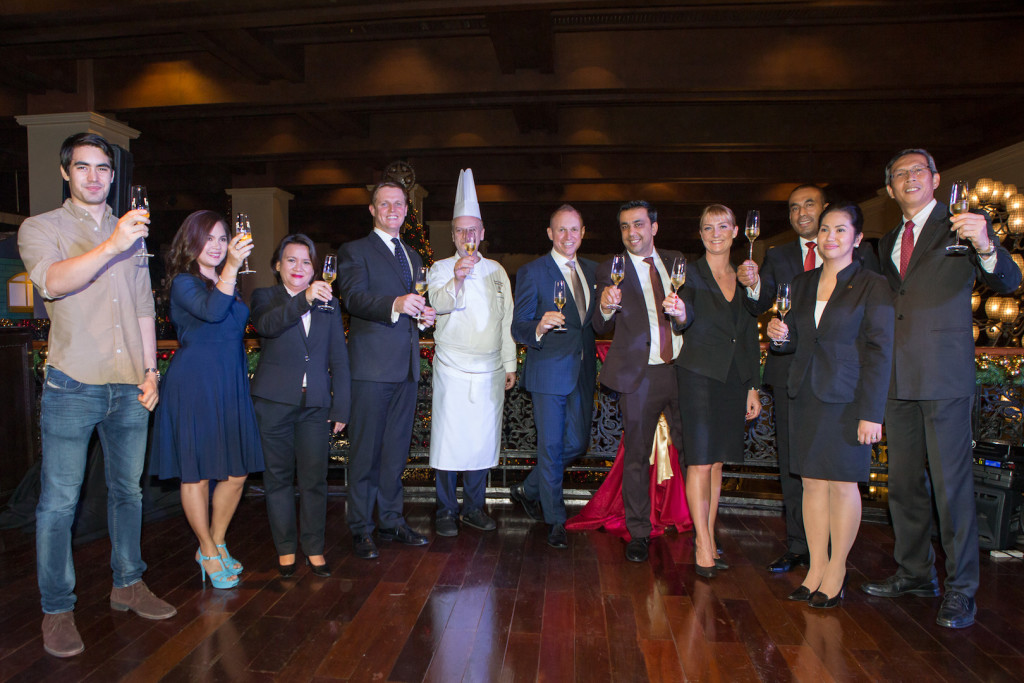 (German model Clint Bondad, actress and chef Judy Ann Santos, director of finance Shirley Sinlao, director of rooms Thomas Kerschbaumer, executive chef Denis Vecchiato, general manager Adam Laker, director of food and beverage Bilal Shafiq, director of sales and marketing Alice Jenkins, resident manager Alfredo Denage, director of talent and culture Marian Barnes and director of engineering Andy Martinez)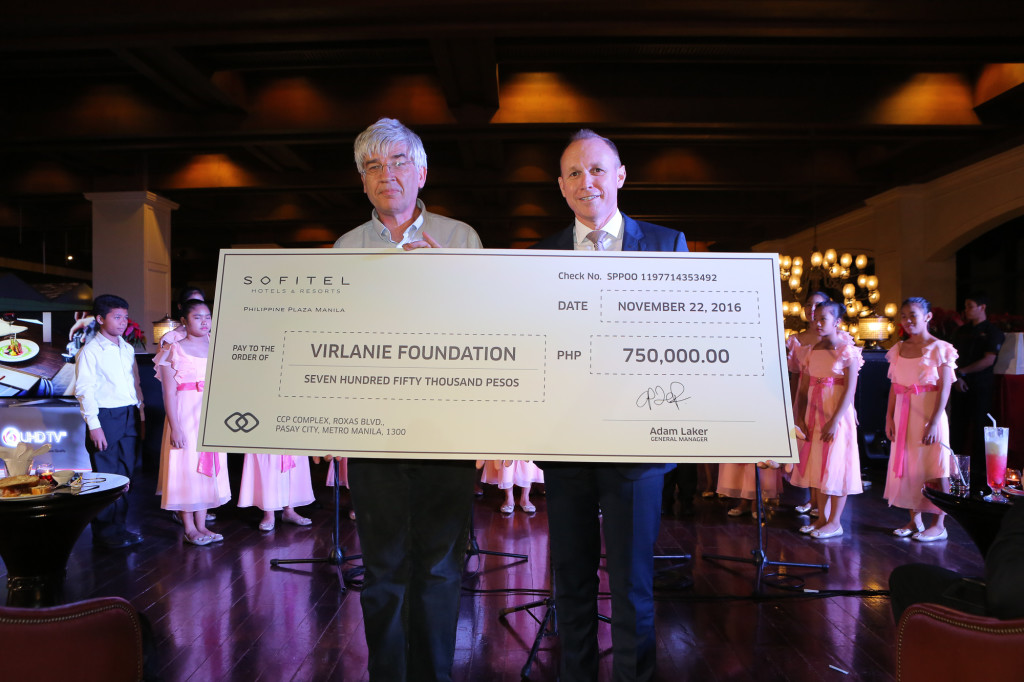 (The hotel's P75,000 donation being given to the Virlanie Foundation's founder Dominique Lemay)
Filipinos caught a glimpse of a Parisian Christmas when Sofitel Philippine Plaza Manila officially marked the start of the festive season with the lighting of their 30-foot Christmas tree against a backdrop of lights reminiscent of Champs-Élysées, Paris and the Marchés de Noël, or a French Christmas market. While glowing with the same magic of the The City of Light itself, the hotel also generously donated P750,000 to the Virlanie foundation whose proceeds came from the recently-concluded Sofitel Manila Half Marathon 2016.
Marco Polo Ortigas Manila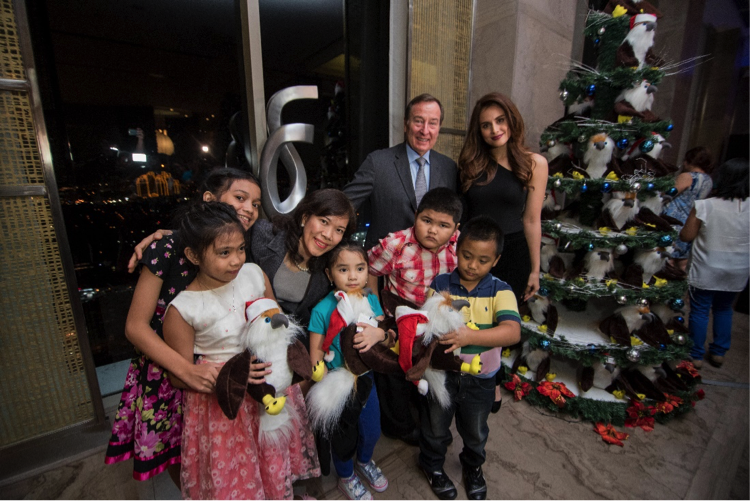 (Frontier Ortigas Hotel and Resort Corp. president, Lily Pedrosa, Marco Polo Ortigas Manila general manager Frank Reichenbach and actress and model Max Collins with children from Riversprings School)
Marco Polo Ortigas Manila's Christmas message to its guests is to help Filipino children in need dream big and let their hopes soar high — much higher than all tallest Christmas trees combined! In partnership with Riversprings School and the Philippine Eagle Foundation, the hotel encourages guests to purchase a Philippine Eagle stuffed toy for P600 to support their Wings of Hope program. Proceeds will be donated to the foundation's eagle conservation program, while less fortunate children can enjoy the company of a new snuggly friend.
Resorts World Manila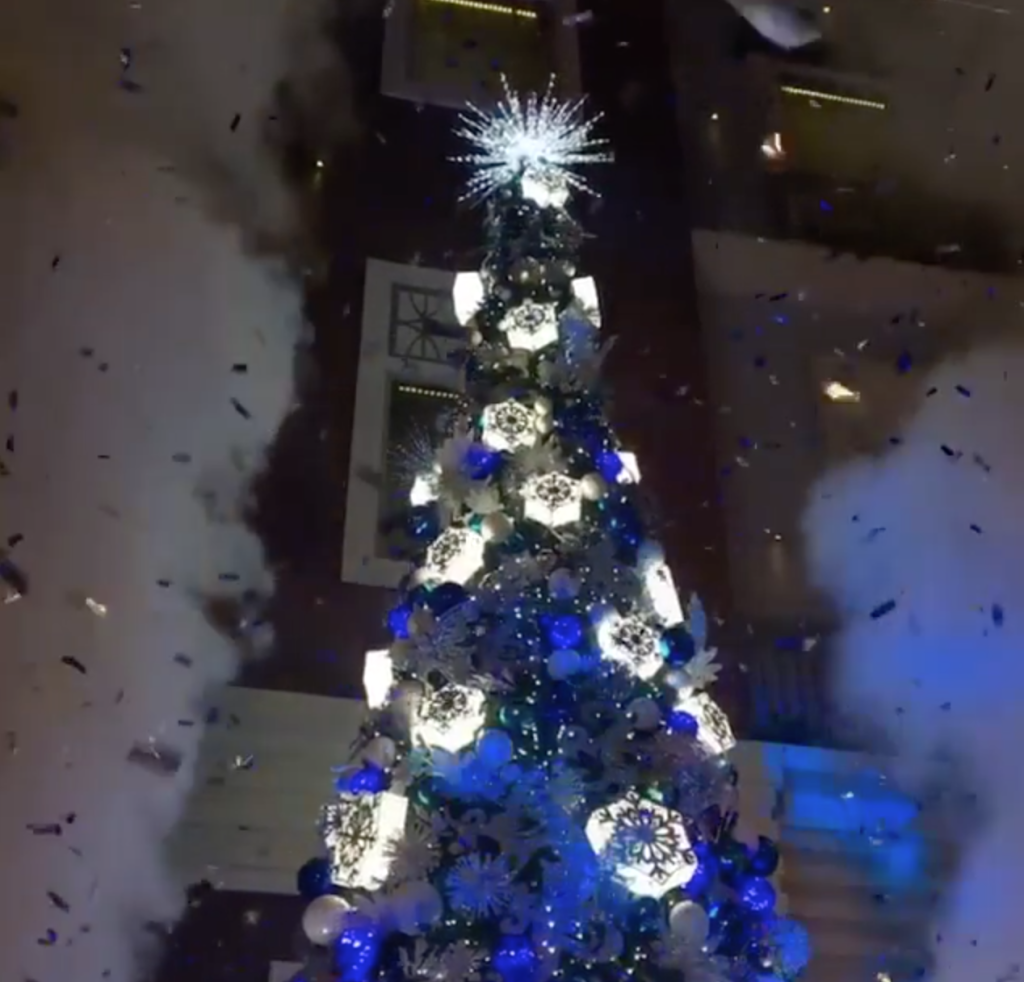 (The glitzy decorations of the Resorts World Manila Christmas tree)
Resorts World Manila kicked off their holiday season with the Grand Fiesta Manila 2016 tree lighting in New Port Mall! Guests were treated to a Christmas set list by the UP Singing Ambassadors, as well as to a magic show by JB Bautista while waiting for the tree to be lit. Also gracing the event was the cast of Annie, including legendary stage actor Michael de Mesa, who performed one of the musical numbers from the award-winning musical. The tree, which was more than two stories tall, was decorated with blue, white and silver ornaments and was topped with a majestic white star made out of LED lights.