Roses are red 
Violets are blue
On Valentine's Day, best come prepared
For love to burn bright, and love to stay true! 
Fortunately for all the lovebirds and couples hoping to make the day dedicated to all things love extra special, these hotels around the metro have lined up an array of Valentine's treats just for you and your significant other.
The Bellevue Hotels and Resorts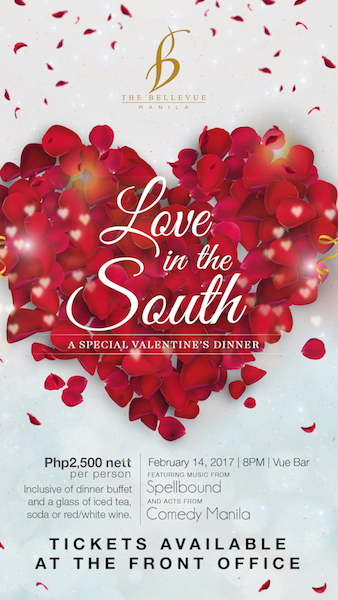 (Valentine's at The Bellevue Hotels and Resorts)
The Bellevue Hotels and Resorts is all about satisfying tummies with five-star feasts and filling hearts with love and memories. Cupid blesses couples in love on Feb. 13 with a pre-Valentine's concert featuring classic love songs played live by Red Picasso and Ana Jomeo with Fourtissimo Band at Vue Bar. On Feb. 14 comes a buffet dinner that also includes a long-stem flower for ladies, a three-piece box of pralines for couples and an evening made mesmerizing by live music from Spellbound, as well as lighthearted entertainment from Comedy Manila's stand-up comedians.
For inquiries, complete Valentine's package details and reservations, please call (02) 771 8181 or visit the hotel's website at www.thebellevue.com. 
Diamond Hotel Philippines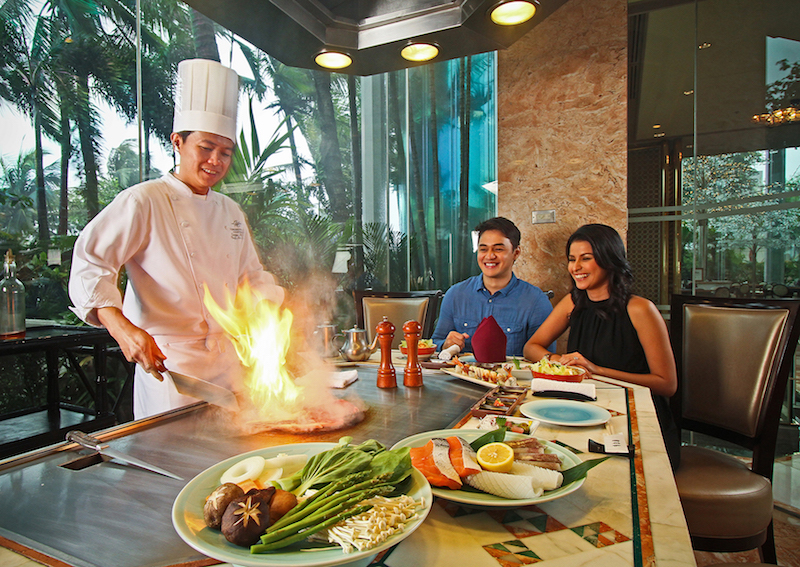 (Teppanyaki at Yurakuen)
Show your significant other that they're even more precious than diamonds to you with Diamond Hotel's Valentine's Day F&B offerings. Corniche Restaurant is perfect for foodie couples with Valentine's lunch and dinner buffets and the intimate Yurakuen Restaurant gives couples an ambient evening with special set menu Ai Ni Kotaeru White Day. Meanwhile, the hotel's Poolside four-course dinner is made for couples who wish to dine al fresco under the stars and moonlight. On the other hand, fun-loving couples will find what they need at Bar27, which'll feature live performances of classic love song covers, while the Lobby Lounge will certainly be a cozy escape that rewards couples with a four-course dinner and a complimentary cake.
To learn about Diamond Hotel Philippines' Valentine's Day rates for restaurants and rooms, call (02) 528 3000 or email guestservices@diamondhotel.com. For more information on Diamond Hotel Philippines, please visit www.diamondhotel.com.
Hyatt City of Dreams Manila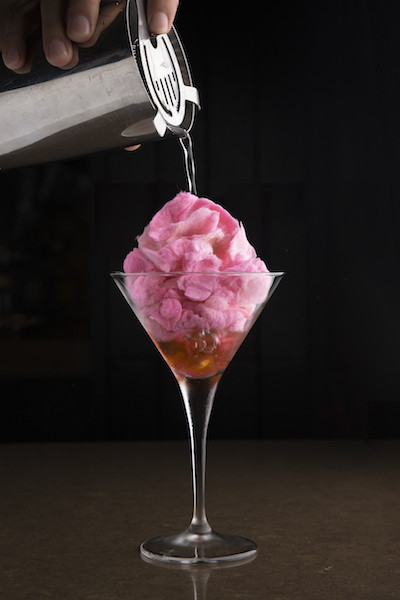 (Hyatt's specially concocted Love-a-tini)
Love is more than just a dream at Hyatt City of Dreams Manila, and couples can live the reality of true love with two dining options that bathe diners in premium drink selections. Romance is well and alive at The Café, which will whip up lunch and dinner offerings with both meals inclusive of a complimentary glass of wine along with a special gift for ladies. Meanwhile, City of Dreams' The Lounge brings Valentine's Day's sweetness to life with its specially crafted Cotton Candy Martinis. A special offer that comes with a purchase of selected wines from Napa Valley's world-acclaimed Robert Mondavi Winery will also add to the special holiday's treats!
For inquiries and reservations, call (02) 691 1234, local 1162 for The Café and local 1153 for The Lounge.
Manila Pavilion Hotel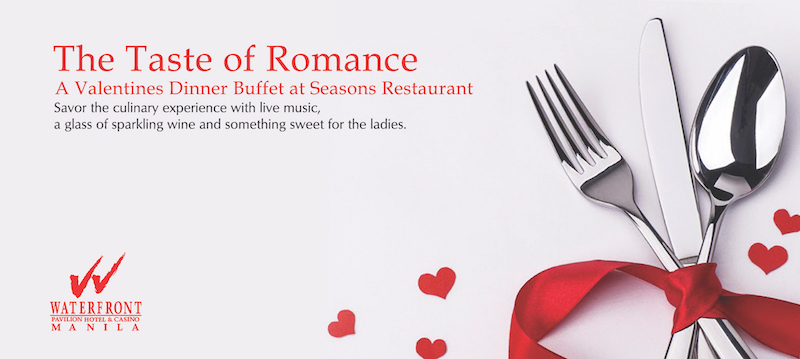 (Valentine's at Manila Pavilion Hotel)
Located near the heart of old Manila, Manila Pavilion Hotel exudes the charm and romance of a world gone by. Surround you and your loved ones with timeless class on Feb. 14 with the hotel's dinner buffet at Seasons Restaurant featuring the month's star, Tri-Color Ravioli stuffed with truffle cream cheese and quail eggs. Patisserie will also delight pastry lovers with a specially concocted Corned Beef on Walnut Bread creation, complete with yellow cheddar cheese, coleslaw and salsa, as well as a cake dedicated to the French Patron Saint of Bakers and Pastry Chefs, Saint Honoré.
Log on to www.waterfronthotels.com.ph or call (02) 526 1212 for details of all their Valentine's Day promos and restaurant reservations. Like or follow @WaterfrontMNL for regular updates.
Marriott Manila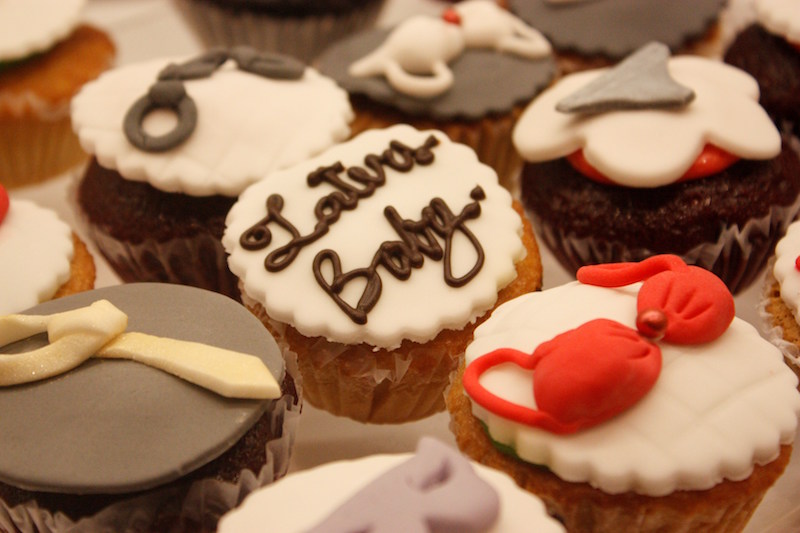 (My Sweet Fifty Cupcakes)
Marriott Manila lessens the sugar and ups the spice on the day of love with a Fifty Shades of Grey-inspired Valentine's. Marriott expects to see you in the "Red Room" at Marriott Café, which will be filled with the most tempting pastries and chocolates such as decadent cakes, brownies, pralines, French macarons and eclairs. Similarly, Marriott Café Bakery lines up a naughty box of "My Sweet Fifty" cupcakes with iconic toppers representing the unique romance present in the world-famous novel. More lip-biting choices can be seen both at their Greatroom lobby lounge and Still Whiskey Bar with the Shots and Spanks drink list that'll serve up seductive cocktails like Cuff Love, Punish Me, Pinch of Please and Pretty in Kink, while while Cru Steakhouse has creatively reinvented a dish from the menu of a certain ball vividly described in the novel.
For inquiries and reservations, call (02) 988 9999 or visit manilamarriott.com. 
Novotel Manila Araneta Center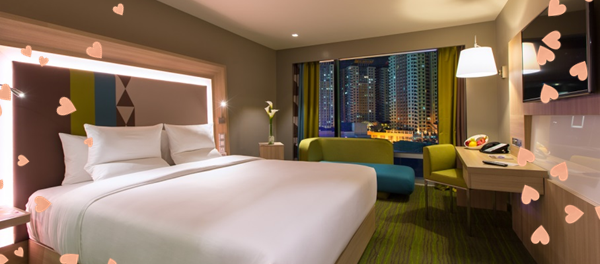 Love will always feel renewed at the Novotel Manila Araneta Center. This gem nestled in the heart of busy Quezon City knows that Valentine's can be about the whole family, too, and so invites the whole gang to indulge in their "Heart-y" dishes in their international buffet at Food Exchange Manila. Strawberry Red Specials also headline the Valentine's menu at Gourmet Bar, while romantic relaxation is at front and center with their two and a half hour spa session of pure bliss inclusive of a body scrub, 60-minute aromatherapy massage, 60-minute and algotherm facial over a glass of red or white wine that's available the whole month of February.
That's not all Novotel has to offer this Valentine's, so get in touch with them at (02) 990 7888 or through  H7090@accor.com to learn more about their complete Valentine's packages. 
Raffles and Fairmont Makati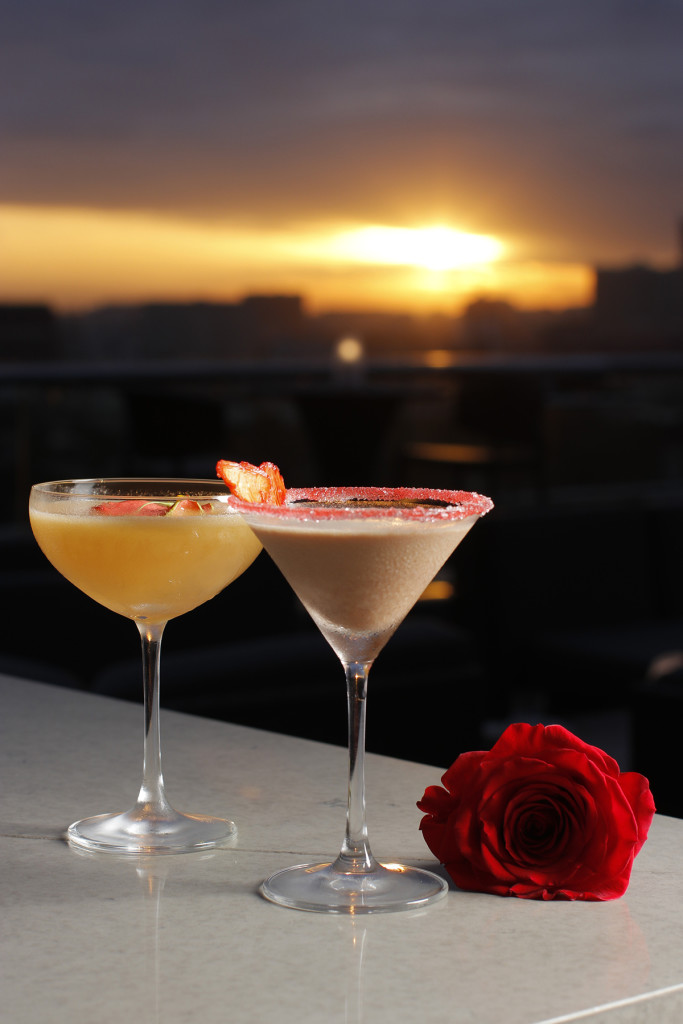 (Valentine's at Mireio Terrace)
Raffles and Fairmont Makati is at the epicenter of an urban holiday in Makati. A stay at Fairmont Makati includes a welcome drink at the Fairmont Lounge, breakfast at Spectrum, a complimentary upgrade to the next room category and late check-out, while Raffle Makati's special Valentine's package includes a welcome drink at the legendary Long Bar, breakfast at elegant brasserie Mireio and a late check-out. At Mireio, guests can luxuriate in a candle-lit dinner set over a four-course meal, and ladies dining will be pampered with roses, macarons and a special giveaway from L'Occitane en Provençe. Couples may also opt to dine at Spectrum where a live-theater of savory culinary sensations, tempting array of red-hued desserts and a sparkling glass of champagne will be offered. Those dining at Spectrum will be able take part in a Valentine's Lucky Draw, where two winners will win a special prize at the end of the evening.
For inquiries and more information, please call Raffles and Fairmont Makati's Restaurant Reservations at (02) 795 1840 or email dining.makati@raffles.com.
Marco Polo Ortigas Manila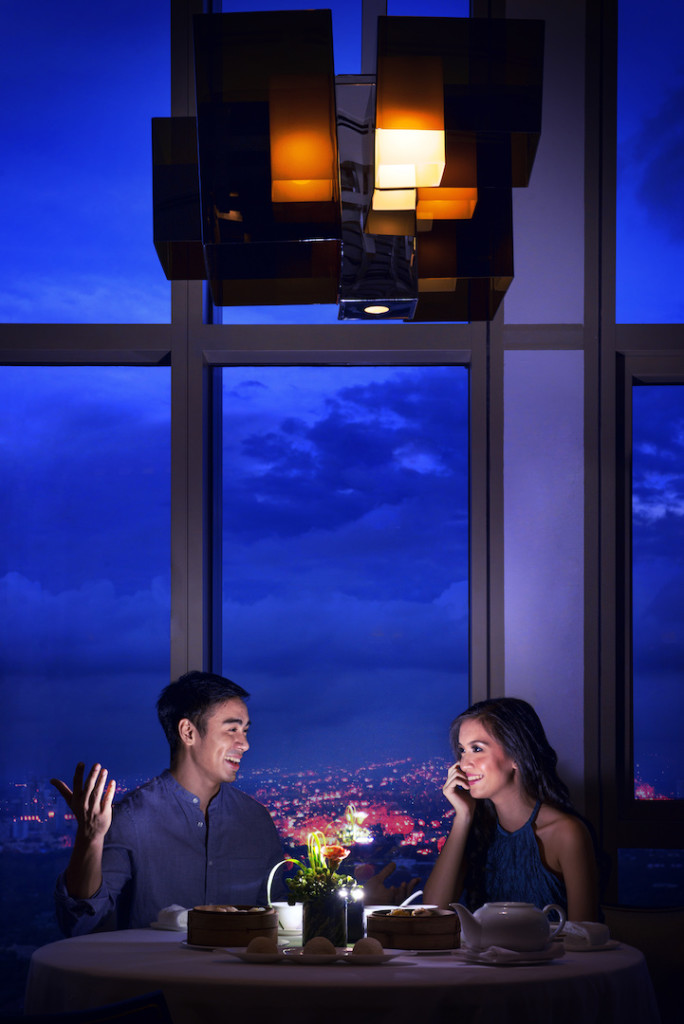 (A meaningful Valentine's at Marco Polo Ortigas Manila)
Every day should be a day full of love, but Marco Polo Ortigas Manila amplifies passion and romance with their special Valentine's Day room, restaurant and spa packages. Couples can better appreciate moments together with an overnight stay in a Superior or Premier Room with breakfast and dinner for two at Cucina. They can make it even more special with an exclusive overnight stay in a Continental Deluxe Room or Superior Suite with breakfast for two at the Continental Club Lounge and a Valentine's dinner at Cucina. Lovers can let their hearts soar high at Vu's Sky Bar and Lounge featuring a tapas buffet with a Valentine's drink. And at the end of it all, nothing is sweeter than giving a gift of pure indulgence in the form of Flow Spa's two-hour-and-30-minute Perfect Pair package ― a combination of body scrubs, a body massage and an Algotherm facial.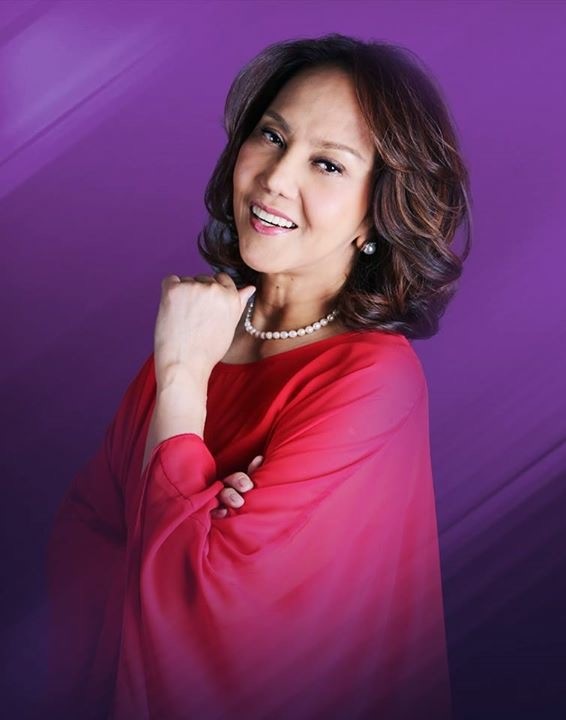 (Singer Ivy Violan)
In addition to these offers, musical veteran Ivy Violan will be delighting guests at Vu's Sky Bar and Lounge as she performs for her homecoming concert this month. Featuring jazz singer Richard Merk, the show will be directed by Joey Nombres with Rick Ramos as sound engineer and Mon Faustino as musical director
Interested parties may contact (02) 720 7777, book restaurant reservations and Ivy Violan concert tickets online via www.marcopolohotels.com or email manila@marcopolohotels.com for additional inquiries.  
New World Manila Bay Hotel

(Love by the bay at New World Manila Bay Hotel)
Valentine's is made even more romantic with New World Manila Bay Hotel bringing your intimate celebration of love by the bay, where the hotel gives lovers four equally delicious dining outlets to celebrate the holiday in. Market Café's features buffet of salads, premium cold cuts, juicy meats and fresh seafood among many other treats, Li Li ignites romantic passions with fine Chinese selections (the Year of the Fire Rooster is said to be a good year for romance), The Fireplace warms hearts from the inside out with menu items like Long-fed Striploin in Port Wine Sauce and, Dark Chocolate and Raspberry Parfait with Crystalized Rose Petals, while a highly exclusive poolside dinner for only 20 couples surprises with a delectable Valentine's Day menu.
For reservations and more information on their F&B Valentine's Day packages as well as special Valentine's room rates, contact the hotel directly at telephone (02) 252 6888, email reservations.manilabay@newworldhotels.com or visit newworldhotels.com.
Sofitel Philippine Plaza Manila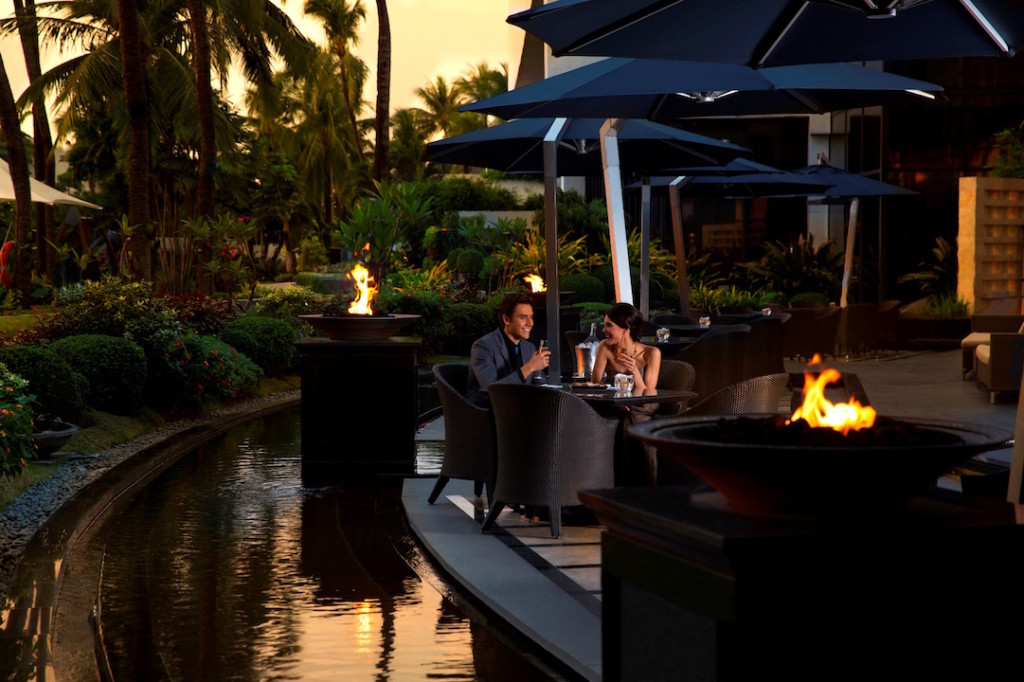 (Valentine's Day at Sofitel Philippine Plaza Manila)
Only a few know how to celebrate love better than the French, so lovers are sure to find what they seek at Sofitel Philippine Plaza Manila. Start off the evening with tastes that are sure to stimulate appetites of every kind with Sofitel's award-winning buffet restaurant Spiral's 21 dining ateliers that will make use of 21 different spices in their signature dishes from starters to dessert. On the other hand, Le Bar's Louis Aragon-inspired menu of bittersweet dishes created for couples only includes lobster carpaccio, foie gras, slow-cooked lamb, red mullet and rhubarb-rosemary ice cream will rule the night, while a poolside dinner at Sunset Bar is perfect for those who prefer live musical entertainment, barbecued specialities with unlimited local beers and iced tea or a glass of sparkling wine, as well as a buffet of hearty and healthy options. The hotel is also going the extra mile with a very special Sky High Proposal package that's sure to help gentlemen earn that much-deserved 'Yes!'
For bookings and complete details of all of Sofitel Philippine Plaza Manila's Valentines offers, please call (02) 551 5555 or email H6308@sofitel.com. For restaurant inquiries and bookings, please call (02) 832 6988 or email H6308-FB12@sofitel.com. 
City of Dreams Manila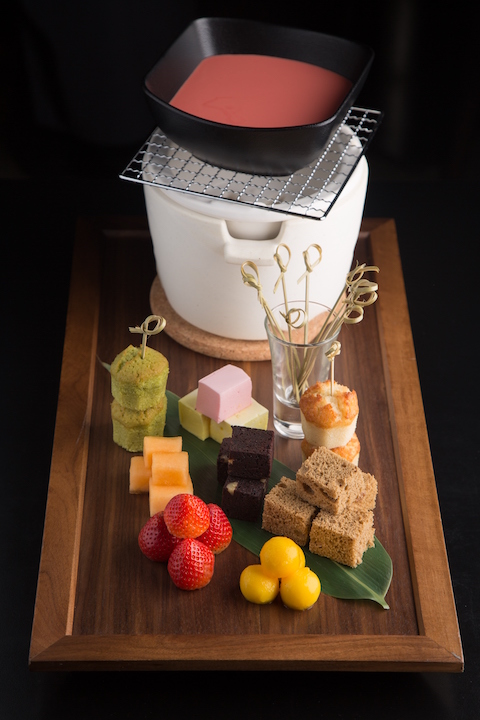 (Love is more than just a dream at City of Dreams Manila)
Couples and families alike can celebrate love with those closest to them at City of Dreams Manila where epicurean dining experiences await this Valentine's. The integrated resort's acclaimed restaurant lineup includes premium Cantonese and regional Chinese restaurant Crystal Dragon (Shredded Roasted Duck, anyone?); Nobu (whose Omakase dinner — a carefully curated menu that consists of top picks from Nobu's chefs — awaits you); Red Ginger (where decadent pink and red desserts popping with the hues of love abound); and Café Society (whose luxurious treats are guaranteed to please even the most discerning palates). The list goes on with a poolside dining experience at Breezes and Wave, along with hefty steakhouse selections at Ruby Jack's, sumptuous Italian fare at Prego, Korean dishes at O Kitchen, Filipino favorites at Apu and post-dinner drinks at Chaos Nightclub!
For reservations, guests can call (02) 800 8080 or e-mail guestservices@cod-manila.com.