The pursuit of beauty has never had so much heart and grace until now.
Ladies, make some space in your vanities for Grace Cosmetics — an Australian makeup and skincare brand that's making waves in the beauty industry for its conscientious business philosophy and products that are as good for the skin as they are for the empowerment of the women that use them.
Graceful beginnings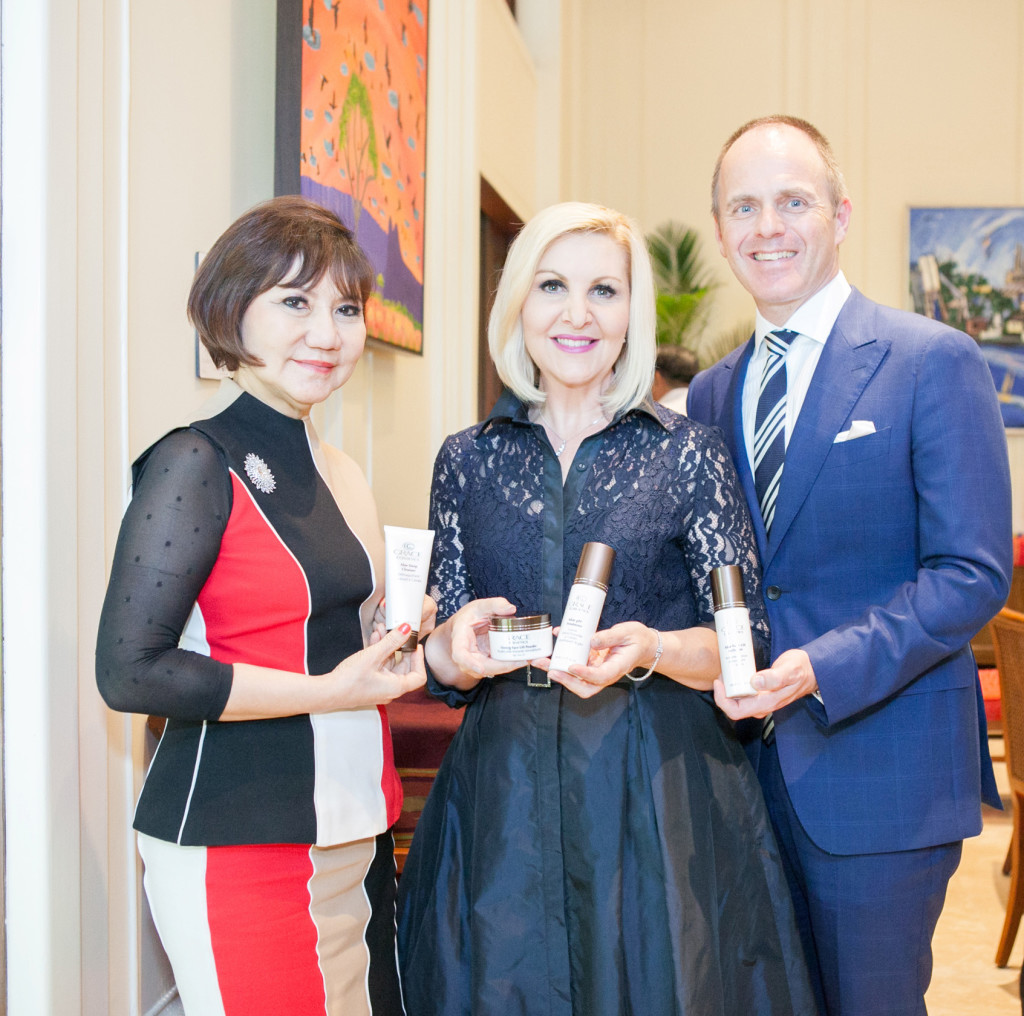 (President and CEO of Grace Cosmetics Industries, Inc. Myrna Yao; director of international marketing and product development at Cosmetic Manufacturers (Aust) Pty Ltd and Grace Cosmetics co-founder Julie Fittler-Charanduk; and Cosmetic Manufacturer (Aust) Pty Ltd general manager Joe Charanduk)
Founded by Julie Charanduk in 1983, Grace Cosmetics' origin story was one born out of a seemingly unsolvable beauty dilemma plaguing a 19-year-old Julie. Severe acne that was getting worse with time took its toll on Julie's skin (and self-confidence) and proved to be frustratingly unresponsive to a myriad of treatments. When neither prescription nor store-bought products delivered results, Julie turned her eye to natural remedies.
In a conversation with Julie during the Grace Cosmetics' launch held on Feb. 8, she shares that "nothing would help my skin and I felt very much like I wanted to find a product that I could use that was natural and would work."
Little did she know that she would eventually discover the Holy Grail of skincare — for herself and eventually, for all women — in aloe vera. "I formulated this solution from the aloe vera plant, and it worked so well, my skin cleared up in about 12 weeks. I told my parents about it, and we began to look for a way to manufacture our botanical solution," she reveals.
What happened next is now part of Grace Cosmetics' 33-year long history.
Julie, along with her parents Val and Sandy Fittler who founded Pro-Ma Systems — one of Australia's largest, privately owned and family-operated direct sales companies — developed the Grace Cosmetics brand anchored on the natural healing properties of aloe vera.
Today, they've grown to become "leaders in natural, botanical certified organic and therapeutic skin, body, hair care, essential oils and health tonics."
The business has since gained a very loyal, very satisfied following in New Zealand, Papa New Guinea, the United Kingdom, North America and Singapore, and remains to be family-operated with Julie's husband, son and sister completing the team.
Certified organic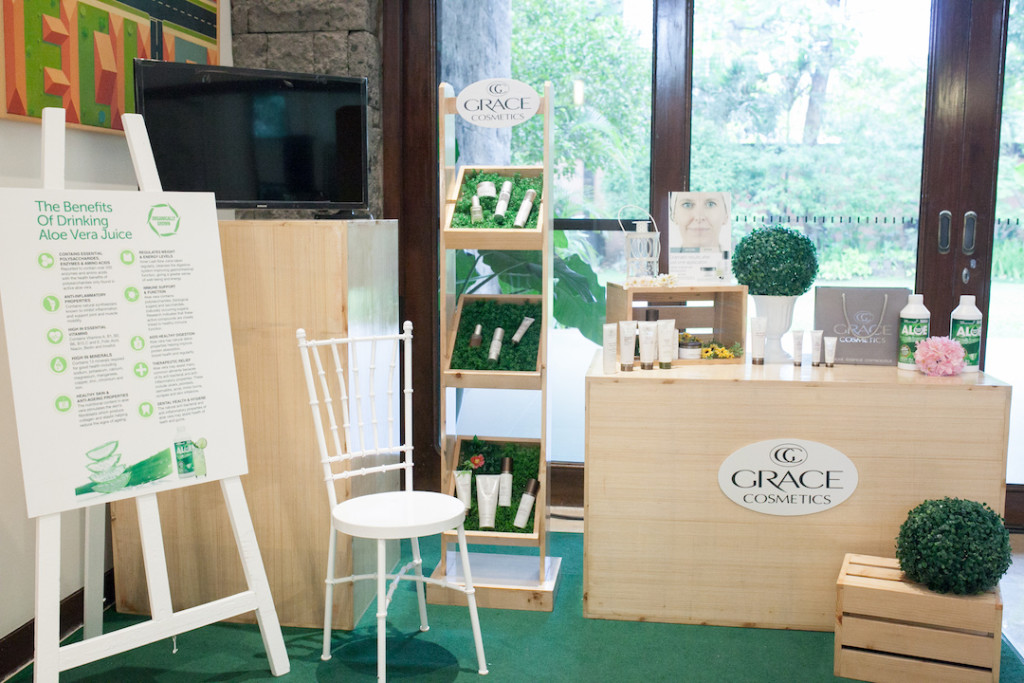 (Grace Cosmetics is the premiere health and cosmetics brand from Pro-Ma Systems Australia, serving hundreds of thousands of loyal customers for over 33 years)
While Grace Cosmetics is sure to be a hit with Filipinas, it's worth pointing out that many other beauty labels in the market make similar claims of possessing all-natural and organic aloe vera.
Julie is unfazed by the competition.
She retains complete trust in her brand because of the meticulousness she knows they put into their formulations and manufacturing processes. (They manufacture their own products, as well).
"There are hundreds of different types of aloe vera, but there is only one plant with the potency and activity that you want to be drinking and applying to the skin. We organically grow it, free of pesticides and all the chemicals, but what makes it most unique is that we have a propriety blend and a method of taking out the pure inner gel so that we don't include the poison that's underneath the peel of the leaf," she explains.
This poison is actually a toxin called aloin and is known to kill, rather than promote, cellular reproduction, thus making it more difficult for skin to heal and recover when skin is exposed to it. To top it off, the preservatives used to extend Grace Cosmetics' products' shelf lives are "food grade preservatives that are healthy for people," according to Julie.
Julie clarifies that other cosmetics companies don't usually go this far, and instead use powdered aloe vera that they just reconstitute with water. With Grace Cosmetics, clients can be sure that they are getting the real deal on certified organic aloe vera that's guaranteed to be as natural as it gets.
The all-natural superstars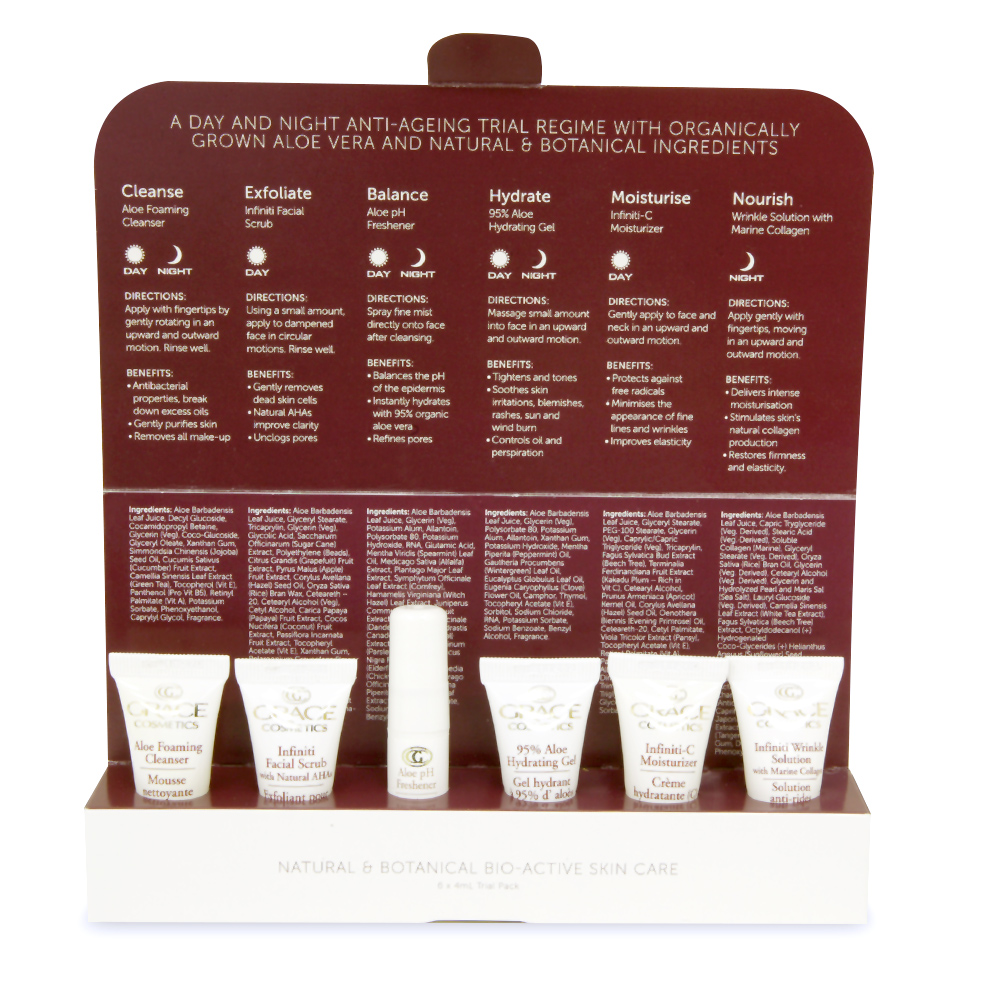 (A trial pack of Grace Cosmetics' product lineup)
 As a new name in Manila's thriving beauty scene, first-time clients will naturally want to know which of Grace Cosmetics' products to purchase first.
To start, Julie recommends their day and night cleanser that's chock-full of aloe vera and Tea Tree extracts designed to balance skin's Ph levels.
"The cleanser is absolutely essential. It's so important that we prepare our skin for all of the other beautiful ingredients that will penetrate into the skin. If we're not cleansing effectively morning and night, we don't have the opportunity to have all the anti-aging and healing benefits," she stresses.
For ladies that really want to make the commitment to natural skincare that's sure to make them glow from the inside out, there one of Grace Cosmetics' best-sellers: aloe vera juice. That's right; Grace Cosmetics' aloe vera is so pure and natural that you can drink it!
The beverage is best enjoyed chilled and without added artificial sweeteners and flavoring. The juice heals skin from the inside out and is complemented by topical treatments.
"If the body is given the correct environment to heal externally and internally, it will heal. It doesn't need all the steroids and cortisone and strong chemicals… It's not necessary; the body can heal itself. We create a healthy environment with the aloe juice, and then we have the botanical ingredients topically," she explains. 
More than just skin-deep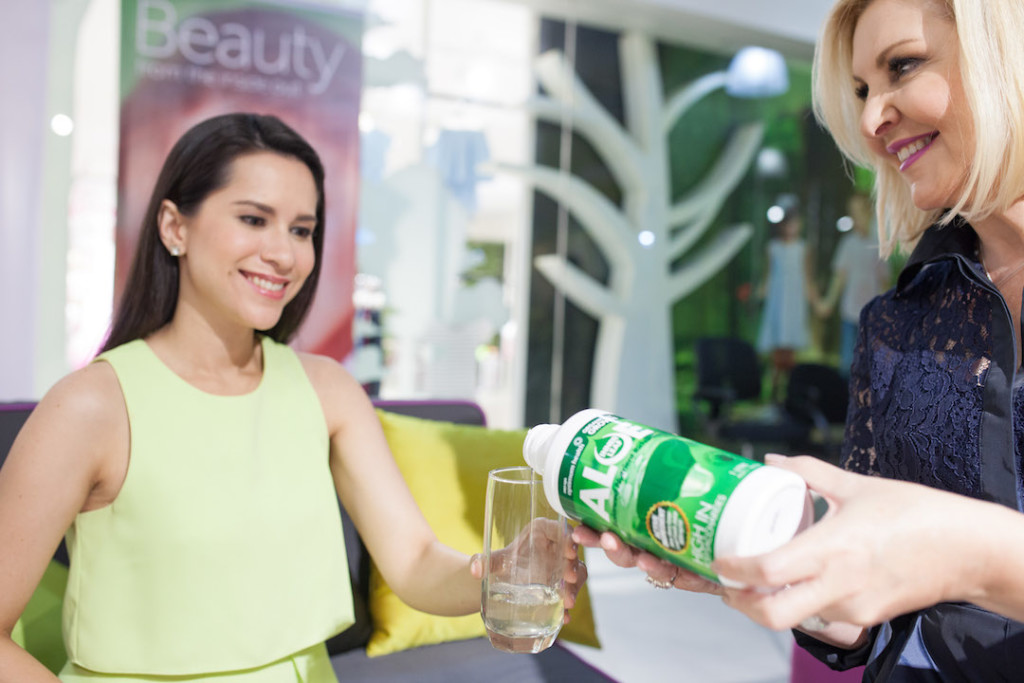 (Julie Charanduk pours brand ambassador for Grace Cosmetics Philippines Audrey Zubiri a glass of aloe juice)
At the end of the day, Julie is eternally grateful for Grace Cosmetics and what it's been able to do for her. As a young woman, it grew her self-confidence. Then eventually, as a wife and mother, it's provided her with a lucrative business that touches on her passions, gives her the freedom and luxury to spend time with her family and provides her with financial security.
She intends to do the same for the women who choose to be part of her team. She's well on her way to achieving this through the company's direct selling template that allows women to become certified Grace Cosmetics associates who can earn their bread and butter through selling the brand's products.
In the Philippines, Julie is able to do this with the help of Myrna Yao, a Filipina entrepreneur, CEO of RichPrime Global, Inc. and CEO and president of Grace Cosmetics Philippines whose lifelong calling is to empower Filipinas.
"I was the chair for the Commission on Women and I put up organizations on how to help women. When I learned that (Grace Cosmetics) was a direct selling company, it really coincided with my purpose of helping other women. And not only making my friends beautiful, but helping other women to really go into business, especially that I have this local council of women wherein the major purpose and objective is to help women in their livelihood and economic empowerment," shares Myrna.
In fact, Myrna and Julie's goals and vision of women empowerment were so well matched that Myrna describes their partnership as providential.
Thanks to the way Grace Cosmetics has set up its direct selling business, women — many of whom previously had little to no chances of employment — can now call themselves proud business owners and entrepreneurs. Grace Cosmetics gives them access to training material, educational videos about products, communication and sales coaching and even guides them on how to become more confident in themselves.
"Not only are (these women) taking care of their own family needs financially, we're teaching them through the culture of our company to give back and be socially responsible. It is very much a passing on and helping each other. As you become more prosperous in your own business, we feel that anybody, whether you're highly educated or have no education with very little job prospects, deserves the right to live a full, happy, prosperous life. And that's why we have the model that we do," Julie concludes.
Truly, Grace Cosmetics is a godsend; not only for women wishing to perfect their skincare routines, but for all women who wish to live their lives with independence, self-assurance and of course, a touch of grace.
To know more about Grace Cosmetics products and for more information on how to purchase them, visit www.gracecosmetics.com.ph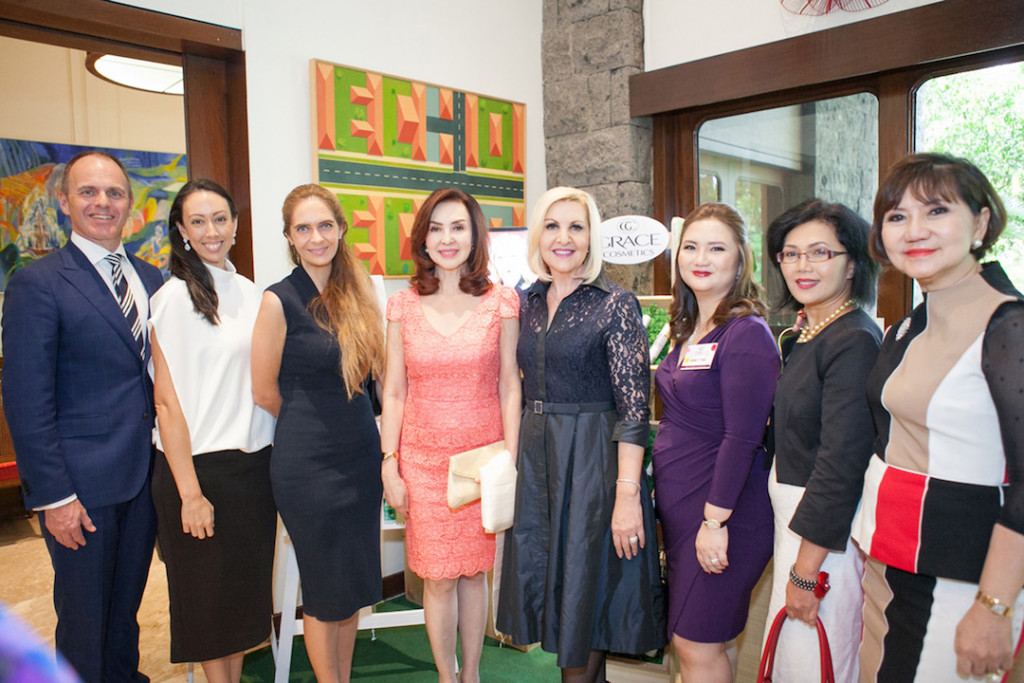 At the Grace Cosmetics Launch: Joe Charanduk; trade commissioner for Australia and Micronesia Natasha Monks; Australian Trade Commission's Australian senior trade Commissioner Elodie Journet; wellness and beauty advocate and columnist Cory Quirino; Julie Fittler-Charanduk; COO of Grace Cosmetics Industries, Inc. Jane Yao; director for Independent Distributor for Grace Cosmetics in Australia, Singapore and the Philippines Angelica Mistica; and Myrna Yao)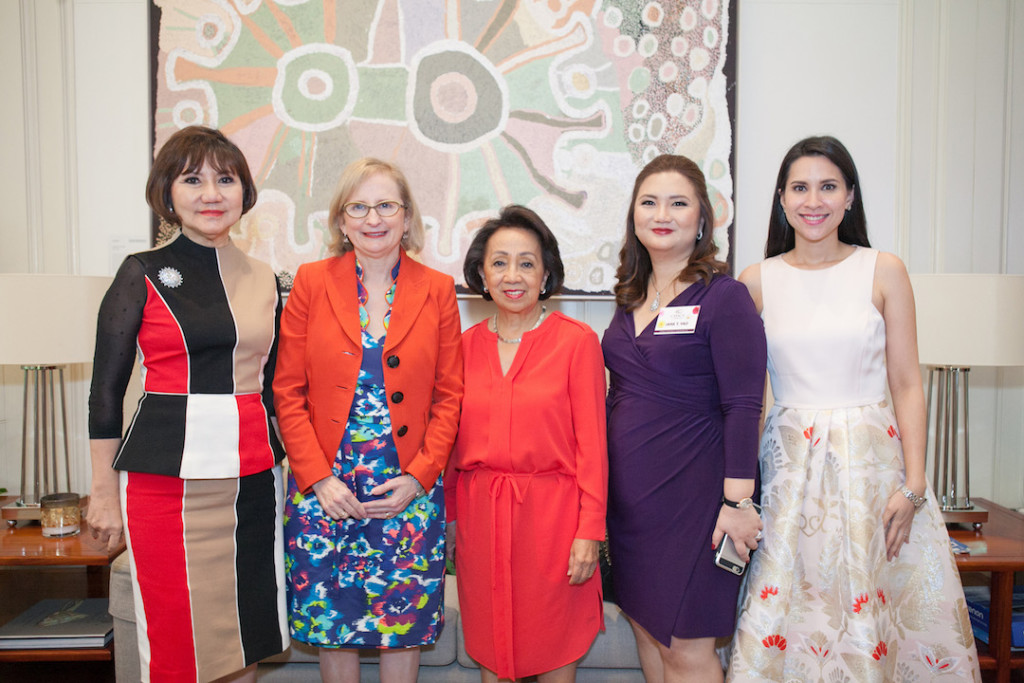 (Myrna Yao; H.E. Ambassador Amanda Gorely, Australian Ambassador to the Philippines; Ambassador Delia Albert; Jane Yao; and Audrey Zubiri)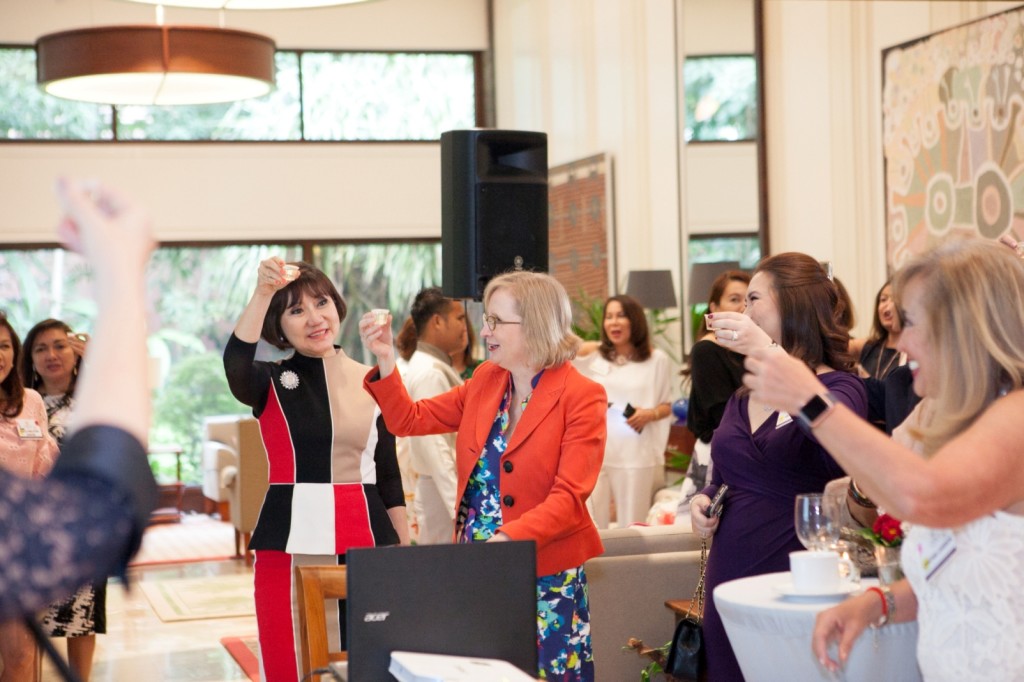 (Guests at the launch try Grace Cosmetics' aloe juice)