By ISABELLA OLIVARES
Religion and reason butt heads in Repertory Philippines' newest production.
The play opens with one of the three characters – the no-nonsense Dr. Martha Livingstone – laying out its premise: a young nun named Agnes is charged with strangling her newborn baby and disposing of the body in a wastepaper basket. Sister Agnes, however, claims to have no memory of the pregnancy or the birth. The court hands her over to Dr. Livingstone, who must determine whether or not the girl is mentally fit to stand trial.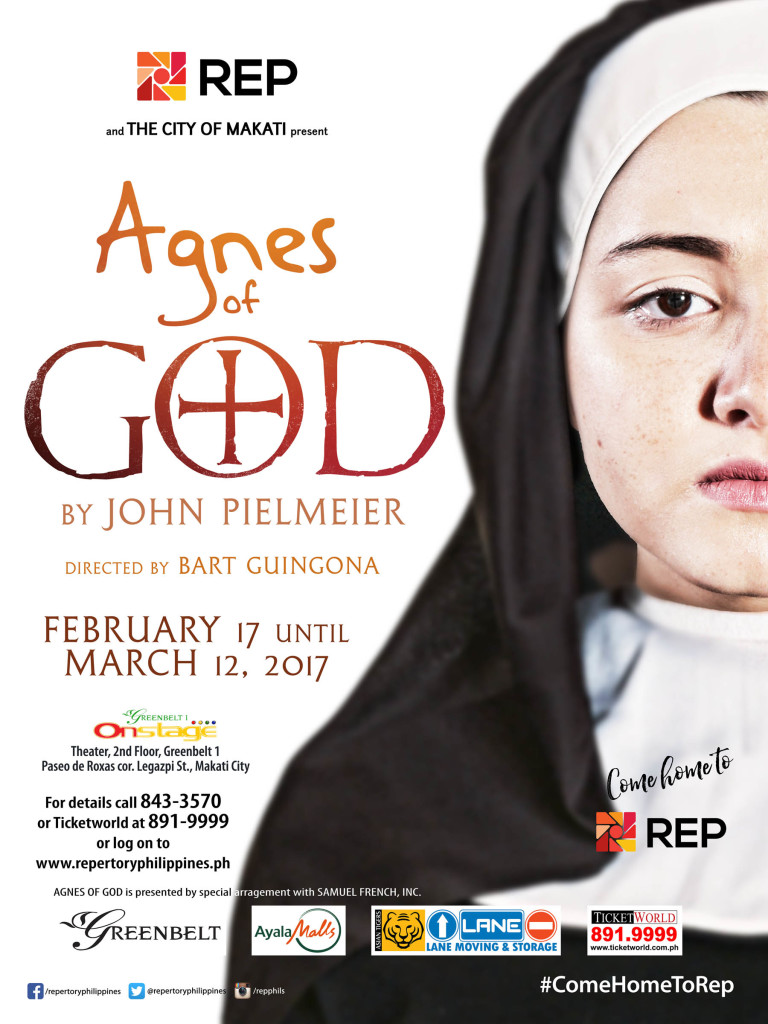 (Catch Agnes of God from Feb. 17 to March 12 at the Onstage Theater in Greenbelt 1, Makati City)
Written by John Pielemeier and first staged in the US in 1979, Agnes of God is a philosophical debate dressed up as a whodunit mystery. Featuring characters at different degrees of spirituality, it grapples with questions of the position of faith within the realities of a modern world that demands logical explanations over miracles, as well as of a person's relationship with God and religion, especially in the face of personal traumas.
While he sides with faith in this work, the playwright leaves many of the questions – philosophical and otherwise – posed in the play unanswered despite constantly trying to build the suspense for their un-eventual reveals. This is especially frustrating for fans of the whodunit genre's characteristic ability to neatly string together all details of the case with one over-arching, rational explanation.
On the other hand, perhaps this association is why Pielemeier combines a genre strongly associated with narrative closure with something as open-ended as philosophy: what is ultimately achieved (intentionally or not) is a generic irony that highlights the immense scope of the central philosophical question and the impossibility to provide it a single definitive response. Thus, the audience is left to formulate their own answers and to fill in the blanks themselves.
But whether or not audiences are left satisfied by Pielemeier's philosophical take on the mystery genre (or by the writer's own stance on the matter), everyone will find utter gratification in the performance of this new local cast. On Repertory Philippines' stage, Dr. Livingstone is played by theater veteran Menchu Lauchengco-Yulo, whose delivery of the doctor's monologues – intimate moments with the audience that are peppered throughout the show – is outwardly pensive and quietly powerful. Her chemistry with her co-stars is a thing of beauty: she exudes an undeniable authority during her discussions with Mother Superior Miriam Ruth and a stern yet caring motherliness in her sessions with Sister Agnes.
Opposite her are Becca Coates as Sister Agnes, a young and spectacularly naïve nun at the center of the investigation, and award-winning actress Pinky Amador as Mother Miriam Ruth, Agnes' superior and staunchest defender. Coates' Sister Agnes moves from an unnervingly angelic and ethereal devotee to a tortured and tragically childlike soul with talented ease. When it's time to reveal what happened on the night in question, she explodes with a raging fire of torment and anger.
Likewise, Amador absolutely shines as the Mother Superior. Her performance is terrifically nuanced and multifaceted; she is never 100 percent altruistic or selfish, and is as jaded as she is devout. Her moments of grief are so gut-wrenchingly organic that when she cries out, "Don't do this!" in the play's final moments, her voice reverberates throughout the theater.
Complementing the stellar acting is Bart Guingona's direction and the inspired output of the technical team. The stage's bare set – with nine textured, stone gray panels and a table with two chairs – is the perfect canvas on which the dramatic shadows, silhouettes, music and cast build the emotional tension of the story's climactic reveal, upon which the entire play is hinged.
Repertory Philippines' Agnes of God is a masterful weaving of stellar acting and production design that is pulled at its tightest in the play's final moments. It holds its own as the psychiatrist prods, the Mother Superior pleads and the young nun breaks for a final time so that when it's time to drop the curtains, the audience is left stunned by the astonishing show of talent and design.
Repertory Philippines' Agnes of God runs from February 17 to March 12, 2017 at the Onstage Theater, 2F, Greenbelt 1. For tickets and inquiries, call Repertory Philippines at (02) 843 37 50 and Ticketworld at (02) 891 999, or log on to www.ticketworld.com.ph. For updates and show schedules, visit www.repertoryphilippines.ph, or like and follow @repertoryphilippines on Facebook and Instagram and @repphils on Twitter.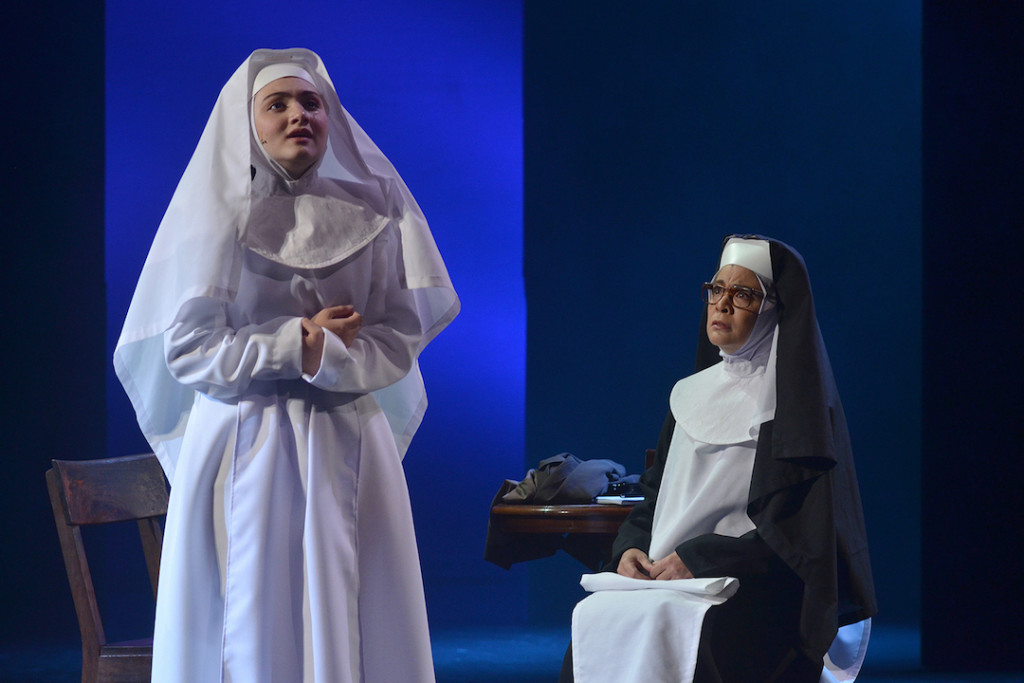 (Sister Agnes, played by Becca Coates, and Mother Miriam Ruth, played by Pinky Amador)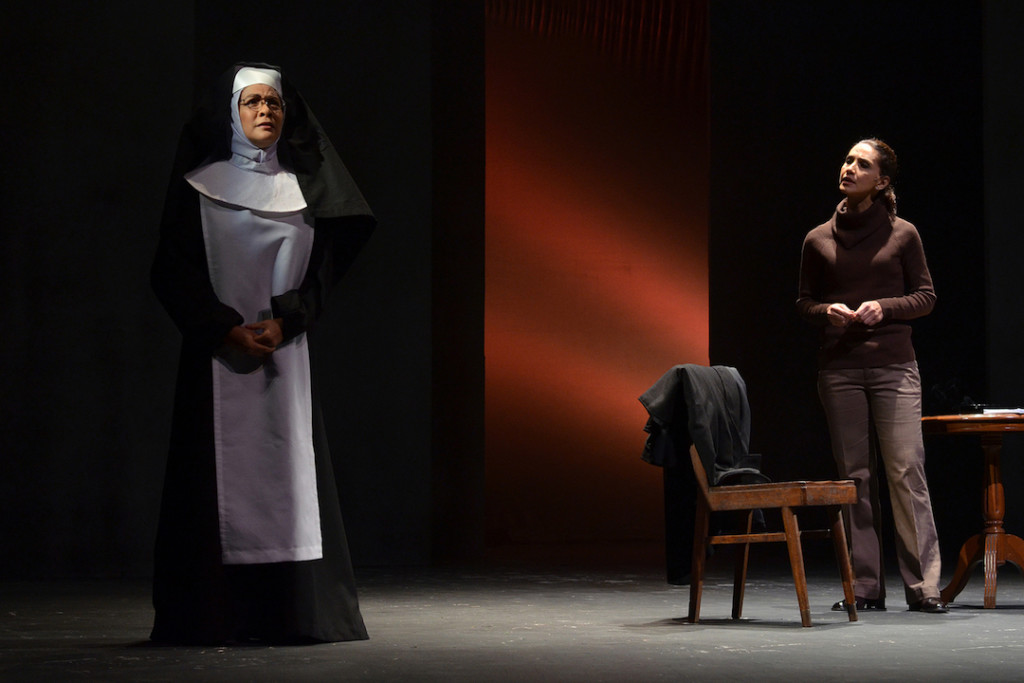 (Mother Miriam Ruth and Dr. Martha Livingstone, played by Menchu Lauchengo-Yulo)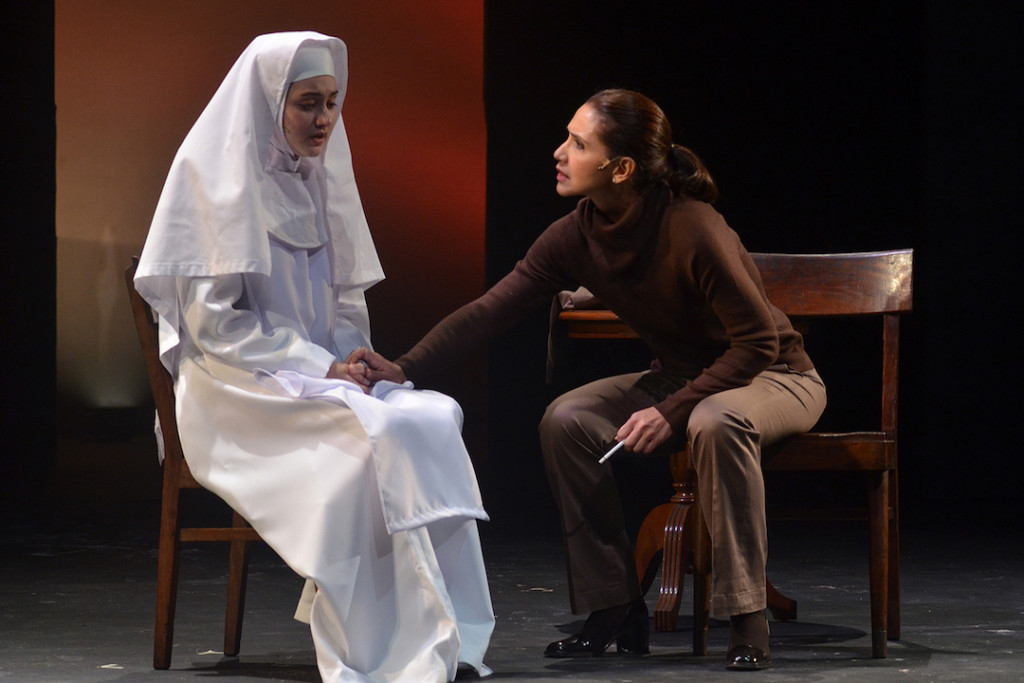 (Sister Agnes and Dr. Livingstone)