By JOANNE RAE RAMIREZ 
The most beautiful women in the universe find their way to your doorstep in PeopleAsia's Miss Universe Special.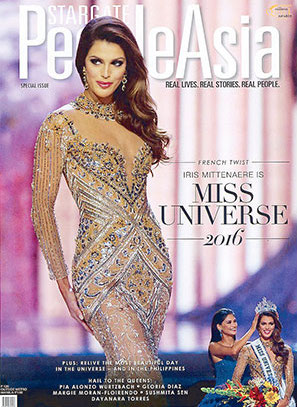 (Photo courtesy of Marc Go and the Mall of Asia Arena)
The collector's item immortalizes the most memorable moments in Miss Universe's 65th edition, training the spotlight on the candidates' journey to the crown right here in the Philippines. From their airport arrivals to the pre-pageant activities, all the way up to the coronation night and after-parties — this is definitely every beauty pageant aficionado's one-stop shop to reliving the most beautiful event in the universe!
In this special collector's item, readers will get to know more about Miss Universe 2016, France's Iris Mittenaere; as well as first runner-up Raquel Pelissier of Haiti and second runner-up Andrea Tovar of Colombia. PeopleAsia also trains the spotlight on Miss Philippines Maxine Medina, as well as fellow Top 6 finalists Mary Esther Were of Kenya and Chalita Suansane of Thailand.
Readers can also enjoy the stories of pageant legends like Miss Universe 1969 Gloria Diaz, Miss Universe 1973 Margie Moran-Floirendo, Miss Universe 1993 Dayanara Torres and Miss Universe 1994 Sushmita Sen; as well as a heartwarming tribute to Miss Universe 2015 Pia Alonzo Wurtzbach.
Giving the special issue heart are blow-by-blow accounts of the Miss Universe pageant events, as well as stories about how the staging of the world's most prestigious pageant in the Philippines has become one of the country's biggest successes to date. Adding a touch of fun to the issue is a section featuring everyday Filipinos contributing their own answers to Maxine Medina's question during her Q&A, and another providing readers with quick facts and trivia about the Miss Universe pageant.
Also featured is our very own Mr. Universe Luis "Chavit" Singson, who is widely credited as the man who brought the pageant back to the Philippines; Miss Universe aficionado and expert Pamboy Pastor; and more.
For inquiries and orders, call (02) 892 1854 or text (0922) 877 6556.
This article was originally published in The Philippine STAR's Allure section on Feb. 21, 2017.