No matter where your wanderlust takes you this year, award-winning airline Singapore Airlines shares six travel tips to keep in mind to make your Singapore Airlines experience as comfortable and luxurious as can be. Share these with your traveling companions and you'll be ready to go!
1. Booking: Use Your smartphone
Cycling through tabs of airline timetables and travel websites can be tiring. Luckily, the information from all these website are now condensed in mobile applications. The new Singapore Airlines application, available on both iOS and Android, displays all relevant information about upcoming flights and allows you to manage your bookings and KrisFlyer membership privileges whenever you want. An added bonus: you can hook up your tablet or phone to the Singapore Airlines' in-flight entertainment system, available on selected aircrafts, and control your movies, music and games from there. Talk about handy!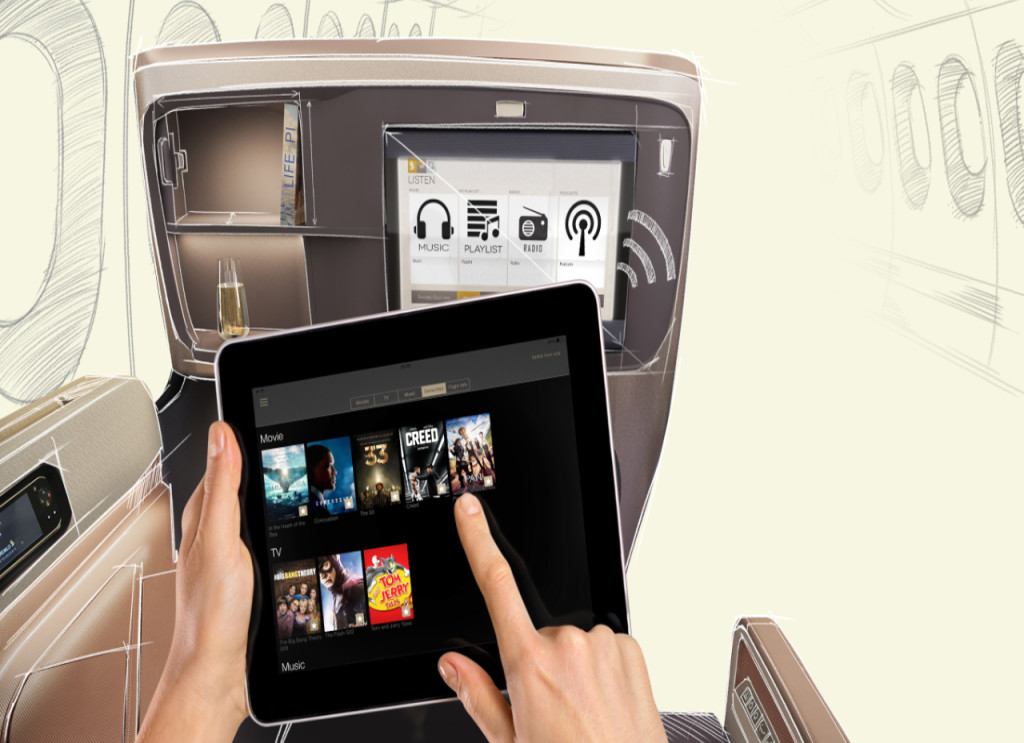 (The mobile app allows passengers to sync their gadgets with the in-flight entertainment system)
2. Packing: Roll up your clothes!
Make sure that you have enough luggage space (both for your essentials and shopping spree). Do this by rolling your clothes up instead folding and laying flat. This uses less space, and allows clothes to fit it into the nooks and crannies of your luggage easily. You can even roll up small or fragile items in your clothes or in your shoes for some extra protection.   Keep this in mind when staying within luggage weight limitations when you fly Economy (30 kg), Premium Economy Class (35 kg) or Business Class (40 kg).
3. In-flight: Keep it loose and comfy
Since you'll be seated for most of the flight, wear loose and comfortable clothing–save your OOTD-worthy outfits when you hit the streets of your destination. But comfy definitely doesn't mean pajama-like. Slip into a pair of tights and an oversized sweater layered on top of a camisole to still look your best while staying comfortable.
Also, the air inside the plane can be dry and cold, so be sure to use moisturizer and to layer up for extra warmth with a scarf such as the Pashma Singapore Airlines Cashmere Scarf, which is available in Krisshop. Or, you can simply ask the Singapore Girl for basic toiletries and other necessities available on board. First Class passengers also enjoy exclusive  amenity kits to ensure you travel in comfort.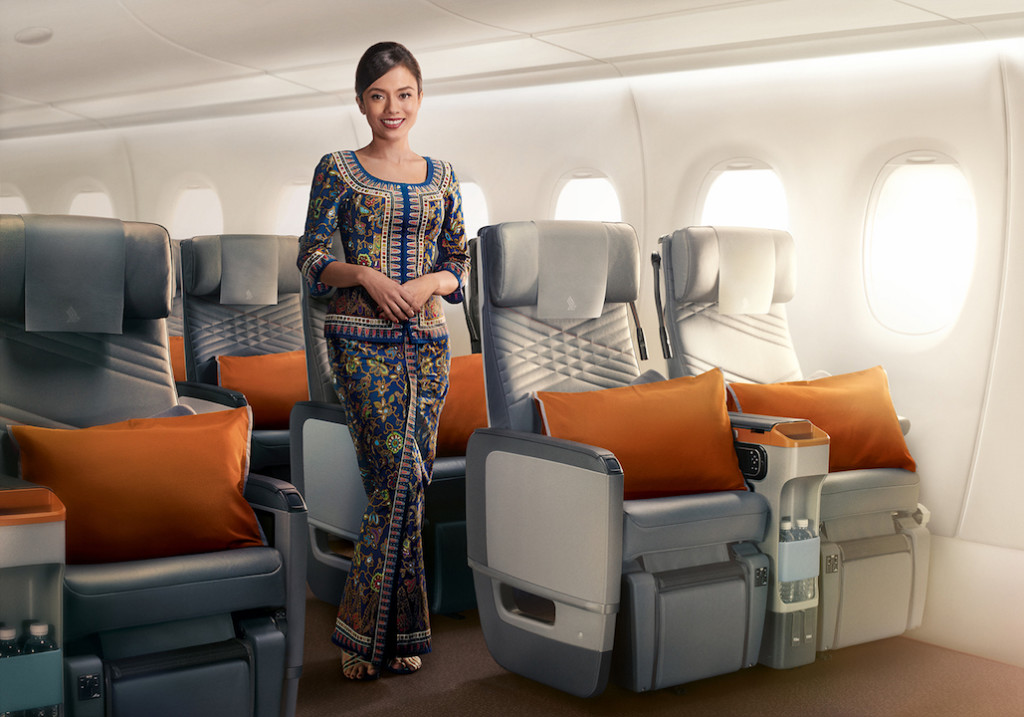 (The airline's new Premium Economy Class offers extra comfort, extra choices and  extra privileges)
4. Stopover: Take to the lounges
Keep yourself comfy (and entertained) by parking yourself at Singapore Airlines' SilverKris Lounge. Available for passengers traveling Suites, First or Business Class, or members of the PPS Club and KrisFlyer Elite Gold departing on Singapore Airlines-operated flights as well as STAR Alliance Gold card members departing on STAR-operated flights, the SilverKris Lounge is fully-furnished with eating and living spaces, as well as productivity pods and WiFi for customers to work in privacy and comfort. You can even partake of delectable dishes, such as Laksa and Hainanese Chicken Rice if you happen to find yourself in a lounge that's serving these dishes for the period. 
5. Staying Healthy: Be picky (in a good way)
Can you eat healthy in-flight? Yes, if you're on the right airline. Singapore Airlines gives travelers the opportunity to maintain a healthy diet with the Deliciously Wholesome menu, which includes heart-healthy carbs, lean proteins and lots and lots of greens. To make sure that you get the meal that you want during your flight, pre-book your meals with the airlines' Book The Cook services, available to passengers traveling in Premium Economy Class and up.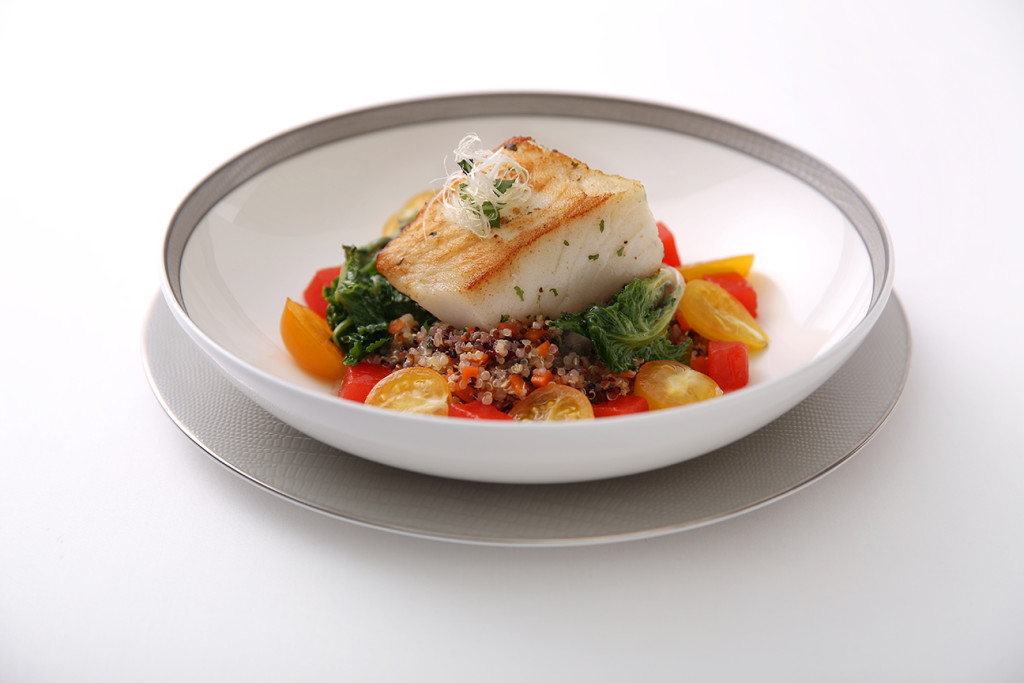 (The airline's Deliciously Wholesome menu features health-friendly ingredients and lean proteins)
6. Staying connected: Bring only the essential gadgets
It's always best to bring only the essentials on a trip. This extends to our gadgets. Leave your bulky tablets and laptops at home (unless you're planning on working while traveling), and stick to the basics: smartphone, camera, power bank, earphones and a universal charger. 
As Singapore Airlines continues to stay true to its commitment to providing the most convenient inflight experience, every seat has been equipped with in-seat power supply to ensure your gadgets will never run out of power. Additionally, inflight connectivity has been made available to passengers on Airbus A380, A350 and progressively on Boeing 777-30 ER aircrafts, allowing you to connect to the ground while you're 30,000 ft. in the air. Now, that's one great way to fly.  
The full-length version of this article was originally published in PeopleAsia's April – May 2017 issue.