Photos and text by ISABELLA OLIVARES 
The World Street Food Congress 2017 will be going on its third day today and we here at PeopleAsia have been eating our way through this year's lineup of hawkers and vendors. Here's what we've eaten so far:
1. Salted Egg Pork Ribs (Singapore)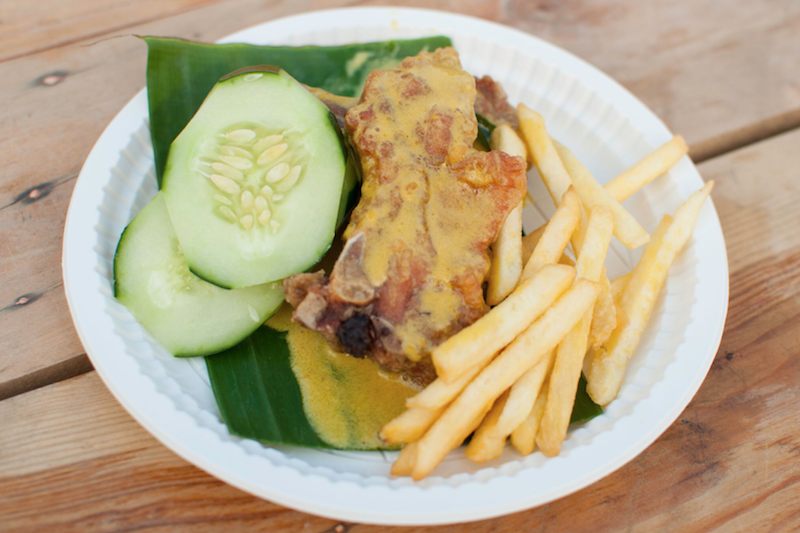 Asia's favorite flavor craze is at the World Street Food Congress in a new form: fried pork ribs! The salted egg sauce may be sweeter than what you would expect, but the pork rib is thick, fatty and tender (just the way it should be!). Served with fresh cucumbers (we're all trying to be healthy, right?) and french fries, this indulgent treat is a good introduction to what you should expect at this year's Congress. And forget about the plastic fork that the vendor will give you — this dish is best eaten with your hands!
2. Banh Xeo (Vietnam)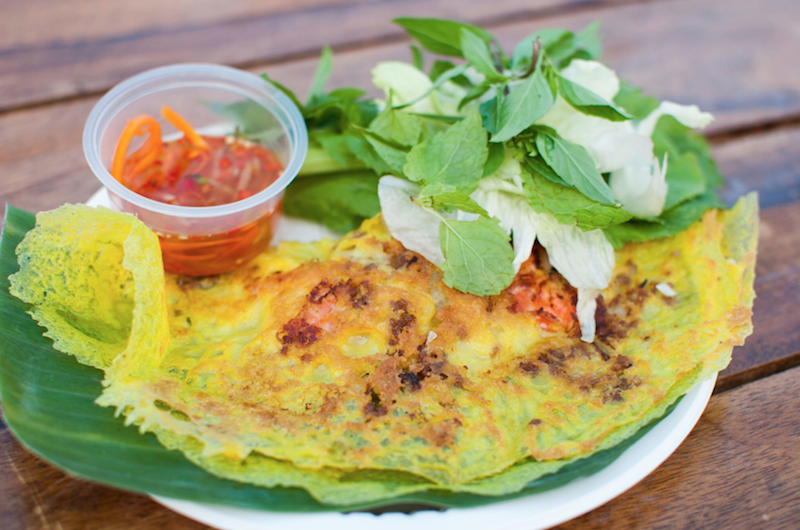 Don't be fooled by its omlette-like appearance. This famous Vietnamese dish has no egg in it. The crisp, rice flour-based crepe is stuffed with ground pork, shrimp (don't be alarmed that the skin is still on; it's an edible tradition) and crunchy bean sprouts, and served alongside whole lettuce leaves, fresh herbs and the iconic nuoc cham dipping sauce. To eat it, you simply tear off a piece of the banh xeo, wrap it up along with some fresh herbs inside a lettuce leaf, dip it into the sauce and enjoy! The crepe itself is wonderfully savory and hearty while the fresh leaves and herbs give each bite great texture and freshness. The nuoc cham dipping sauce brings the whole dish together with its bright, sweet-sour flavor. This Vietnamese dish is light, simple and completely satisfying — a personal favorite in our books.
3. Litti Chokha (India)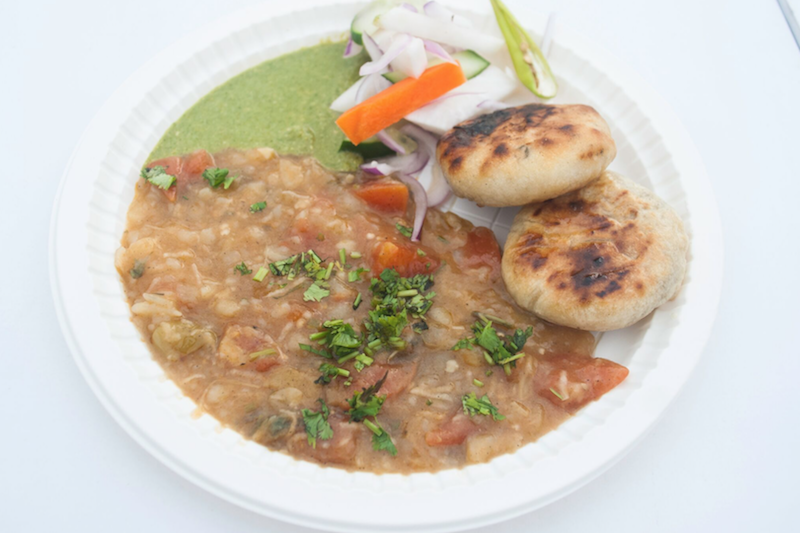 Litti refers to Indian coal-roasted buns stuffed with a mixture of chickpea flour, herbs and spices (falafel lovers will get a kick out of this dish), while chokha refers to a mix of mashed vegetables. At the World Street Food Congress, it stands as one of the quieter yet heftier dishes. Down one of the two littis that are served to you and you'll be pretty much stuffed until the next morning! The chokha on the other hand, is fresh and flavorful, and gives these filling buns a great pick-me-up.
4. Pork Trotter and Black Bean Tostada (Mexico)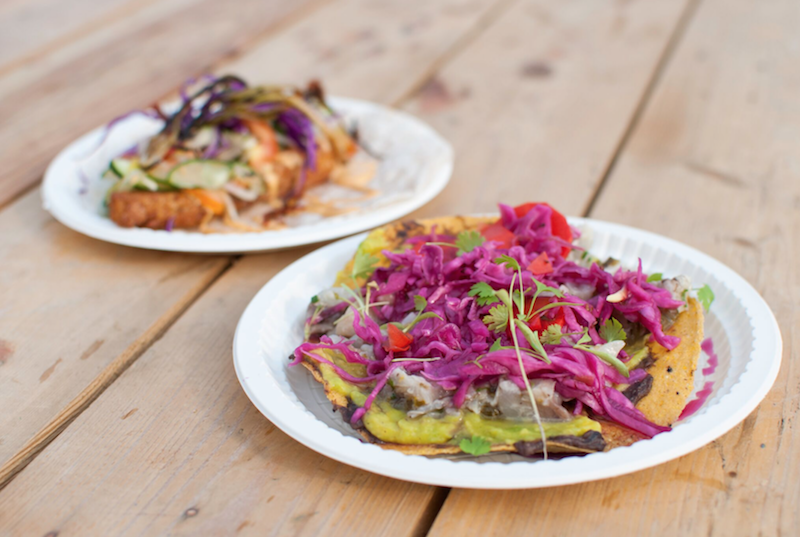 This Congress favorite is a complex medley of layered textures and flavors. It's crisp at the bottom and on the top because of the fried tortilla and its onion-and-carrot toppings, and creamy and velvety in the middle thanks to the black beans, guacamole and pig trotters. The pickled veggies cut through the strong flavors and savory indulgence of the tostada's middle layers with much welcomed acidity and a subtle heat that rounds out each bite. But eating this Mexican antojito (street food) is also a thinking game: bite into a certain part of it too soon and the tortilla will break into two. Unapologentically messy and bold, the Pork Trotter and Black Bean Tostada is everything street food should be.
5. Putu Mayam (Malaysia)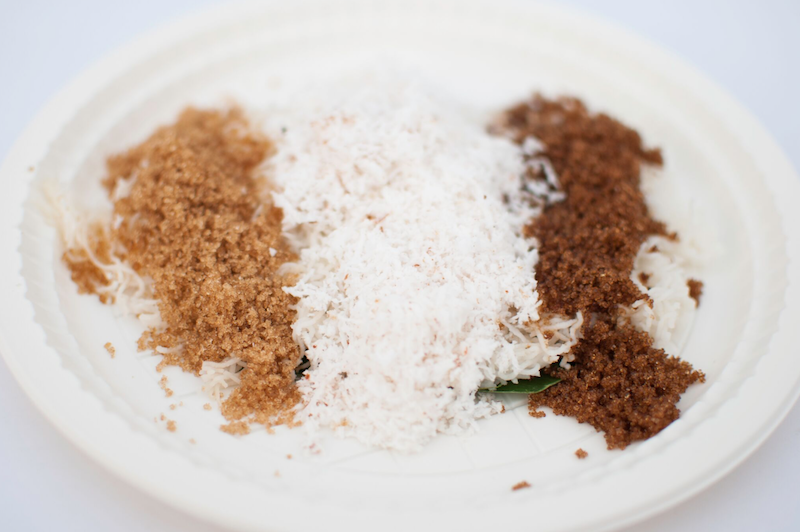 Ever had sweet pancit noodles? Well, now's your chance with Putu Mayam, a Malaysian sweet treat of noodle-like strings made out of rice flour and topped with cane sugar and dessicated coconut. It's a humble and straightforward dish that plays more with texture than flavor (the crunchy sugar and the coconut  contrast nicely with the soft strings), but it easily can get lost amongst the other offerings of the Congress.
6. Tub Tim Grob (Thailand)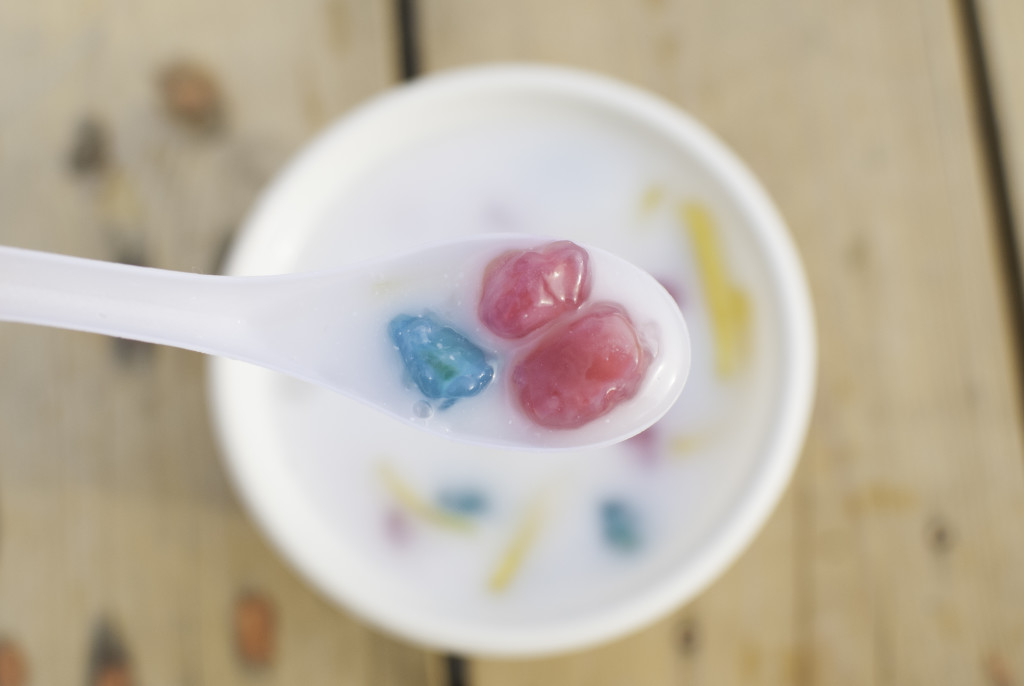 This Thai dessert features colorful, soft-on-the-outisde-crunchy-on-the-inside water chestnut balls and iced coconut milk sweetened with syrup. Sweet, cool and colorful — it's the perfect way to cool down on a hot day (and we have a lot of those!) or to top off a great dinner at the World Street Food Congress.