Every mid-September to early October, Munich comes alive in song: Ein Prosit! Ein Prosit! Der Gemulichkeit! ("A toast! A toast! To cheer and good times!") These are the words of the theme song of Oktoberfest, the world's largest beer festival.
On Oct. 6 and 7, these words will ring through the halls of Sofitel Philippine Plaza as the hotel holds its own Oktoberfest celebration. To be hosted at the expansive Harbor Garden Tent, Sofitel's own beer celebration will pay homage to time-honored Bavarian customs. The marquee will be transformed into a traditional biergarten ("beer garden") and can host more than 2,000 beer connoisseurs and gourmands each night.
(Sofitel's master chefs will prepare a grand German banquet)
Sofitel's master chefs will serve up a grand feast of sumptuous Bavarian specialties, such as roasted pork knuckles and calf, laugen rolls and sausages. Guests can wash down all these delicious and hearty dishes with unlimited ice-cold beer. For a truly authentic experience, men and women will don the traditional lederhosen and dirndl.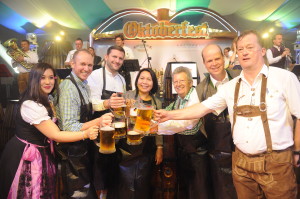 (Sofitel aims to give all guests an authentic Oktoberfest experience)
Guests will have the opportunity to win a trip to their destination of choice in Germany, and may book a weekend getaway at Sofitel Philippine Plaza after an evening of gastronomic indulgence and live entertainment. Featured room rates start at P6,000 per night.
So raise your glass and make a toast with everyone at Sofitel for Oktoberfest!
For more information on ticket sales and the featured raffle, please call the German Club Manila at 894 28 99. For inquiries and reservations, please call Sofitel Philippine Plaza Manila at 551 55 55.
(Oktoberfest in Sofitel is a gastronomic wonder)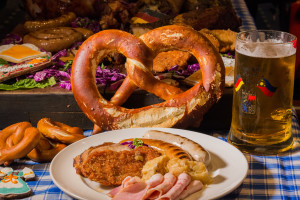 (Pretzels, sausages, beer and various meats)
(The Harbor Garden Tent will be transformed into a traditional biergarten)
(Sofitel's Oktoberfest brings together people from different corners of the world)