Business icon and PeopleAsia lifetime achievement awardee Washington Sycip passed away last Oct. 7, 2017 during a flight from Manila to Vancouver. In honor of the esteemed founder of SGV & Co., we're revisiting an article about him that was published in December 2015.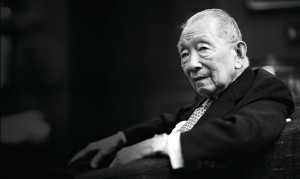 By KAP MACEDA AGUILA
Photos by MAU MAURICIO
Sifting through a life in progress through the prism of one interview is arduous enough. Imagine taking on the challenge of the formidable Washington SyCip.
Nine decades young, the founder of the country's premier multidisciplinary professional services firm, SyCip Gorres Velayo & Company and the renowned Asian Institute of Management, still remains as impressive as ever. Conversing with him is like tapping into a virgin oil field—offering a surplus of rich material for any kind of writer who ever needed inspired content. Which means it also carries the peril of failing to do the man justice. He regales you with detailed stories, even as he speaks his mind. Succinctly, frankly, he answers questions that others might skirt or hedge. He gives you his time as he values yours.
I catch up with Washington SyCip where I first spoke with him six years ago for PeopleAsia. Behind a heavy wooden door—the one emblazoned with big brass letters that spell "W. SYCIP"—he hunches over a pile of papers behind his large desk.
Wash defers to the photographer, Mau Mauricio, who respectfully instructs him to continue working as he snaps away. SyCip, however, cautions Mau to be careful he doesn't bump into the table behind him—one laden with a multitude of photo frames—a treasure trove of memories that Wash has accumulated through the years.
His desk is the same as we remember, replete with objets d'art such as various tortoise figures. Famous as a symbol of longevity, one could argue that Wash's fascination with them have imbibed him that very quality—along with an enduring sense of humor. Occupying a prominent place on his desk is a rather large figure of Leonardo—the leader of the famous cartoon superheroes Teenage Mutant Ninja Turtles.
Honestly, one could only wish to live as long as Wash has. It's another dream altogether to be bestowed the kind of intellect that obviously still wields.
Obviously, SyCip stays sharp and healthy by not heeding Mother Nature's dictum to slow down. With almost military discipline, his alarm goes off at five every day. That is SyCip's cue to check out the news on television—the local news on ANC, then CNN and BBC "to see the international side, just to be sure I am up to date on what's going on," he shares. The voracious consumption of information extends to print media. "I have six newspapers that I read every day. Sometimes I may not have time to read until the next day or that evening," Wash continues.
Like an eager employee, Wash arrives at the office by seven, and promptly goes through his emails. In addition to a full day of work, he might have a slew of meetings for, say, any of the company boards he sits in. SyCip, at least, concedes he has lost count of the companies. "Too many," he replies with a grin.
Needless to say, he imbibes all things that Washington SyCip is known for. "I am neutral in the sense that I speak very objectively. I always try to analyze a compliment; not because of some personality attribute. Objectivity is the word," he had said back in 2008.
Today, I ask him if he knows of any misconception people have about him. "I don't know. If they have negative thoughts, they never told me about it," he shrugs.
Premature democracy
"I have the good fortune of meeting every Philippine president, except for Emilio Aguinaldo," SyCip shares proudly.
Work that around your head. Every president. Have you met any other person who can make the same claim? That not only gives Wash a unique selfie opportunity but, more importantly (and seriously), crucial insight into how the country's leaders have run our democracy though the decades of our colorful history.
Of course, there's no time like the present. When prodded for his opinion on the current administration, SyCip replies: "We have a very transparent president. Business confidence is very high, that's why you see so much construction here; a growth rate of 7.2 percent. Right now, maybe it's running 6.5 (percent). I think the administration has more technocrats that are successful."
Still, Washington is of the opinion that the Philippines has been done a disservice by what he calls "premature democracy." It gives us a lot of freedoms, but it has not redounded in economic unshackling for many. Economic freedom should be a requirement and precursor to political freedom—not the other way around, he insists.
Further exacerbating the disconnect is the current political bickering in the Senate, which SyCip calls a "distraction" from what truly needs to be done. "All that time talking about so many different things—but it has nothing to do with the economic development of the country," he laments, and also bemoans delays in infrastructure development.
"From their view point, they want to be elected the next election. The view of politicians is shorter. You cannot help it; his livelihood is in the next election, but the needs of the country take a longer perspective," continues SyCip. "Sen. Grace Poe is correct in talking about the hunger. You expect a student to walk the long distance to the school on an empty stomach?"
SyCip also posits that democracy can only work if there's a considerable middle class, and proudly cites that he had a hand in that growth locally when he pioneered the outsourcing industry in the country in 1984—a sector that continues to provide immediate gainful employment to an estimated one million.
"I felt that people here should be better educated on IT (information technology), so I was able to get a US company to set up a training center and then (offer) jobs in outsourcing," he shares. "The greatest asset that the US has is that it's the largest English-speaking country. There are two other areas, two countries, where you do have large English-speaking populations: India and the Philippines."
Grassroots change
Cognizant of truths that others still struggle and grapple with, SyCip takes aim at solving poverty though the most potent way he knows—addressing the access to basic education. Conceptualizing, initiating and funding a so-called Zero Dropout Education Scheme, his WS Family Foundation has partnered with the Center for Agriculture and Rural Development-Mutually Reinforcing Institutions (CARD MRI), a microfinance company, to enable the "poorest of the poor to enroll and complete elementary education."
SyCip hopes to make a dent on the considerably distressing fact that two to three million Filipinos are illiterate. "I started checking and asked 'Where are these people, and what can we do about them?' Now, all my friends here say that they would like to help people have that education."
However, Wash rues that 90 percent of these well-meaning friends usually help the children of their drivers, househelp and cooks. "They do not comprise the bottom group, because their parents have jobs," he comments. "Now, what I found out when I was trying to get to the root of the problem is that many of the fishing villages and the rural communities have no access to help."
Leveraging on the 1,400 units of CARDS scattered around disadvantaged communities, SyCip pushed his education agenda—knowing fully well that the "poorer the family, the more children they have. Education is free, but you do need a pair of tsinelas, a shirt, notebooks, pencils. That's what's keeping them from going to school. I set aside a million dollars for that and a friend of mine from the US is matching that. He trusts me."
SyCip shares that, as of last reckoning, around 80,000 students in most need of help have received assistance from his foundation's earnest effort.
The accountant also asserts he learns something every day.
There are some 8,000 students under the CARD program in Typhoon Yolanda-affected communities. Upon discovering that fact, SyCip wanted to cancel the beneficiaries' loans. "Kawawa naman (It's pitiful)," he recalls saying.
"CARD said no. They said, 'We should not cancel, because the poor are more honest than the rich. I've never forgotten that statement. So we did not cancel. Sure enough, loans are being repaid as reconstruction takes place." Washington is of the opinion that doleouts do not empower and, indeed, his program has seen an incredible 99.9 percent payment rate.
The two keys to ending poverty are thus, again, education, plus health care. "If you don't know how to read and write, you cannot get a job," he simply says.
Still, SyCip has good words for the current Department of Education head, Secretary Armin Luistro. "We have a very good secretary of education. In the previous administration, there were four secretaries of education. Now, he's good. I am only hoping that whoever succeeds retains the secretary. He's not a politician."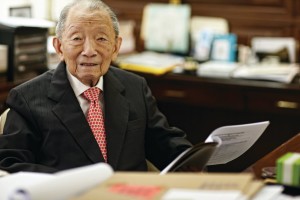 State of the nation
Each year, SyCip goes to visit China with a group of friends. They make it a point to visit parts that are "normally not visited."
On a recent trip, he marveled at how the so-called "poorest province" had good infrastructure. "That's a province where there are more hills than in Bohol," he narrates. "It has sharp mountains, yet there are highways. How did they do it? Of course, the Chinese are very conscious of infrastructure —highways, airports."
SyCip says that the government assisted in developing a tourism industry for the local populace. "I did not see any slums, which I see in Metro Manila. And you feel a big gap. I said, 'Look, if that's poverty… why can't we eliminate the slums here'?"
On the recent issue of the Spratlys islands, "Does the Philippines have reason to fear China?" "To me, no," he states. Except that it makes it tricky to "negotiate from a position of weakness" when you are "dealing with someone who's much more powerful."
As for the controversial Visiting Forces Agreement with the US: "I wish that we don't have to rely on anyone," he sighs. "But if we cannot do it, what are we going to do? We cannot even afford a coastguard. We have to rely on the US."
Not one to miss anything, Wash recalls bitterly: "When they sold Fort Bonifacio for $7 million, at that time, if you remember, it was to modernize the military. The military did not get one cent of that; it went into other budgets to cover up other shenanigans.
"During the Vietnam War, the US side was supporting the South. Many of the companies that went into Saigon at that time told me 'Wash, you are better off in an office there, because we have operations there. We want a proper audit firm.'
"The South Vietnamese started with 50,000 and, eventually, 500,000 US troops. The North had no foreign soldiers there. They didn't get equipment from the Chinese and Russians. Yet, they beat the French, they beat the Americans. They have a fighting spirit which we don't have. You have to give credit to them."
He rues: "Do we have that will when we cannot even control our NPAs? You can speak from a position of strength; why don't we have the strength? Too much politics. I see so much waste in the political process. This so-called democracy that gives P70 million to each congressman, P200 million to each senator—then each one getting a kickback of 50 percent."
Does he feel hopelessness in it all, like when he reads the news?
"Yeah. What the hell!" SyCip exclaims. "Sometimes you are discouraged by the political process but, in the end, you just have to take the good with it and do the best you can."
Wash has a keen sense of social justice, and is conscious about how he conducts himself in a country that he was born in.
Take, for instance, his tale about counting how many SyCips went to the University of the Philippines (UP), the premier state university. "There were 10 SyCips. I made a donation to UP, saying that the 10 of them underpaid their tuition. They were not directly my children, but I made a donation of P1 million for each child that did not pay enough tuition. I wanted that to be a model for the president of UP to go to successful alumni. No response. UP does not try to help itself."
He quips, "If you don't want to knock on doors, charge the cars. People who go there have expensive cars. Charge them for parking; charge them for entering the campus."
Foreign policy and stark reality
SyCip is nothing if not a true patriot who insists on staying in the Philippines no matter where his feet tread all over the world.
"I was born here; I went to public school here," he declares. "The country's been good to me—no matter to whatever criticism I have."
For SyCip, these days are always about giving back. In fact, he wants to be remembered as someone who has done something to pay his homeland. "I want to contribute with my ability to develop a firm and practice that once featured all foreign firms—that we beat all of them using local people. That's our contribution."
A piece of unsolicited advice from SyCip to President Benigno Aquino III: "I would say that the political process has to be faster. We must have electricity, so there's no use debating about the price of electricity as much as if we have the supply of electricity. There's no use discussing how to decrease water rates when what we need is to develop the source of water."
At 93, Washington SyCip remains an ardent student of life and its mysteries. He is patient, but not when it comes to battling illiteracy that he knows is keeping the nation mired in a tar pit—unable to keep up with its Southeast Asian neighbors.
"I don't have the time," he proclaims, while maintaining that he is an optimist. "I am glad that three persons (Bam Aquino, Sonny Angara and Grace Poe) that I met in the Senate seem to be a new type of leadership. They are aware of education needs and so on. I am hopeful that this is a new breed."
Would you fault me for wishing that more people imbibe the qualities of this once-in-a-lifetime titan of thought and ardent nationalist, whose fervor continues to burn and cut as sharply as his intellect?
Of course not.
"Washington Sycip: Wash of the TITANS" by Kap Maceda Aguila was originally published in PeopleAsia, December 2015.