There's only one place that we go to when we want to treat ourselves out to some Old World fanciness: TWG Tea! The famous tea salon chain is turning five years old here in the Philippines and they're dishing out some posh treats for us tea lovers.
To start things off, enjoy your favorite TWG teas and tea-infused treats at 55 percent off on all dine-in items at any TWG Tea Salon & Boutique from Nov. 15-19. It's the perfect time to indulge in some Scallops Linguine, Beef Tenderloin and Pan-Seared Sea Bass (our mouths are watering already)!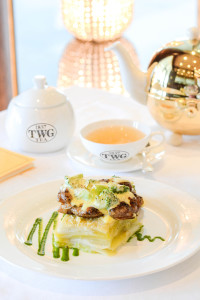 (Baked Chicken Gratin infused with Napoleon Tea)
As tasty as the classics are, TWG is known for taking the world by storm with its tea-infused innovations. Keeping in step with this tradition, the tea salon will be unveiling on Nov. 20 new menu items – all blended, infused, powdered, smoked, marinated, blanched, confit, seasoned or even pickled with any of their 400 single-estate harvest teas and exclusive tea blends.
Their new Nicoise Salad will be infused with matcha green tea for added earthy notes to the accompanying seared tiger prawns, while their Baked Chicken Gratin – juicy chicken topped with cream cheese, a rich hollandaise sauce and broccoli florets, and served with potato gratin and spinach puree – will have a sweet aroma and lightly spiced French flavors thanks to the addition of Napoleon Tea.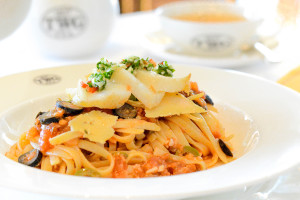 (Pasta Puttanesca infused with Eternal Summer Tea will make its TWG Tea debut on Nov. 20)
For a more Italian spin to its menu, TWG will also offer its own take on Pasta Puttanesca and Neapolitan Beef. The former will be topped with pan-seared sea bass fillets and will have a sweet, summery flavor thanks to the Eternal Summer Tea in its sauce. The latter, on the other hand, will be a hearty, Comptoir des Indes Tea-infused dish with buttered asparagus, baby potatoes and a flavorful tomato sauce.
So put on your fancy pants and head on over to TWG Tea Salon & Boutique for a quaint but exciting little tea party.
TWG Tea Salons & Boutiques can be found in Greenbelt 5, Central Square, Shngri-La Plaza and S Maison in Conrad Manila.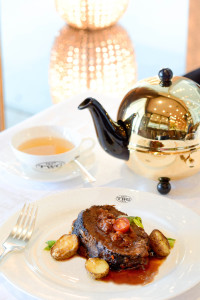 (Neapolitan Beef with Comptoir des Indes Tea)