Repertory Philippines revisits a groundbreaking musical from the 1960s in a dazzling display of young talent.
By Isabella Olivares
In the late 1960s, a new musical by James Rado, Gerome Ragni and Galt MacDermot shook up New York City. It spoke about the hippie countercultural movement, racism, illegal drugs, spirituality and war, and it bravely (for its time, at least) and unapologetically portrayed nudity and sexual freedom. With its soaring psychedelic rock score, it defined the rock musical genre. This musical is none other than Hair.
Fifty years after its Off-Broadway debut – which was followed by its first Broadway run a year later – Repertory Philippines has decided to stage this countercultural landmark. Even by today's standards, Hair is a difficult musical to stage. Vocally, dramatically, choreographically and technically demanding, the entire show can end up looking half-hearted if a single aspect of it were to fall short.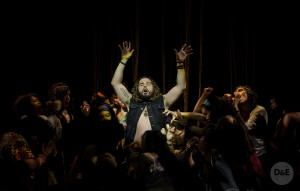 (George Schulze as Berger)
Happily, the production does not disappoint. From start to finish, Repertory Philippines' Hair is an electrifying display of talent and creativity. Upon entering the theater, the audience is greeted by a bevy of hippies dressed in gorgeously period-faithful outfits (by James Reyes with hair by Leslie Ferrer Espinosa) frolicking across the colorful, bead-curtained stage designed by Joey Mendoza (the sun projection on the stage floor was a particularly nice touch).
The pre-show spectacle almost seamlessly transitions into the opening sequence – hats off to director Chris Millado and assistant director Gold Soon for that. The rest of the show follows the same natural, free-flowing progression, as if embodying the spontaneous, unrestrained lifestyle that the followers of the hippie movement promoted.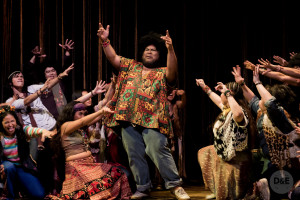 (Alfritz Blanche as Hud)
The real magic of the show, however, is the cast aka the Tribe. The collective energy, enthusiasm and undeniable talent of this young group of performers radiates through every ensemble number and builds from the show's opening number "Aquarius," led on opening night by guest artist and powerhouse singer Abi Sulit, to the show's emotional finale.
Three standouts from the Tribe are Franco Ramos as Woof, who wins the crowd over with his charisma and earnestness, Alfritz Blanche as Hud, whose piercing voice and presence never lets him get lost in the crowd, and Marrone Cruz as Jeanie, whose portrayal of the eccentric, love-struck hippie tugs at your heartstrings.
George Schulz's Berger is wild and persuasive, and his emotional outbursts are indicative of the actor's chops. He addresses the audience with practiced ease and can swing from hilarious to serious without even batting an eyelash. Opening night's Markki Stroem is charming as Claude, and serves as a kind of everyman through which the audience can begin to understand the emotional conflict of the musical.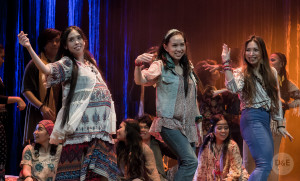 (Maronne Cruz as Jeanie, Kyla Rivera-Soong as a member of the Tribe and Caisa Borromeo as Sheila)
But it was Caisa Borromeo as Sheila that really dominated the stage. Her acting is on point and her singing is otherworldly. Her stage presence always commands your attention, so much so that your eyes are always on her when she's onstage. It is Caisa and Marrone (an equally impressive singer) who carry the show's emotionally vocal highpoint, when Sheila and Jeanie begin singing together in "Let The Sunshine In."
The technical issues with microphones during opening night, however, made it difficult to pick up clearly everything that the cast was singing. Similarly, the microphones and the orchestra's volume were so unbalanced at times that the performers could scarcely be heard over the music – something that plagued the ensemble numbers more than it did individual solo songs.
Despite its technical problems, Repertory Philippines' Hair is a triumphant portrayal of the free-spirited nature of the 1960s hippie movement and of the conflicts and contradictions within its members. It bursts at the seams with talent and artistry, and is definitely one of the theatrical highlights of 2017.
Repertory Philippines' Hair will be performed at Greenbelt Onstage in Greenbelt 1 until Dec. 17, 2017. For tickets and reservations, call REP at (02) 843 35 70 or Ticketworld at (02) 891 99 99, or log on to www.ticketworld.com.ph.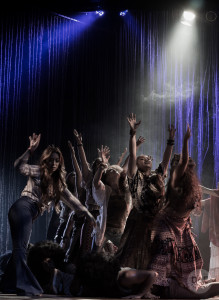 (The cast of Hair)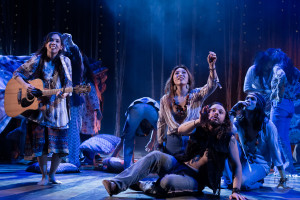 (Maronne Cruz as Jeanie, Caisa Borromeo as Sheila and George Schulze as Berger)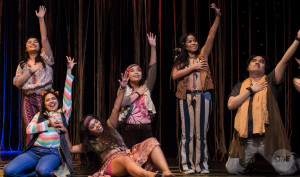 (Hair will run until Dec. 17)