Rachel Louise Peters does not simply walk into a room…she glides into one.
By VIC S. SEVILLA   | Photography by DIX PEREZ
When the elevator doors open and she steps out in a pair of jeans and shirt into the corridor of the fourth floor of Shangri-La at the Fort, she instantly attracts attention. Typical of women born under the sign of Libra, who are said to look attractive and possess more than a ton of feminine charm.
But while she towers at 5'9" and makes a statuesque vision, Rachel admits she had to work hard on gaining a genuine and formidable sense of confidence. "One of my pet peeves is when people stare at me for so long that I could almost feel their gaze. You know, like when men do it and not in a nice way. That makes me self-conscious. So never in my wildest dreams did I imagine that I would become a beauty queen!" she states laughingly.
"As a kid, I always saw myself working with animals or children. I've always loved animals, so originally I wanted to become a marine biologist. Then I wanted to be a veterinarian. My dad always thought that I would be a nursery school teacher, or something like that."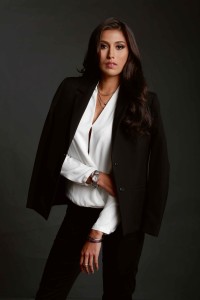 An affair with the world
Born in Bahrain to a British father and a Filipino mother, Rachel came to the Philippines when she was just one-and-a-half years old. She spent her childhood, made friends, and studied in Manila until Grade 6 when the family moved to Thailand.
"I already had a stable group of friends when we moved, and I'm still friends with them to this day. It wasn't easy moving about from one place to another and being taken out of school at what is probably the most important part of a kid's social life," she acknowledges.
But although she regarded the change as a "complete culture shock," she also admits that the early experience gave her a far more discerning perspective of the world. She says, "I'm more understanding of different cultures, more accepting of customs other than what I'm used to. And I was in an international school as well so I met so many people from across the world. That taught me a lot about people."
Having lived in Thailand for about nine years, she has learned to love the country and its people. But if there's something she misses most about the Thai experience, it is the vibrant flavors of its cuisine. "The food in Thailand is so good!" she gushes. "I miss Thai food so much! That's why I eat Thai food here in Manila probably once every two weeks."
In 2014, fresh from earning her double degree in Business from La Trobe University in Melbourne, Rachel had another brush with the world… this time with the Miss World Philippines title. Rachel recounts the experience: "That was after I graduated and I was kind of at a point when I wasn't quite sure what to do next. So my mom told me to try joining the Miss World Philippines pageant. She knew it wasn't my thing but she convinced me to just give it a shot. 'You'll never know what can happen' were her words."
After making it to the Magic Five, Rachel was asked an all too common question, "Why should you be Miss World?"
On stage, she looked confident enough and started with a brilliant answer about wanting to use the platform as an opportunity to express her passion for helping fellow Filipinos. Then, an attack of the giggles hit her, and she almost didn't finish her answer. "The pageant changed my life, but I really got a bad case of stage fright. I messed up in the final Q&A," she now looks back at the experience.
Every year after that, she would go and watch Binibining Pilipinas live at the Araneta Center in Cubao, Quezon City. And every year, she would watch in her seat, silently thinking to herself, "I wish that was me on stage." Then, almost three years after her initial debacle, she decided to throw her proverbial hat in the ring once more.
"I remember waking up from a dream one day — I forgot what — and just felt that I'm going to do it again. I'm going to join the contest again. This is my year. I called my camp and said, 'Guys, I'm ready na. Tara, let's start training!' And we did. From then on, I never looked back. I just kept training and training."
Her newfound resolve and confidence brought her once again to the front and center of the stage. This time, Rachel emerged victorious, grabbed the Miss Universe-Philippines 2017 title, and became the 66th Filipina to compete for the coveted crown since Teresita Sanchez first represented the Philippines in 1952.
Hello, Universe!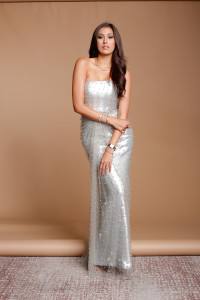 While many may look up to her and imagine her to be a goddess of some sort, Rachel smiles and says she's a mere mortal. And just like everybody else, there are days when getting up from bed is the last thing on her mind. "One of the things that inspires me to get up and face the day is my title. There are so many girls who dream of being in my position and I'm grateful for the opportunity. I can't be lazy because I now have a responsibility to the whole country. I want to represent the Philippines proudly and as best as I can," she says.
She is most excited about the prospect of meeting all the other candidates soon. In fact, Rachel has already started a WhatsApp group, of which there are 20 candidates who have already joined. "We talk every day. Good for me that they're all dog lovers so we just send each other pictures of our dogs every day!" she tells with a laugh. "But it would be really nice to put a face and a voice to the names on the WhatsApp group."
Although Rachel figures as one of the top favorites on the online sites of many beauty pageant watchers, she refuses to dwell on the very real possibility of her winning the Miss Universe crown for the fourth time for the country.
She opines, "Honestly, I don't know what my chances are when I go up that stage. All I know is that I'm going to do my best. When the time comes, I know I have my family behind me. I know that my fans, my camp and all the people supporting me will be there to cheer for me. And I feel the whole country is behind me. So at the end of the day, with or without the Miss Universe crown on my head, I will still be a winner because the people who are most important to me will be rooting for me. And to know that I have tried my best and made them proud is winning for me already."
While it's common for candidates to present the best of themselves during the competition, Rachel sees the coming pageant as an invaluable opportunity to showcase the country in the best possible light.
"I feel that in recent times the Philippines has been unfairly portrayed in a certain way. Going into the Miss Universe, I want to be able to show them that our country and our people are more than what they see in the news — that we Filipinos are strong and independent individuals who know what we want. I want to show them that we are a people who treasure our culture, but who are also so willing to learn and adapt to the changing environment around us. I would definitely encourage everyone to come and visit our country," she says.
Far from going out into the universe, Rachel believes that the experience is more of a journey to her heart of hearts. The experience has so far allowed Rachel, who used to be a shy, self-effacing girl, to deeply know herself more, and to love the skin that she's in better.
"People ask me all the time if I am stressed by all of the challenges I'm going to be facing as the country's representative to the Miss Universe; if I feel any pressure. Maybe I will feel stressed eventually. But right now, no. I'm working hard at my training now so that I can be the best I can be when the competition comes. This whole experience is going to happen only once in my lifetime. I don't want to waste it stressing or worrying about what's going to happen. I'm just enjoying every day as it comes," she says with a resolute tone of voice.
So why should she be the next Miss Universe? In the fading afternoon light, she turns to me and says quietly, "Because I've worked hard for it. I believe that I've shown dedication, perseverance and resilience throughout this journey. And most importantly, I have the heart to serve. I believe I can be a role model to the youth while promoting my advocacy of celebrating your individuality."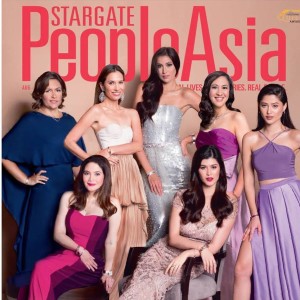 (Rachel with some of PeopleAsia's Women of Style and Substance Awardees for 2017)
Spoken like a true winner.
***
Styling by Luis Espiritu Jr. | Makeup by Floe Tapayan for KANEBO | Hair by Hyatt Laurel | Shot on location at Shangri-La at The Fort