Makati's favorite French restaurant, Mireio, is turning one this month and to celebrate, the restaurant will be serving a selection of its most popular dishes from 12 n.n. to 10:30 p.m. continuously at P365 starting Dec. 8 to Dec. 12, 2017!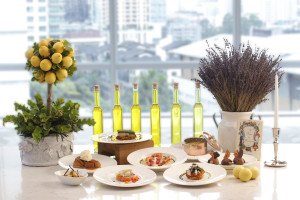 Among the select appetizers for this five-day gastronomic celebration are the Signature Smoked Salmon Tartare with Granny Smith Apple and Dijon Mustard Cream, Classic Tomato Tart with Clams and Escargot and Green Lentil Soup with Pan-Seared Foie Gras and Truffle Oil. For the main course, on the other hand, the hearty Slow-Cooked Oxtail Parmentier, Herb-Crusted Jackfish on Ratatouille and Orzo with King Prawns Flambéed in Pastis and Star Anise Cream are available for your enjoyment.
For dessert, why not indulge in some Lavender Creme Brulee or a 65 Percent Maracaibo Chocolate Mousse with Truffle and Hazelnut Crunch. But if your sweet tooth is that of a more classic palate, then there's always the Apple Tarte Tatin with Vanilla Ice Cream.
Indulge your senses in the best of what Provence has to offer in the heart of Makati.
Mireio is located in Raffles Makati. For more information and reservations, call 795 07 07 or email mireio.makati@raffles.com.