by JOANNE RAE M. RAMIREZ
As the famous Kris Aquino line-turned-meme-turned-everyday-expression says, "Love, love, love!"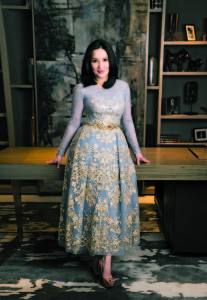 (Kris at the New World Makati Hotel / Photo by Mark Chester Ang)
True enough, the conversation quickly turned to love when Kris was interviewed by PeopleAsia, during which she candidly confirmed that she and Quezon City Mayor Herbert Bautista were indeed set to marry — not once — but twice!
Kris, who leads the magazine's 14th "People of the Year" list, tells PeopleAsia contributing editor Büm Tenorio Jr., "One of the lowest moments of my life, I still remember the date, April 8, 2014, inatrasan ako ng kasal ni Herbert…Over the phone, I was in Bellevue Hotel in Alabang because we were celebrating (in advance) the seventh birthday of Bimb (Bimby). It was that afternoon when I got the call. It did not hit me at first because we were having a party."
However, Kris also reveals that their love story still didn't end there, for Herbert would propose again three years later, while they were in Rome. Dubbing their relationship as a "perfect case of what-could-have-been," Kris says that she accepted the proposal, but, "I returned it (the ring) the next day because I said that we will always have responsibilities that came before he and I met. And as long as our children are not done yet with their studies, I don't think we have the freedom to be able to choose happiness."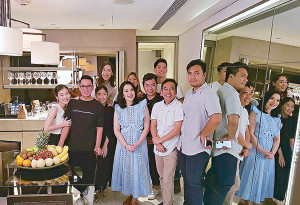 (Behind the scenes of Kris' shoot for PeopleAsia magazine, where she poured her heart out to writer Büm Tenorio Jr. who stands to her left while Boop Yap Tañedo, Jonathan Velasco, Kimi Yap, RB Chanco, Vanessa Lumaque, PeopleAsia's Jose Paolo dela Cruz, Mark Chester Ang and PeopleAsia's JP Dizon pose with the media queen for a photograph)
The undisputed "Queen of All Media" also chronicles her life after television during the interview, and shares how she gained new ground in the digital sphere by collaborating with a younger creative team.
With her phenomenal digital influence (and a much-talked-about cameo in the upcoming Hollywood flick Crazy Rich Asians), Kris Aquino leads PeopleAsia's "People of the Year" 2017 roster, which also includes notable personalities from entertainment, public service, business, education, sports, fashion and arts who are all featured in PeopleAsia's December 2017-January 2018 anniversary issue.
Also on this year's list is award-winning actress Bea Alonzo, who has played a number of iconic roles, and has top-billed box office hits and small screen favorites in her 17-year career.
The list also trains the spotlight on world-class Filipinos such as Public Works and Highways Secretary Mark Villar, who leads the robust infrastructure programs of the Duterte administration; visual artist Ronald Ventura, whose work became the most expensive auctioned item at the Sotheby's Modern and Contemporary Southeast Asian Paintings auction in Hong Kong in 2011; real estate executive Kevin Tan, who continues building modern, convenient townships for Filipinos through his roles as Megaworld Lifestyle Malls SVP and Alliance Global executive director; and legendary Basil Valdez, whose iconic voice has brought to life Filipino classics such as "Ngayon at Kailanman."
Educators also reign supreme in this year's list with the inclusion of former teacher Rosalind Wee, who inspires with her ascent from being an underprivileged teen in Jolo to becoming the vice chairman of the multimillion conglomerate W Group Inc. (despite being legally blind due to a previous battle with a brain tumor); Ateneo de Manila University president Fr. Jett Villarin, SJ, who continues to shape free-thinkers in one of the country's most respected educational institutions; and Philippine fashion's "Queen of Knitwear" Lulu Tan Gan, who now focuses her efforts on molding a new set of fashion designers as a fashion consultant at the De La Salle-College of Saint Benilde.
Rounding up this year's "People of the Year" list is Barangay Ginebra San Miguel coach Tim Cone, who is the "winningest" coach in the Philippine Basketball Association's history (with two grand slam titles to boot).
PeopleAsia also honors former President Fidel V. Ramos as its Max V. Soliven Lifetime Achievement Awardee for 2017. The man who is best remembered for his roles in the 1986 EDSA Revolution, and for paving the way for the Philippines to be called "Asia's New Tiger" during his presidency, is still very much active as the head of the Ramos Peace and Development Foundation Inc.
The magazine, together with one of its partners, also pays tribute to 20-year-old Norman King, who was named as Resorts World Manila's "Lucky Person of the Year" Awardee. Proving that a little bit of luck goes a long way when paired with hard work and determination, Norman is the first member of the Aeta community to graduate from the University of the Philippines Manila.
Last, but not the least, PeopleAsia also recognizes its "Airline of the Year"  — Singapore Airlines, which recently celebrated 70 successful years.
"Kris, twice an ex-future bride" was first published in THE PHILIPPINE STAR on Nov. 26, 2017.