From Feb. 7 to 25, Fringe Festival 2018 will be flooding the city's creative hubs with dynamic interdisciplinary performances and groundbreaking contemporary artworks by both established and emerging local artists, as well as international participant and collaborators. Presented by Pineapple Lab and Fringe Manila, the festival will cover a variety of art forms, including theater, music, dance, visual art, film and performance art.
This year's festivities features performances and exhibits by returning participants Deus Sex Machina, SPIT, ADHD Productions, Burlesque PH and Airdance. Among the newcomers are Theatre Group GUMBO from Japan with their Are you lovin it? show, PUP Maharlika with its dance theatre production of "Karera," Phi Phalmos presenting Ejay Castro Deldoc's unfinished documentary about 1990s television titled Nobenta Nostalgia, and performances by California-based musicians Kulintronica and Pagbalik.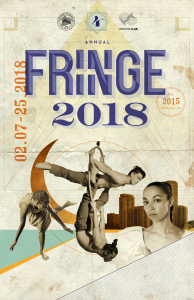 The various activities of the artistic celebration will be spread out across the city's artistic centers, including Barangay Poblacion, Century City Mall, Power Mac Center Spotlight Theatre, Beyond Rockwell and Yuchengco Museum.
Fringe Festival 2018 will also host the championship round of Art Battle, a long-running live painting competition that decides which local painters get to compete in Art Battle International. Complementing these showcases are workshops by Filipino-British cabaret performer Sam Reynolds, Filipino-Canadian yoga instructor Kaye Peñaflor and world-renowned artistic consultant Andreas Vierziger, among others.
For more details and updates, check www.facebook.com/FringeMNL or follow Fringe Manila on Instagram and Twitter @fringemnl.