Polls might already be closed, but there's a candidate that sure would have gotten our vote if his name were on the ballot. Derek Ramsay and Shaina Magdayao team up in post-election romantic comedy, My Candidate which opens today.
The strapping young man continues to make memorable movies and gives us a glimpse of why his onscreen presence is so magnetic in this conversation with PeopleAsia.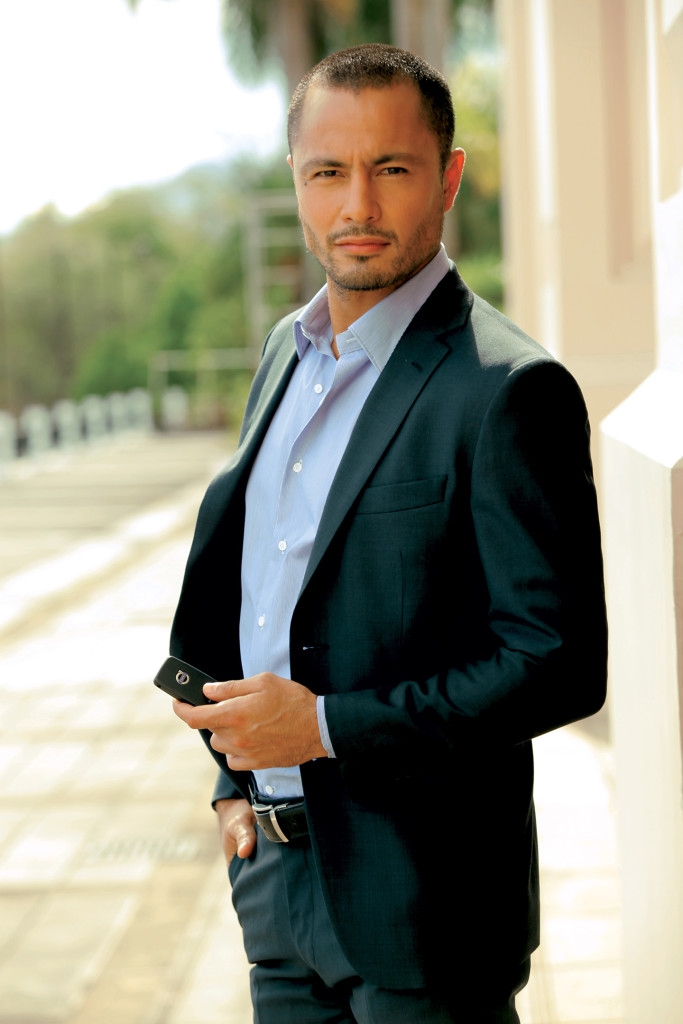 Text by JOANNE RAE M. RAMIREZ
He smolders into the room, though enveloped in the cool springtime scent of Hermès Jardin. Piercing dark eyes, chiseled jawline, white teeth set against tanned skin. A bronze sculpture with rippling muscles. If good looks could set a room on fire, we would be in the midst of a conflagration.
Derek Arthur Ramsay douses the heat with a refreshing, casual smile and a disarming indifference to his wattage. He drives himself to the interview, parks his black Volvo V60 himself in the basement of the complex and stops at least three times on his way to lunch to accommodate those seeking — nay, begging — for a picture with him.
"I always stop for a picture, with few exceptions," smiles Derek, as he settles into his chair at Balducci in Serendra. If you have just starred in the top two highest-grossing Filipino movies of all time (No Other Woman and Praybeyt Benjamin) and have a slew of endorsements from the sexy to the sublime — it could get to your head, you know.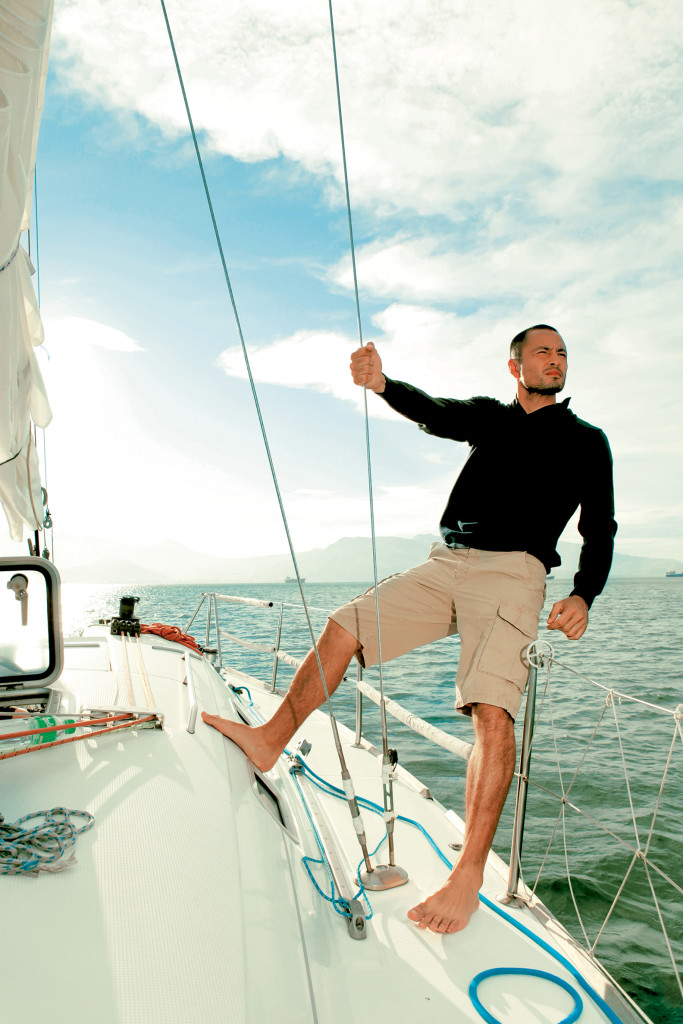 "But this is who I am," he counters. "I enjoy it. I love my job. Without (my fans), I wouldn't be where I am. So how can you turn away people who ask to have a picture with you? They idolize you. They are cheering for you."
The cheers fuel him. A passionate athlete who has suffered broken bones, cuts and bruises that he wears like a badge, Derek is a gladiator who believes pain is a fair tradeoff for the cheers in his arena. And as the days go by, his arena is filling up to the rafters.
"No pain, no gain. I give my 200 percent in whatever I do," proclaims this battle-scarred gladiator, showing off the almost foot-long scar on his muscled left arm. Earned after a game of Frisbee, the scar hides a bone that once protruded after battle in the finals of an international tournament. Derek recalls being "angry," not afraid, after the accident, which forced a five-day hospital stay on him.
"Derek excels in anything he sets his mind to, especially in sports. He is determined, stubborn, strong-willed but compassionate," says his eldest sister Rojinie Ramsay-Cortez. "He is principled, confident and smart, all the nice things," she adds.
If he were to describe himself in three words, this would be the verdict: "Crazy, spontaneous, adventurous."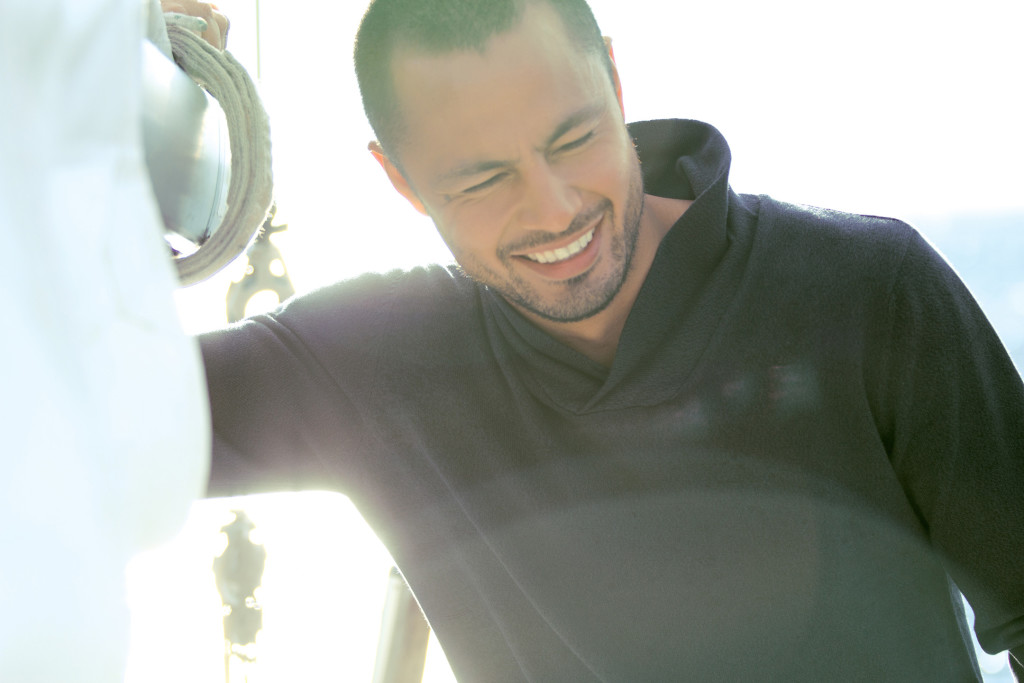 "Everyone says I'm crazy. I do a lot of things that normal people wouldn't do," says this firstborn-son of a British national, Derek Ramsay Sr., and his Filipino wife Medy.
Derek wanted to swim with the Great White Sharks in Cape Town, South Africa during a visit two years ago. But even that is no big deal to him. "I think anyone can do that," he clarifies, "but I wanted to do it without the cage. I wanted to jump in there, have a picture taken with the sharks, then jump back on the boat." But since he wasn't allowed to do that, that photo-op remains on his bucket list.
Spontaneous?
"I tell the story many times," he explains. "My female best friend Mely Bantug and I went to Beers Paradise in Bel-Air, had a few beers and overheard a foreign couple talking about the whale sharks in Donsol, Sorsogon. Then we just looked at each other, and from there, we just drove up to Sorsogon."
Life to Derek is an adventure and after an average of three hours' sleep at night, he is raring to take to the road again.
But this gladiator and adventurer doesn't relish solo flights. For one, he would never survive by his lonesome on an island for days on end. "I always have to be around people and hindi ko kayang hindi naliligo (I can't stand not taking a bath)," says the British-born actor.
But if he knew he would be alone on an island for three days he would make sure he had one thing — a photo of his family — to keep him going.
Derek would also pack in his knapsack a fully charged cell phone, a Swatch watch and a kite.
But Derek isn't slowing down or shirking from the blows that his zest for life brings him.
"Life makes me happy. I love life. I love to live life."
And life loves him.
Photography by DIX PEREZ
Creative direction by CHINO CORRALES
Styling by BIANCA CORDERO, assisted by HAZE DYSANGCO / Grooming by DENNIES ASARAL
Photographer assisted by Migs Castro and Paolo Ruiz
Shot on location at the SUBIC YACHT CLUB and THE LIGHTHOUSE MARINA RESORT
Volvo V60 T5 Courtesy of Volvo Philippines
Editor's note: The article featuring these excerpts was first published in PeopleAsia's April – May 2012 issue.