Today, more than ever, our society finds itself of dire need of educators who will inspire not only the minds of our world's future leaders, influencers, movers and shakers, but also mold their hearts and guide their spirits. See how Dr. Pinky Valdes, president of the Assumption College, intends on contributing to this shared mission.
By SARA DE LOS REYES 
While observing Assumption students and with a hint of disapproval back in the day, a nun once said, "Look at these girls. They're like butterflies, all over the place and so shallow." Assumption's Mother Foundress Marie Eugenie, who was canonized by Pope John Paul II in 2007, looked at the nun and responded by saying, "Don't clip their wings. Direct their flight."
It is after this anecdote that Dr. Pinky Valdes, ninth president of the Assumption College, patterns her vision for the future.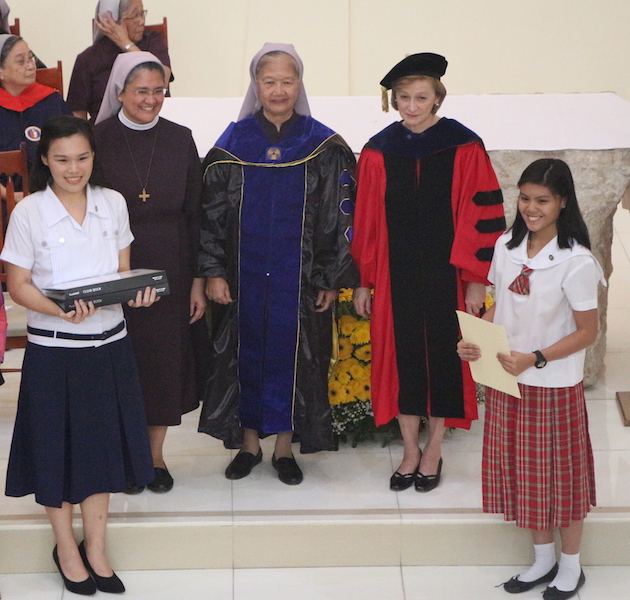 (Higher Education Division student council president Almond Young, provincial superior Sr. Sheryl Reyes R.A., Sr. Josefina Magat, R.A., Assumption College president Dr. Pinky Valdes and Basic Education Student Council president Tia Narciso)
The freedom to fly
While sharing this story about St. Marie Eugenie, Pinky explains, "That says it all. So if you say, 'Don't clip their wings,' what do they want to do? Where do they want to go? Notice, she didn't say, 'train.' She didn't say, 'pound things into their heads.' She said, 'direct.' When there is a teacher or a nun who clamps down on the girls, the Assumption spirit doesn't come out."
It's a short story, but a powerful one that encompasses everything Pinky intends to work on. Assumption girls, and even students from other schools all over the country, male or female, have the potential to become great. To unleash such greatness though, they need a school and teachers to believe in them, and help guide them along the way. That is exactly the kind of Assumption Pinky is set on molding.
"When I started my doctorate, I was in my fifties and people said, 'In your fifties? You're going to finish your doctorate? Isn't that too late?' And I said, 'No, I want to learn forever!' And thank God I did it, because if I didn't do that then, I couldn't be president now," she shares in a jovial tone.
And thank God, too! Aside from now holding of a doctorate degree in Philosophy majoring in Spirituality from the Graduate Theological Union of the University of California in Berkeley, her education paved the way for her not just to be the ninth president, but also the first lay president of the Assumption College. And it is through this path that she intends to revolutionize the school to turn it into a breeding ground of even more focused, confident and holistic female leaders.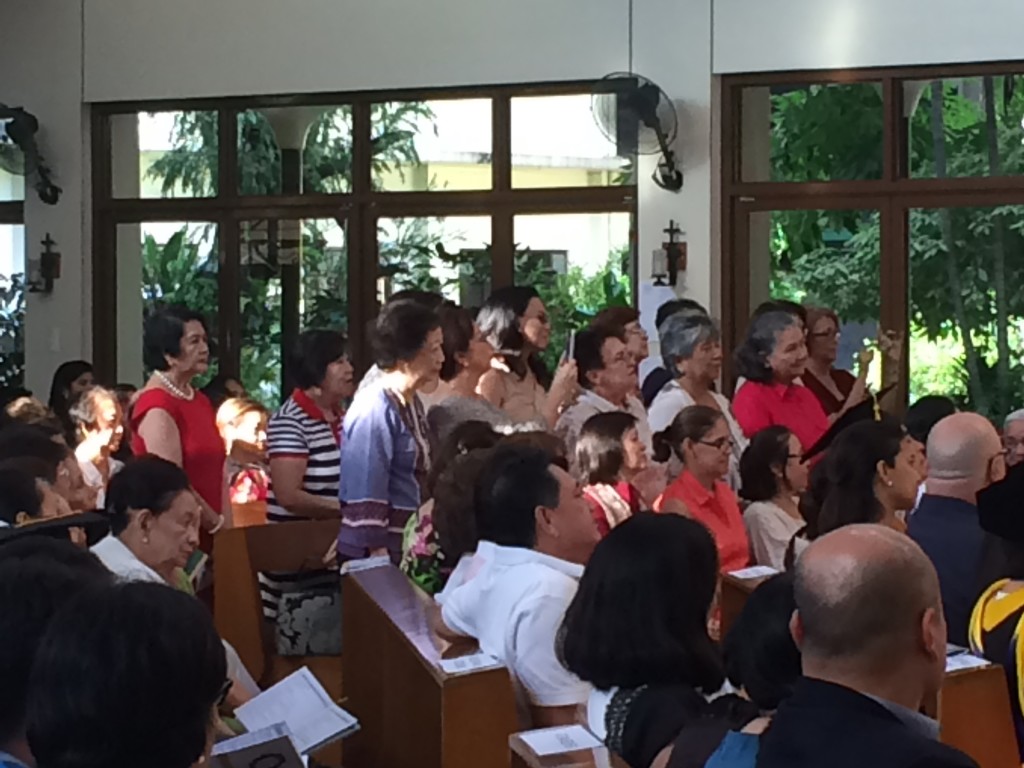 (Dr. Pinky's high school batch mates surprise her with kind words and anecdotes of their time together as young girls)
"People always say that I'm outside the box. I'm very innovative, I'm very creative, I want to move things forward, I want to break the walls of Assumption, I want to be much more holistic … Let's put it this way; I want to embrace and expand what Assumption San Lorenzo does," Pinky shares.
"Now, when people are supposed to be retiring, I'm 72, they make me president! I was 62 when I came here and I thought they would just let me teach but they make me dean! Now when I'm supposed to be retiring, they make me president. The calls just keep coming continuously and what can I do?" she continues. 
It's both an easy and difficult question to answer. It had been only two weeks since her induction during this conversation, but Pinky is sure that she will continue to strive hard so that the Assumption community will always fly high and soar to new heights.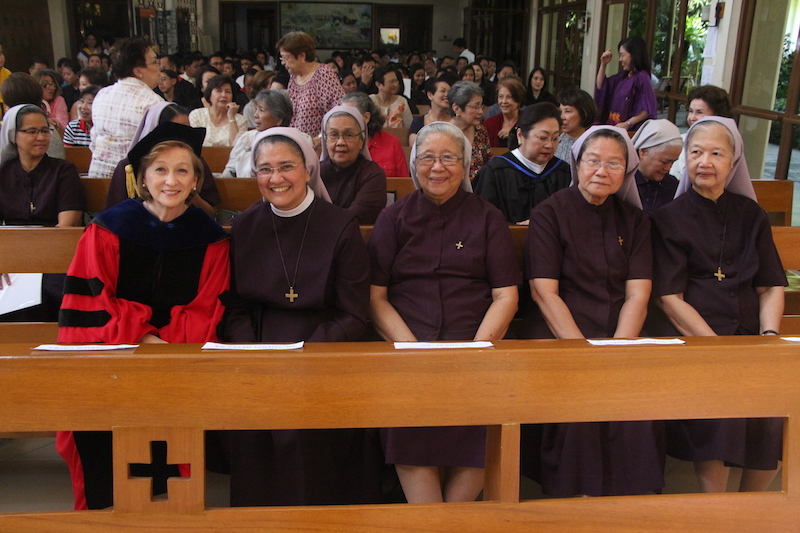 (Dr. Pinky Valdes sitting next to Sr. Sheryl and other sisters of the Religious of  the Assumption)
Pink is the color
The color pink popularly symbolizes maturity, intuitiveness, self-assurance and a love for everything life has to offer. Pinky's name couldn't have suited her any better.
In her youth, while other girls her age were preoccupied with socials, friends and looking pretty, she reflected on learning more about Jesus and thought, "That's the person I'm in love with. That's the person I want to be with.,. So I went through the motions of growing up, having boyfriends, all these things. But everything left me very empty. Everything to me was empty."
So at 18 years of age, Pinky entered the convent of the Assumption in Ravenhill, Philadelphia, where stayed for fourteen years, until she decided to leave. Although she loved God with all her heart, the headstrong woman learned and knew in her heart that religious life was not for her. While she now lives life as a layperson, she is still very much committed to her religion and her spirituality. "The reason why I entered the convent in the first place was because God, to me, was everything. It is still the same now. I see the world in a different way and He is everything." (She jokingly assures anyone who dares ask that she didn't give up her habit because of a man).
Pinky was in the corporate world for some time post convent life, but shifted gears once again and took up positions as an educator. Upon her return to the Philippines in 2007, she was made dean of Assumption College where she regularly gave lectures and retreats, and later on simultaneously taught prep, college and graduate school students at Ateneo de Manila.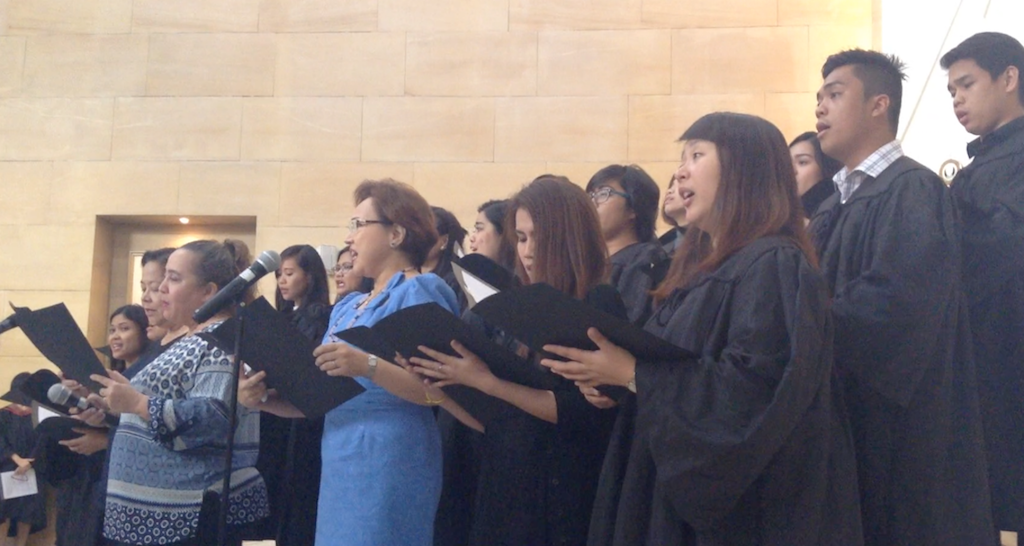 (A group performance by the Basic Education Division faculty choir and the Sunshine band at the inauguration)
The multi-faceted educator also co-directed performances at the Marie Eugenie Theater of the Assumption and composed songs alongside Jose Mari Chan. "What might be interesting to people is that Jose Mari Chan asked me to compose songs with him, and three of my songs that I did with Jo Mari Chan are platinum," she shares. Pinky has three albums, namely, Sandalwood, Sandalwood Seasons, and I Salute the Dawn.
Pinky's list of accomplishments is impressive as is, but learning that she had a stroke in 2002 makes it all the more admirable. "I finished my doctorate right after my stroke. It didn't affect my logic … but I just had to get it all back again, but it was fine," she recounts.
While softer pinks denote meekness and delicateness, Pinky's shade definitely leans more towards the fuchsias, magentas and flamingos that are brave, bold and ready to live life to the fullest.
Project Hope
After leaving the convent, Pinky stayed in the United States and it was there that she met a fellow educator who was head of a college in San Francisco.
It was this friend who brought her to a high school in Oakland. The school was once brimming with juvenile delinquents and the community that surrounded it wasn't any better; drug use was rampant and there was a place known for exploiting women right next door.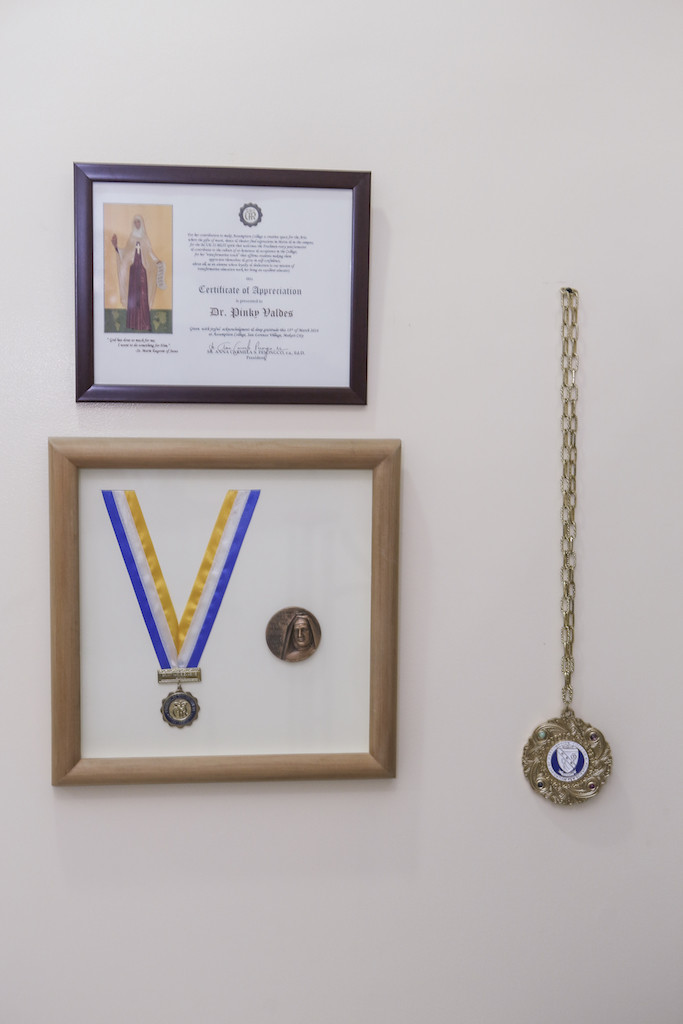 (A recognition award given to Dr. Pinky alongside her Mother Marie Eugenie award given at graduation and the medal passed on to the school's presidents)
Until a man who cared enough came along and said, "I'm going to clean up this place and I'm going to prove to you that the poorest of the poor can be educated. You're not doomed because you come from this side of the world."
He returned structure, employed the best teachers, cleaned up the school and its surroundings, got rid of anyone who didn't want to be there and succeeded. He also introduced something called "streaming." Streaming is meant to group students with similar strengths and interests into sections so that teaching methods used in class align with their learning style, therefore bringing out the best in them at school.
"I saw their art, I saw their science. He had done a phenomenal job. And I thought, 'If he could do this with the poorest of the poor in the poorest part of Oakland, why can't it be done with people who care about education? Why can't we do this in Assumption? Why can't we give girls a chance to do what they really love to do?" Pinky asked herself.
The name of the school was Hope.
"What was funny is I was thinking of Project Hope. So when she said the name of the school was Hope, my eyes got so big," Pinky reminisces.
Project Hope was a response to something Pinky couldn't seem to stop thinking of at the time. "There has to be a place that has a different approach to education," she used to think. "I called it Project Hope because my gut told me, 'this is the future for these girls," she explains.
"This can be better, we can improve our educational system. Education is fun. It doesn't have to be boring. You don't have to fall asleep in class. It could be a lot of fun. I can see it. For me, hope is, 'I wish they could see what I see so clearly,'" she adds with conviction.
The wait was worth it. Pinky's hope is now the shared hope of the entire Assumption community, a hope that will soon transition into a realized dream.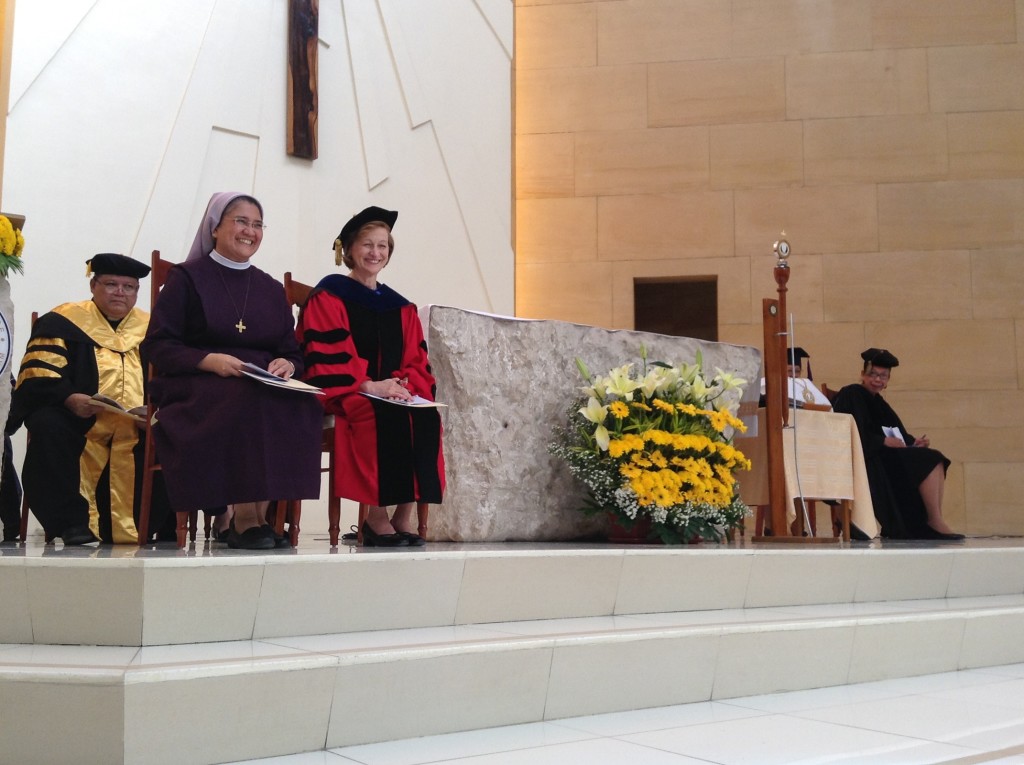 (Sr. Sheryl with Dr. Pinky at the Assumption College chapel)
Renaissance woman
With her refreshing perspective on education, Pinky is out to break the mold, and the times couldn't have been more ripe for change, according to her.
"We are in the middle of another axial age, a huge surge of spirituality especially in the hearts of the youth. A woman who leads in the axial age makes mystics. A mystic is someone who sees the world through different eyes … That is the answer we need today," she states in her inaugural speech which was met with applause by an audience composed of many fellow female leaders.
"I'm very excited about being able to customize learning. I want to customize the learning into brain­-based learning. The one­ size ­fits ­all approach is finished; it's done," she stresses.  According to Pinky, the time has come for the kind of education that will give students "the opportunity to try different things. By trying different things, they will begin to learn which is their best gift and to catapult them on their own gift."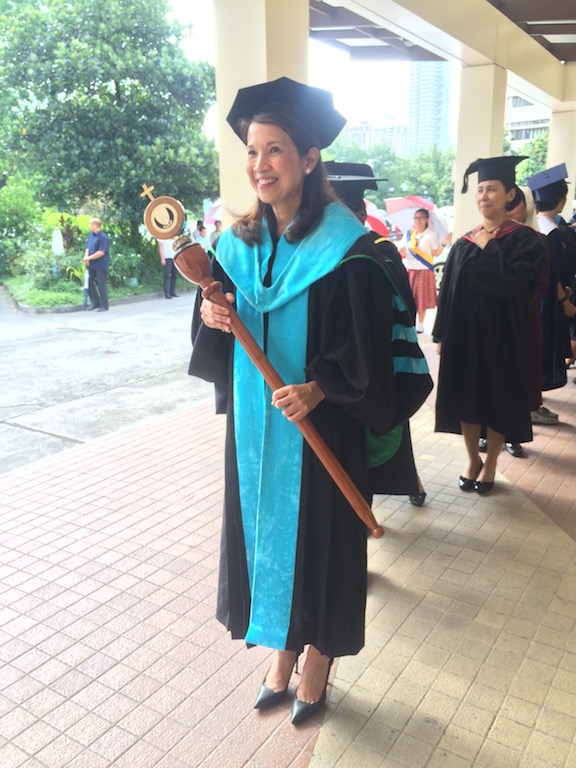 (Dr. Angela Regala succeeded Dr. Pinky as the Dean of Assumption College)
Interestingly, Pinky already introduced brain-based learning and streaming in Assumption back in 2008. The school implemented the program for a year but discontinued it, as the program wasn't receiving enough support then. This is all simply a strong revival, a bright renaissance of something that was already there. "I want to make it all brain-based, which means within the next three years there will be no more desks; it's all tables, chairs, mats on the floor, but of course, that's just the external. The way the whole subject is taught is completely differently and it follows the stages of how the brain thinks," she points out.
"I believed in the group in 2007 that was already saying it and I'm saying, 'that's how I'm seeing it.' I'm glad that there were other people, neurologists, psychologists, scientists and educators who were saying that this is the way to go," Pinky states. She also reveals that the Department of Education and the Commission on Higher Education have followed suit, showing their support of streaming students and brain based learning.
When asked what can be expected of the students who experience this change, Pinky says, "I think what's going to happen to them is that be stronger leaders with stronger focus, and they will be able to hone in on their gifts better and learn to use them better."
Assumption students will soon find a heroine in Pinky who assures that "It's a completely different approach. There's no way that the child can ever be bored in class."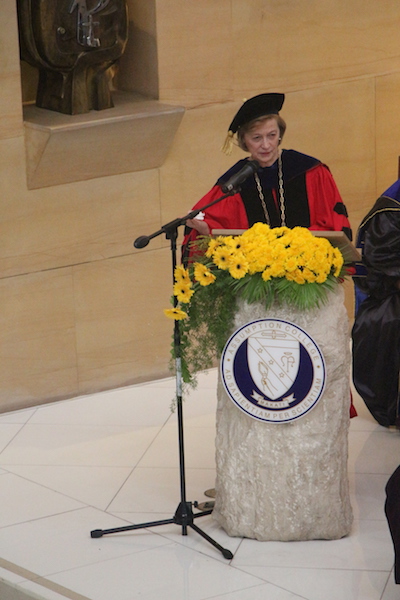 ("A woman who leads in the axial age makes mystics. A mystic is someone who sees the world through different eyes," Dr. Pinky says)
Girl power
As one of the last schools in the Philippines to offer a single-gender education from nursery to college, Pinky also takes pride in the results an environment like this can produce.
Assumption girls aren't only academically competent. They are also immensely socially responsible and are in touch with their emotions and people around them, making them more caring and thoughtful members of society. According to her, these are things whose full potential can only be realized if students are in a learning environment where all of them understand each other, are less likely to judge each other and go through similar experiences. "No matter what anybody says, a woman learns differently from a male," she explains.
Pinky deepens this sentiment by saying Assumption girls "have a very gentle center and they really care about other people. And even if they don't do it, they feel guilty because they know it's the right thing to do. They know what is right. They have a tremendous sense of society and the evils of society and they want to do whatever they can to fix it. They have a tremendous sense of self-confidence because we work very hard on it. That's why I'm such a believer in single gender because if you understand the progression of the brain and the progression of the body and the more you understand it, the more you're going to see that single gender works. It's worth it … That's why Assumption girls have more self-confidence. They're brought in the school that constantly reaffirms this."
With these principles that will soon be coupled with brain-based learning, the new generations of Assumption graduates will surely be (positive) forces to reckon with, no matter what they choose to do in life.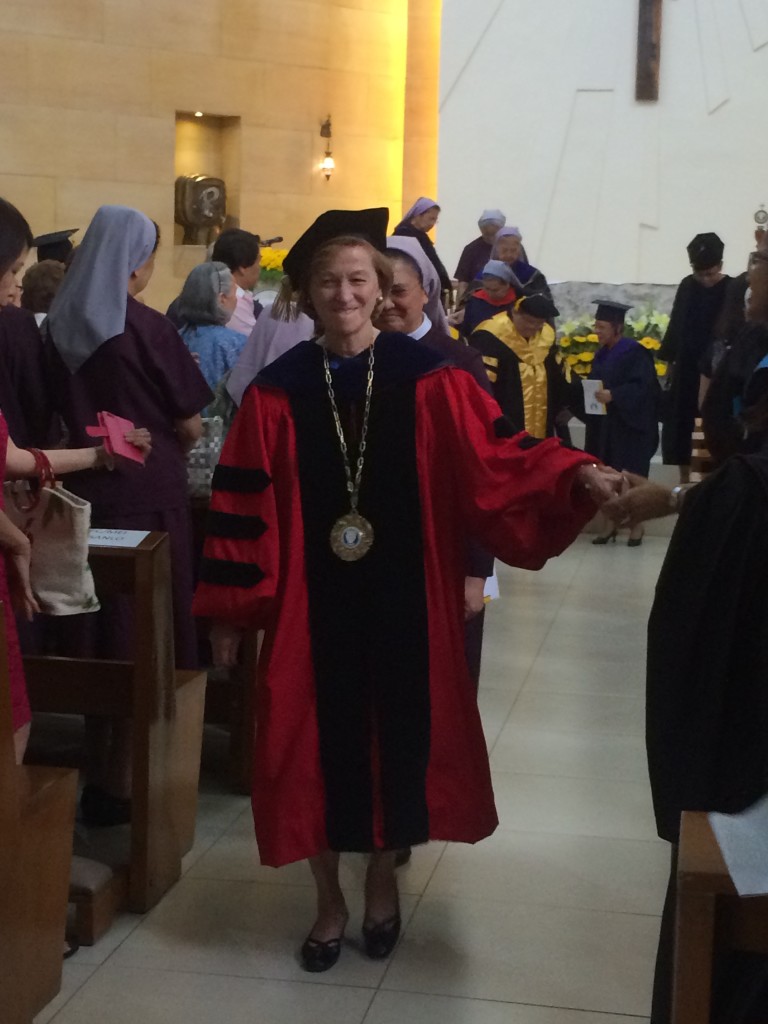 (Dr. Pinky being greeted and congratulated by friends and colleagues after her inauguration)