Few sights are more spiritual and mystical than watching our cloudy gray moon bloom to its fullest, most luminous state. Some liken the experience to looking into the eye of the maker of all of the cosmos.
And for this part of the world, at this time of the year, moon watching means only one thing — the Chinese mid-autumn festival of thanksgiving and reunions has arrived, and pretty mooncakes of all kinds will soon decorate our dining tables like twinkling stars adorning the night sky.
Whether you're looking to share them with family, give them to a special love or keep them as a midnight snack on this lunar holiday, we're sharing our top picks of the most delicious mooncakes which you can purchase from TWG Tea.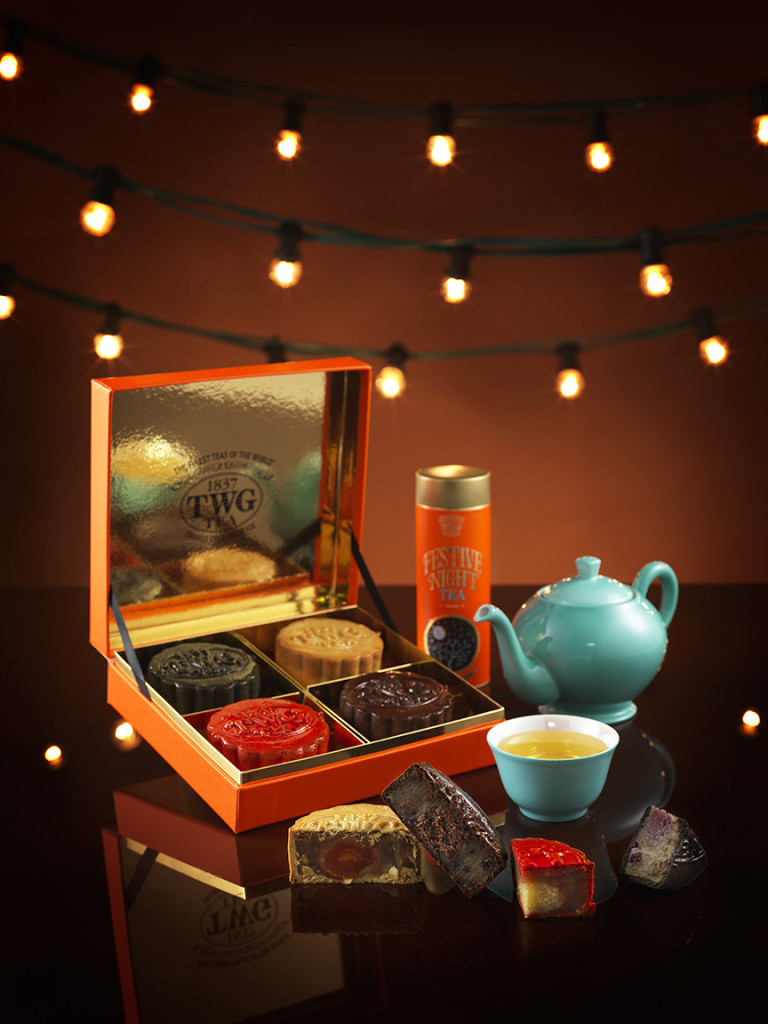 (Insider's tip: these mooncakes are made even better when partnered with TWG Tea's Festive Night Tea).
Traditional Mooncakes
Constellation: The timeless favorite 
This iconic signature of the mid-autumn festival holds within a golden crust a smooth and elegant Singapore Breakfast Tea infused brown lotus filling, a scattering of roasted melon seeds and an embedded salted egg yolk heart.
Jewel: For the chocolate lovers 
Encased in a rich chocolate brown crust, this exclusive TWG Tea mooncake boasts a luxurious dark chocolate orb surrounded by a white lotus paste scattered with decadent Amarena cherry chunks and infused with Paris-Singapore Tea.
Ruby: Tart and tangy 
Wrapped in a perfectly baked bold red crust, this surprising TWG Tea mooncake features lemon zest and dried mango chunks in an Ivory Palace Tea infused brown lotus paste contrasted by a unique kaffir lime and almond paste heart.
Midnight: Dark as night  
Wrapped in a sumptuous baked crust as dark as the night, this exclusive TWG Tea mooncake showcases an aromatic almond paste centre with crunchy blackcurrants cradled by a white lotus paste infused with Blue Lotus Tea and scattered with dried cranberries.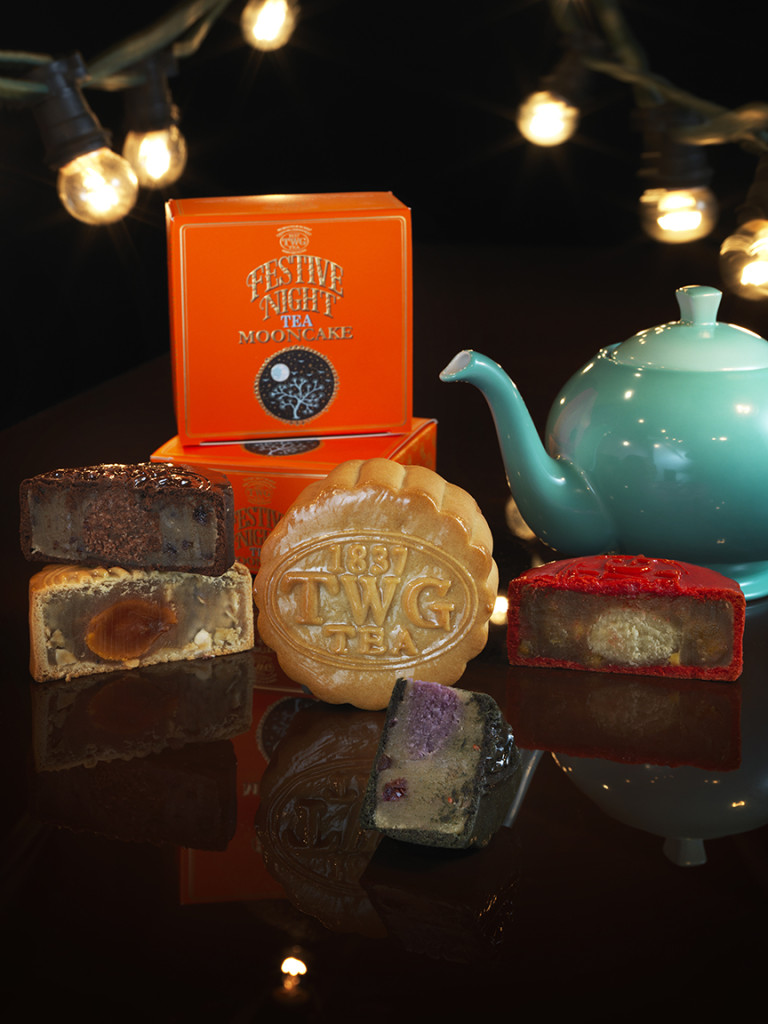 (TWG Tea's set of traditional mooncakes)
Tea Snowskin Mooncakes 
Flame: The flavor of passion 
Emanating the warm glow of a lantern, a brilliant orange snowskin mooncake embellished with a precious gold leaf, conceals a Festive Night Tea infused citrus mousseline that cradles a lavish heart of cherry ganache.
Jade: Delicious and delicate 
Decked in a skin of creamy celadon, this grand mooncake features a lustrous Sencha infused mousse ornamented with chocolate crumble pieces encasing a milk chocolate ganache centre.
Pure: Pure as snow 
An ethereal satin white snowskin mooncake encases a smooth dark chocolate mousse inflected with the fruity and flowery notes of 1837 White Tea, revealing a heart of tangy blackcurrant marmalade and white chocolate.
Illumination: East meets West 
Concealed in a black snowskin, this exquisite mooncake reveals a brilliant composition of a light, nutty praline infused with 1837 Black Tea and an oriental burst of glowing orange marmalade in a white chocolate heart.
A set of four traditional mooncakes is available at P1,840, and snowskin mooncakes can be bought at P2,140. Individual traditional mooncake gift boxes are sold at P475 while snowskin mooncakes go for P550. All mooncakes are available at all TWG Tea Salons & Boutiques in the Philippines, but prices may vary in Cebu.
(TWG Tea's new set selection of snowskin mooncakes)
Bonus treat: Afternoon tea 
From 2 p.m. to 5 p.m. on August 18 and 25, TWG Tea will host a Tea Appreciation Series at the Power Plant Mall, Rockwell. After all, nothing goes better with mooncake — and any other snack, or meal — than an expertly concocted cup of tea.
Tea novices and connoisseurs can enjoy sit down lessons with tea trainers who will teach them all about tea history, culture, variations, tastings and pairings of only the finest teas. These classes will feature blends and flavors extracted from raw ingredients exclusive to TWG Tea.
So raise those pinkies, practice taking delicate sips and reserve a slot by calling or sending a message to (0917) 853 7934, or personally registering at the TWG Tea Salon and Boutique in Power Plant Mall.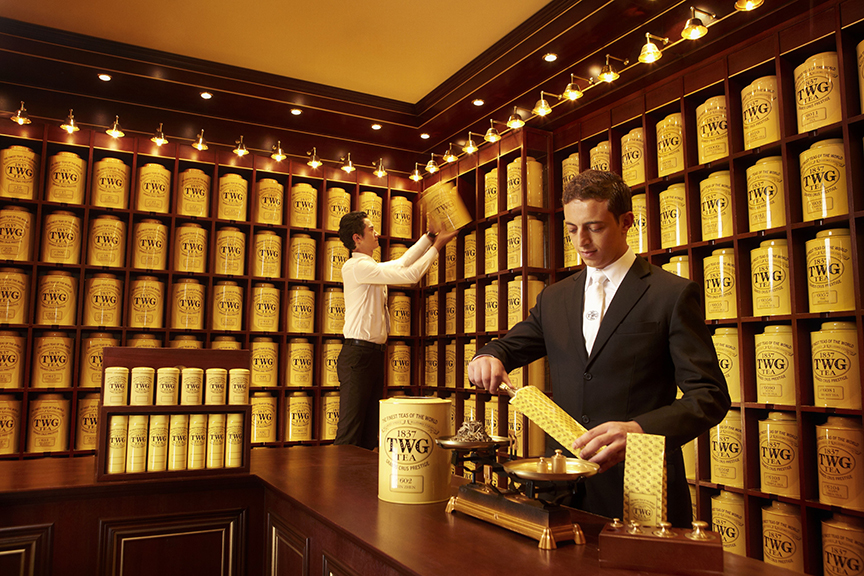 (Get acquainted with the art of tea drinking at the Tea Appreciation Series)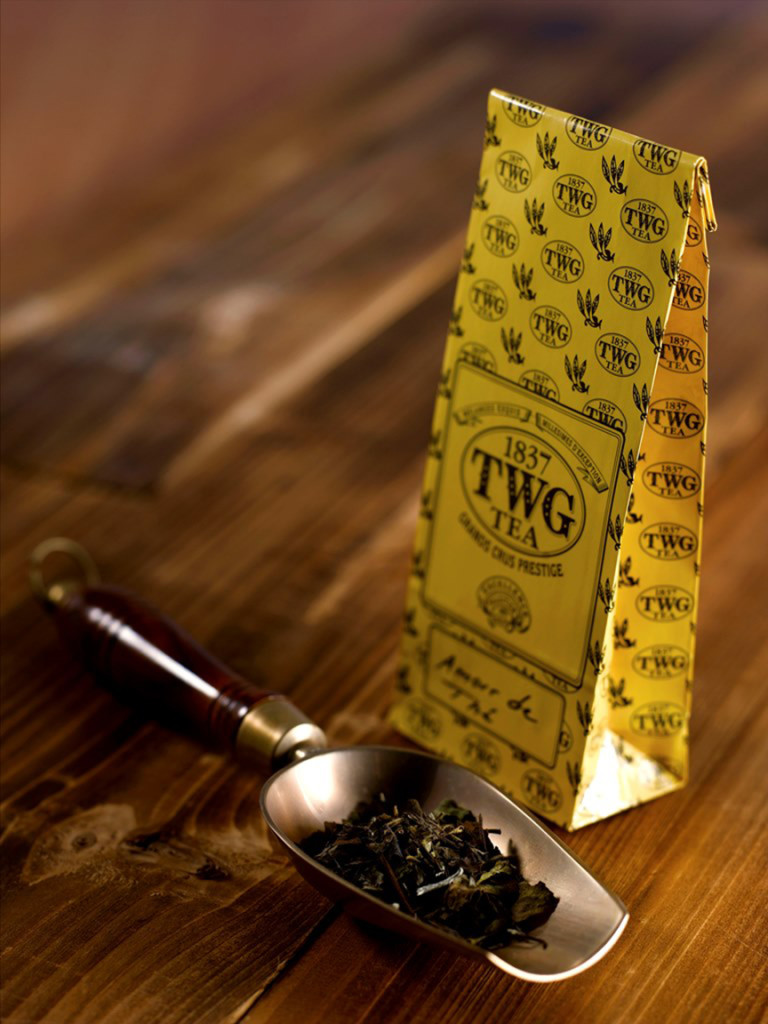 (Raw ingredients exclusive to TWG Tea)