On this gray and rainy August, there's absolutely no reason to feel down and dreary — not when The Waterfront Manila Pavilion Hotel and Casino has so much in store for you!
We all know that rainy days make you want to stay indoors, cozy up and enjoy your go-to comfort meal (or drink!), and this time, there's nowhere better to do so than in this hotel by the bay.
With the rain comes crazy traffic jams, but worry not. Wait out rush hour with the aptly named Buy 1 Take 1 Last Man Standing cocktail and local beer promo. Everyday, from 2 p.m. to 10 p.m., enjoy a drink with friends or workmates and pair it with your choice of bar chow of spicy peanuts or crunchy popcorn.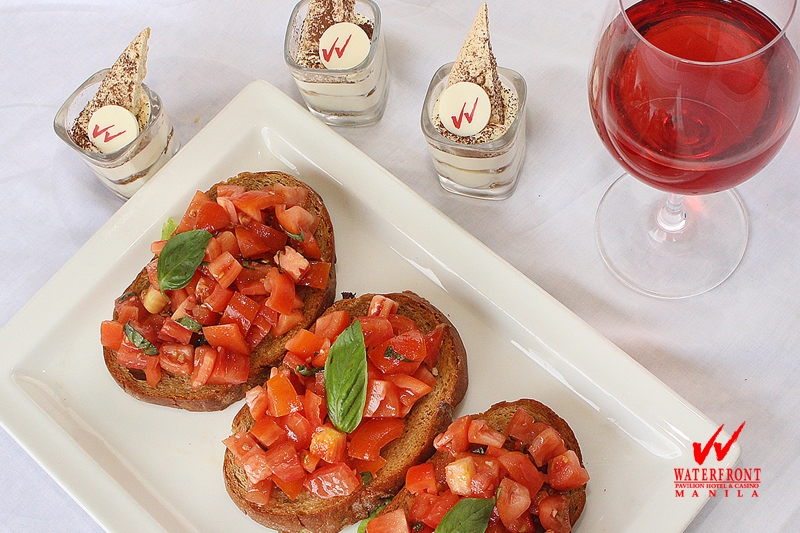 (Tomato Bruschetta available at Patisserie)
Alternatively, if all you're looking for is something to warm you from the inside out, opt for Patisserie's specialty hot beverages, and get 20 percent off your pick every Tuesday, Thursday and Saturday this month, and enjoy it with their signature crepe collection.
Now, if you're staying for a drink or two, why not stay the night, too?
The sights of elegant, old Manila are what will surround guests that avail of the special rainy day staycation package. Take note of the Keep Calm and Relax room promo that includes a Waterfront signature pillow and blanket combo (take home the coziness with you!) as well as a 20 percent discount on food and beverage offers.
For the extra indulgent, there's also the Pamper All-out package that treats guests to a soothing body massage they can enjoy in their own rooms.
If this is what guests get in exchange of the rain, then let it pour! This is just the tip of the iceberg, and more gustatory and staycation experiences await, so make sure you learn about all of  The Waterfront Manila Pavilion Hotel and Casino's complete rainy day packages.
Discover them at www.waterfronthotels.com.ph or by calling (02) 526 1212 for inquiries and reservations. The Waterfront Manila Pavilion Hotel and Casino is located on United Nations Ave., corner Maria Orosa St., Manila.