Farm to face, then face to faith — this is the underlying philosophy that guides 23.5°N, the latest (and much-awaited!) all-natural skincare line to hit Manila's beauty boutiques.
(Taiwanese beauty brand 23.5°N arrives in Manila)
The Taiwanese beauty brand is named as such because of Taiwan's location on the map. 23.5°N marks the Tropic of Cancer, a demarcation that indicates the northernmost circle of the globe where the sun can be directly overhead.
The Tropic of Cancer runs across a handful of countries, giving them an abundance of hot days in the process, with the exception of — you guessed it — Taiwan. There, foliage and vegetation grow copiously without the help of pesticide and fertilizer, all thanks to the conducive climate.
With this, 23.5°N founder Helen Ho saw the potential of Taiwan's myriad of agricultural bounties. Following a back-to-basics approach to beauty, she has since built a brand whose products are made of one hundred percent all-natural, carefully selected, good for your skin ingredients.
The cherry on the cake is that all products were specifically made for ladies living in hot and humid climates! Helen knows the issues of melting makeup, too-heavy formulas and perspiration woes all to well, so she guarantees that all of 23.5°N's products are lightweight, breathable and heat-ready.
Currently, 23.5°N offers four series. Each series is formulated with a core ingredient and includes a collection of products for a full skincare routine. Cleansers, toners, serums, lotions, creams, face masks, eye gels and more await. You don't have to purchase all products in a series; feel free to mix and match depending on your skin's needs.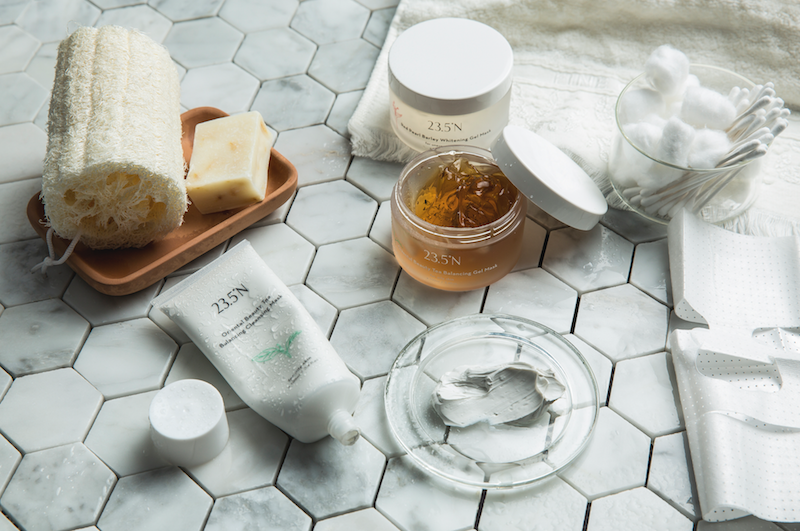 (The 23.5°N product range is wide enough to address common skin concerns)
Check out which series is best for you with this quick and easy guide: 
Rice series
According to Helen, rice-based products are great for those with very sensitive skin. Ladies that deal with acne or red, irritated, itchy and even sunburned skin could benefit from the purifying qualities of rice infusions. The keywords to remember for this series are cooling, soothing and brightening.
Red Pearl Barley series
Now, there isn't just barley water, but barley beauty products, too! This grain packs major hydrating powers, making it the perfect partner for those wanting to add much-needed elasticity to dry, dull or patchy skin. Barley's added whitening effects also make it appealing to those who want to address concerns of uneven skin tone and hyper-pigmentation. This series is recommended for those with more mature skin.
Bamboo series
Like barley, bamboo is a great hydrating agent, but is more lightweight. Bamboo products are easily absorbed into the skin and are targeted towards those with an imbalance in oil and moisture (combination skin, in other words). The bamboo series can be used in combination with other series.
Oriental Beauty Tea series
This unique blend whose ingredients are unique to Taiwan is sure to become a hit with ladies from the Philippines. The main concern this series targets is excessive oiliness; it controls oil production, minimizes pores while also keeping the skin moisturized to a tee! Products from these series are meant to keep you looking fresh while you're out and about outdoors and well-hydrated while you're in air conditioned rooms.
In case those points haven't convinced you to go for a 23.5°N beauty run, here are other things to keep in mind when you shop for their products:
According to Helen, products are safe enough to use by pregnant women.
Their face masks can be used before makeup application before your day begins. They're that suitable for the heat. Added tip: do not rinse the serum from masks before makeup application!
Additionally, 10 minutes is enough for your skin to absorb all the good stuff from their gel and feather masks.
If you still have some serum left over a face masking session, Helen recommends that you apply it to the rest of your body, but not your face. In relation to that, never use a face mask twice!
Other ingredients like snow pea (a brightening ingredient), honey (a nourishing substance) and cucumber (a powerful hydrator) are also infused into their products. Determine your most pressing skin concern so you can figure out which formulation is best for you.
To get your hands on this awesome addition to your beauty routine, head on over to Beauty Bar branches at Central Square in Bonifacio Global City, Alabang Town Center, Glorietta 2, Greenbelt 5, Power Plant Mall in Rockwell, Shangri-La Plaza, TriNoma, Mall of Asia and Robinson's Magnolia.