By Joyce Reyes-Aguila / Photography by Jar Concengco / Makeup and hair by Erwin Oning
The exchange between two brilliant minds can be utterly enthralling. They can talk about anything under the sun, resulting in an engaging, interesting spectacle for anyone to witness. Ah, but when these people — particularly when they're married to each other — talk about love, it's a whole other level.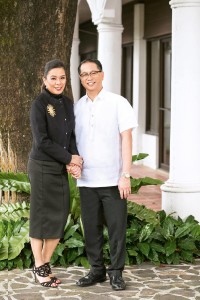 Lawyers Danilo "Danny" Lardizabal Concepcion and Maria Gabriela "Gaby" Roldan-Concepcion met at the University of the Philippines (UP) College of Law. It was his first time to teach at the prestigious college, having just returned to Manila from London where he completed his Master of Laws at Queen Mary University. She was a third-year law student who graduated magna cum laude in political science (also at UP). Succession Law brought them together.
"He was the youngest professor," Gaby says of Danny, recalling the first time they saw each other. "My friends and I thought that all the new professors were always trying to impress students. We'd always make fun of him. We'd always stay in the back and just sleep since the class was in the afternoon."
Jests Danny, who is now the University of the Philippines president, "I just thought she had sore eyes because she was wearing sunglasses."
Who made the first move then?
"Him, of course, him!" Gaby, also known as Gabycon, playfully glaring at Danny (a.k.a. Danicon). "But he tells everybody it was me. There's a Latin maxim 'res ipsa loquitor' which means that the thing speaks for itself. I would be angry the first few times he'd tell people that I courted him but after some time, I'd just say 'Res ipsa loquitor!'"
The truth according to Danny, who topped the Bar in 1983, is that he first really noticed his future wife after she ranked second in an examination he gave. The professor is a blind checker, requiring his students to not write their names on test papers. When the results were released, he became curious about the student who got a high grade.
"He didn't think I was a serious student," Gaby recounts. "I was doing the weekend news (on television) when I was in school. He thought that I was one of those kids whose parents forced to go Law school, except that I got a high grade in his class."
Her intelligence impressed the former dean of the College of Law and former vice president for legal affairs of UP. "She's beautiful, she's perfect," he sweetly adds with a smile. During semester break, he got her phone number from the "most quiet girl" in class who never told Gaby about it until she and Danny were wed.
He phoned to invite her to be his date to a British Embassy ball because he had just come home from London and had no friends — so Danny said. "I should have known better," quips the legal expert of GMA network's morning television show Unang Hirit. "He was just away for a year and he had no friends already?"
By the next semester, they were the talk of the town. Gaby admits she felt weird and knew that many gossiped about them. But Danny, who was a former associate commissioner of the Securities and Exchange Commission, was unfazed. There were no rules "because (the students by then) are already consenting adults," he explains to PeopleAsia. "There were many instances in the 'college of relations' (between professor and student). Chief Justice Enrique Fernando married his student. With Chief Justice Ramon Aquino, everybody got surprised when he married his student. Nobody thought that they were sweethearts. He was the most eligible faculty member, and one of his former students told me that many of them had a crush on him."
Gaby herself admits that Danny would often joke that being in this type of relationship proves "the best way to become chief justice." She submits, "I think we actually gave other professors the courage to (go public about their relationships with their students)… We were 'pioneers' after a long time."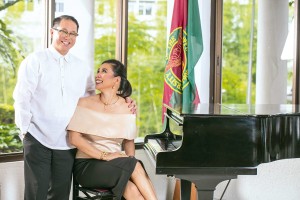 Fact checking
Gaby, a professorial lecturer of the UP College of Law in Persons and Family Relations and board member of the Movie and Television Review and Classification Board (MTRCB), distinctly recalls a conversation with Danny after his usual merienda treat for her and the college staff. After dropping them off, she asked him where he was headed.
He told her he was bound for Obando (in the province of Bulacan) to sponsor Masses for the next year. "He did it every year because they were poor," she narrates. "They are seven in the family. They didn't have money to send him to college. He applied for a scholarship. It was already registration time but he still did not have a letter of acceptance. He went there to pray and ask for help. I think the next day the letter came."
Gaby found herself sharing the story with her mother. "I told her, 'Ma, I met this guy and he seems interesting. He looks like he has character.' I told her 'guy.' I didn't say 'professor,'" she recalls. Her mom found it strange that she would be talking about another guy, and not her recent ex-boyfriend at the time.
After Gaby graduated from Law school, Danny proposed. "I asked her if we could get married already," the former president of De La Salle Araneta University enthuses. "She said she would take the Bar first. When she passed the Bar, I asked her again. She said she would practice first. I told her I was already turning into a "matandang binata" (old bachelor) — maybe we should get married. I proposed to her again after she started practicing. She said 'no' because she had only been practicing for a year. After that, I did not repeat it…then one day, we were having dinner at Café Ysabel."
Gaby interjects, "It was not even Café Ysabel; it was the place across it."
"She told me, 'Aren't you going to ask me again'?" he continues. "I almost fell from my seat!"
"That's not correct! You fell from your seat because you kept asking me to marry you and then that day I said 'Okay,'" she protests.
Undaunted, he continues, "We scheduled the wedding for Sept. 8. Her dad got sick August of that year. We moved it to September of the following year."
"Are you kidding me? That's fake news!" Gaby quickly chimes in.
He turns to the PeopleAsia team and concedes, "Makakalimutin ako eh (I'm forgetful)." They postponed the September wedding and married a year later in May 1992, when Gaby's dad was on remission from cancer. "Her sister said we should get married because we weren't sure of her father's health. By July, her father was brought back to the hospital. He passed away February the following year. She gave birth to our first baby the next month."
Pros and "Cons"
The "Cons" are now parents to three sons: Jag, Carlos and Alfonso, and youngest and only daughter Isabella. In their household, Gaby assumes the role of the strict parent. Danny jokes that he is the "Supreme Court" at home when the children need to bring up something. He would simply say "Ask your mom or you won't hear the end of it."
They admit that it is in their parental role where the six-year age gap is most clearly manifested. Danny grew up knowing that fathers were breadwinners and mothers were caretakers of the family. "It's not a big age gap but he was born of another generation," Gaby says. "Like he was in the generation of my dad. He's more conservative, more traditional."
"Maybe because there is a difference in the frame of mind of people," Danny, a former program host on ABS-CBN's DZMM station, says. "In my generation, there are roles. The mindset was different."
Regardless of their busy schedules, Danny blocks off the weekend for his family. He is home for dinner every day and schedules his night meetings much later. She is the nurturer who he describes as "caring, loving, thoughtful, considerate, funny. There is no dull moment with her."
The Cons would spend their weekends in engaging conversation from breakfast to lunch, recently laughing about how Dad once got Mom a gooseneck lamp for Valentine's Day — the most unromantic of gifts. In his defense, Danny insists it was what Gaby needed then for school. In between, the couple impart lessons on love.
"You have to find someone you want to grow old with," Gaby shares. "If you get into a relationship, it should probably develop into something more permanent. And it should be with somebody that the rest of your family will like. When you marry somebody, you're not just marrying the person. Well, it's not really a requirement. It just makes everything so much easier and happier if everyone gets along. But it has to be someone you want to end up with.
"If you ask our kids what makes our marriage work, they will probably say something smart aleck-y like their dad's a nice guy," she says.
The doting parents in them have probably driven the Concepcions to advocate for mental health on campus. "It's such a big deal," Gaby emphasizes. "We have guidance counselors, but I have also heard that maybe the support could be among peers. Some also want it to not be an official school thing because they are concerned that (opening up) could affect their academic standing… they don't know who to go to."
It is an advocacy that is consistent with Danny's investiture speech entitled "Compassion, Our Common Ground." In it, the university president shared that "When we genuinely feel compassion, we are truly careful with our words and deeds; very careful of our every move so as not to hurt or harm the things we value and care for." His vision includes finding common ground that is safe and free for all to "work productively to their full potential."
As UP president, Danny plans to build a Philippine General Hospital in Diliman, an initiative that has been lauded by many. The medical complex will include a College of Medicine and a Genomic Cancer Research Institute. "He's a good administrator," Gaby smiles. "I call him 'Nothing Fazes Danny, Danny.' Even in the most stressful times, nothing intimidates him." This includes honoring the love they share and pressing on forward together — whatever the world brings.
"At the end of the day, I tell him, 'It's still you and me,'" she says.
"Lawyers Danilo & Gaby Concepcion: Laws of Attraction" was first published in the Feb.-March 2018 issue of  PeopleAsia.